It's almost February 14th and that means Valentine's Day! The day you can surprise your loved one with beautiful Valentine's Day flowers. And perhaps he/she will surprise you! Flowers on Valentine's Day are a tradition. It's nothing new, but it's always fun. Who wouldn't want to receive a beautiful Valentine's bouquet? These are the top tips from Decorum.
Valentine's Day Is Not Just About Roses
When you think of Valentine's Day you quickly think of red roses, but there are many other beautiful flowers that are suitable for Cupid. Whether you're buying for a traditionalist, a minimalist, or someone with an exotic taste, the growers of Decorum have got the perfect Valentine's cut flowers for the perfect Valentine's Day bouquet for that special someone. Be it your loved one, a friend, or a family member; Valentine's Day is to show that you care. Try one of these flowers below, you'll see they will do the job for you...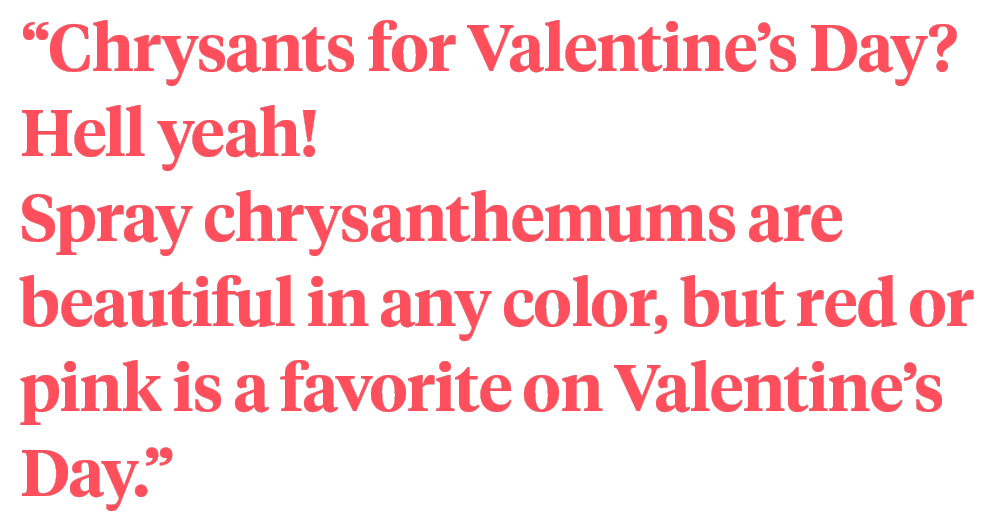 Lisianthus
Have you thought about giving a nice bunch of lisianthus on Valentine's Day? This flower is also called the rose without thorns.
The popularity of the eustoma flower, this flower's botanical name, continues to grow and grow. The lisianthus has a fine, elegant appearance. You have the choice between single varieties, versatile double lisianthus, and special varieties with fringes and ruffles that complete the wide range. The lisianthus is suitable for any special occasion. They look great in a mono bouquet as well as in mixed arrangements. The possibilities are endless.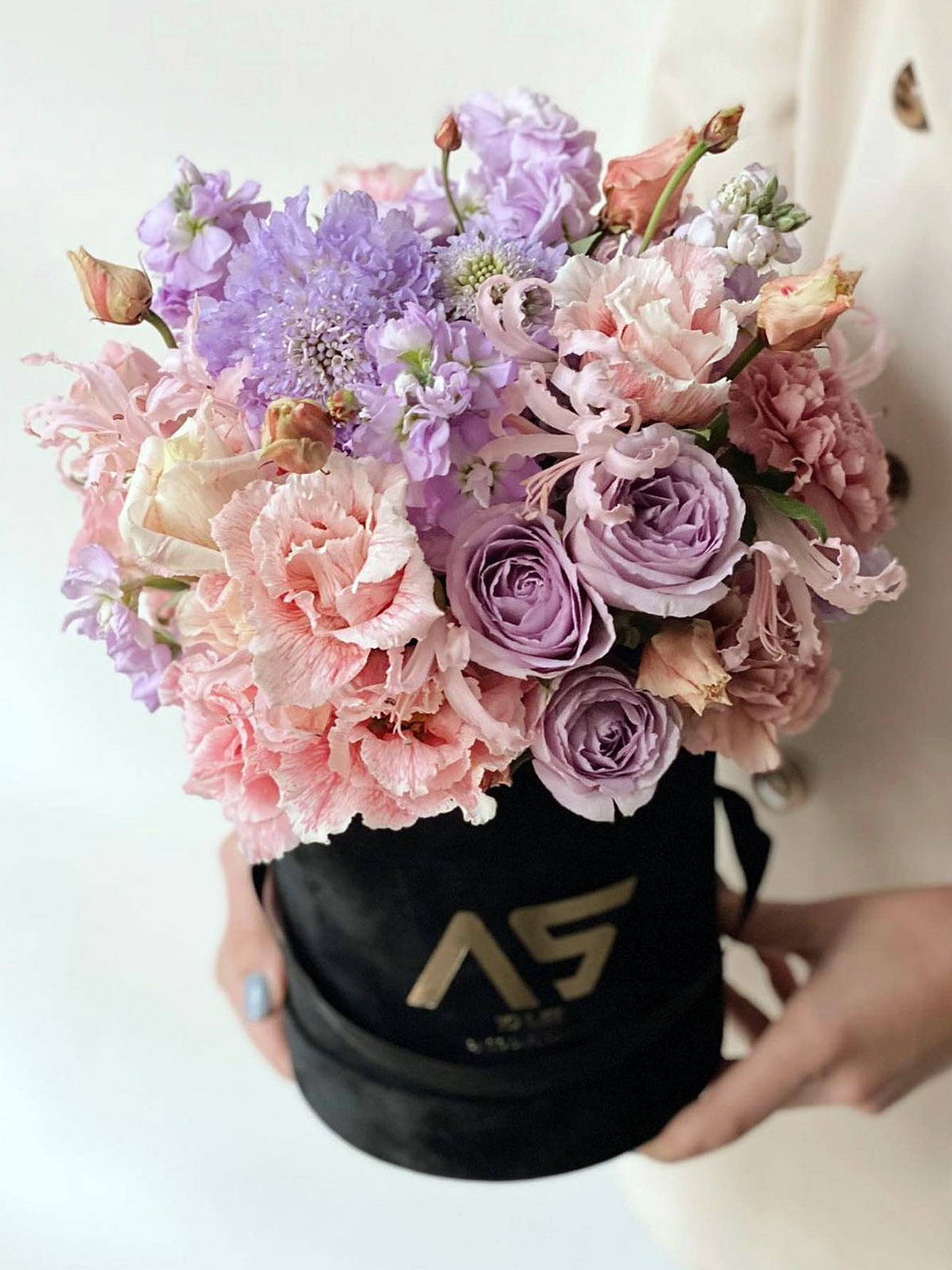 And what do you think of the wonderful novelty? The Lisianthus Alissa Hanoi Pink is a flower that should not be missing from your Valentine's bouquet with its beautiful pink color!
Alstroemeria
With its great diversity of flowers, there is always an alstroemeria that is suitable for giving on Valentine's Day. You can recognize alstroemeria by its twisted leaves and brightly colored flowers. They are available in countless colors, such as this beautiful spray variety Alstroemeria Florinca Coral.
Let yourself be carried away on this delicate pink cloud. The Florinca Coral is unique due to its special color and many detailed flowers on a branch.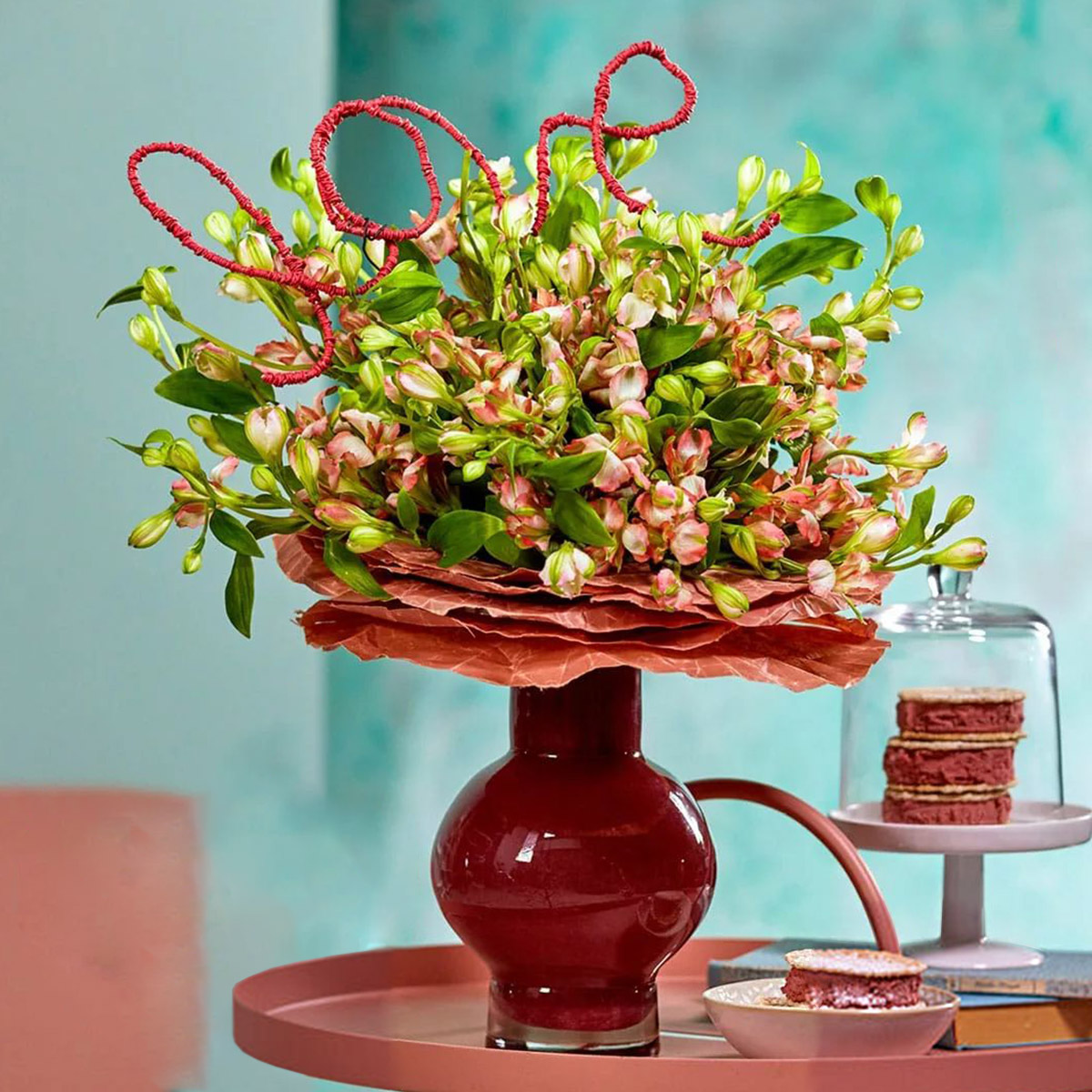 Cut Kalanchoe
With its pastel-like colors, the kalanchoe as a cut flower is very suitable to give to your loved one on Valentine's Day! Who does not know the kalanchoe yet, probably mostly as a strong potted plant? This extremely strong tropical succulent with its brightly colored flowers in a wide range of colors is known and loved by many. What is much less known, however, is that this plant is also available as a cut flower. A vase with these gives no less than four weeks of pleasure. This way the recipient will remember you for a long time.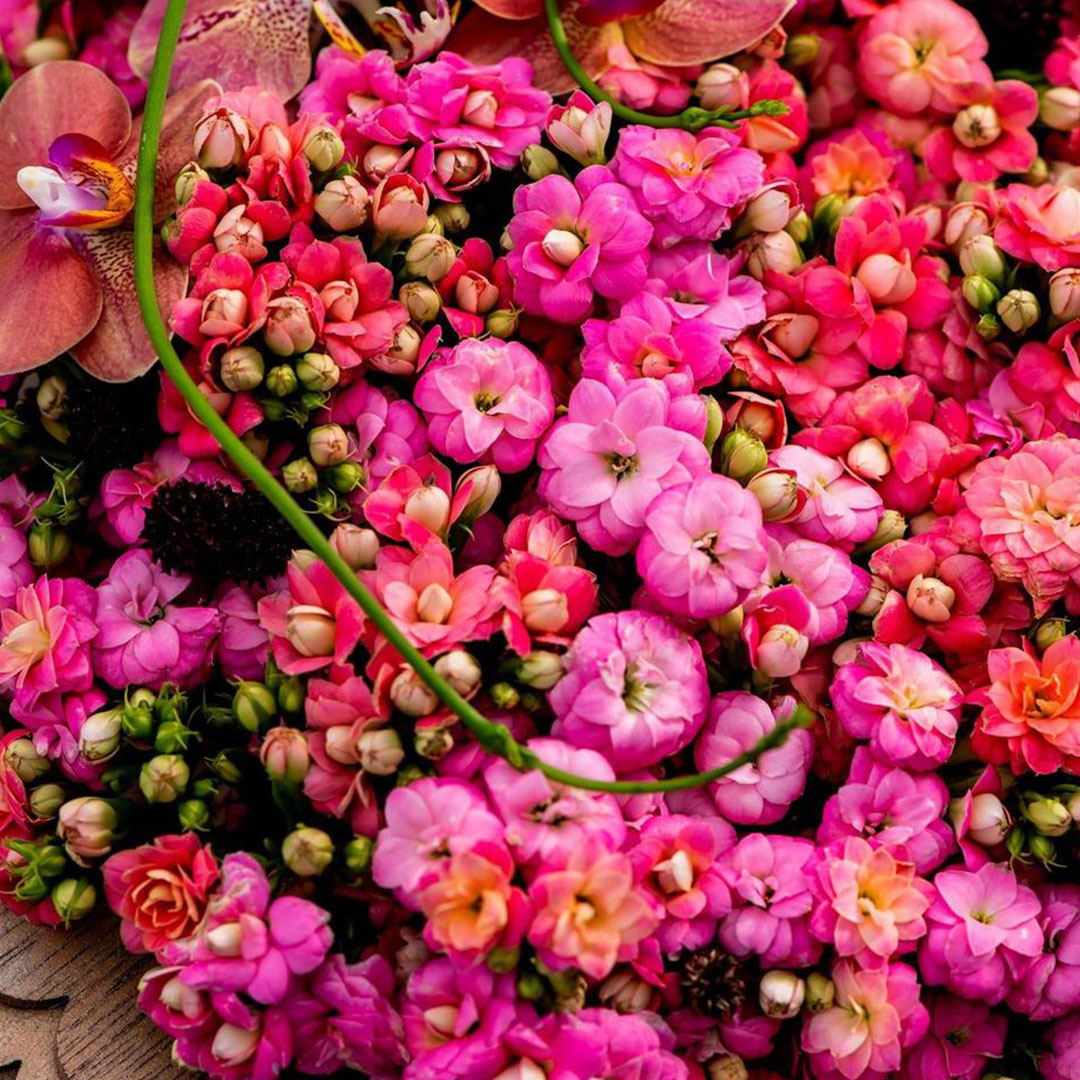 Roselily
The beautiful roselily with its irresistible beauty is of course a real Valentine's Day flower. One that should not be missing from your bouquet. The roselily is a unique variant of the well-known lily. This pollen-free, double-flowered beauty resembles a beautiful large rose. So, two beautiful flowers in one.
Conveniently, the roselily has no stamens, so it is guaranteed not to stain clothing and it has a romantic sweet fragrance. You can even put the flowers outside if it doesn't freeze. Then they have an even longer vase life.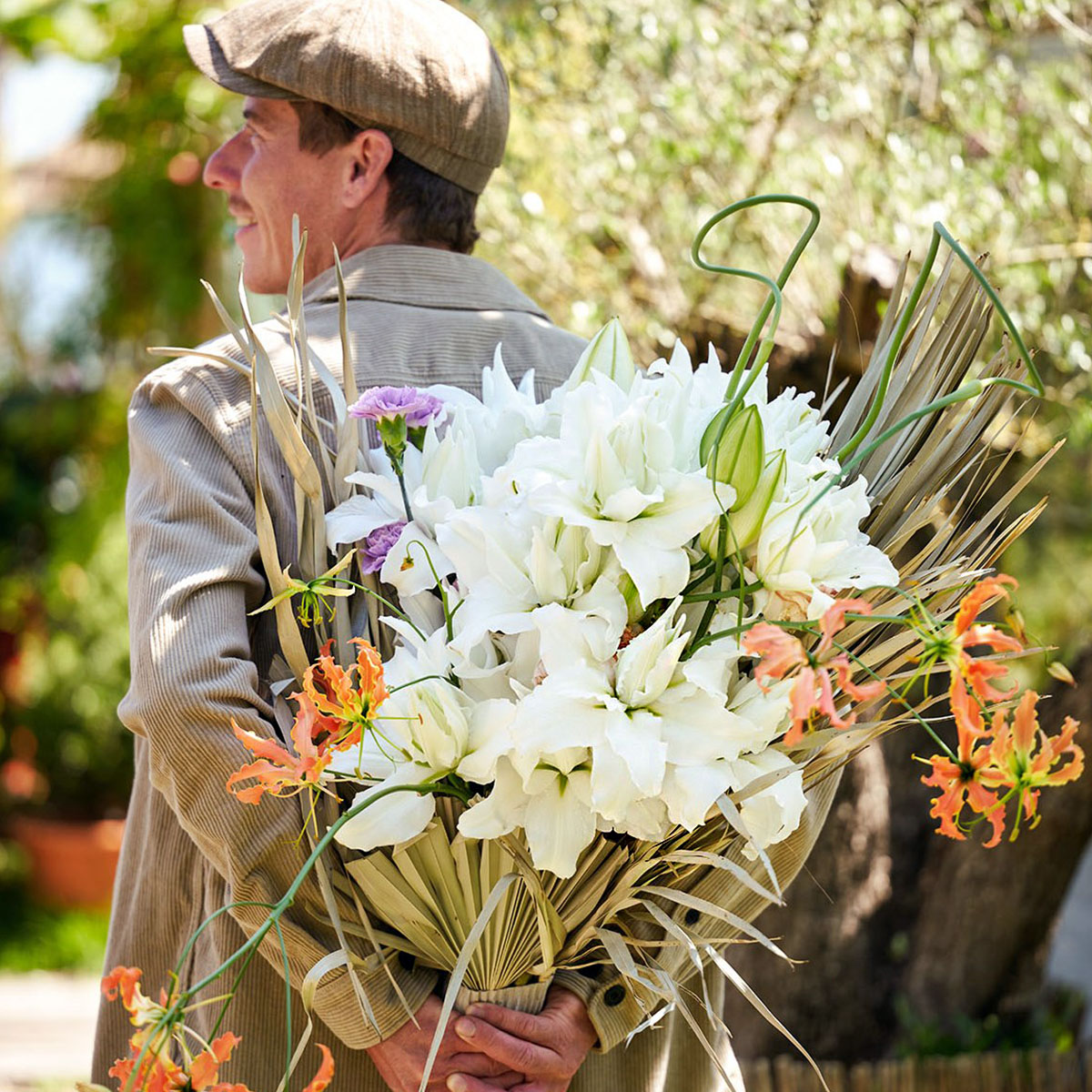 Gerbera
Is a gerbera suitable for Valentine's Day? Most definitely! The gerbera radiates happiness. They are known for their bright, striking, and - above all - cheerful colors. Even the heart of this flower is colorful! That's why there is always a gerbera that fits in a beautiful Valentine's bouquet.
Today gerberas are available in almost every color imaginable and in many different types, shapes, and sizes. Within the gerberas, a distinction can be made between the regular gerbera, which is characterized by its large flower diameter, which varies between 9 and 13 cm, and the mini gerbera or germini. The germini is the smaller gerbera variety with a diameter between 6 and 8 cm. This subtle flower is often used in smaller bouquets.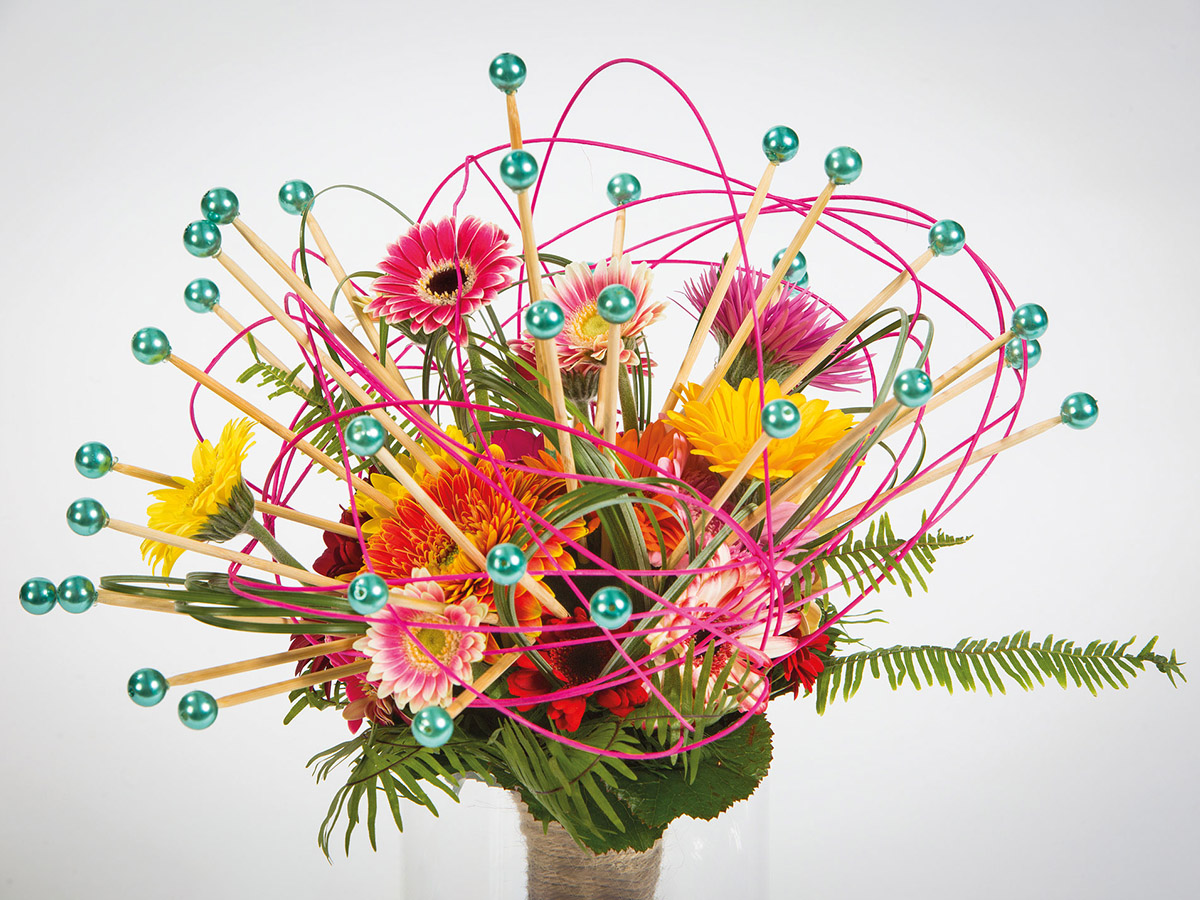 Chrysanthemum
Chrysants for Valentine's Day? Hell yeah! Spray chrysanthemums are beautiful in any color, but red or pink is a favorite on Valentine's Day.
The Chrysanthemum Myra is therefore a real eye-catcher in your Valentine's bouquet. With its contrasting fresh green heart, this flower is very attractive. This spray chrysanthemum is also super strong. With a vase life of at least two weeks, the chrysanthemum will never disappoint you, without even one petal falling off. No need for playing the game of 'does he/she love me or does he/she love me not'?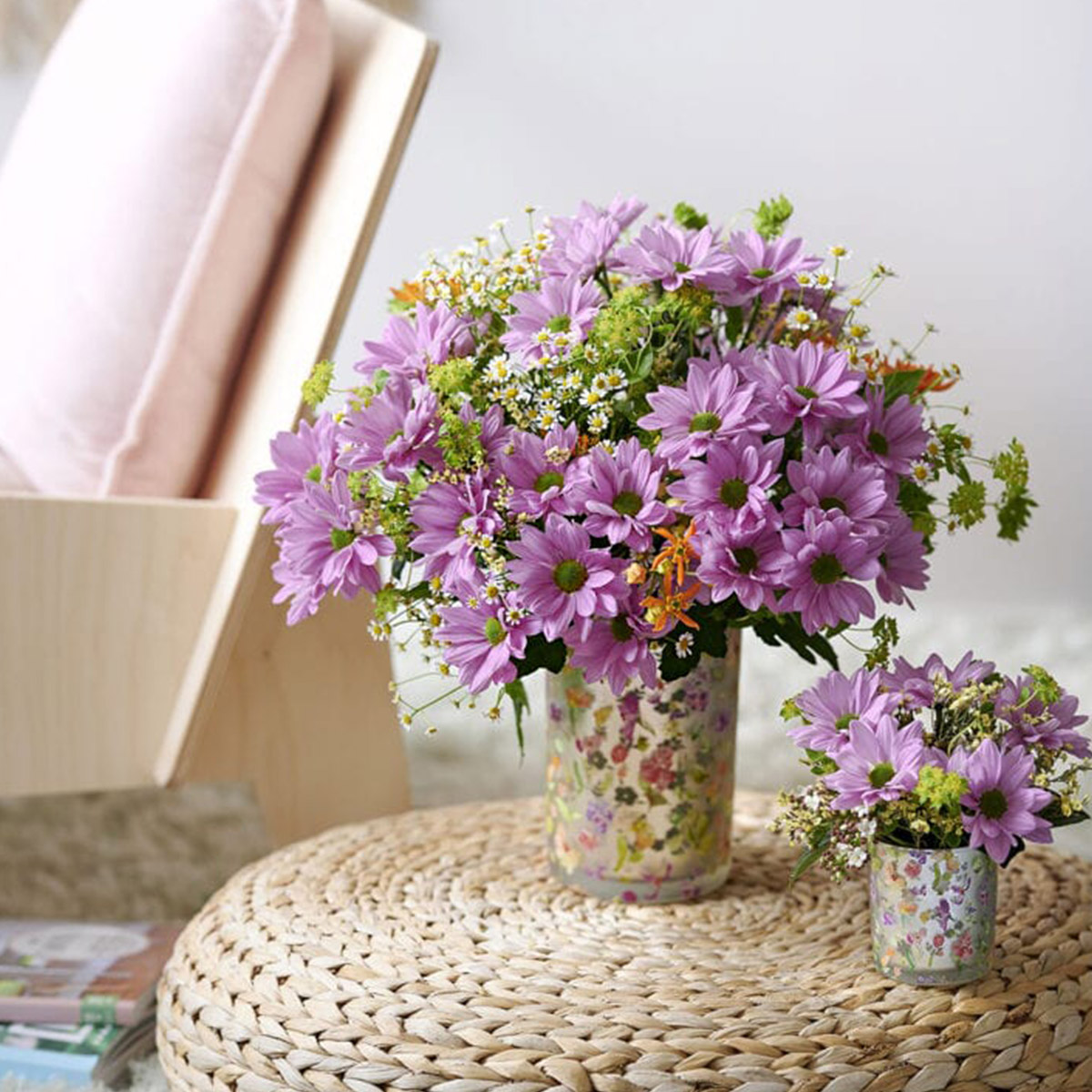 Let love grow. Let love bloom!
Which Valentine's Day flowers do you choose?