Flowers are creations of beauty and inspiration. They're artworks of perfect design with a unique blend of colors, nice scents, and catchy shapes. Flowers are significant, they are consistently represented in homes, schools, and events. A bouquet is mankind's unofficial symbol of love and celebration, given as gifts to display affection.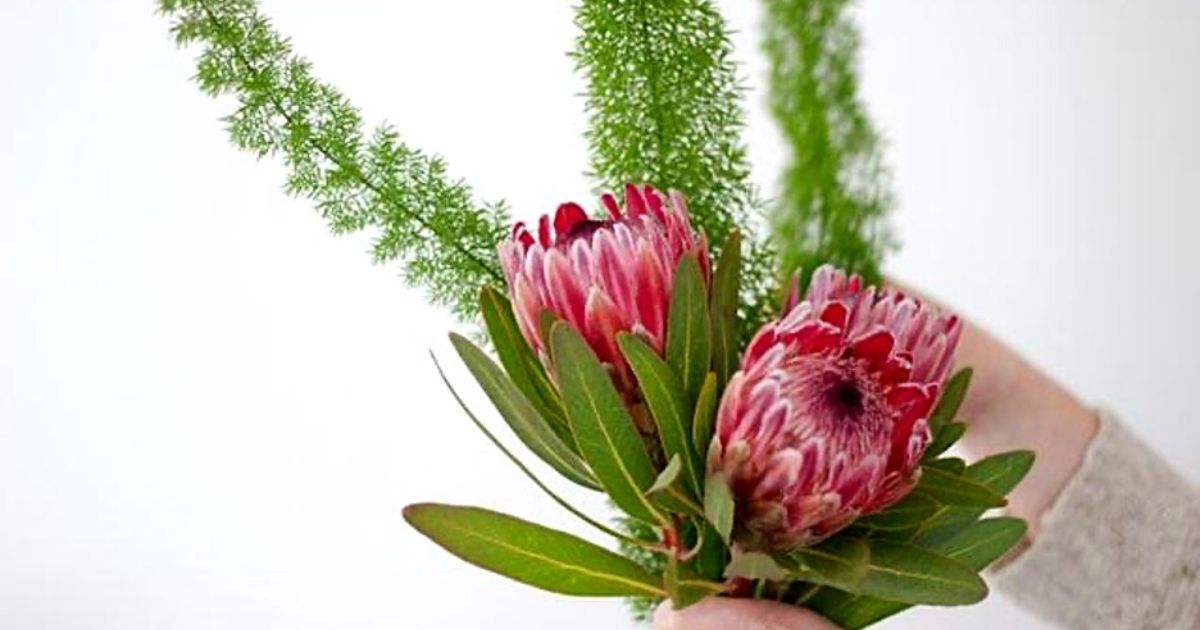 With increasing demand comes increasing supply. The demand has grown, and it's no surprise that flowers have secured themselves a dedicated corner on blogs and websites. You could be a florist looking for the best florist website, so you can pattern your flower website after it. Or, if you're a flower lover looking to set up a florist blog and searching for popular floral blogs to start a blogging career, this article has you covered.
We present our top 10 websites and blogs in the floral industry.
1. Sunflower Florist
Sunflower Florist exemplifies the elegance of the Fiorello WordPress theme. This site is a wonderful work of beauty, with its gentle hues, lovely sliders, and amazing user-friendly store pages. This is the model to emulate if you want professional service while providing a fantastic user experience.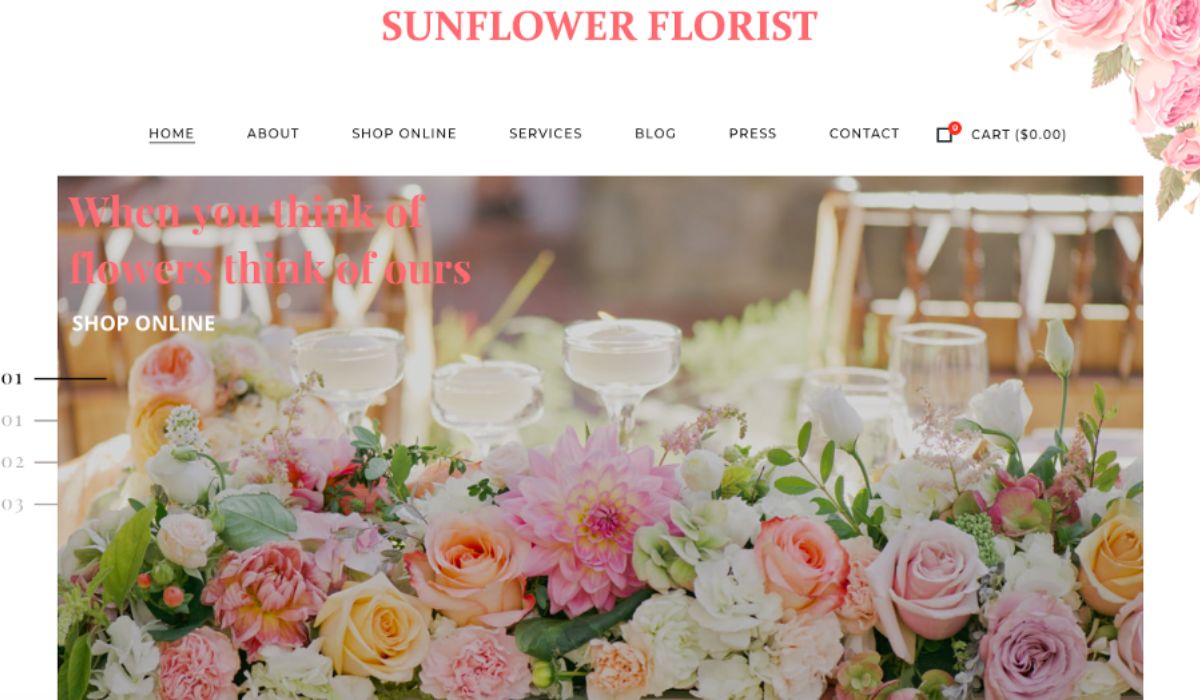 2. BlumenRaumGestaltung
Another famous flower brand is BlumenRaumGestaltung. This site, built in the Roisin theme style, provides everything needed by flower businesses: a stunning design, a modern shop, intuitive animations, and more.
3. Ana Hana
Ana Hana is a good-looking site with a Rosin theme. This website is probably the most beautiful in its niche due to its tasteful floral designs, engaging animations, advanced features, and aesthetically pleasing website parts.
4. Acuarela Events
Acuarela Events is a lovely Rosebud-themed platform. We appreciate this site's entire slider area, which is an excellent introduction to all that follows.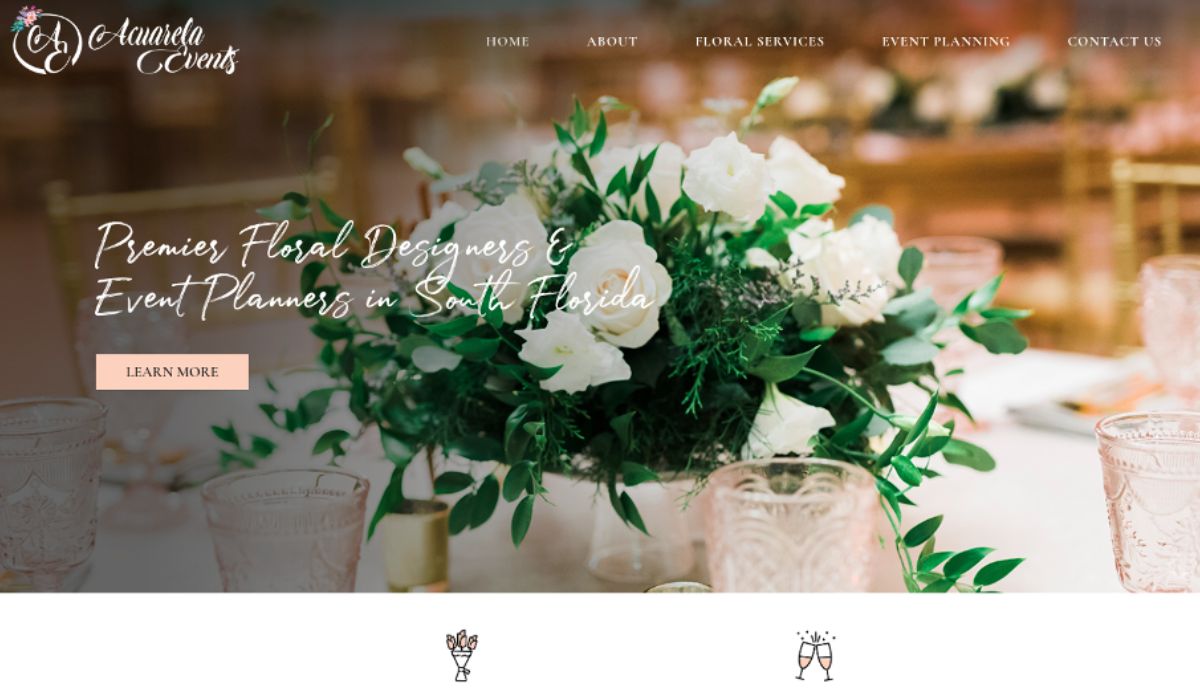 "The boutique floral design, fonts and also content on this site is one to follow as a sample for your website, as it is interesting and catchy, basically making it easy to pull in users from the right blog", says content marketing expert who develops content strategies for various sites, and freelance essay writer from PapersOwl.com, Elijah Schmaltz. Aside from that, there's a great newsletter sign-up form, a gorgeous image catalog, and an eye-catching section devoted to events.
5. Crowder Deats
Crowder Deats is enabled by Rosebud. It has an attractive exhibit. People may read about services, buy stuff, and view fresh flowers on offer on this modern, creative site. It is a truly effective website for floral shops, posing an elegant design that would provide a connection between the brand and customers looking to purchase flowers for any event.
They also proffer local delivery, so you feel free to create a full list even if you do not have time to pick it up.
6. 85 Flowers
Every bunch is a masterpiece. This is what the developers of 85 Flowers thought when they developed the website, which was meticulously designed in every aspect. 85 Flowers provides magnificent décor within customers' budgets, and it demonstrates expertise not only in appearance but also in functionality.
Aside from magnificent exhibition galleries, this website incorporates a shop where you can buy various fresh, extravagant flowers. In addition, there's also a section dedicated to workshops where you can learn about flower crafts and participate in multiple sessions. If you enjoy this layout, you should check out the Gretna Green theme that drives the site.
7. Fruition Seeds
Fruition Seeds, powered by the Fiorello theme, is a location where you find every type of seed and ideas to support your gardening ideas and arrangements or farm plans. Navigation through the categories is made simple by a modern style and a robust mega menu. Furthermore, there is a wide range of shopping options available for everyone.
8. Flores No Cais
Flowers are essential for romantic souls. One cannot envisage memorable occasions without them. Birthday celebrations and anniversaries would be incomplete without nice flowers. Flores No Cais' creators are well aware of this.
As a result, they designed a sleek, simple website that makes ordering flowers quick. This website has beautiful galleries, an Instagram feed, a high-quality blog, plus other useful features. Most importantly, this site includes highly recommended shop functionality. Aside from the price and category filters, it also displays product descriptions and reviews under products.
9. The Flowers Box
Petals, florist boxes, and vibrant bouquets are all available in the Flower Box . This site will inspire you to expand your horizons. The website's clear approach appeals to us, and florists will surely appreciate it. The homepage's first thing you'll notice is a nice flower slider. Second, you should pay close attention to the exquisite design. A pleasant mood is created by the combination of delicate details and pink tones. Individuals can nearly smell floral essence through their screens. It also has a sophisticated subscription format, ideal for spreading news, promotions, and special offers. If you enjoy these, look at Rosebud, the theme that facilitated this platform.
10. Cut Flowers by Kate
Flower lovers understand that every detail counts. Cut flowers by Kate is an example of this. The combination of white and baby blue appeals to all flower enthusiasts with high aesthetic standards. This website contains excellent image galleries in addition to 3 home pages devoted to three collections (spring, summer, and winter).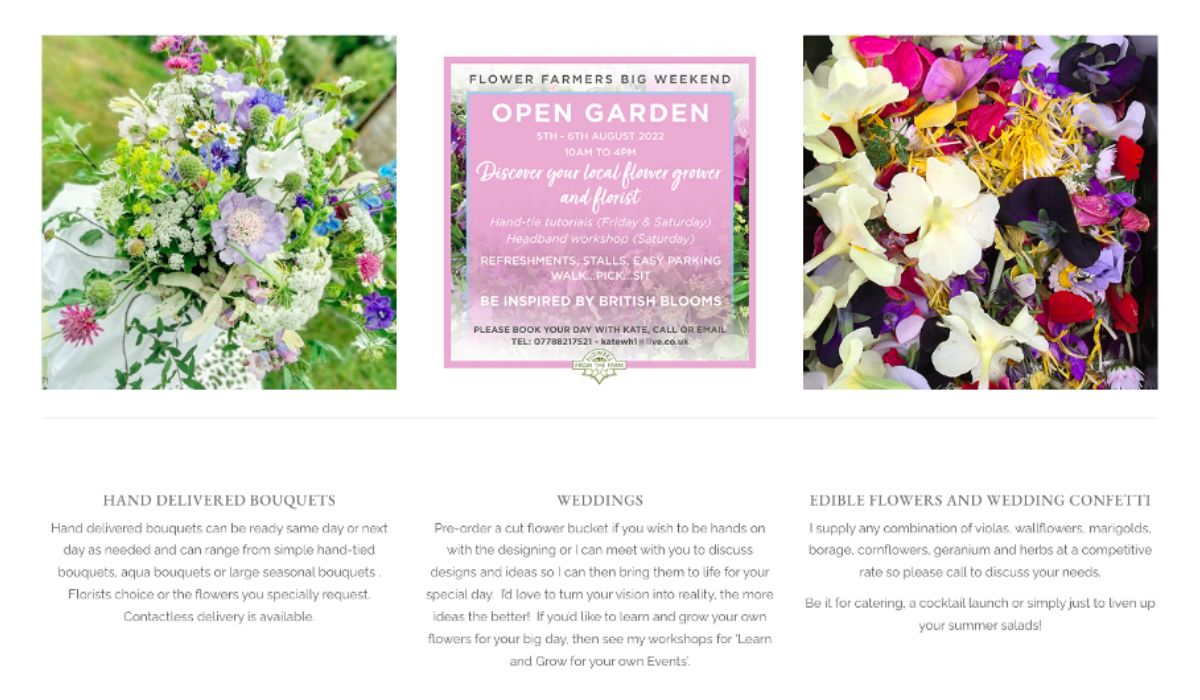 Kate's pieces are stylishly shown here using the Fleur theme that powers the site. This website is notable for its social media presence, contact page, and informational footer.
Conclusion
Flowers are a work of art used for different intents and purposes; whether for weddings, bridal designs, birthdays, or luxury decorations for businesses, floral designers and other casual lovers of nature would enjoy the personal touch flowers add to an occasion.
We are sure the examples cited here will give you every tool you'll need to start your blog. Whether you're a floral designer or a vendor of flowers for corporate events, this article caters to you.
If you intend to sell flowers online, pay close attention to shopping functions and portfolio features, and ensure that each picture conveys a tiny tale about your products. See you at the summit!