In Japan, around Mount Fuji, now is the season for admiring the cherry blossoms, a.k.a Sakura. This is all you need to know about this beloved tree that is so typical to the land of the rising sun.
Cherry Blossom or Sakura Around Mount Fuji
Cherry blossoms, a.k.a. sakura are the symbols of springtime in Japan. Every year around February, you'll start to see TV programs and web magazines giving out information about when the cherry blossoms will be in bloom.
Generally, the cherry blossom trees will bloom in order geographically in Japan: they first appear in the warm climate of southern Japan and make their way to the Kanto region, which includes Tokyo, then up to Tohoku in the north, and finally to Hokkaido. Since cherry blossoms typically only stay on the trees for around ten days or two weeks at most, everyone in Japan checks the cherry blossom forecast in springtime. That way, they can enjoy the cherry blossom season at its peak.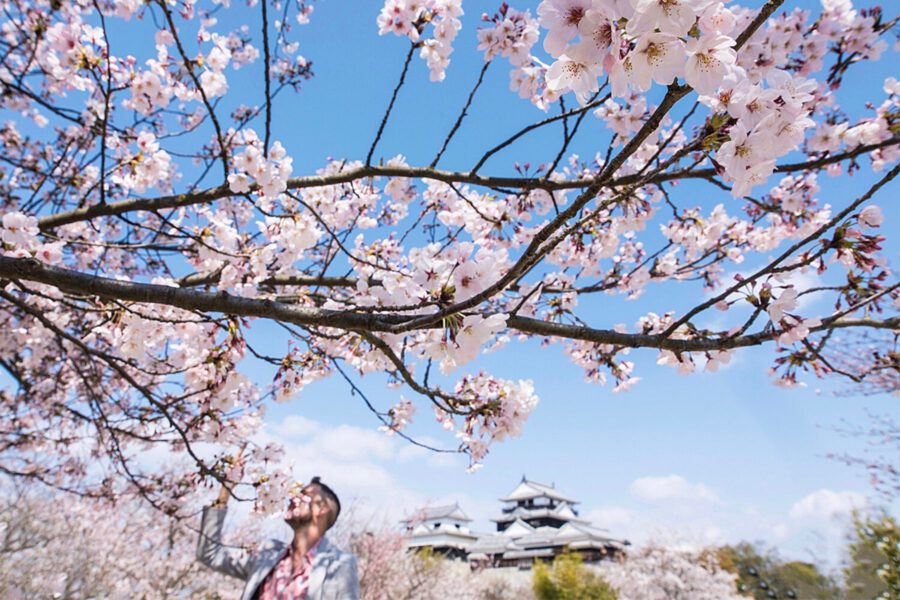 According to the latest forecasts, the cherry blossoms will bloom earlier than usual, starting from Tokyo. Already today, you can enjoy the first winter blooms. Kawazusakura is one species of winter-flowering cherry blossom, which usually blooms from late February to early March. However, with this year's warm winter, these blossoms reached full bloom now. You can identify these blossoms by their vivid color: they are a darker pink than other cherry blossoms.
One of the most scenic views that can be captured in Japan is the view of cherry blossoms around Mt.Fuji. When traveling to see the cherry blossoms in full bloom it's best to follow the forecast here.
There are many beautiful cherry blossom spots around the world. In the cities, and in parks. Just outside of Tokyo, there are endless cherry blossom viewing spots waiting to be discovered, with unique and picturesque Japanese landscapes, including hot springs and historical cities.. Let's Check Out the Top 5 Viewpoints of Cherry Blossoms around Mt Fuji.
1. Kawaguchiko
The most popular touristic lake of Fuji's five Lakes (Fujigoko). The most recommended photo point is the Northern Shores of Kawaguchiko where cherry trees are planted for 1.2 km along the lake.
Best time to visit: Early to mid-April Fuji Kawaguchiko Cherry Blossom Festival Fuji Kawaguchiko Sakura Matsuri: the Best Cherry Blossom View with Lake Kawaguchi and Mt Fuji.

2. Urui River
Urui River (潤井川) offers one of the best scenic views of cherry blossoms and Mt.Fuji with the beautiful stream of the river, and it's extremely popular among photographers during the season. The cherry‐tree‐lined path is located nearby Ryuganbuchi Bridge, which can be accessed within 10 min walk from JR Iriyamase Station (Minobu Line).
Best time to visit: Late March to early April.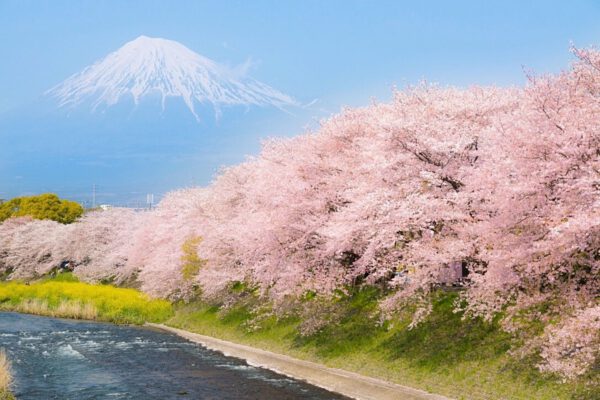 3. Oshino Hakkai
Oshino Hakkai (忍野八海) is a popular tourist sight of 8 spring water ponds of Mt.Fuji which is located between Lake Kawaguchiko and Lake Yamanakako. Enjoy the view of cherry blossoms in a traditional Japanese village with Mt. Fuji behind.
Best time to visit: Early to mid-April Springs of Mt. Fuji: Oshino HakkaiOshino Hakkai (忍野八海) is a tourist sight of 8 spring water ponds of Mt.Fuji located in Oshino Village in Yamanashi…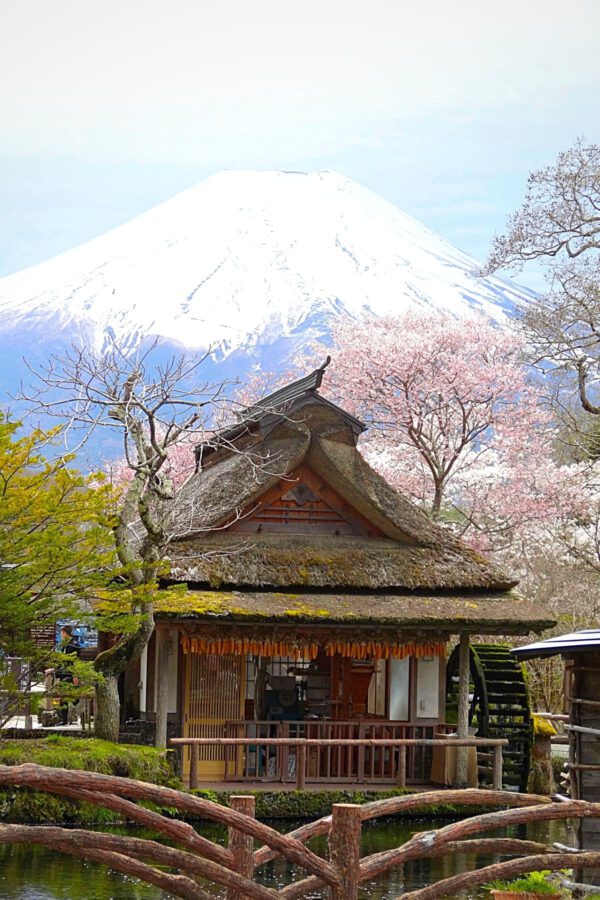 4. Chureito Pagoda
One of the most popular places to photograph in Japan is where the magnificent view of the red pagoda and Mt.Fuji can be captured in one frame. The most recommended time to visit is definitely cherry blossom season to boost the scenery even 100 times better!
Best time to visit: Early to mid-April Chureito Pagoda is 'The Best View Point of Mount Fuji'. This place is added to the UNESCO World Heritage site.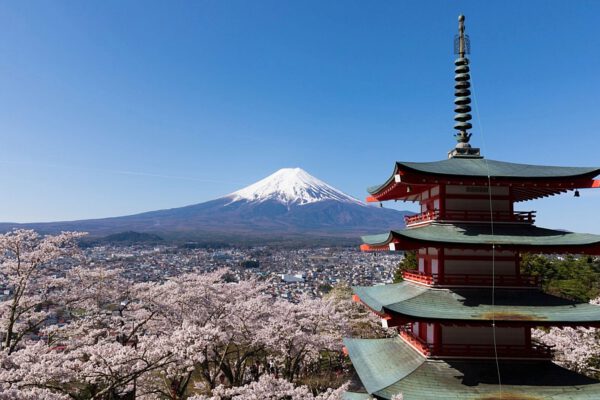 5. Fuji Shibazakura Festival
Fuji Shibazakura Festival is held every year in Fuji 5 Lakes (Fujigoko) area. Approx 800,000 shibazakura (pink moss or phlox moss in English) bloom at the base of Mt.Fuji. Unlikely other cherry flowers, shibazakura can be enjoyed till the end of May.
Best time to visit: Mid-April to mid-May Fuji Shibazakura Festival. One of the best flower festivals in Japan in spring.