The orchid's rank in the cut flower world is the same as that of the diamond and other precious stones in the jewelry business. So when choosing flowers for special occasions, such as weddings, anniversaries, and birthdays, there is nothing richer and finer than freshly cut Vanda orchids.
Vanda Orchids - Beauty at the Highest Level
Oh, what an astounding appearance a flower can have! It's almost magical how much enchanting beauty can exist in that one spike. This is typical of vanda orchids, one of the most exclusive orchids in the world.
Ansu Vanda is the sole supplier of the exclusive vanda orchids in Europe. Since the beginning of the 1990s, they have devoted themselves entirely to vandas. Its cultivation demands the highest craftsmanship, patience, and perseverance. By bringing together the expertise from Thailand and the Netherlands in one company, they are able to give the world's loveliest orchid the attention it deserves.
Images via @kwiatywujkajanka & @florian.roozen
A Wide Range of Vanda Flowers at Ansu Vanda
The current assortment available at Ansu Vanda contains a wide range of colors, from exuberant to extremely rare - many unique tints and even a white vanda, a color that took a quarter-century of cross-breeding to perfect. The vanda orchids that Ansu Vanda delivers as cut flowers year-round are specially bred for their unique colors and long vase life. Vanda fans are guaranteed weeks of enjoyment of the splendid color of a seductive orchid, whether as standalone eye-catching decoration or as part of a stunning floral arrangement.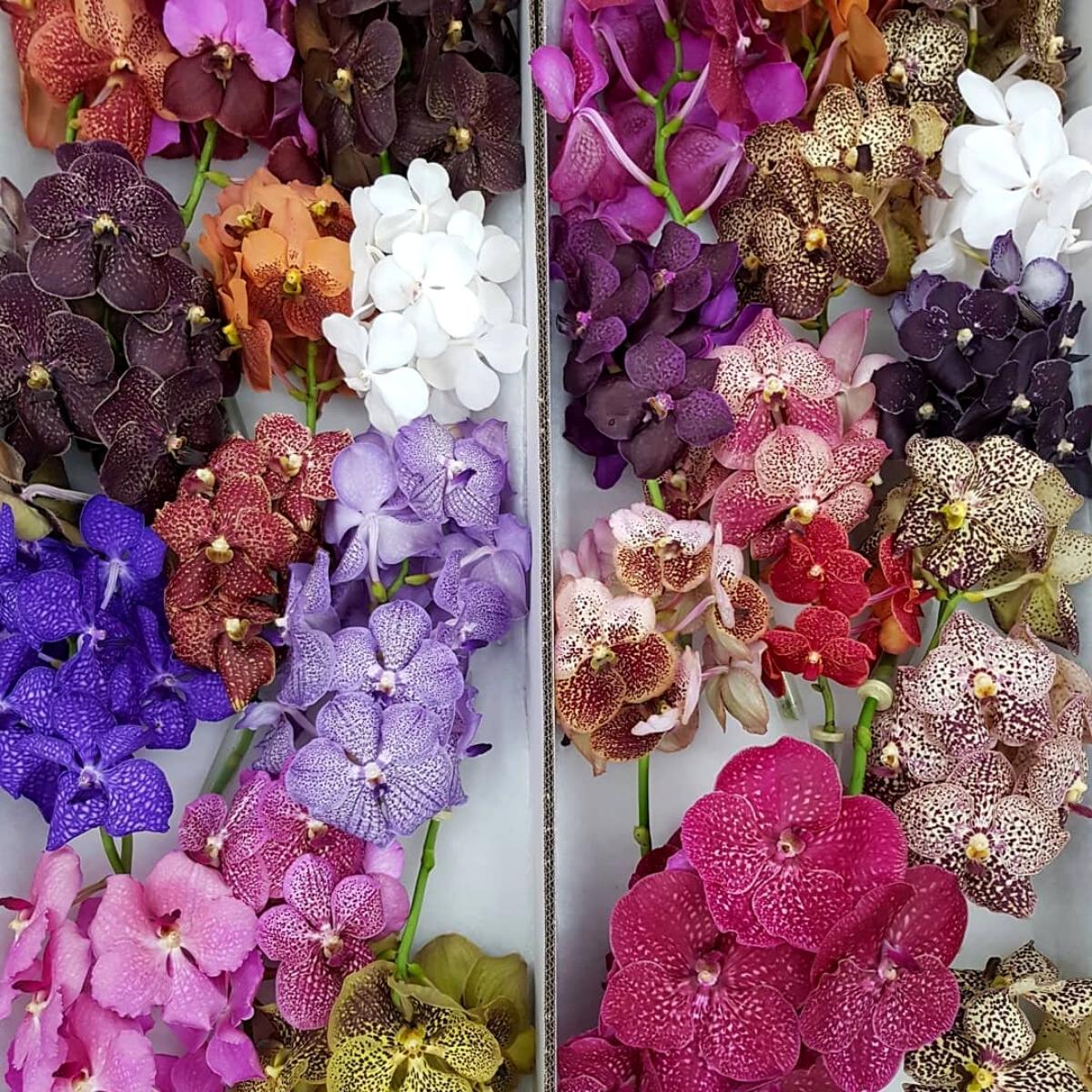 With so many beautiful varieties to choose from, it's hard not to buy them all once you have a look at the complete assortment of vanda cut flowers. Let's dive into five of the most beautiful vanda orchids that you will want to get your hands on right away.
Vanda Kanchana Magic Blue
One of the rarest varieties in Ansu Vanda's collection is the Vanda Kanchana Magic Blue. The vanda has the most colors of all orchids species, including blue - a color not often seen in the flower world. Though softly influenced with red, giving this variety a purple sheen, the cool but magical blue hues of this vanda add something truly special to any floral arrangement or bouquet.
Vanda Kanchana Ansu No. 1
Not surprisingly, the Vanda Kanchana Ansu No. 1 is the Chanel No. 5 among vanda orchids. This pure white beauty is long-lasting and has a year-round availability. Perfect for classic wedding themes, or really any arrangement that can use a flower as white as white can be.
Vanda Sunanda Chocolate Brown
Brown or coffee-colored flowers are completely trending right now. Their popularity has skyrocketed over the last few years, and rightfully so. The Vanda Sunanda Chocolate Brown is perfect for incorporating into earthy color schemes. The subtle but impressive colors of this vanda make it a rich flower that adds texture and interest to floral designs, whether you build voluminous pieces or keep it spare and simple.
Vanda Sunanda Jeff Leatham
The Vanda Sunanda Jeff Leatham is a purple-spotted beauty of the highest rank. With only a few stems of this spectacular Vanda orchid, you are ready to impress. This variety is named after the famous floral designer Jeff Leatham, on the occasion of his marriage to Colton Haynes. A stunning purple vanda packed with love.
Vanda Divana Sea Shell
As the name implies, the Vanda Divana Sea Shell gives off those pure, relaxing, beachy vibes. An interesting mix of the lightest shade of lavender that gradually fades into soft yellow, interspersed with lovely burgundy spotting. Just imagine the abundance of options for tropical arrangements you can create with this flower!
Designing With Vanda Orchids
Over the last three decades, the vanda had become a symbol of exclusivity in the floriculture sector. It is the orchid selected first for decorating important events or to give five-star hotel lobbies and living rooms extra allure. With their intense coloring and unusual growth habit, vanda orchids cause the hearts of flower lovers around the world to beat faster. Are you ready to start designing with vanda orchids? Check out Ansu Vanda on Thursd to discover more beauty at the highest level.