When it comes to transforming your outdoor space into a serene and tranquil haven, small water features can work wonders. The gentle trickle of water, the glint of sunlight dancing on the surface, and the soothing ambiance that these small ponds present can turn your backyard or garden into a haven of relaxation.
One way to elevate the beauty and ecological balance of your small water feature is by incorporating aquatic plants. These plants not only enhance its aesthetics but also contribute to its overall health. More so, they add to the element of personal well-being.
The Beauty and Benefits of Outdoor Water Features
Water features, whether they are small ponds, fountains, or container water gardens, offer a multitude of advantages for your outdoor space.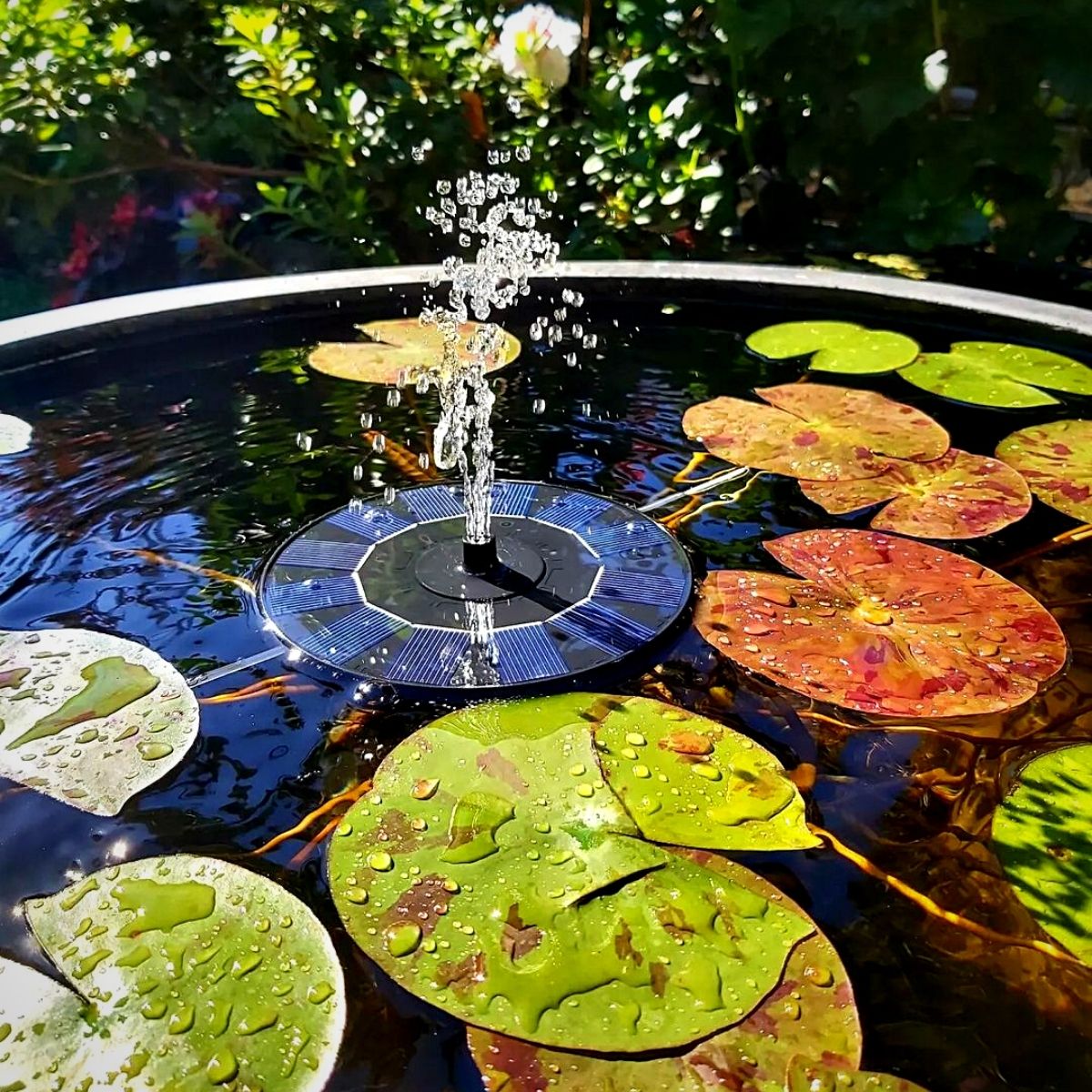 They enhance the aesthetic appeal of the space, adding a touch of elegance and serenity to your surroundings. The interplay of water, light, and reflection creates a visually captivating focal point. The addition of aquatic plants takes this beauty to the next level.
Water features also contribute to relaxation and stress reduction. The gentle sounds of flowing water have a calming effect on the mind. Plus, the tranquil ambiance of a water feature provides an ideal setting for relaxation, meditation, or simply unwinding after a long day.
Moreover, these water installations attract various forms of wildlife. From colorful dragonflies to melodious frogs and even visiting birds, the list is virtually endless. These interactions with nature can be incredibly rewarding and educational.
Furthermore, water features create an ecosystem balance. The mix must be right for your region of the world, for instance by avoiding aggressive invasive plants. Then aquatic plants and beneficial microorganisms in your water feature help maintain water quality by filtering out impurities and excess nutrients. They also provide oxygen, which is essential for fish and other aquatic life.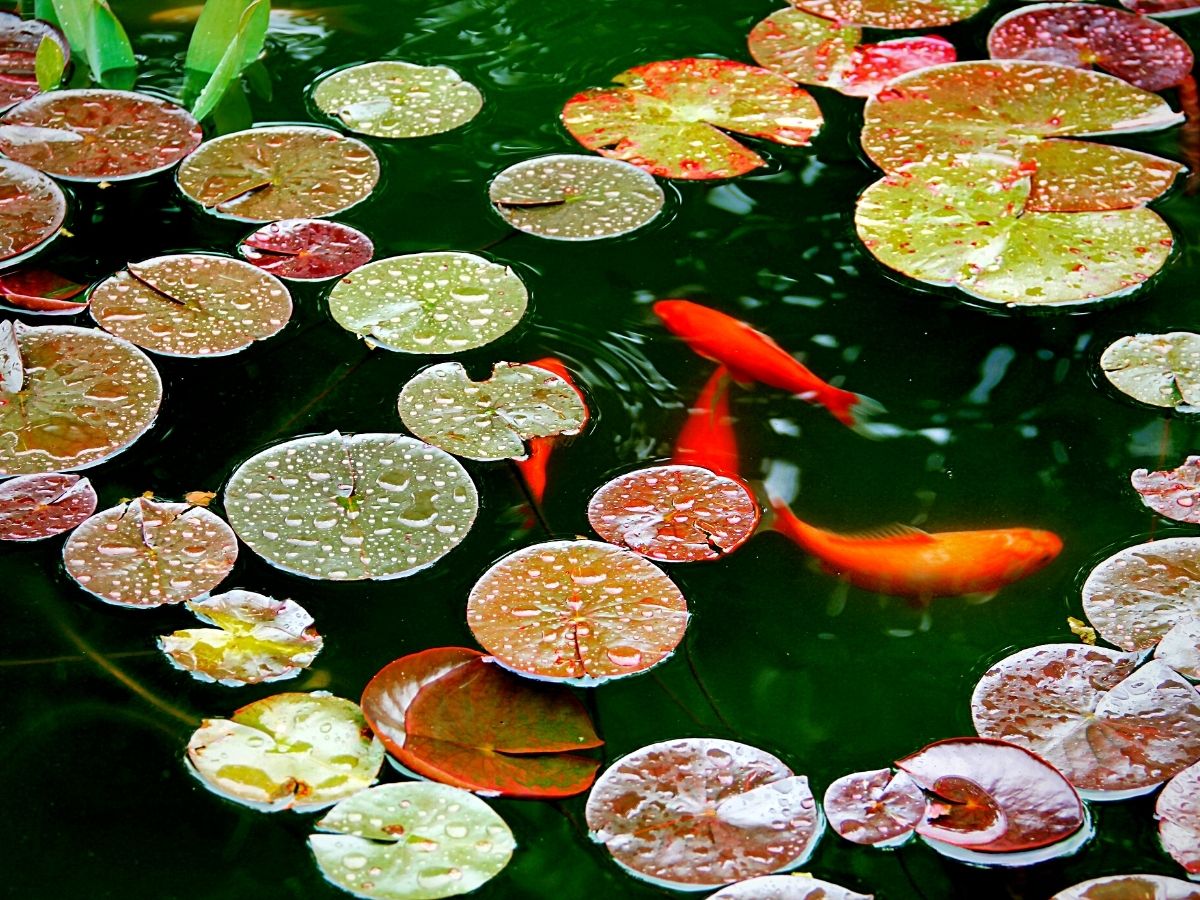 They also play a role in temperature regulation by moderating the surrounding temperature and creating a cooler microclimate during hot summer days. This can make your outdoor space more comfortable for relaxation and outdoor gatherings.
10 Aquatic Plant Varieties to Try Out in Your Water Feature
Now that we understand the benefits of incorporating aquatic plants into your small water feature, here are the ten such plants that are perfectly suited for this purpose.
Water Lilies (Nymphaea spp.)
Water lilies are the epitome of aquatic beauty. They come in various sizes, making them suitable for small water features. The leaves float gracefully on the water's surface, while their stunning blooms add bursts of color to your feature.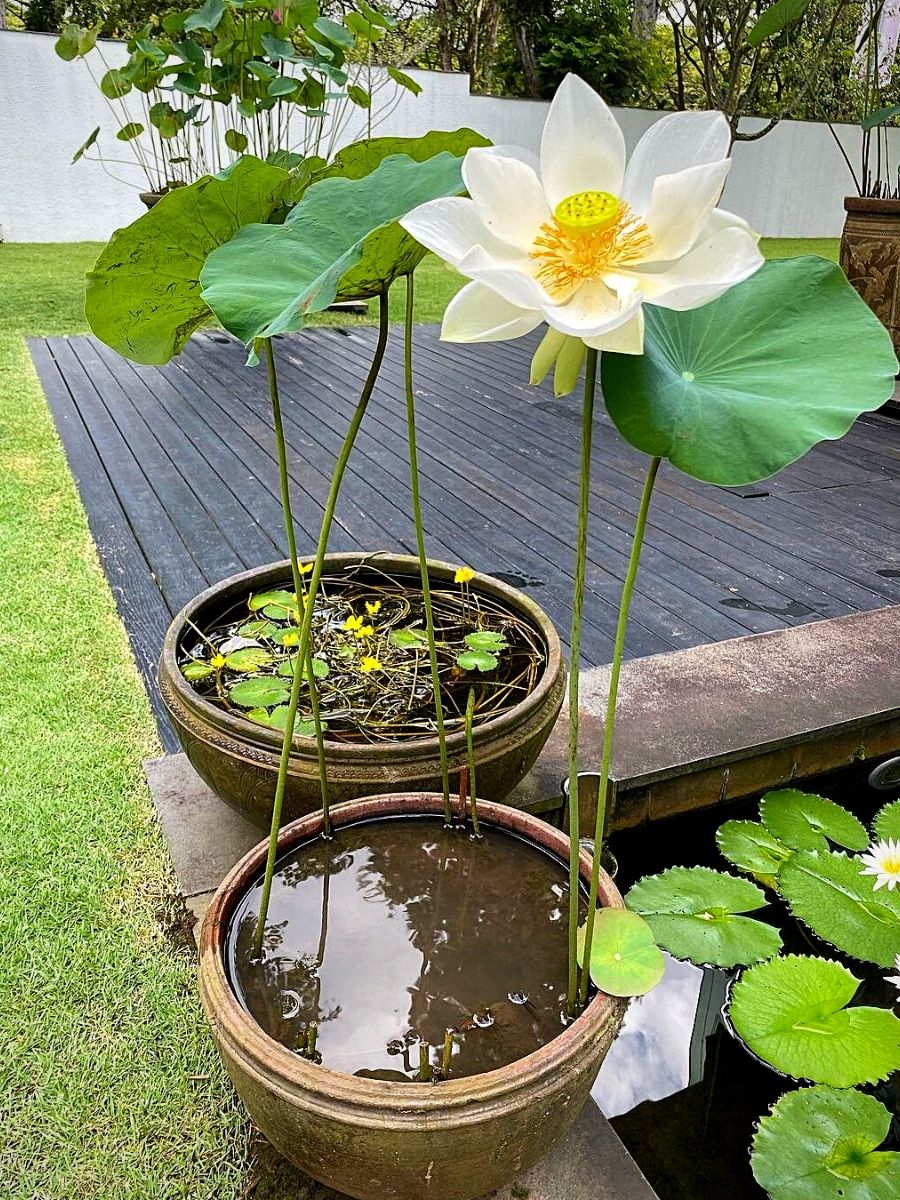 These aquatic plants provide shade, reducing algae growth and maintaining water clarity. Their floating leaves offer resting spots for small insects and amphibians. Additionally, they create a haven for fish seeking shelter from predators.
For perfect incorporation of water lilies, plant them in pots with specialized aquatic soil and place them in the deeper areas of your water feature. Ensure that the leaves are allowed to float freely on the water's surface.
Marginal Plants (Iris spp., Typha spp., Pontederia cordata)
Marginal plants thrive at the edges of ponds and water features. Examples of these plants include iris, cattails, and pickerelweed. They have striking vertical growth with distinctive foliage.
These plants offer erosion control by stabilizing the edges of your water feature. Their roots act as natural filters, removing excess nutrients from the water and improving water quality. Additionally, they provide a habitat for aquatic insects.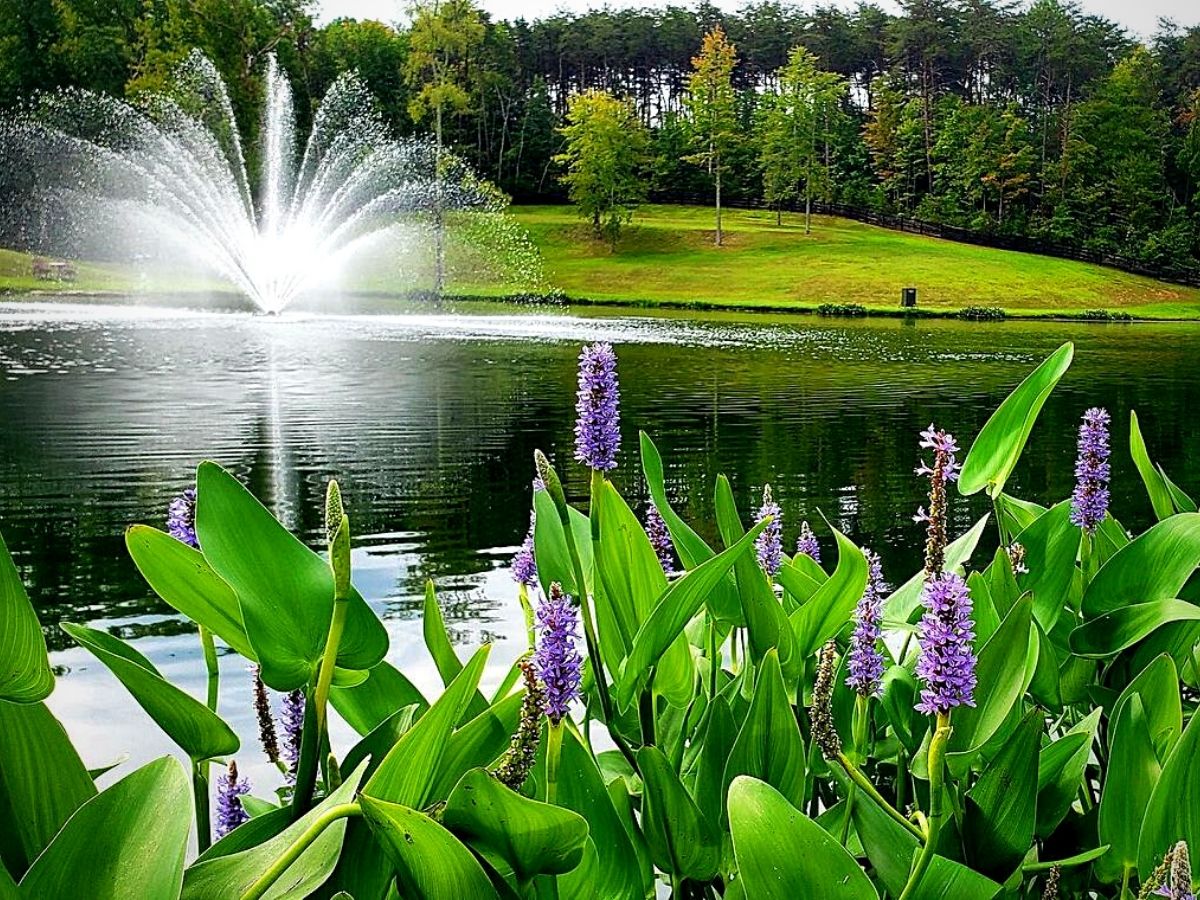 You can plant marginal plant species in shallow areas of your water feature, ensuring that their roots are submerged. This creates a beautiful transition between the water and the land.
Floating Plants (Pontederia crassipes, Pistia stratiotes)
Floating plants, such as water lettuce and water hyacinth, are known for their ability to drift on the water's surface. They have unique, lush appearances with intricate root systems that hang beneath the water.
These plants provide shade for the water, reducing sunlight penetration and inhibiting algae growth. Their extensive root systems also absorb excess nutrients, helping to maintain water quality. These plants also provide refuge for small aquatic creatures.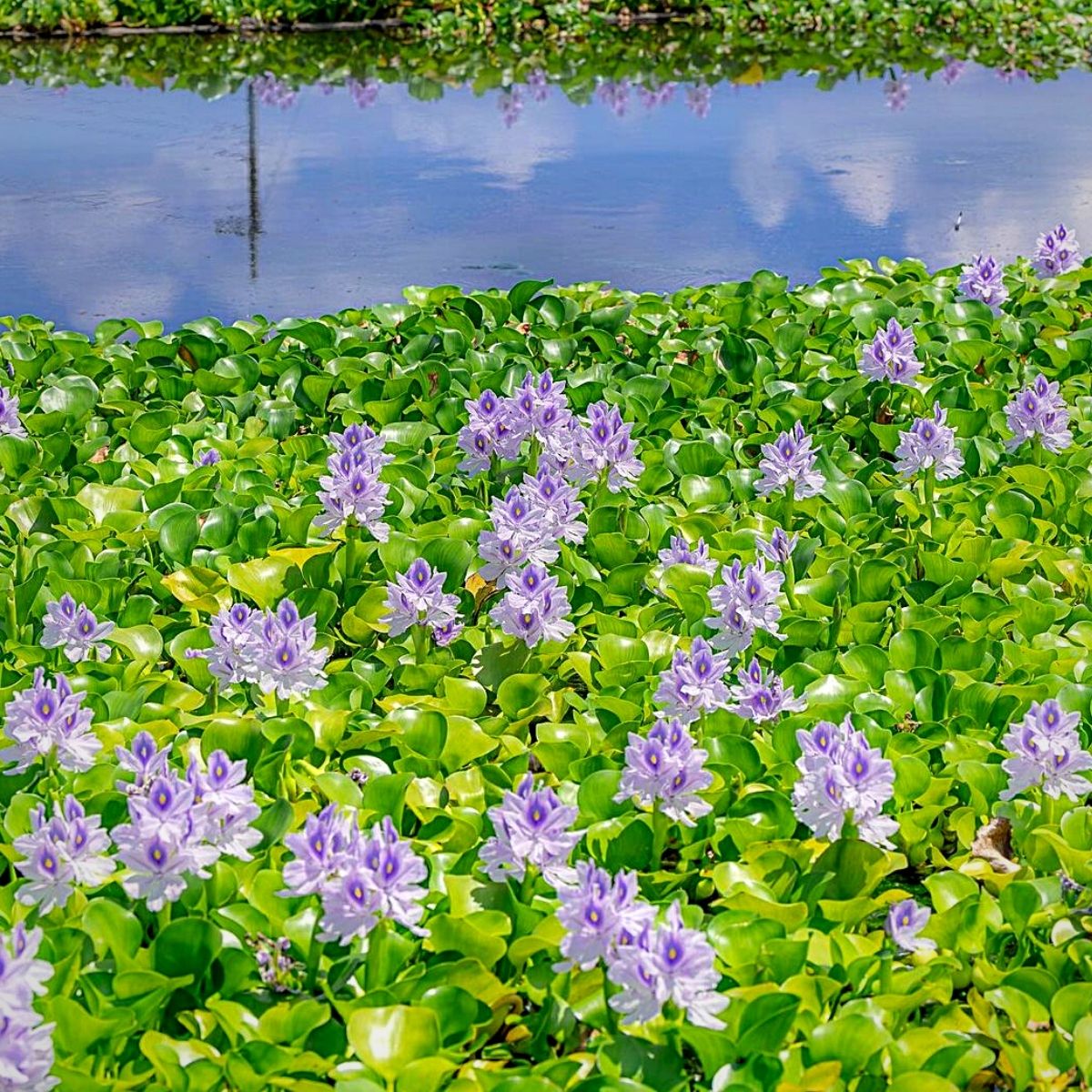 You can allow the floating plants to roam freely on the surface of your water feature. They can also be contained in floating planters to prevent them from taking over the entire surface.
Just be aware that a plant like the water hyacinth can show some aggressive behavior. Although it is naturalized throughout the world, anecdotally, this Pontederia crassipes is known as the 'terror of Bengal' due to its invasive growth tendencies.
Bog Plants (Sagittaria spp., Saururus cernuus)
Bog plants, like arrowhead and lizard's tail, thrive in muddy or boggy conditions. They have attractive foliage and can add texture and interest to your water feature's edges.
They are beneficial in that they absorb excess nutrients and help stabilize the shoreline. Additionally, they provide shelter for frogs and other amphibians and can attract pollinators when in bloom.
Bog plant species can be planted at the water's edge, ensuring that their roots remain partially submerged. This creates a natural transition from land to water and adds a lush border to your feature.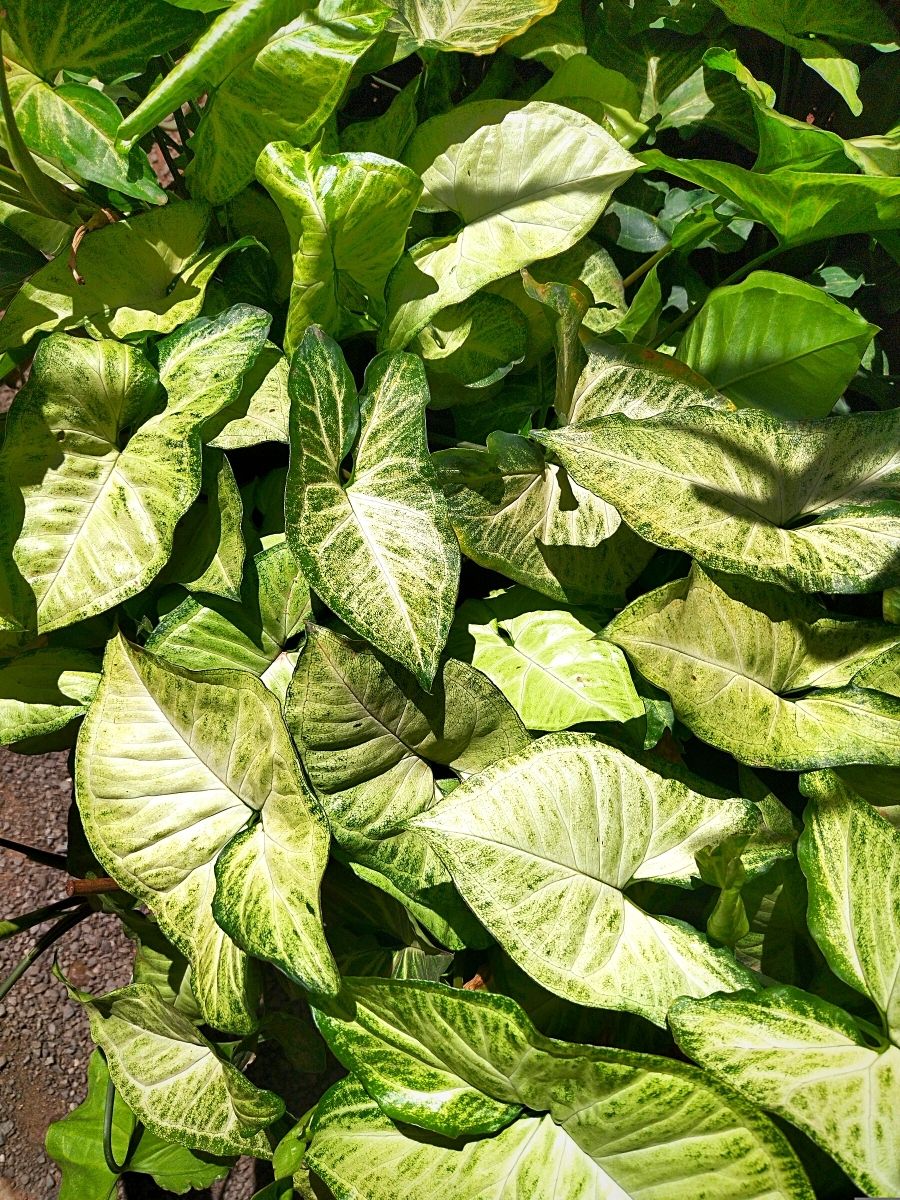 Oxygenators (Egeria densa, Ceratophyllum demersum)
Oxygenators are submerged plants that release oxygen into the water, benefiting aquatic life and leaving the water fresh. Anacharis and hornwort are common examples, known for their fine, feathery leaves.
These plants help oxygenate the water, which is crucial for fish and other aquatic organisms. They also absorb carbon dioxide and provide shelter for small fish and other invertebrates.
You can place oxygenators in submerged pots or baskets at various depths within your water feature. Ensure that they receive sufficient light for photosynthesis.
Lotus (Nelumbo spp.)
While lotus plants are often associated with larger ponds, there are dwarf varieties, such as Nelumbo 'Pygmaea' or 'Helvola,' that are well-suited for smaller water features. They produce striking, exotic-looking blooms and distinctive, round leaves.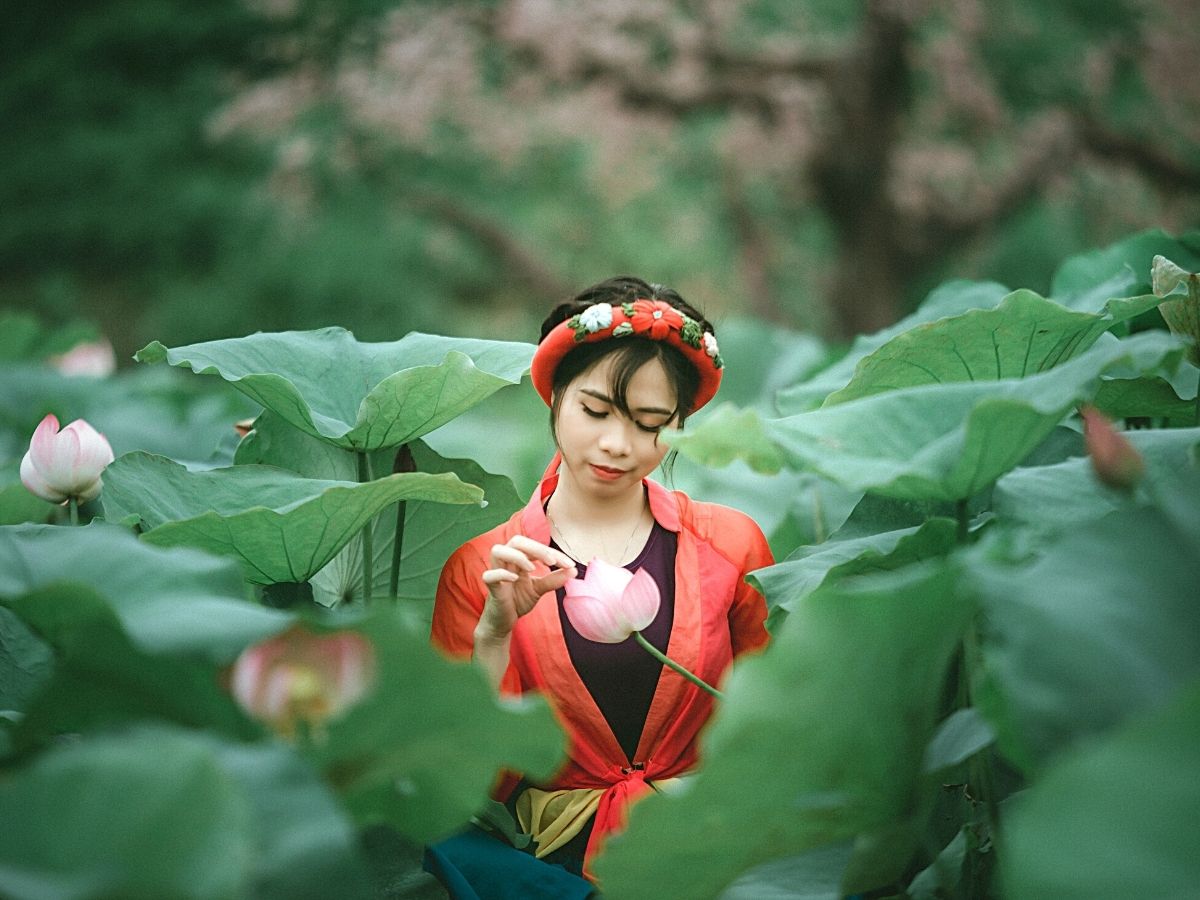 Lotus plants add a touch of the exotic to your water feature. Their floating leaves provide shade and reduce algae growth. The plants' blooms are not only beautiful but also attract pollinators.
Lotus plants can be planted in large containers or pots placed in the deeper sections of your water feature. Be sure to choose a dwarf variety that suits the size of your feature.
Golden Creeping Jenny (Lysimachia nummularia)
The golden creeping Jenny is a trailing plant with vibrant green foliage and small, yellow flowers. It's an excellent choice for adding a cascade of greenery along the edges of your water feature.
This plant softens the appearance of rocks or containers in your water feature, creating a more natural look. It also helps stabilize the soil along the water's edge.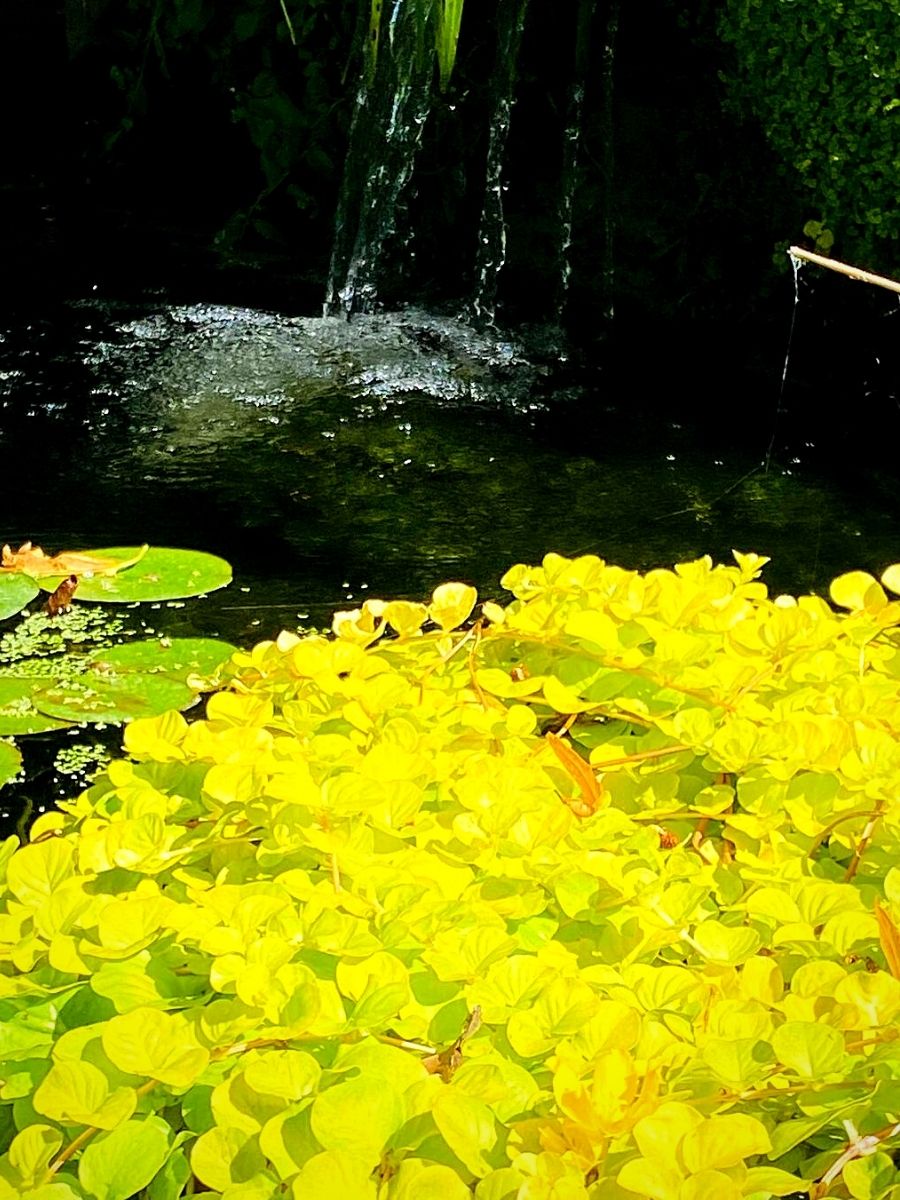 Creeping Jenny can be planted in moist soil at the water's edge, allowing it to cascade into the water. This adds a delightful visual dimension to your feature.
Sweet Flag (Acorus calamus)
Also called sway or muskrat root, among many other common names, the sweet flag is a small, ornamental plant with attractive sword-like leaves and a pleasant fragrance. It's well-suited for container water gardens or small ponds.
This plant adds visual interest with its distinctive foliage and aroma. It also helps to stabilize the soil at the water's edge and contributes to the water's quality.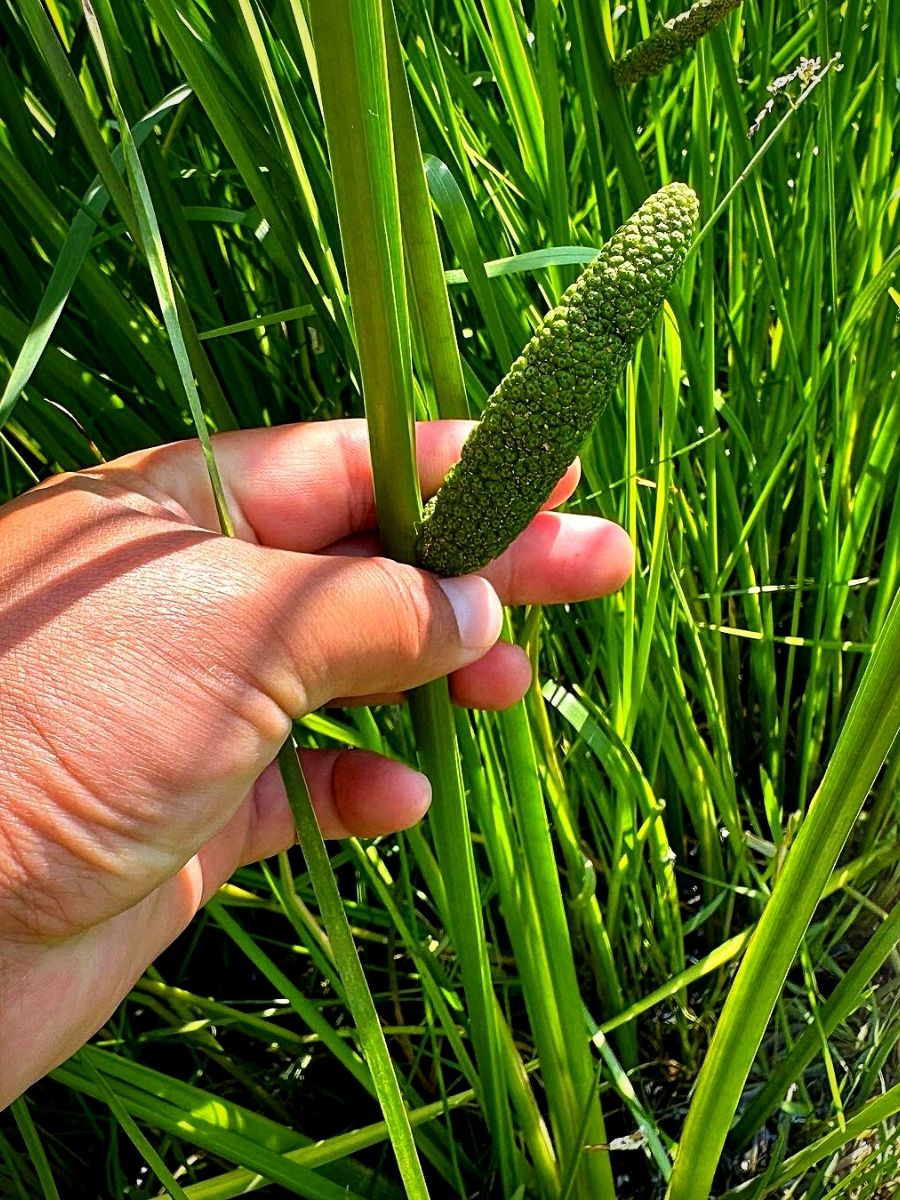 Sway plants can be planted in containers at the water's edge or in shallow areas of your water feature. When planting it, ensure that the roots are submerged.
Umbrella Palm (Cyperus alternifolius)
The umbrella palm, also called umbrella papyrus or umbrella sedge, is known for its exotic appearance, featuring clusters of thin leaves that resemble umbrellas, and can add a unique and eye-catching element to your water feature.
It is a plant that offers a striking visual focal point and can provide shade to the water surface. Its root system also helps filter the water and stabilize the soil at the water's edge.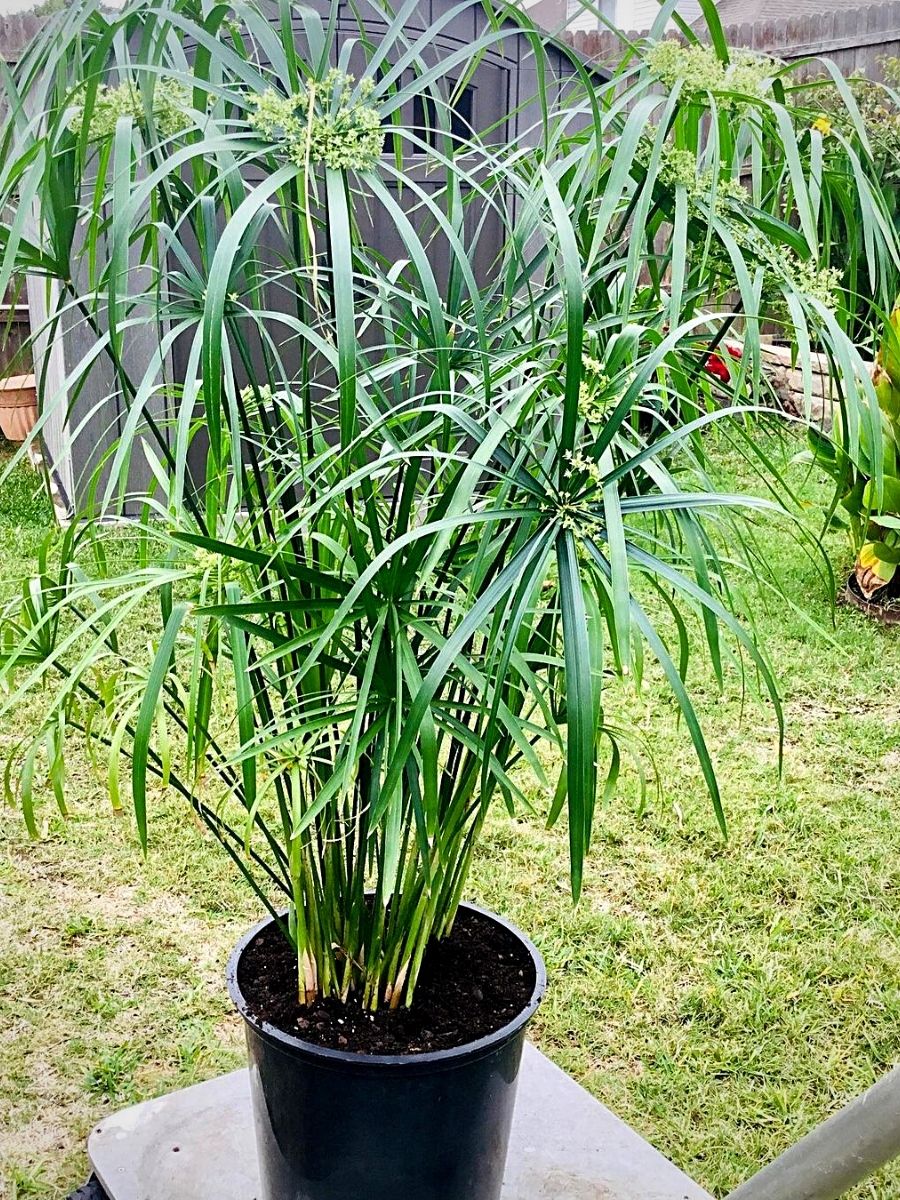 Plant umbrella palms in containers or pots and place them in the shallow areas of your water feature, allowing the foliage to rise above the water's surface.
Dwarf Water Lily (Nymphaea 'Pygmaea' or 'Helvola')
Dwarf water lilies are specially bred for smaller water features. They have tiny leaves and blooms that are proportionate to the size of your water feature, making them a perfect fit.
These lilies offer all the benefits of regular water lilies, such as shade, water quality improvement, and habitat for aquatic life, but in a compact form suitable for small water features.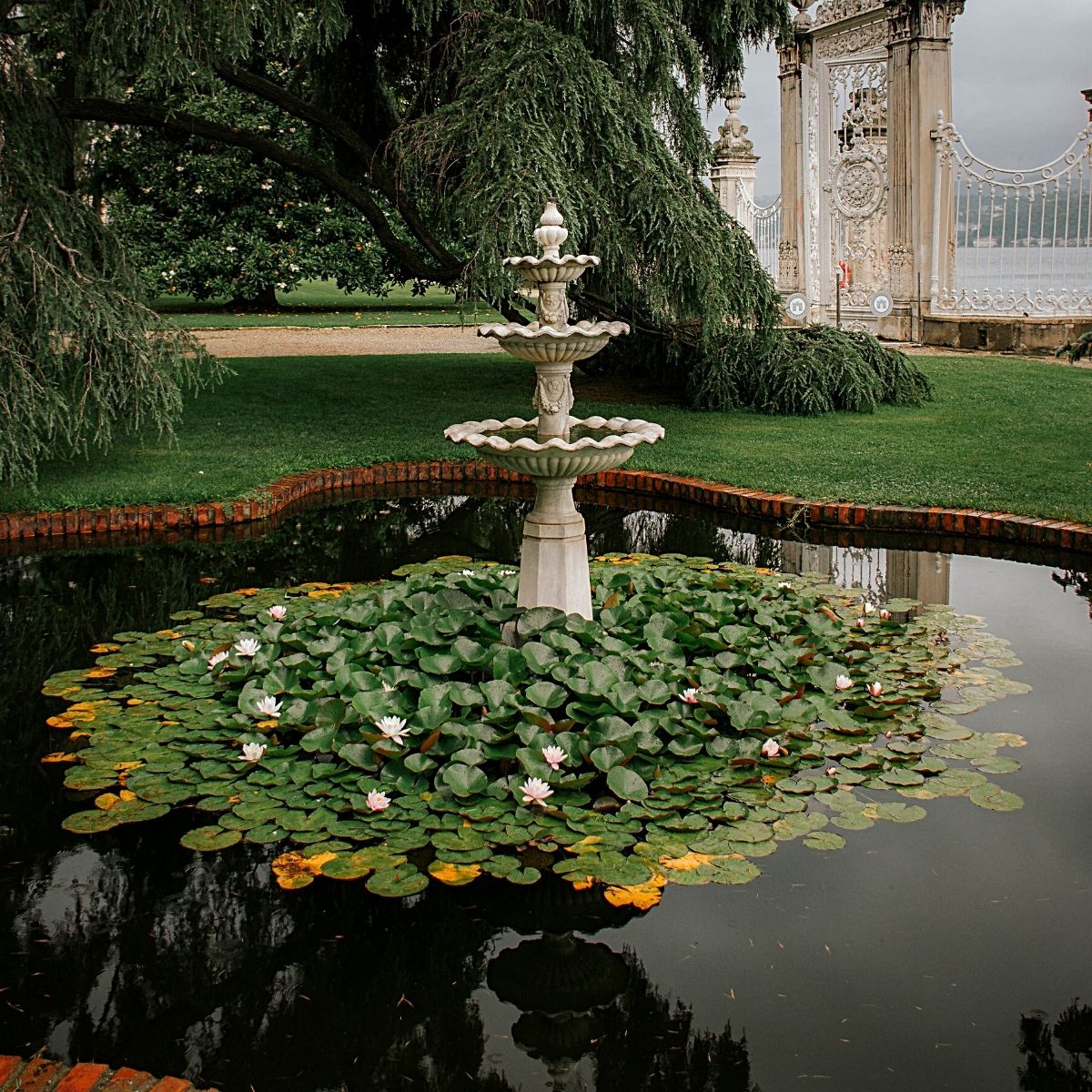 To add them to your water feature, plant the dwarf water lilies in pots or containers in the deeper sections of the pond. They will thrive with proper care and maintenance.
Incorporating Aquatic Plants Into Your Small Outdoor Water Feature
When growing aquatic plants in your water feature, always remember to choose plants that suit the size and depth of the pond or small lake and maintain them regularly to ensure their health and vitality.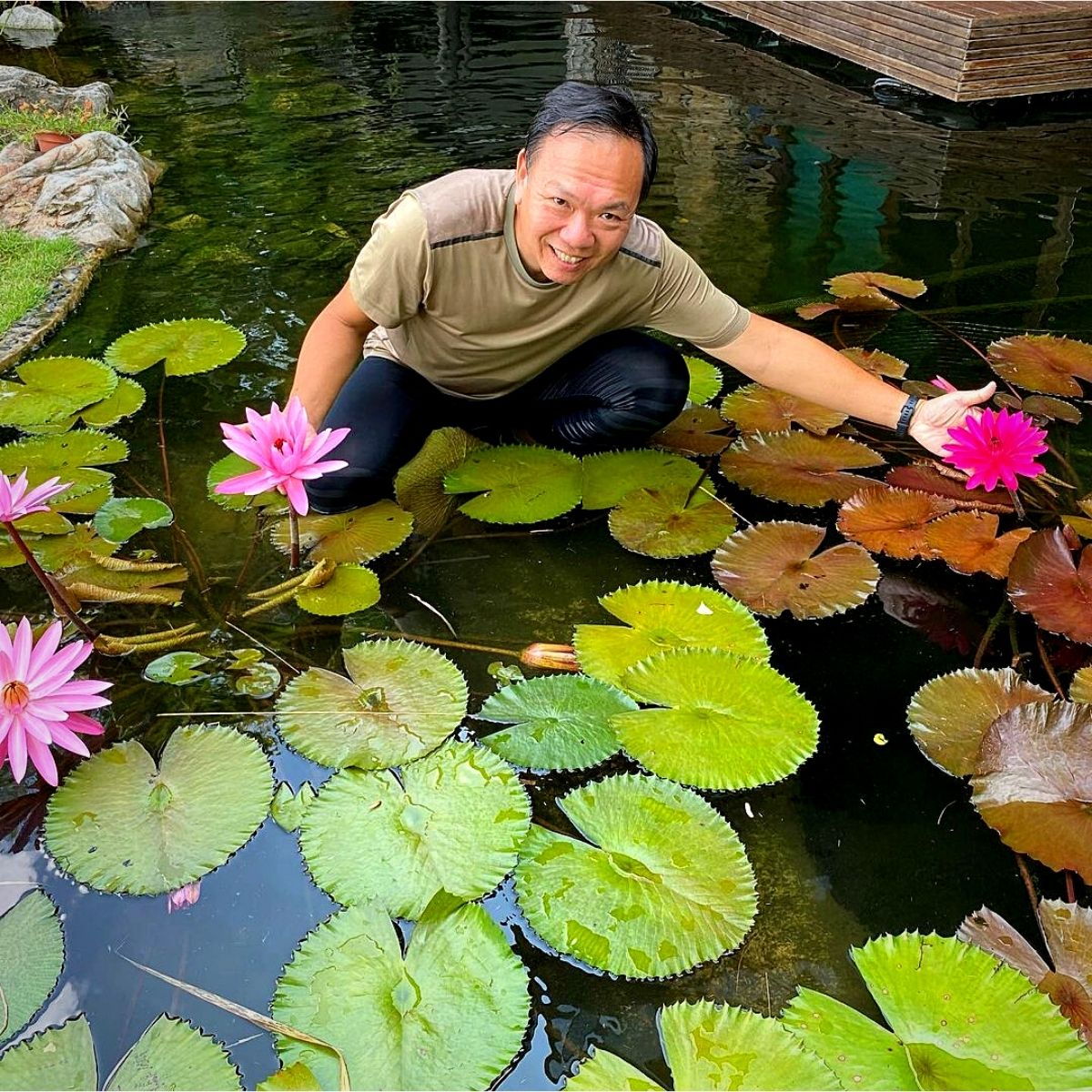 With the right selection and care, your small water feature will become quite the source of serenity that you and all who visit your outdoor oasis desire.
Feature image by @drlotusandwaterlily on Instagram, header image by Max Rahubovskiy on Pexels.