If you want thriving flowers, you must use products that make them thrive, look, and feel their best because what will be of your flowers if you don't take care of them appropriately? Newday Farms, specialists in growing spray carnations along with Chrysal professionals will reveal a few vital tips to care for your carnations in the best way possible for both the product and your environment.
Newday Farms - Growers of the Finest Spray Carnations
If you're ever in need of the finest, and most divine spray carnations, Newday Farms, a flower nursery from Turkey - with an experience in the field of over 25 years - has got them. Growing high-quality flowers and fillers year-round is what they love to do, always keeping a big smile on their client's faces. But besides that, their mission was already clear before founding the company in 2018; adding social and environmental value as a company was a must, and nowadays they've completely achieved this.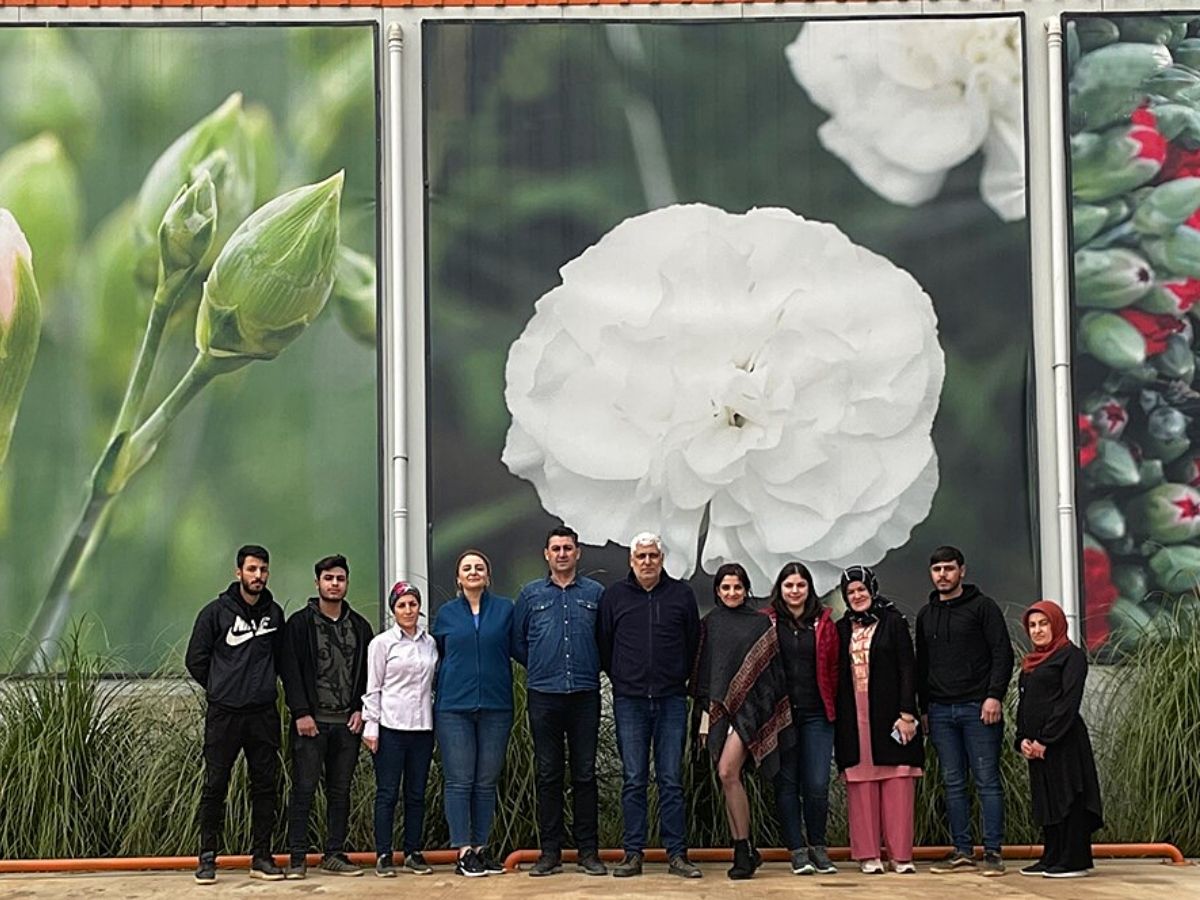 Contribution to the World
For Newday Farms, being able to make an impact as a company on the well-being of others and the environment is self-evident and one of the most crucial components that make up the business. They like being part of making a difference in the long term, the reason why they grow the most amazing range of spray carnations ready to fill your life with nothing else but divinity and charm.
The name Newday Farms was chosen with a purpose, founder Seval Öz explains:
"Every day is a new day to make a difference and contribute to the world and planet, for now, and for future generations. As a mother of three kids, I dream of a future for our children to have access to equal education opportunities and live on a greener planet.

We donate a tree for every 30k spray carnations ordered at Newday Farms. We are in strong cooperation with TEMA (Turkish Foundation for Combating Soil Erosion) and have planted over 2,000 trees in different afforestation areas all across Turkey.

I am happy to be able to produce social and environmental benefits as a result of our business. Hoping to have a brighter Newday for our future."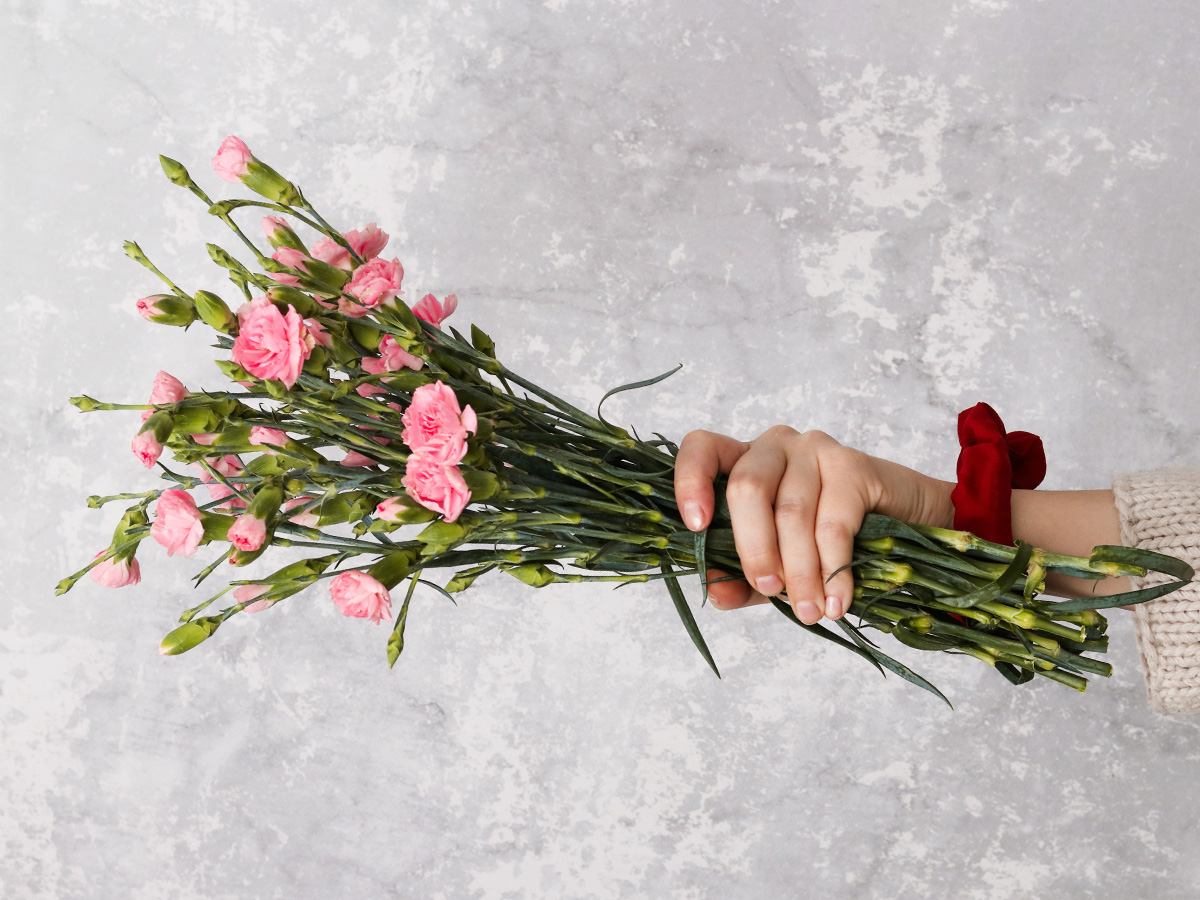 Social Added Value
On the social part, Newday Farms gives women equal chances within their company. Besides that, they sponsor the education of talented girls who otherwise could not afford to go to school or university. Being a woman, founder Seval Öz knows from past experience what it is when you want to be appreciated in your work and how life is when living on a smaller income.
Environmental Added Value
On the environmental side, the flower business plants large numbers of trees during the year, which connects well with the green business they are in. This is also made possible in cooperation with all the international clients, for which Newday Farms are very grateful. Trees help reduce the CO2 on the planet and create a surrounding attracting animals and other precious natural life.
Having a company that focuses heavily on social responsibility, Seval Öz appeals to all flower buyers of the world to consider people and planet as well as profit when buying flowers:
"I would strongly recommend looking at the traceability, so you can be assured that the flowers you buy are sourced from a socially and environmentally responsible grower and supplier."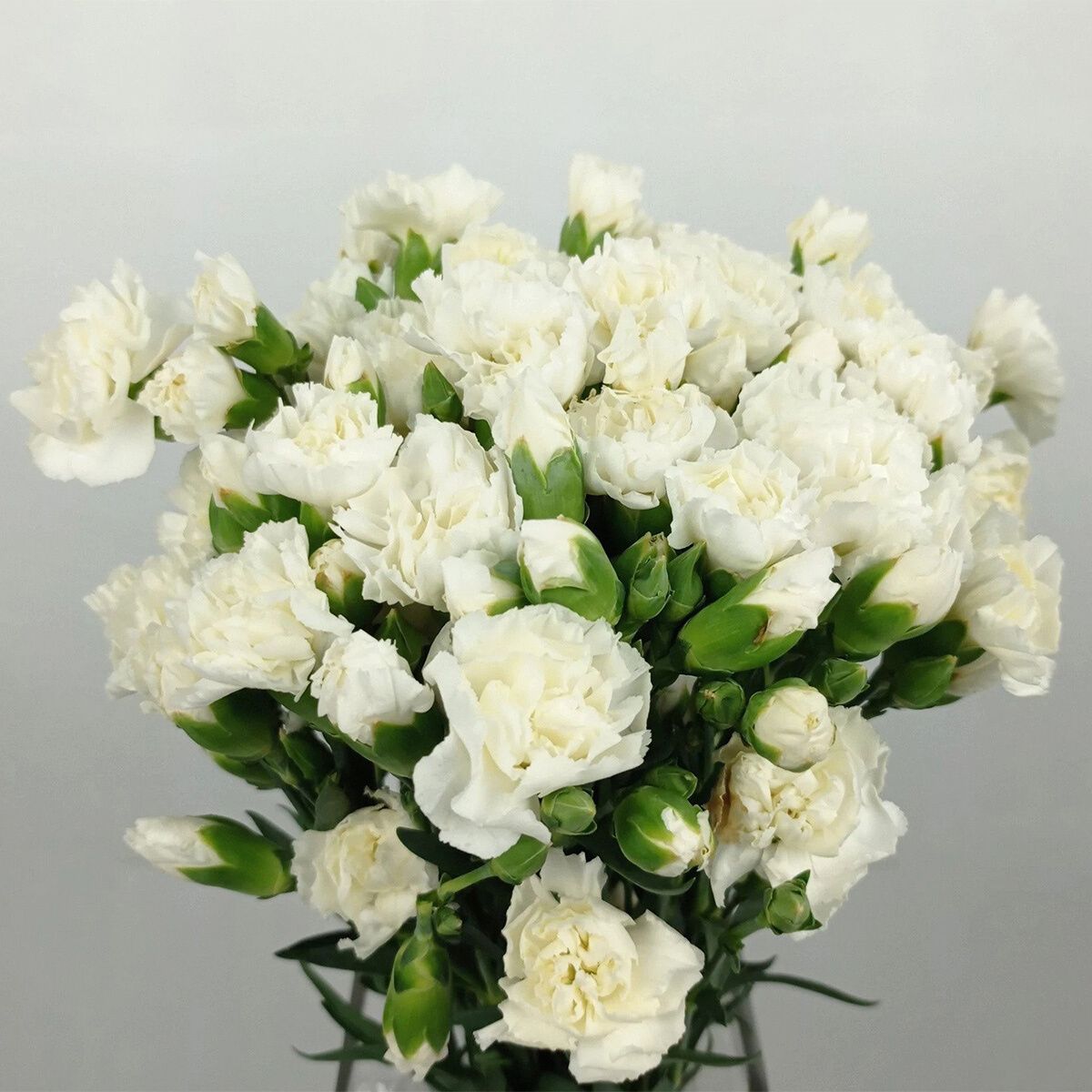 The Uniqueness of Spray Carnations
The lovely flower known as the spray carnation is a variation of the standard carnation. The spray carnation, however, has more flowers than a single carnation does. The flower, which has a fair amount of cold resistance, was originally discovered in Southern Europe. Its branched stems bear flowers that come in a variety of hues, including red, pink, yellow, and purple.
Newday Farms, together with Chrysal, have put together the best and most efficient tips that'll always have your carnations drop-dead gorgeous. So, do you want durable and beautiful spray carnations? Follow these useful tips!
Chrysal Spray Carnation Tips for Growers to Obtain the Best Results
Seval Öz likes to share her experience as a grower helping other spray carnation growers to get the best result possible:
"A proper post-harvest treatment is a must for a prolonged vase life and full blooming of spray carnations. We use Chrysal AVB upon the harvest. We soak the freshly harvested flowers into the prescribed AVB solution for a minimum of four hours and refresh the solution at recommended intervals. This secures maximum water intake for flowers which is a key to long vase life.

Newday Farms exports to many European countries like the UK, Germany, the Netherlands, Norway, and Poland. We run vase life tests regularly, and we simulate a supply chain process, to see how our flowers perform and if they meet the specific requirements of our clients. Flowers that are treated with Chrysal AVB overperform in terms of vase life and homogenous blooming.

Besides this, we use Chrysal universal flower food on all our products that are sold directly to the retail. Once at the final consumption stage, cutting down the stems by a few mm would help a lot to see lovely blooms for a longer time."
Chrysal confirms the opinion of Newday Farms:
"The durability of the blooms is greatly impacted by the post-harvest care given by the grower. The spray carnation is shielded from ethylene, which the flower is extremely susceptible to if treated with Chrysal AVB. Chrysal Ethylene Buster use in conjunction with AVB treatment can enhance its effects. Customers will enjoy themselves longer as a result of this."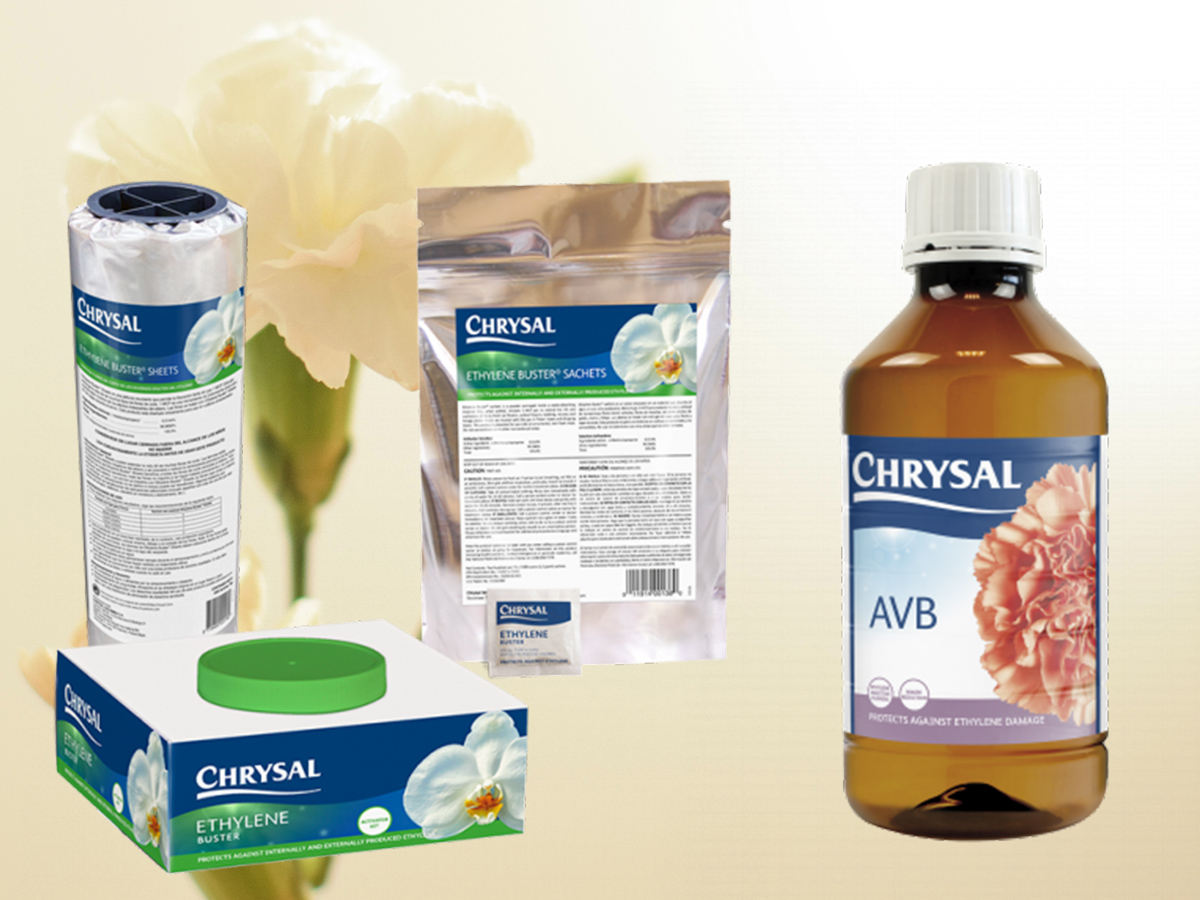 Chrysal's Tips for Florists
The flower food specialists at Chrysal have some need-to-know tips for florists to maximize the joy of spray carnations:
"To keep spray carnations in top condition in the store we advise using a solution of Professional 2. This keeps the flowers fresh, helps retain their color, and prevents the flowers from opening up too much. Your spray carnation will last a lot longer and you will experience less waste.

For floral arrangements and vases, you can use Professional 3. It contains the much-needed nutrients that your flowers need to bloom and keeps them fresh for up to 60% longer. It is also extremely important to provide enough flower food to your customers so they will be able to enjoy your work as long as possible."
Chrysal Tips to Care for Spray Carnations at Home
With all these great tips provided by Chrysal, there is no way your spray carnation care could go wrong! Here is a list of care tips to provide your customers, so they will be able to enjoy their floral designs using carnations for a longer time at home.
The spray carnation is extremely sensitive to ethylene, so don't forget to keep it away from the fruit bowl.
Cut the stem 2-3 cm with a clean, sharp knife or secateurs.
Place the flowers in a clean vase with fresh water and flower food.
Keep flowers away from draft, heat, and direct sunlight.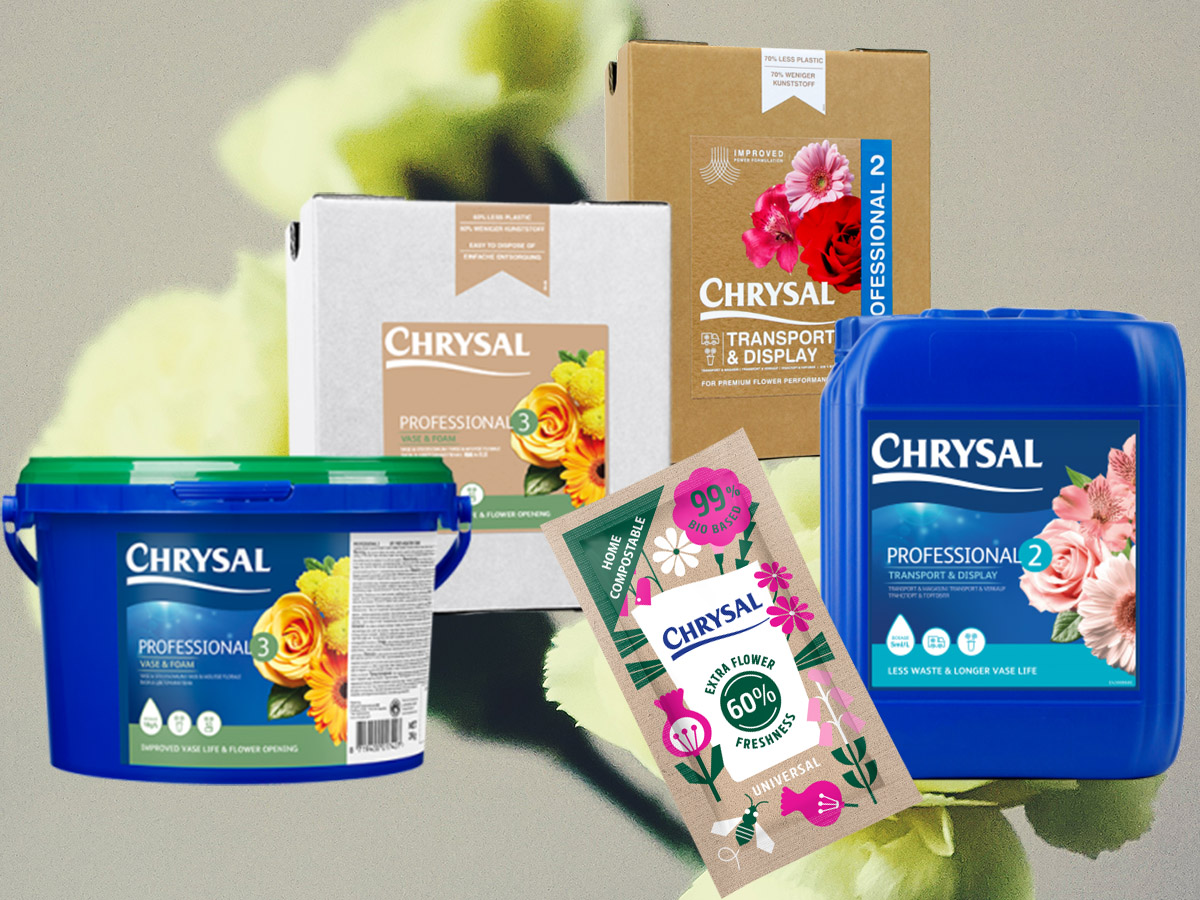 There's one thing for sure, for flowers to progress, prosper, and fully blossom, they need the correct flower food and Chrysal is just the right source to get your spray carnations looking next-level beautiful.
Newday Farms' founder Seval Öz agrees with this, expressing her passion for spray carnations:
"What I love most about these flowers is that spray carnations are one of the flowers that have a long vase life so we will be cheering the households' homes longer."