The Virtual Tulip Festival is hosted by Sarah Campbell and Jordan Marx from Intrigue Designs. Their inspiration came through a bunch of yellow tulips. It lightened the room completely and so they decided they wanted to make a lot of people this joyful. They gathered a team around them with people that give them energy and waves of laughter. A dream team to make their Virtual Tulip Festival a reality. The Dream Team 
Bron
, 
Sue
, 
Ana & Anaïs
, 
Michelle
, and 
Beth
 made incredible designs. In this article, Beth's arrangement is highlighted. This event is made possible through the support of the U.S. tulip growers, their European bulb suppliers, and funding from the European Union.
About Beth O'Reilly
Sarah Campbell:
Let me tell you what, there isn't anything that Beth can't do! Beth O'Reilly AIFD is a multifaceted floral industry expert, with a BFA in Fine Art Sculpture. Beth's greatest passion is to create 3-dimensional installations using flowers as her medium! Most recently, Beth won the hearts of flower lovers around the world as the fan-favorite on the new HBO Max "Full Bloom" series. Beth has had a love of flowers for as long as she can remember, and she is driven by the opportunity to touch the lives of others by creating memories and sharing the joy of beautiful blooms. Nature is something that can be enjoyed and appreciated by everyone and that's what she finds beautiful, creating moments of joy that are meaningful. Those moments can never be taken away.
IG: @beth.orielly.aifd WEB: bethoreilly.net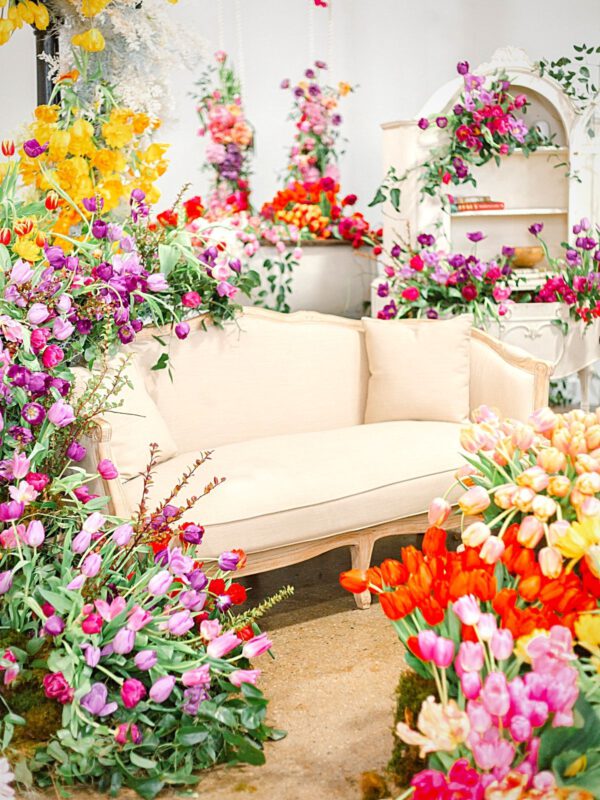 The Story Behind the Design
Beth was six years old when she wanted to bring her neighbor a nice bouquet of self-picked purple tulips. The flowers made the lady extremely happy and when she got older, she knew she wanted to create this feeling for people.