Spring has sprung, so why not get your sparkling yellow bromeliads that will brighten up your Easter with a burst of energy and color. In Brazil, where this plant grows in the wild, the bromeliad is known as the 'Living Fiesta'. The Latina of houseplants is flamboyant, upbeat and resilient. What's more, you'll find that she vastly improves the air quality at home. Yellow Bromelias are the perfect way to celebrate Easter. Their bright yellow petals and unique shape make them a standout addition for your interior as a plant, or, as a cut-flower to any flower arrangement. Not only are they beautiful, but they also carry a special significance. Yellow Bromelias symbolize renewal and rebirth, making them the perfect flowering plant for this time of year.
Common Names:
Golden Bromeliad
Living Fiesta
Yellow Pineapple
Yellow Bromelias: Origins and Significance
Bromelias are native to tropical regions of the Americas, and there are over 3,000 species in the Bromeliaceae family, and they are all quite diverse. From fiery temptresses to more sophisticated splendor. There are varieties with flamboyant colors but the family also has less incandescent colors for connoisseurs. The foliage and flowers have distinctive shapes and some have the most stunning veining. Bromeliads really are a design of mother nature. The yellow variety is particularly popular for its bright color and unique shape. The flower itself is actually a modified leaf called a bract, and the small flowers grow from the center of the bract.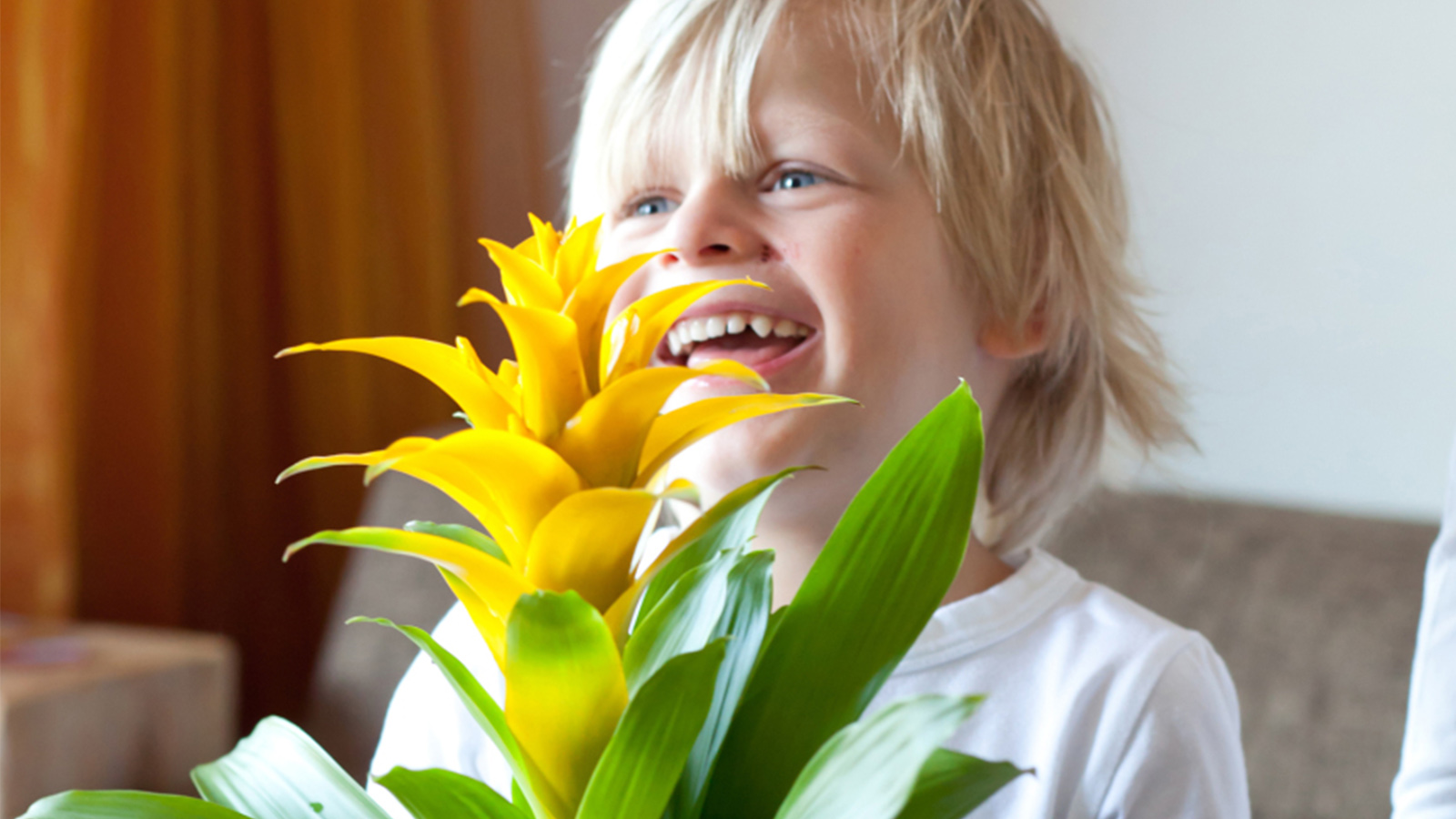 Yellow Bromelias are often used in Easter arrangements because they symbolize renewal and rebirth. The bright yellow color represents the sun and new life, making it a perfect addition to any Easter celebration.
Photos courtesy of www.bromelia.info
Bromelias: Perfect for Interiors and Tropical Climates
Bromelias are popular both as indoor and outdoor plants. They are particularly well-suited for tropical climates, where they can thrive in the high humidity and warm temperatures. But they can also be grown indoors as long as they receive enough light.
People love Bromelias for their unique shape and vibrant colors, as well as their low maintenance. They are easy to care for and can last for months without needing much attention. Because of this, they are sold all over the world and are a popular choice for both casual gardeners and serious plant enthusiasts.