From the moment Raili Keiv was introduced to porcelain, there was no looking back. Now she collaborates, experiments, and explores how to create the perfect ceramic objects with a twist. Like miniature pieces of architecture for your table, her artworks last for decades and have a green footprint. She is the inventor of the Dancing Vase.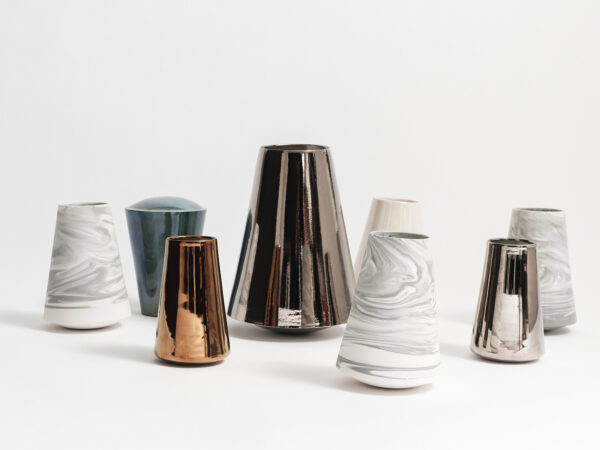 Testing the Boundaries of Porcelain
Raili has mastered the art of mixing different materials with ceramics, such as wood, and her pieces are closely connected to the essence of the materials she uses. Her artworks have machine-made precision but are actually entirely handmade from her studio. She is an artisan who loves to design, but would never stop working with her hands. Even if Raili is fascinated by testing the boundaries of porcelain, she is still focusing on the more-or-less functional aspects of the objects.
It Moves and Swings
The graduate from the Estonian Academy of Arts now has created a porcelain vase based on an Estonian balancing toy. She designed the sculptural Dancing Vase with a unique rounded base so that it moves and swings when it is touched. The form of these vases is inspired by a traditional roly-poly doll known as Jonnipunn, which the designer says conjures nostalgic memories for every Estonian. Raili Keiv: "The Dancing Vase grew out of very practical reasons The aim was to create a vase convenient for classic flower compositions that would not press the flowers too close and would be easy to clean." The designs are available at
NID
in various sizes and finishes; marbled, green, mirrored, and pearl.
Raili Keiv
Photos by
Albert Kerstna
Brand:
NID