Your passion is working with flowers and plants and making people happy with your skill and creativity. To keep on surprising your customers you sometimes need some inspiration. And here is what you might just need right now: the cheerful and elegant calla as a pot plant. Discover here the most beautiful colors, amazing combinations, surprising styles, fun sales ideas. With a bit of help from
Simply Calla
, it's easy to create joy both outside and inside.
Simply Elegant Calla Pot Plant
The calla plant is an extraordinarily elegant houseplant with a stylish design and natural appearance. The tuber stems emerge out of the soft green and sometimes spotted leaves with at the end, beautiful chalice-shaped bracts as flowers.

Wide Range
The Calla range has expanded considerably in recent years so that many colors and leaf designs are available. In the past, we only knew flowers of the white zantedeschia aethiopica, and they were mainly associated with mourning. Now you can choose from all kinds of cheerful colors. With its wide color range, calla pot plants can be used in any style or interior color. The natural color palette of calla goes from pure white to deep dark purple, which can even look intense black. Between these extremes are also fresh summery, cheerful colors, from bright yellow to intense red, or deep orange to candy pink. Isn't it amazing when you find more colors in one flower? Calla does this really well. Yellow with a flourish of orange or white with a stripe of purple!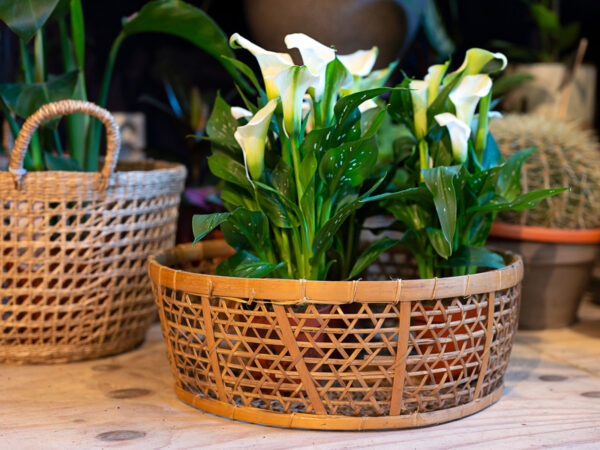 Simply outside... and inside!
Calla can be used as both a house and a garden plant. So when your calla has finished flowering, you can plant it in a sunny spot in the garden, where it will re-emerge next year. The flowering time in the living room is often slightly more limited than in the garden. Outdoors, the plants can flower for between three and eight weeks between July and October, especially when temperatures are lower. In the open they grow to a height of 30 to 90 cm, indoors they are more likely to stay between 40 and 50 cm. The calla is one of the few flowering plants that matches beautifully with a modern and minimalist interior. You can create a real design statement with more plants or colors together in one striking pot or trough. The stylish character of the plant also works really well in a presentation with other green or flowering plants (e.g. orchid, bromeliad, and anthurium) with different shapes and structures together. And not just inside! In the spring and the summer, the calla is also a fantastic plant for outside, poking playfully between the green shrubbery. The calla is a surprisingly versatile summer flower that will quickly give a garden, terrace, or balcony an amazing appearance.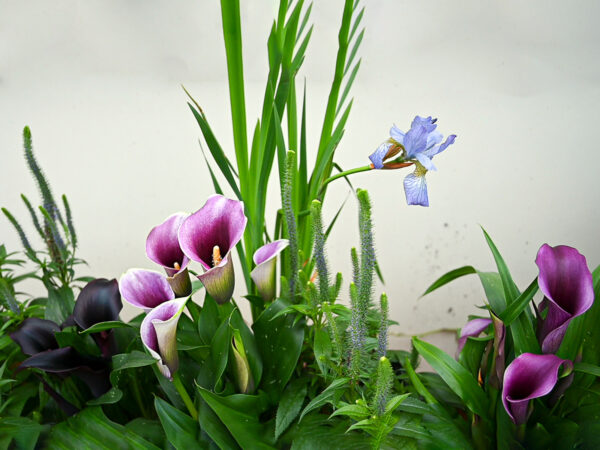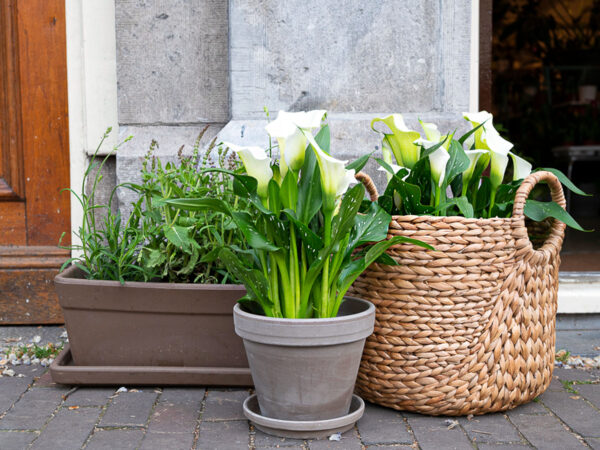 Inspiration by Simply Calla
Don't know where to begin to get more information and ideas about calla? Just visit
Simply Calla
, the inspiration platform for florists, garden centers, growers, wholesalers, and other horticulture professionals. It is a joint promotional initiative of all growers and breeders of zantedeschias and aethiopicas (of which the main color is white) and is supported by the growers of the Captain Select group.