e•bloom has recently started packaging its bouquets in paper made from flower waste. This is a unique step in the field of sustainable packaging. Sustainability and quality are two important pillars within Dutch online florist e•bloom. The company implements this in the choice of growers, the processing of the product, the sustainable working environment, and therefore also in the packaging.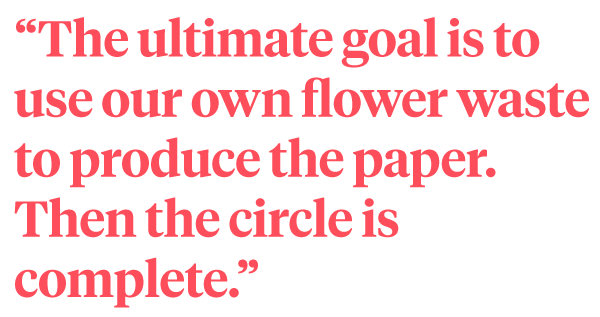 The ultimate, circular end product
"Making our product more sustainable is a beautiful and special process. Step by step we are getting closer to the ultimate, circular end product", says Menno Boermans, director of e•bloom. According to Boermans, this gives the company both the scoop AND the exclusivity in the Netherlands, Belgium, and the Nordics.
Wrapping Paper Made from Flower Waste
"The great thing is that in recent weeks we have also sent our 'No Waste Friday' bunches in flower paper for the first time. So flowers that would otherwise disappear in the bin, we have wrapped in paper made entirely from flower waste. It could hardly be more beautiful", said Femke van Aalst of e•bloom. Only rose waste from a Dutch grower was used for the first production. "The ultimate goal is to use our own flower waste to produce the paper. Then the circle is complete" continues Van Aalst.
Printed with Organic Ink
The paper is made in the corporate identity color of e•bloom and has a light print that tells that the paper containing the bouquet used to be flowers. "The dyes with which the paper is colored are completely safe and the sheets are printed with organic ink. And, if you look closely, you can even see pieces of flower and stem."