Everyone loves tulips. They have 'spring' written all over them and are truly a flower that makes people happy. And if you know how to treat tulips, you will have long-lasting pleasure in watching them grow, open up, and bloom.
Tulip Beauties
After the official kick-off of the tulip season in January, the markets are flushed with all kinds of tulip beauties; single, double, parrot, fringed, and lily-shaped tulips. Some stay story upright, others hang lushly over the edge of your vase. There are few flowers that can rival the enormous color palette of tulips. You name it: pristine white. yellow, pink, purple, red, or even (almost) black? Mono-colored, bi-colored, or tricolored? There is no such thing as a wrong tulip, you just have to know which one to pick.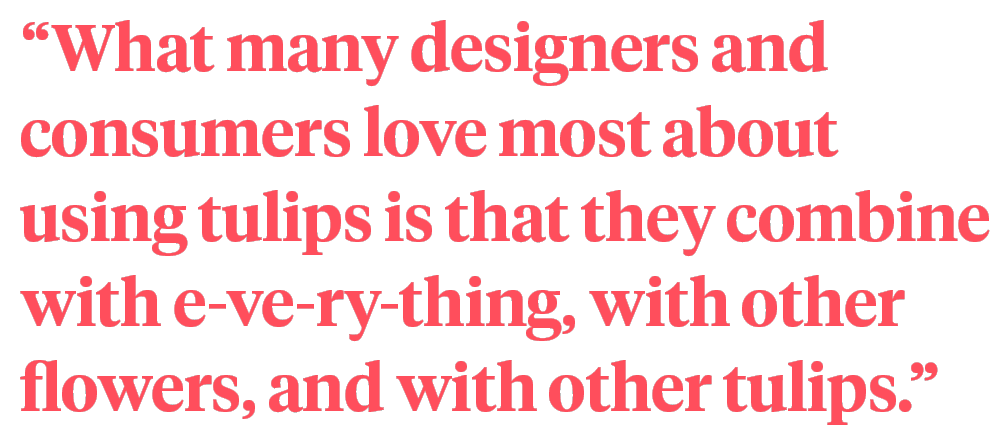 Combining Tulips
What many designers and consumers love most about using tulips is that they combine with e-ve-ry-thing, with other flowers, and with other tulips, of course. Is a mono bunch boring for you? Then make a vase with ten, or twenty different shapes and colors!
The only thing you have to keep in mind is that in general tulips grow faster than other cut flowers, so a little maintenance may be necessary. Even within the tulip range itself, there are significant differences in growth speed. It is believed that there are varieties that you can even watch growing before your eyes!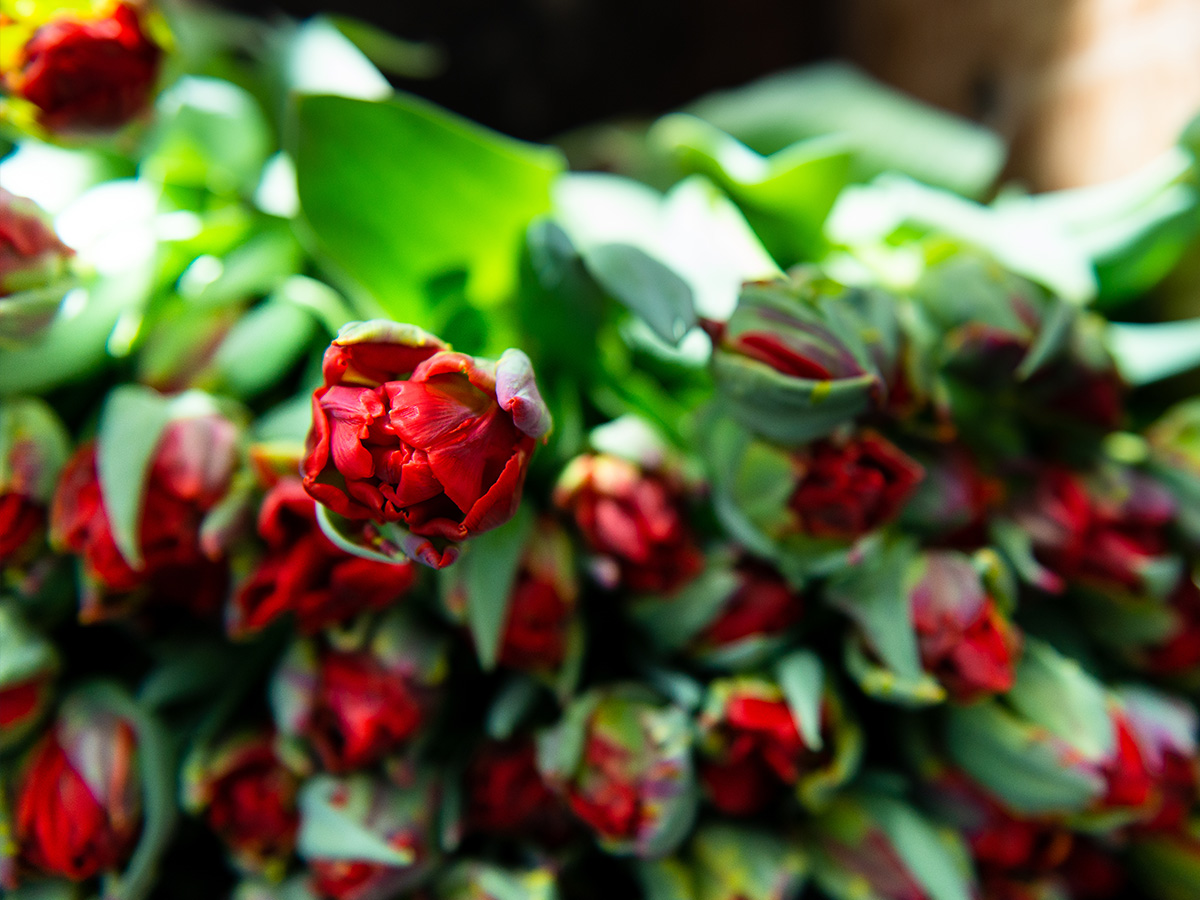 Post Harvest Tips for Growers From Triflor
If you care to help your customers a little, treat your flowers with the post-harvest solution Chrysal BVB & Plus. It prevents stem elongation and the bending of tulips, a common problem. The leaves stay firm and green and leaf yellowing is prevented. It also improves the quality and prolongs the vase life.
The love for tulips has been the driving force behind the success of grower Triflor; from the first tulips forced in 1965 to the growing of 260 hectares of bulbs now. That love is shown through the quality of their bulbs and flowers!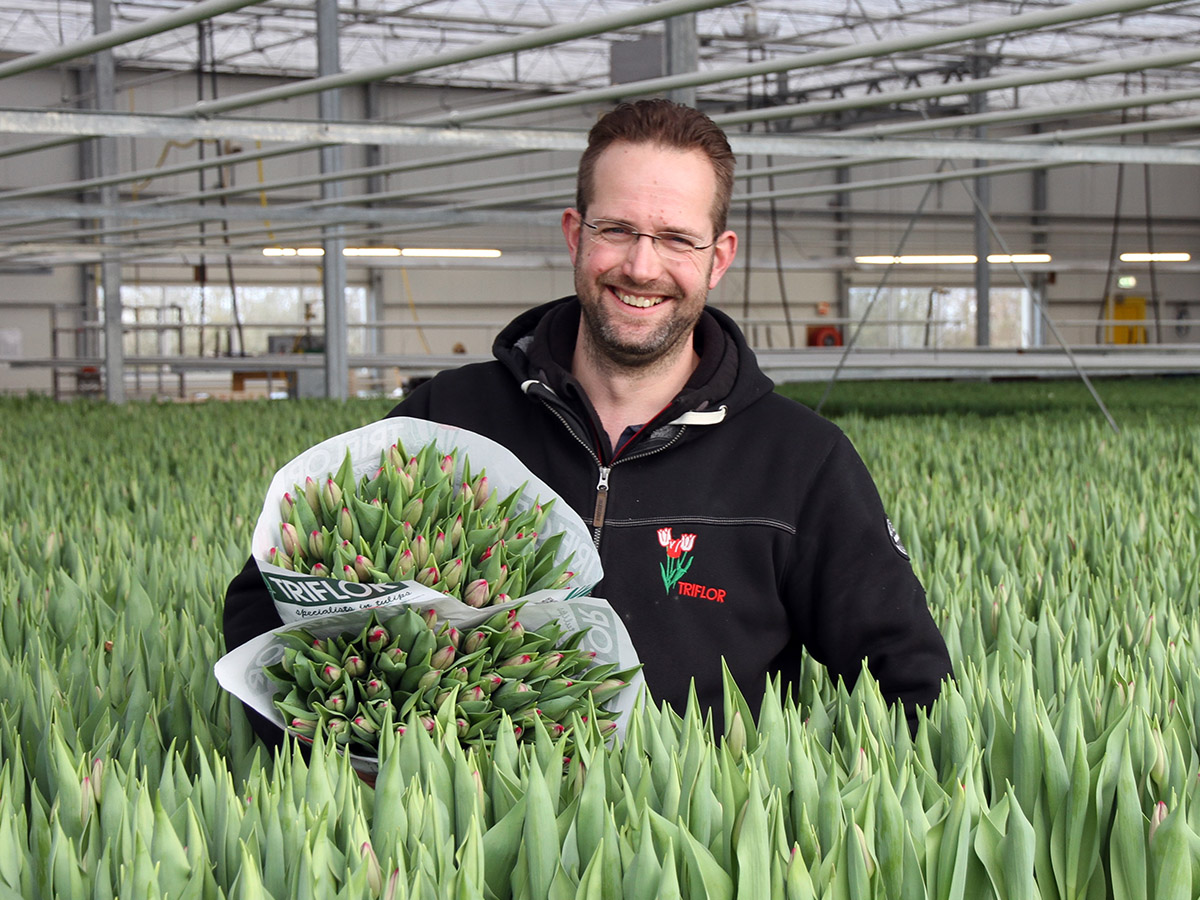 Wouter Steltenpool, Sales Manager Flowers at Triflor:
"Our focus is on producing high-quality and exclusive varieties. In our hatchery, we produce over thirty million tulips that are available in 115 different varieties. These tulips are forced in our greenhouses from the beginning of September until mid-May (Mother's Day). The flowers are traded on a daily basis and this is done either directly or through the flower auction Royal FloraHolland."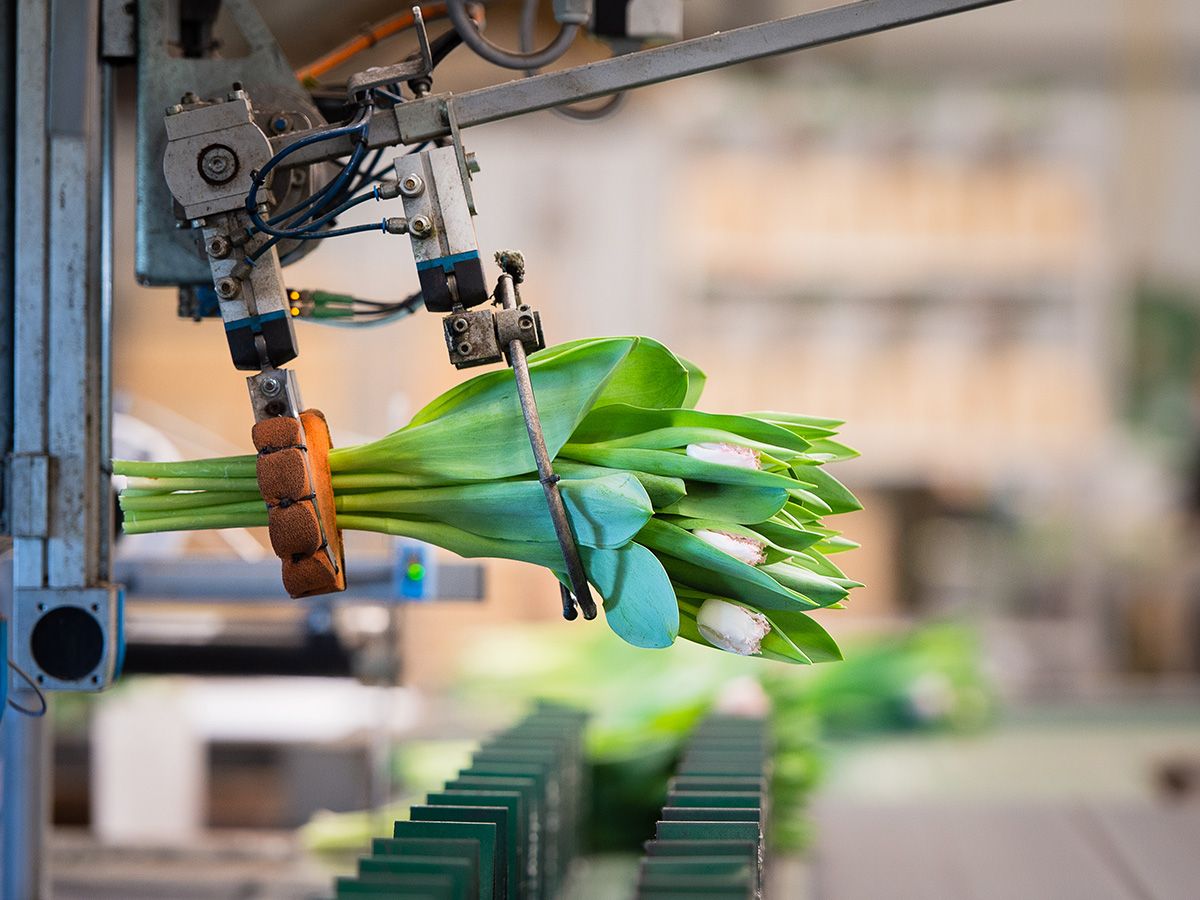 "In 1991, we began growing tulips in the southern hemisphere. We started in New Zealand, later also tried something in a few other countries, but finally opted for Aotearoa (as the indigenous Maori call this country) simply because our bulbs feel the best there. We established Triflor NZ Ltd. in 2000 in a beautiful location on the South Island called Edendale.

Due to the opposite seasons, we can supply our customers with the best quality bulbs and flowers all year round. During peak seasons such as during planting, flowering in the field, harvesting and peeling the bulbs, and in the period of shipping the bulbs, our enthusiastic crew at Triflor NZ is supported by our specialists from the Netherlands."
To ensure that the tulips arrive in the optimum condition Triflor treats all its tulips with Chrysal BVB & Plus.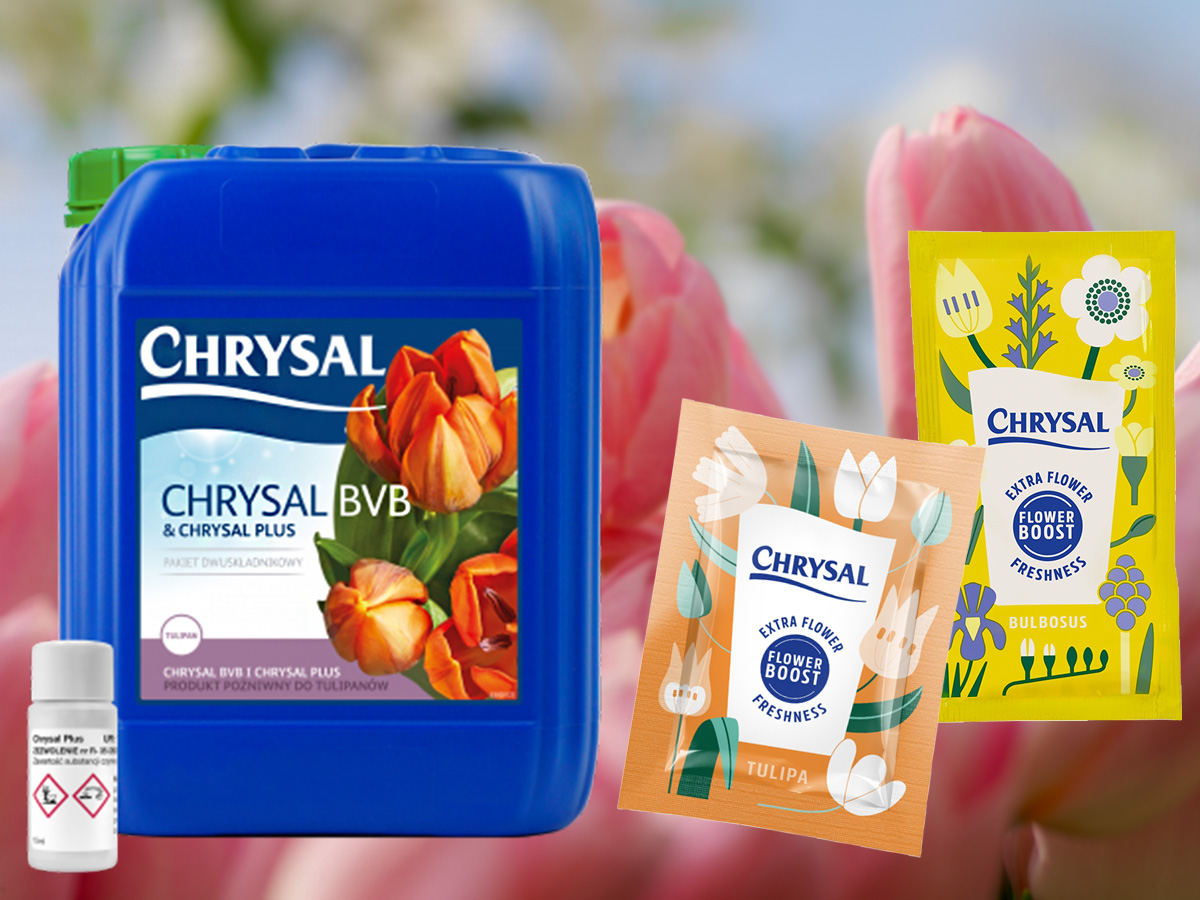 Advice for Florists
If you have the chance, ask if the tulips have been treated with the above-mentioned Chrysal BVB & Plus. Just to be assured of an optimal start for your viewing pleasure. An additional effect of good port harvest treatment is that it also keeps the leaves firm and green, and keeps the stem from bending.
So, when you have made your choice, it's your turn to make your tulips happy. Fresh, clean, cold tap water with the inclusion of a conditioner such as Chrysal Professional 2, is very important for tulips. This allows for a longer shelf life and ensures that the flowers develop well while preventing the flowers from opening up too much.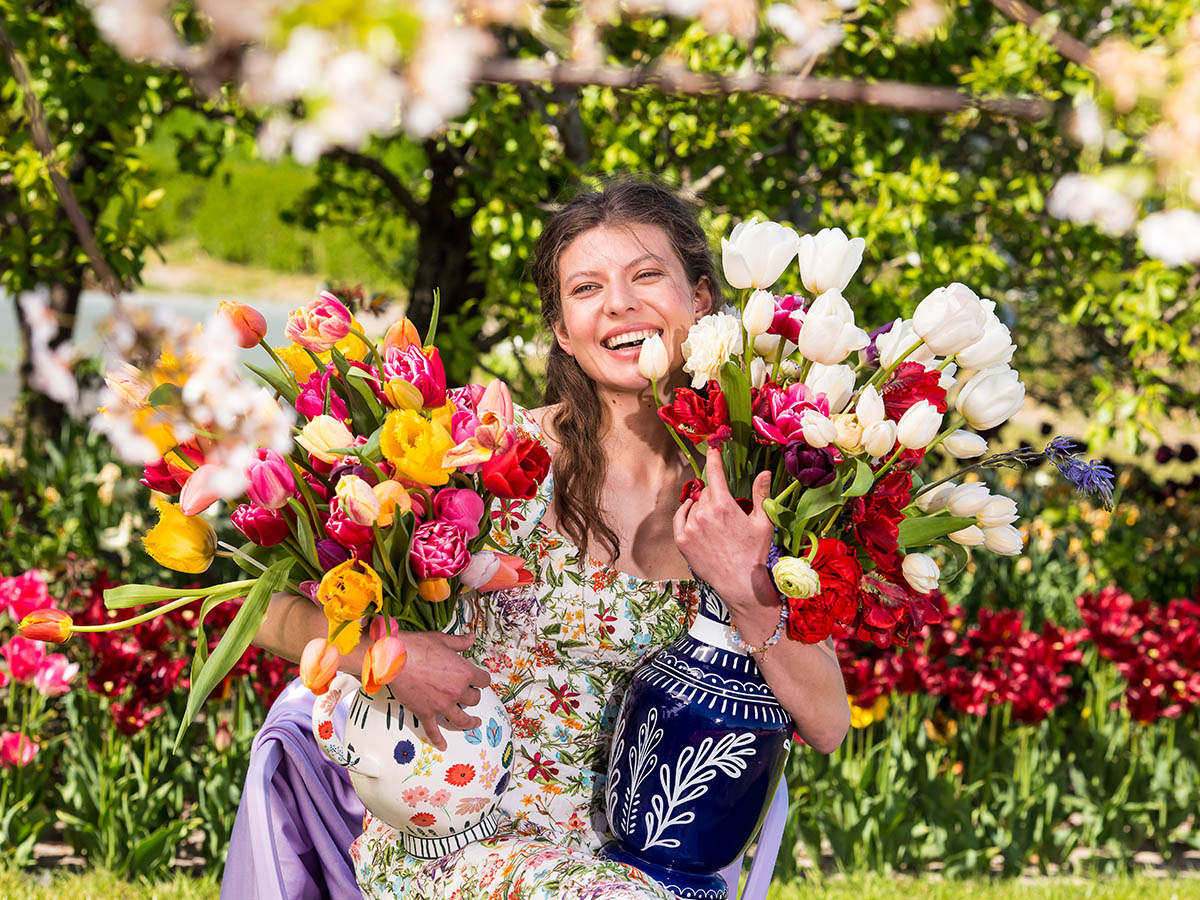 Tulip Care Tips for Consumers
Getting the most out of your precious bunch of tulips is easy. Tulips are not static silent flowers. They jump up the minute you put them in water and never stop growing and showing until you are satisfied. You won't forget to check the water once in a few days, won't you?
Cut the stem 2-3 cm with a clean, sharp knife or scissors.
Place the flowers in a clean vase with fresh water and use Chrysal Clear Tulipa or Chrysal Clear Bulbosus flower food in the correct dose. This will keep the leaves firm and green, the flowers will keep their beautiful colors better, and the tulips will last much longer.
If the tulips are bent, leave the tulips wrapped in paper or foil for about an hour. This will straighten up the stem.
Place the flowers in a cool place and keep them away from sunlight and drafts.
When the water gets cloudy, just repeat these steps. Tulips grow, so the 2-3 cm you cut off will probably have grown back again.
Header & feature images by Monica Stuurop, courtesy of iBulb.