The Horticulture Sector Trends for 2022 have been announced. Flower Council Holland is delighted to share the latest trends for flowers, houseplants, and outdoor plants again this year. For 2022 they have developed four style trends that are relevant for the floriculture sector. Style trends that may vary significantly, but that are all based on the current zeitgeist. Flower Council Holland has developed the 2022 Horticulture Sector Trends in collaboration with Tuinbranche Nederland, iBulb, INretail and Bureau Nijman + Van Haaster.
2022 Horticulture Sector Trends - Trends Based on the Zeitgeist
Following the pandemic, we are looking for ways to bring shape to the new world. We are trying to adapt to the unpredictability and fickleness, but are not all doing it in the same way. Whilst one group sees it as an impetus for positive change, it fills others with fear and stress. There is a risk of polarisation, which is reinforced by the information bubbles in which we live. Within this zeitgeist, flexibility and constantly attuning to the changing reality are therefore particularly important. Flower Council Holland has translated these tendencies into four style trends that can be applied in practice.

Four style trends for 2022
The style trends for 2022 are: • Fresh Start • Bright and Breezy • Traditional Sentiment • Wellness Bubble
Fresh Start Style Trend
After the pandemic, it feels like we're getting a second chance, where the focus is on sustainability, climate solutions, and decluttering. A new fresh start! Because many people are now working from home, there is more emphasis on the furnishing of our home and outdoor spaces.
Fresh Start in the Interior
Fresh tidy spaces with lots of white and occasionally pale blue and yellow accents are the hallmark of Fresh Start. Because our home now has multiple functions - like working from home, schooling, exercise, relaxation, and welcoming visitors - the interior has to be easy to transform. Room partitions and multifunctional walls are thus ideal and made of natural materials into which flowers and plants can be incorporated. Foliage plants, variegated, and air-purifying plants create a healthy indoor space and offer a fresh look, which can also be moved around easily.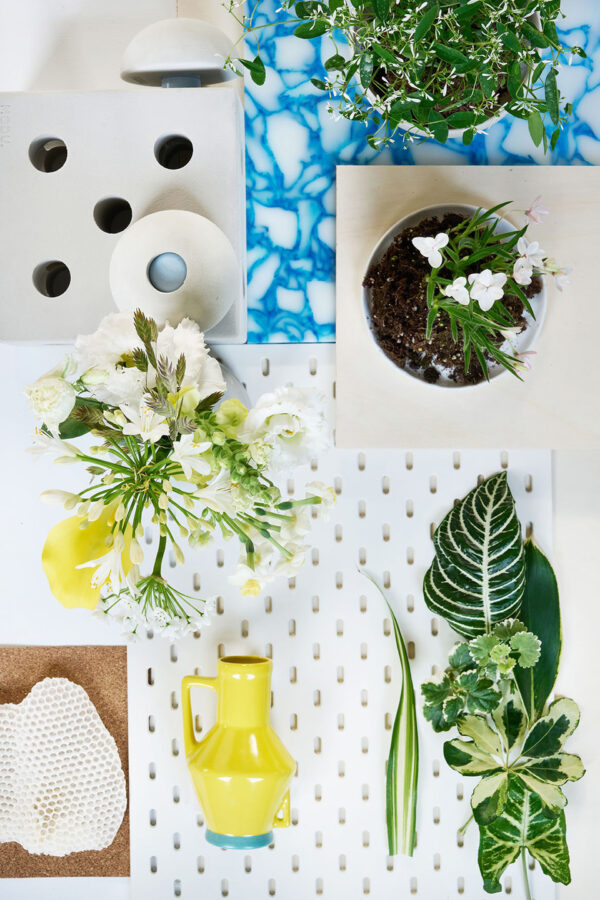 Fresh Start in the Outdoor Space
Outdoors, this style trend is symbolized by a clear layout with lots of white accessories and white flowering plants. There is less paving and more biodiversity. Materials in the garden are biodegradable and bio-based as much as possible. Just like indoors, the garden/patio/balcony is acquiring multiple functions, one of which is extra living space. Fresh color accents bring energy to the outdoor space.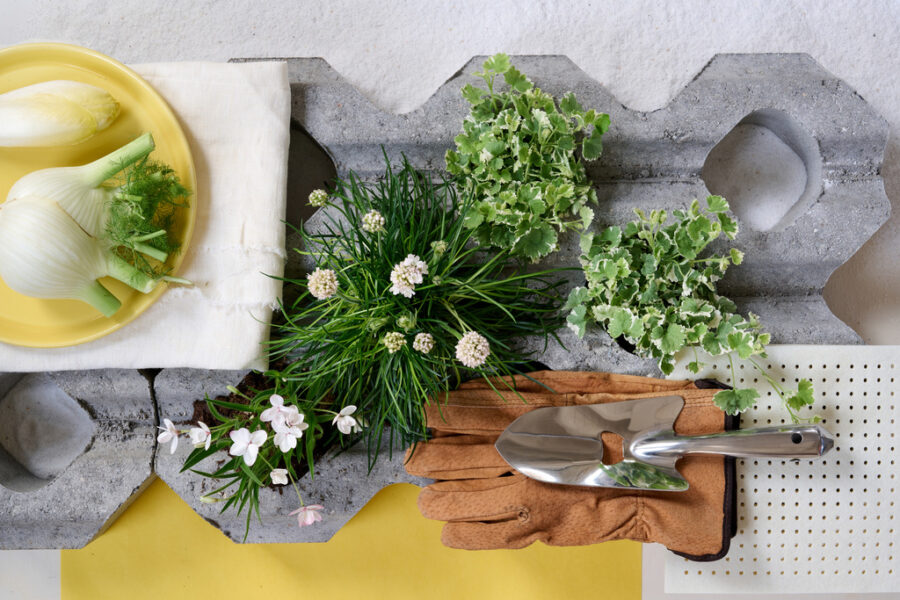 Product Ingredients For the Trend
The shapes are simple and sleek, and the products are multifunctional. Patterns are much less important in this trend. If there are any patterns, they are based on natural structures like marble. The materials used are bio-based, recycled, or recyclable. Think leather, cotton, and cork, and of new materials like plastics made from algae and mycelium, a self-growing fungus.
Fresh Start Color Palette
The basis for the color chart in this style trend is white, combined with various naturals. The accent colors - such as shades of green, blue and red - recur in flowers and plants and highlight the multifunctionality of furniture. These color accents are used with restraint and are particularly used to reinforce the fresh look of the white.

Bright and Breezy Style Trend
In a hardened society filled with fake news and polarization, groups do not feel that they are being heard. There is a need for connection, equality, a shared reality, altruistic behavior, and inclusivity. After the stressful pandemic period we are looking to leaders who bring us together and take away our worries, so that we can start enjoying life again without fretting.

Bright and Breezy in the Interior
We enjoy that carefree pleasure in a cheerfully colored interior. Uncomplicated patterns with checks, stripes, or pictures of fruit reinforce a festive feeling. The cherry on the cake is the joy of greenery: flowers and flowering plants bring the final touch of positive energy to this interior.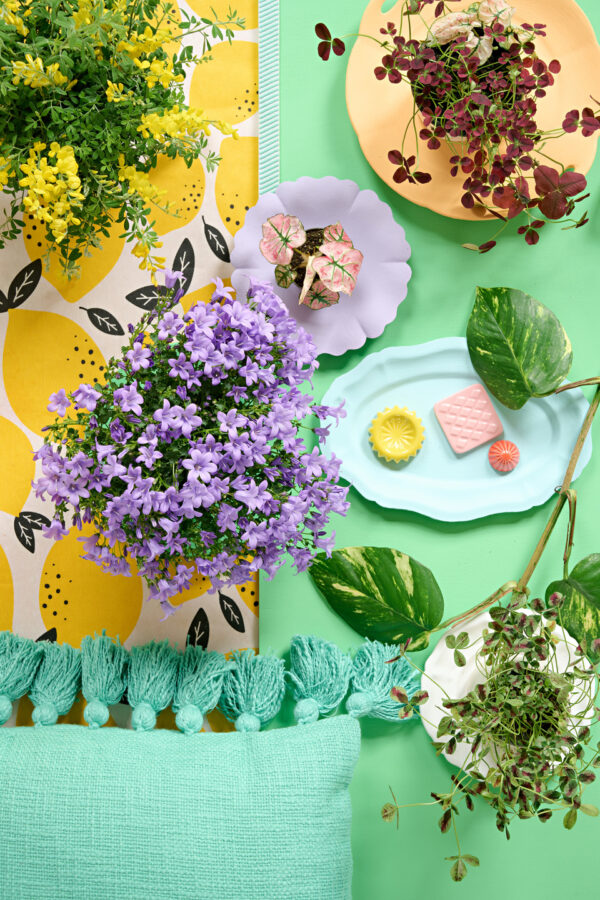 Bright and Breezy in the Outdoor Space
The outdoor space is also colorful and holiday-esque, where you enjoy and relax amongst flowers and greenery. There's no need to rake - a bit of wildness has its charm. Think of colorful borders, colored parasols, and cheerful pick-your-own-flowers gardens as a new take on the kitchen garden.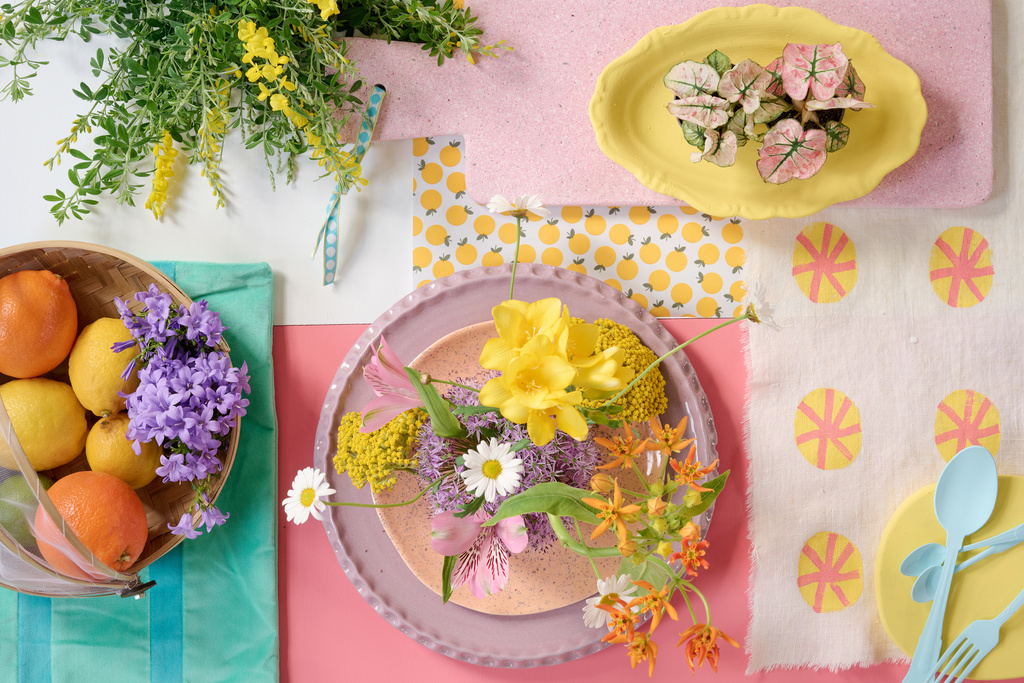 Product Ingredients for the Trend
As expected, the shapes used are cheerful and festive with a touch of idiosyncrasy. That also applies to the patterns within the style trend. Ceramics, colored glass, practical plastics, textiles, raffia, and granite compositions are all materials that fit perfectly within Bright and Breezy. In other words, the materials can be natural, artisan, and practical at the same time.
Bright and Breezy Color Palette
The color chart for Bright and Breezy consists of cheerful and powerful pastel tones such as pink, blue, mint green, and pale orange, alternated with more vivid accents. Coral red plays a fresh and softening role and is important for both flowers and plants. White plays a less significant role in this color chart.

Traditional Sentiment Style Trend
Not everyone is desperate for change. More conservative people seek security in orthodox behavior, control, and traditions. They have the feeling that they are being overlooked and distrust novelty. Within this tendency, it is important to restore trust and to ensure that the familiar, the local, and the trusted have a place in this changing world as well.

Traditional Sentiment in the Interior
Interiors within this trend are warm, rich in color, and nostalgic with a twist by mixing vintage and Retro and vintage style flowering plants are a hit in this trend, and so are plant collections of different cultivars within a single species. Bouquets are also subtly arranged with a lot of attention and appreciation for each individual product.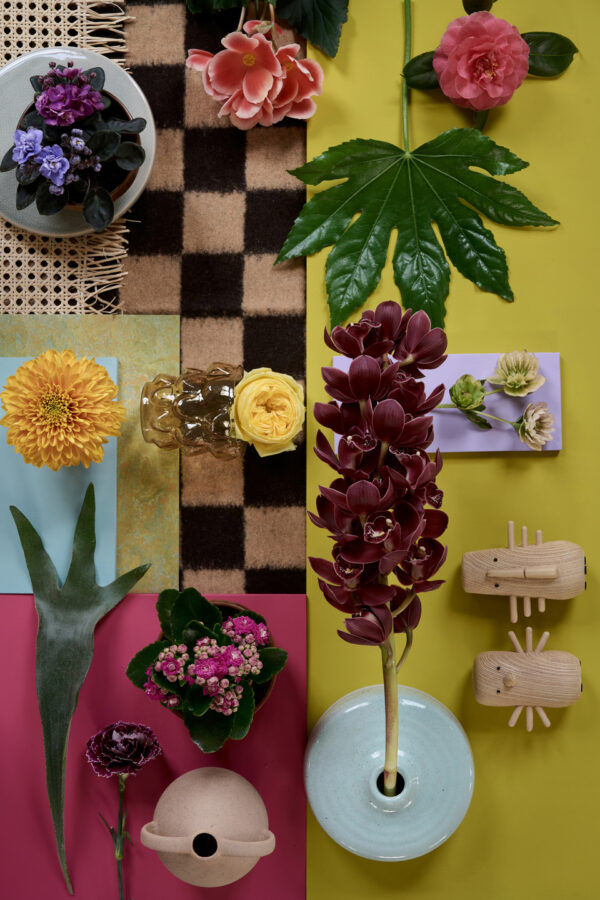 Traditional Sentiment in the Outdoor Space
In the garden, we find refuge with plants, shrubs and trees, and cozy seating. There are unusual plants, and you find fruit and vegetables in the kitchen garden. Traditional and romantic roses, particularly climbing roses, combine harmoniously with low-growing fruit trees.
Product Ingredients for the Trend
Traditional shapes are given an update, made sleeker or enlarged. In terms of patterns, we see variants of (squared) checks taking on a new form. Materials used are ceramics, colored cut glass, velvet, wool, cane webbing, dark woods, natural stone, and marble.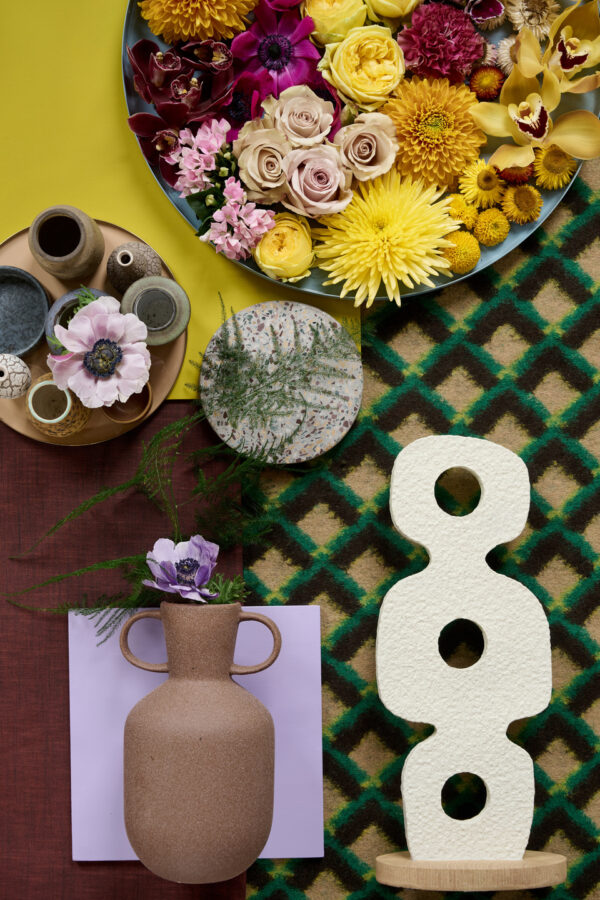 Traditional Sentiment Color Palette
The color palette within this style trend consists of soft faded pastel shades like nude, lilac, and pink. Set against that are rich and dark colors with a reassuring feel, like claret, ochre, and olive green. This creates a surprising combination of familiar and innovative elements.

Wellness Bubble Style Trend
We are keeping our spirits up with joie de vivre, creativity, and humor. We feel our appearance is less important; we would rather invest energy in our mental health. Hobbies and amusement are given full rein, as is wellness. From this fabulous utopian world, we observe the world through rose-tinted glasses.

Wellness Bubble in the Interior
Ideally, we would like to turn our home into a super deluxe spa resort. The combination of soft tones with transparent materials and round shapes is reminiscent of water which helps us to relax. The flowers and plants have an energetic look, like the foliage of an aloe vera. Painted leaves, plumes, grasses, and dried flowers are combined with fresh cut flowers. Those are sometimes also painted, creating a color gradient, particularly in pastel shades.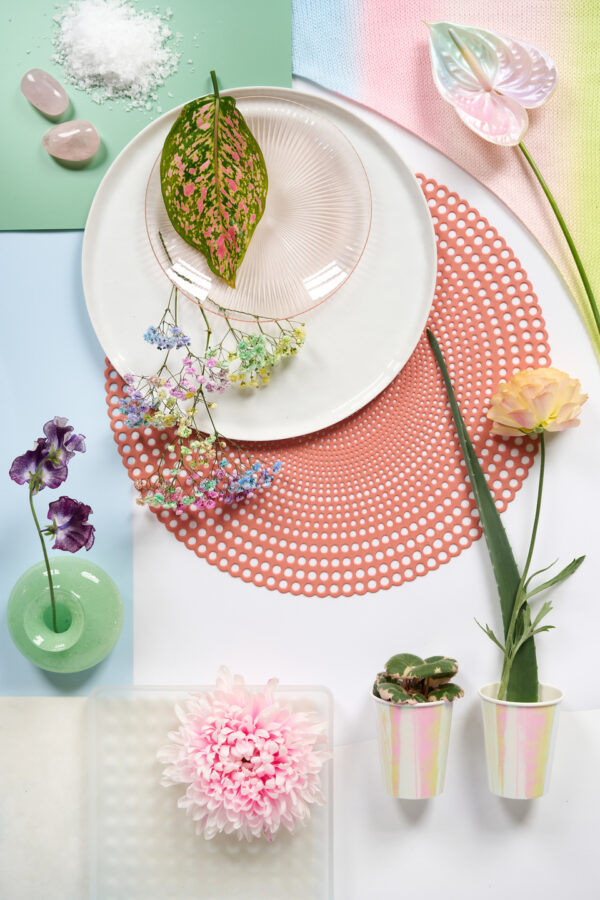 Wellness Bubble in the Outside Space
In the garden, you relax in a bath or mini-lake amidst exotic flowers and plants. Recliners and loungers look out on an unusual mixture of exotic plants and blooming borders. A beautiful sunset provides the inspiration for the colors used. In other words, the garden provides the ultimate escape from hectic times.
Product Ingredients for the Trend
Round shapes and patterns based on splashes and water patterns are at the heart of this trend. We also see faded tropical patterns in vivid colors. The materials used are colored glass, high gloss ceramics, reflective materials, transparent textiles, semi-transparent film, and paper, glass, or plastic. We also see perforated sprayed metal, artificial leather, and woven transparent plastic.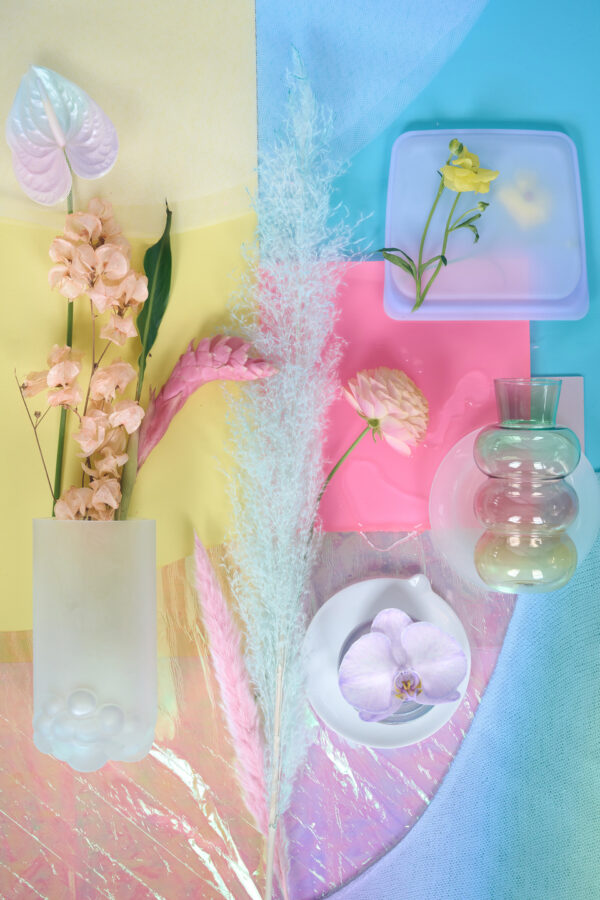 Wellness Bubble Color Palette
The color chart consists of vivid pastels and pastel neon shades. Examples of these are shades of pink and yellow, flanked by pastel green and lilac. White is less important, and primarily provides the transparency of the overall look. The colors are often used on transparent or semi-transparent surfaces, creating a watery effect.

Want to Find Out More?
You can find more information about the 2022 Horticulture Sector Trends on the Flower Council website. A Horticulture Sector Trends booklet will also be available on request in the near future. This describes the style trends and contains mood boards, color charts, shapes, patterns, and materials conveniently grouped together. If you are interested in the trend booklet please e-mail [email protected]. All images courtesy of funnyhowflowersdothat.co.uk and thejoyofplants.co.uk