Vintage telephones, radios, typewriters, and cameras are used by OPAL design + nature to create unique, limited, and never before seen artistic pieces using cacti. Yes, you read that right, old vintage technological pieces mixed with some of nature's most beautiful cacti to make art. Crystal Rhanor, the creative director behind her own brand OPAL design + nature wants people to have a core memory of childhood technological pieces, but always including cacti to reassemble the importance of being surrounded by nature every single day.
What Is OPAL Design + Nature?
The inherent look for vintage pieces and combining them with different types of Cacti has become Crystal Rhanor's lifetime passion. She has truly found her purpose in OPAL design + nature, her own brand featuring an interesting mix of vintage pieces and nature's finest cacti. Why Cacti? She's been a green cacti lover since she can remember, and with time they became her ultimate favorites for her innovative and artistic creation. Here is where OPAL design + nature steps in to conquer the cacti world.
OPAL specializes in re-purposing vintage items to transform them into vessels, giving these old technological pieces a second life, while also remembering the impact nature has on our everyday life. Since Crystal can remember, she always had the desire to create and likes to think of plants as her medium. She truly hopes all cacti and vintage lovers can enjoy the work she does for OPAL design + nature and serves you as inspiration that you can do great things when you really want to!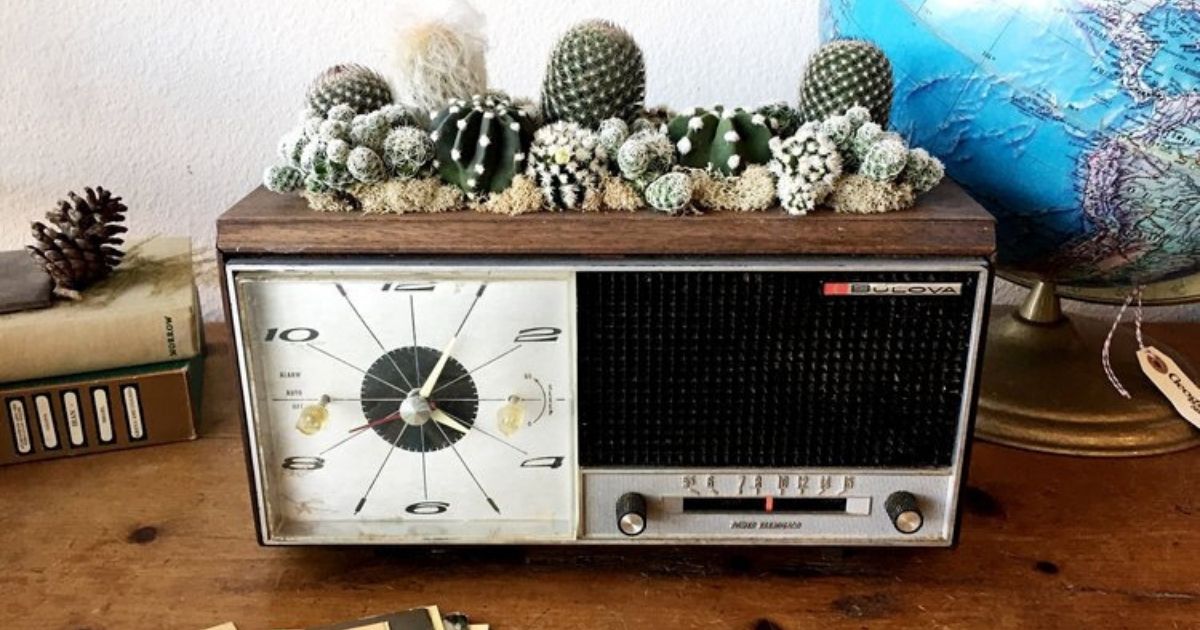 The Art Pieces Behind OPAL Design + Nature
If you're a vintage fan at heart and are also a cacti lover, these designs will impress you so much, that you'll actually want to have them as home decor. Take a look at some of Crystal's most iconic OPAL design + nature vintage pieces using cacti!
1. Telephones
Red, yellow, blue, you name the color, Crystal has got you covered. Her magical OPAL design + nature creations using cacti varieties are definitely amusing.
2. Radios
Getting one of these pieces to make part of your home decor would absolutely be a game-changer. Radios + colorful shades of green cacti really are perfection!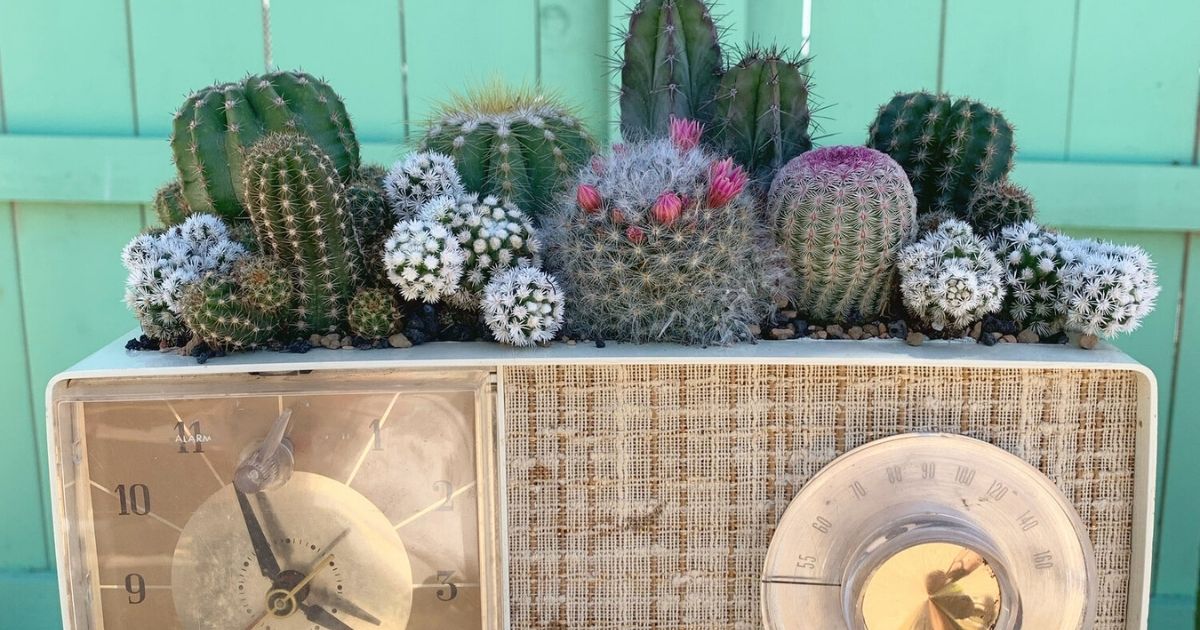 3. Typewriters
Vintage makes everything a little more fun, and these typewriters are giving the vintage vibes we all need. But most importantly, have you taken a close look at the cacti featured in these designs?
4. Others
From vintage center table pieces filled with cacti to a vintage Polaroid camera, Crystal has mastered her OPAL design + nature skills in these as well.
Opal's Tips for Best Cacti Care
By following the next guidelines for cacti care, you'll be able to enjoy the artistic creations for a longer time.
Water
Give each plant about 1/4 cup of water every 1-2 weeks. The cacti's soil should dry thoroughly between watering. Soak the base of the plant but do not pour water directly on the cacti. Important: Stop watering entirely during the winter months.
Light
For better results, do not place your cacti in direct sunlight as they may burn. For indoor plants, a south-facing window would be best, while for outdoor plants, bright filtered sunlight is preferred.
Fertilizer
During the summer growing season, it's best to add the fertilizer only once a month. Remember that cacti do not need to be fertilized during the winter season. For best results, use a low-nitrogen fertilizer, about 8-12% nitrogen, and dilute the liquid fertilizer twice as much as directed on the label.
Temperature
Many cacti are winter hardy. However, some could be completely damaged if the temperature drops below 32°F. The optimal temperature recommendation should be between 45°F to 95°F.
Meet Crystal Rhanor, OPAL Design + Nature's Founder
OPAL's creator Crystal Rhanor is a lover of art, design, and everything vintage. Her undoubted creative process and incredible talent started as a small hobby, which then without knowing evolved into her career and all-time passion. OPAL design + nature was created with a strong purpose, vision, and mission behind it which utterly aims to connect people through art pieces that contain nature. Through her pieces, Crystal's goal is for people to have fun decorating their spaces with vintage pieces that contain some of the most beautiful cacti varieties out there. A little green plus a little vintage is what makes her pieces perfect.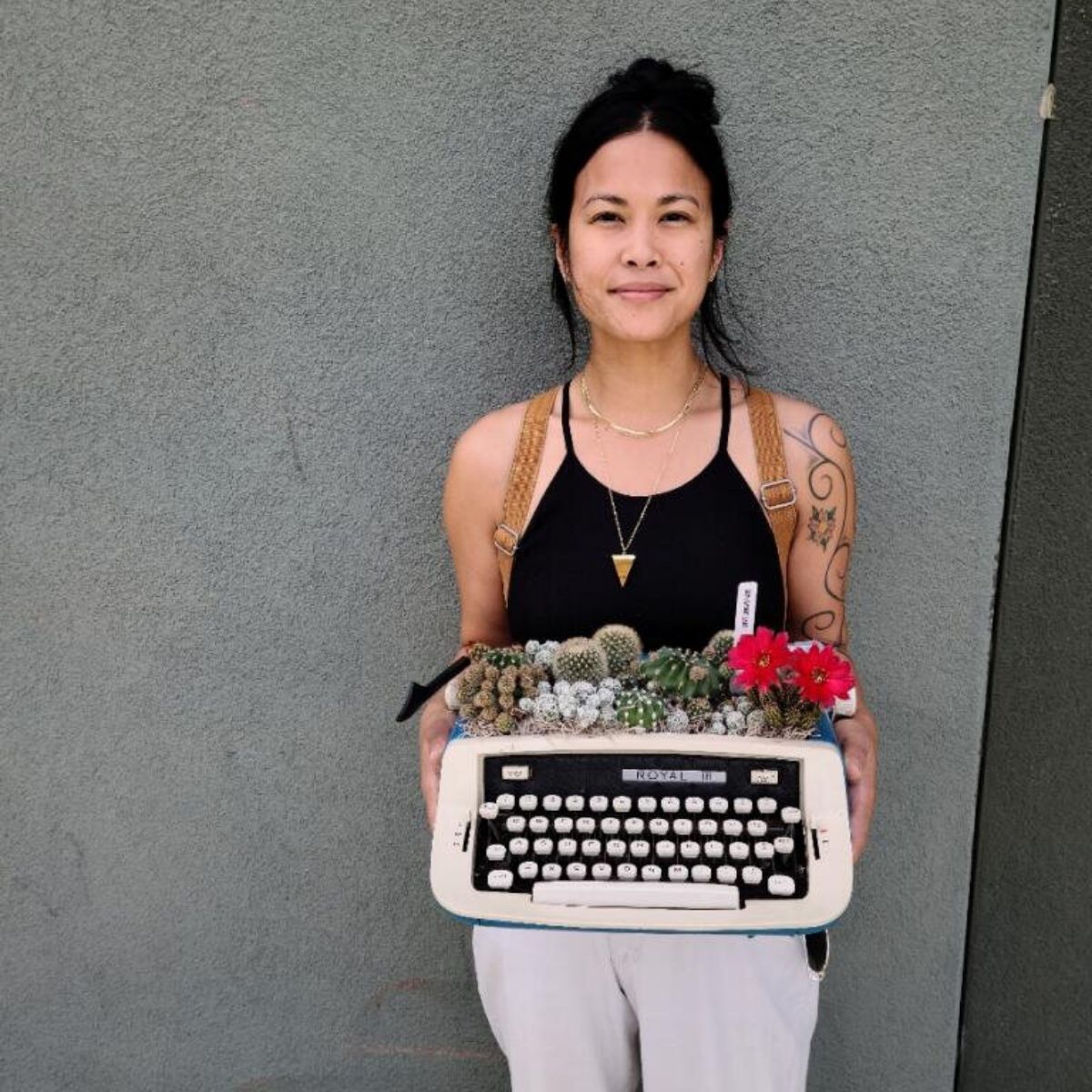 Later on in her life, she also become a member of the San Diego Cactus and Succulent Society, which allowed her to enjoy and learn about the aesthetics of the plants. Remarkably, all of the cacti she uses are carefully selected for each specific piece, taking into consideration factors like the lighting and the environment. To see more of OPAL design + nature make sure to check out their Instagram account.
All photos by: OPAL Design + Nature