Glass sculpture artist Laura Hart has been fascinated by nature for decades. One of the physical proofs of this is a vast collection of glass butterflies, oysters, roses, and orchids. The beautiful flowers of her series 'Orchis Exotica' will not wilt, they are made to shine eternally.
Orchis Exotica
The series Orchis Exotica is comprised of many different glass orchids spanning several years of creation. Laura's orchids are in full bloom. They are made out of glass with a neon labellum.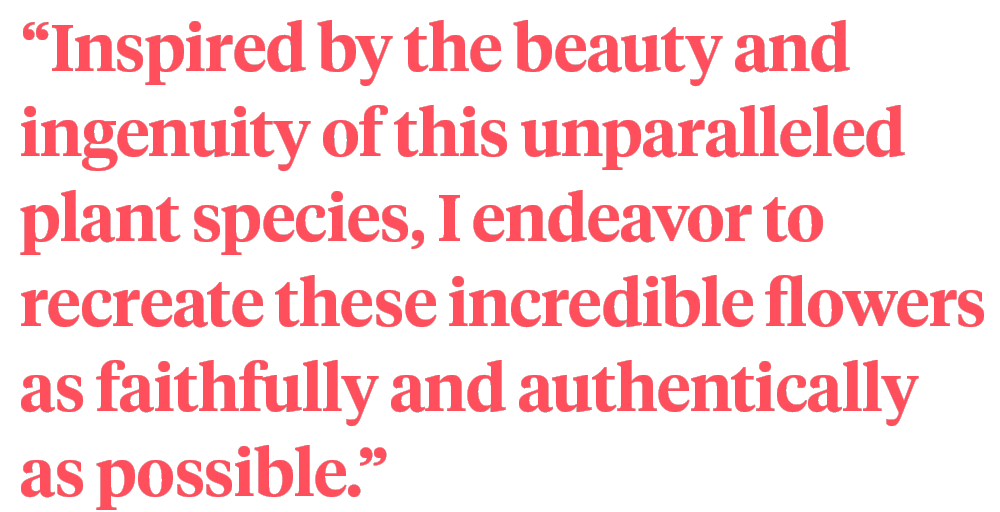 Combine traditional glass-making techniques with 3D virtual sculpting and Computer-Aided Design (CAD), and there you have it: beautiful almost real orchids made of translucent glass. Scaled up to around 30cms in diameter, every bloom has unique color variations and nuances; homage to the subtlety of evolutionary adaptation.
Left image: Cymbidium Black Night, right image: Phalaenopsis Ossirah x Bellina. Image by @laurahartglass.
Left image: Cattleya Amethyst, right image: Cymbidium Pink. Image by @laurahartglass.
Glass & Neon Orchids
Add a touch of neon light and the real becomes surreal. The bicolored neon centers, created by artist Steve Archer, represent the flower's reproductive organs. The use of neon light is a nod to the orchids' efforts to attract indispensable pollinators to ensure their survival. "These successful strategies prove their adaptability", Hart says as a firm believer in Charles Darwin's evolutionary theories. Darwin cited them in his book Fertilisation of Orchids as the most prolific and successful genus of plants on Earth; a prime example of 'natural selection'.
Right image: Laura Hart in her studio, left image: Sculpting a glass rose design. Images by @laurahartglass.
Colors enhanced by the hard light make the artwork even more vibrant, imprinted in your mind like a television screen that has shown the same image for too long.
Laura:
"My fascination with orchids spans decades and at one point I had nearly seventy in my conservatory. The explosion of color and perfume during the flowering months intoxicate the senses.

Their near-perfect symmetry and uncanny visual and pheromonal mimicry of pollinators are enthralling. Inspired by the beauty and ingenuity of this unparalleled plant species, I endeavor to recreate these incredible flowers as faithfully and authentically as possible, whilst imbuing them with my own artistic interpretation."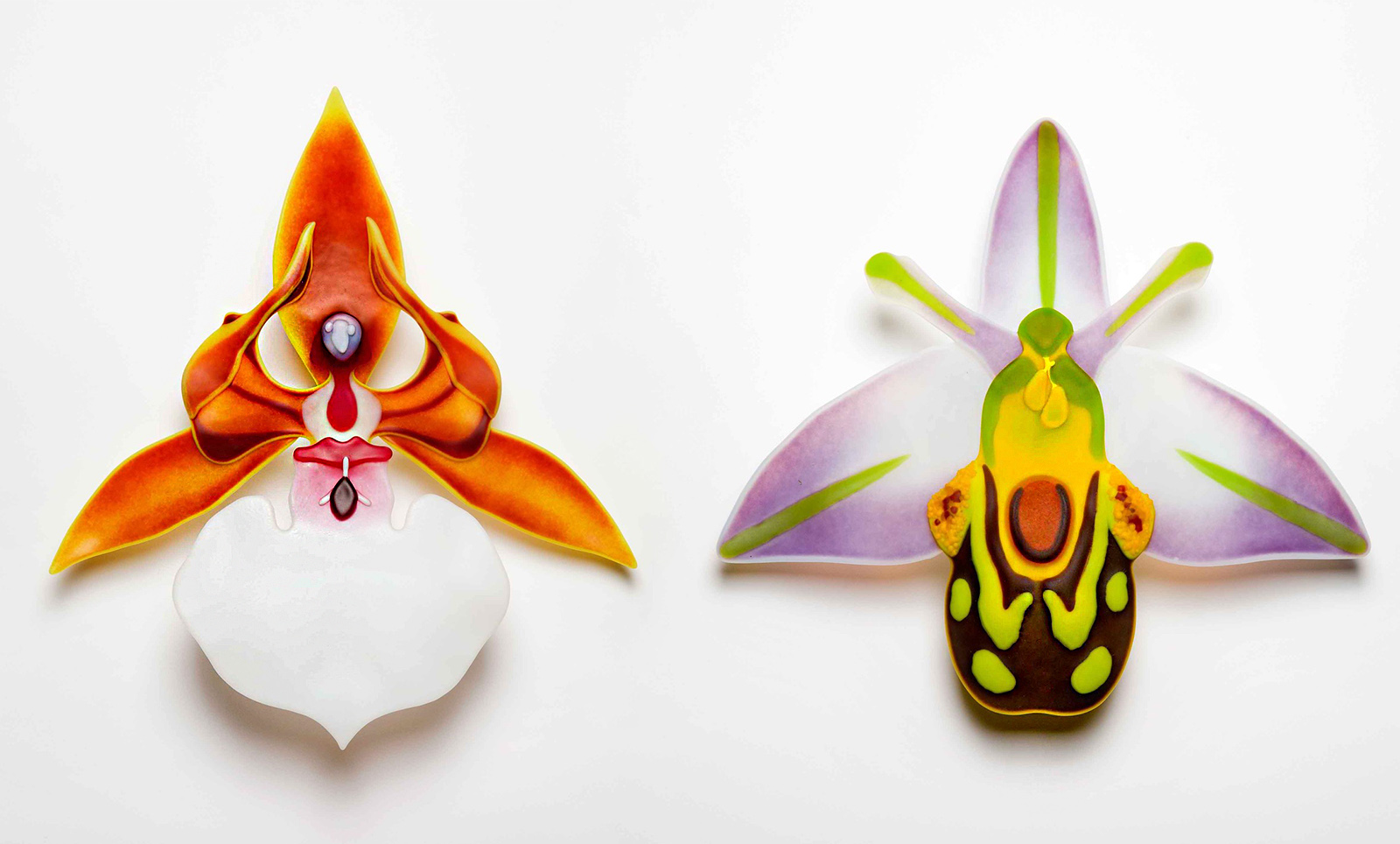 Weird Orchids. Images by @laurahartglass.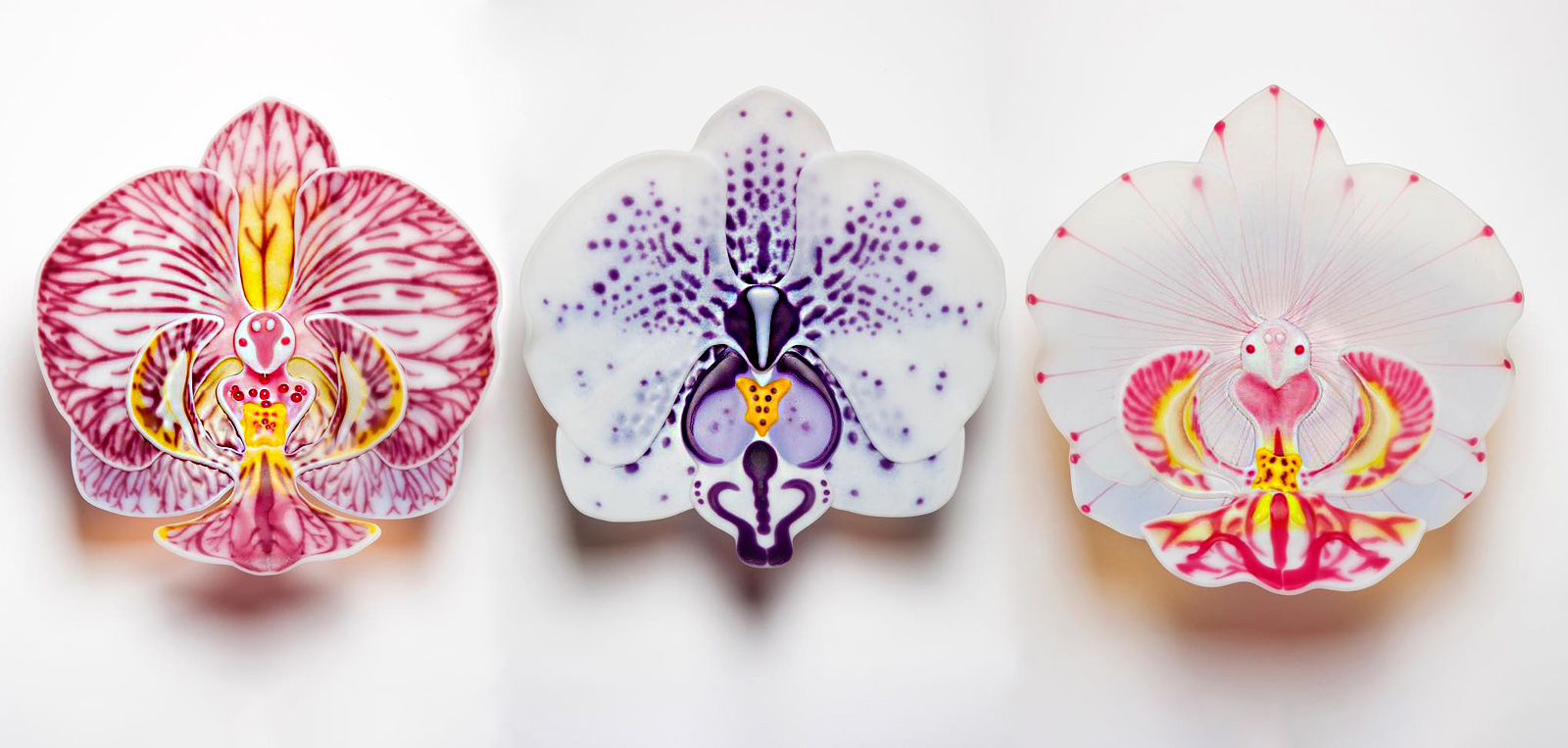 Phalaenopsis Orchids. Images by @laurahartglass.