Hello lovely people! I've been so excited to publish this post because this week's Spotlight is on artist Clare Celeste. If you've had the pleasure of seeing any of her work in person, I am so jealous of you. This collage artist creates sublime installations that take you to a lush world with an endless amount of blooms. When asked what she wants people to take away from her work, Celeste answers, "A sense of wonder and an appreciation for our natural world.". This stuck with me because I truly believe we all need to increase our interest and love for the natural world. As we send love and support to our friends in Australia who are affected by the catastrophic wildfires, we also need to think of daily actions we can take to be nicer to our mother earth. Celeste brings the wonder of the natural world indoors, which hopefully entices viewers to take more interest in nature. Please continue reading to learn more about this amazing woman. I truly appreciate her taking her time to share her story with us, follow the rest of her journey here.
What sparked your interest in art and installations?
I have always made art, even as a little kid. When I saw Olafur Eliasson's solo exhibition in San Francisco in my 20's the seed was planted that I wanted to make immersive artwork one day.
Are you a full-time artist? If so, how did you make the decision?
Yes, I am! I decided to make the leap after returning to work after having my son. I realized that I could no longer fit art in during my free time (since I no longer had any!) and decided it was time to make it a career.
Who or what inspires you?
Nature! Walks in nature. My friends, other artists, and good conversations.
What is your artistic process?
I used to collect imagery at flea markets and vintage shops. But now that I get several large commissions a year, that is not possible. I now I usually think about a general concept, then start composing in Photoshop. The idea usually changes and morphs as I work, but I do start with a plan.
Do you have a favorite medium?
Collage and paper.
It appears most of your work has a "flora and fauna" theme, how did this develop?
I used to have black and white photographs of people in my work, but over time the focus has moved to purely nature. Sometimes for illustrations and commissions, I still do use vintage photos of people, though.
Has your style or technique changed over time?
Yes, I have started to work much more efficiently. Also, the pieces have become more complex and the style more elaborate.
Do you have a team to help with larger installations or are you a one-woman team?
Usually, I am a one-woman team, but for my last installation I had a team and it was wonderful! The paper artist Lacy Barry helped me and it was really great to have support.
What is the most challenging part of creating your installations?
They are very physically demanding and I am usually pretty burnt out by the end.
How do you stay motivated when you experience a creative rut?
Sit down and get back to it. Usually, something happens if you just get to work. I do not wait for inspiration to strike. If I am feeling out of ideas, then it is time to get out into nature and see some exhibitions to get inspired again.
What do you want people to take away from your artwork?
A sense of wonder and an appreciation for our natural world.
What has been your favorite collaboration or creation so far?
My most recent one for Riem Aracaden which came to me through Book A Street Artist. It was in a public space and I really got to push the size of my work to a whole new level!
Have you ever had to turn down a project? If so, do you have any advice for new artists who find this challenging?
YES. I have- and I think this is an important part of doing art professionally. If the project is underpaid or the client is being shady, walk away. I have been burned enough times, and have had enough GOOD clients, to know when something is not right. Just trust that something better will come your way and do not undersell yourself.
Who are your favorite female creators?
I have so many, but Danielle Krysa of the Jealous Curator has lifted me up and made me believe in myself so many times over the years, so a special shout out to her!
What's a fun fact about you people will be surprised by?
I was born in Thailand :-) I am a homebody and even though I have done so much traveling and moving around, I am happiest being nesty.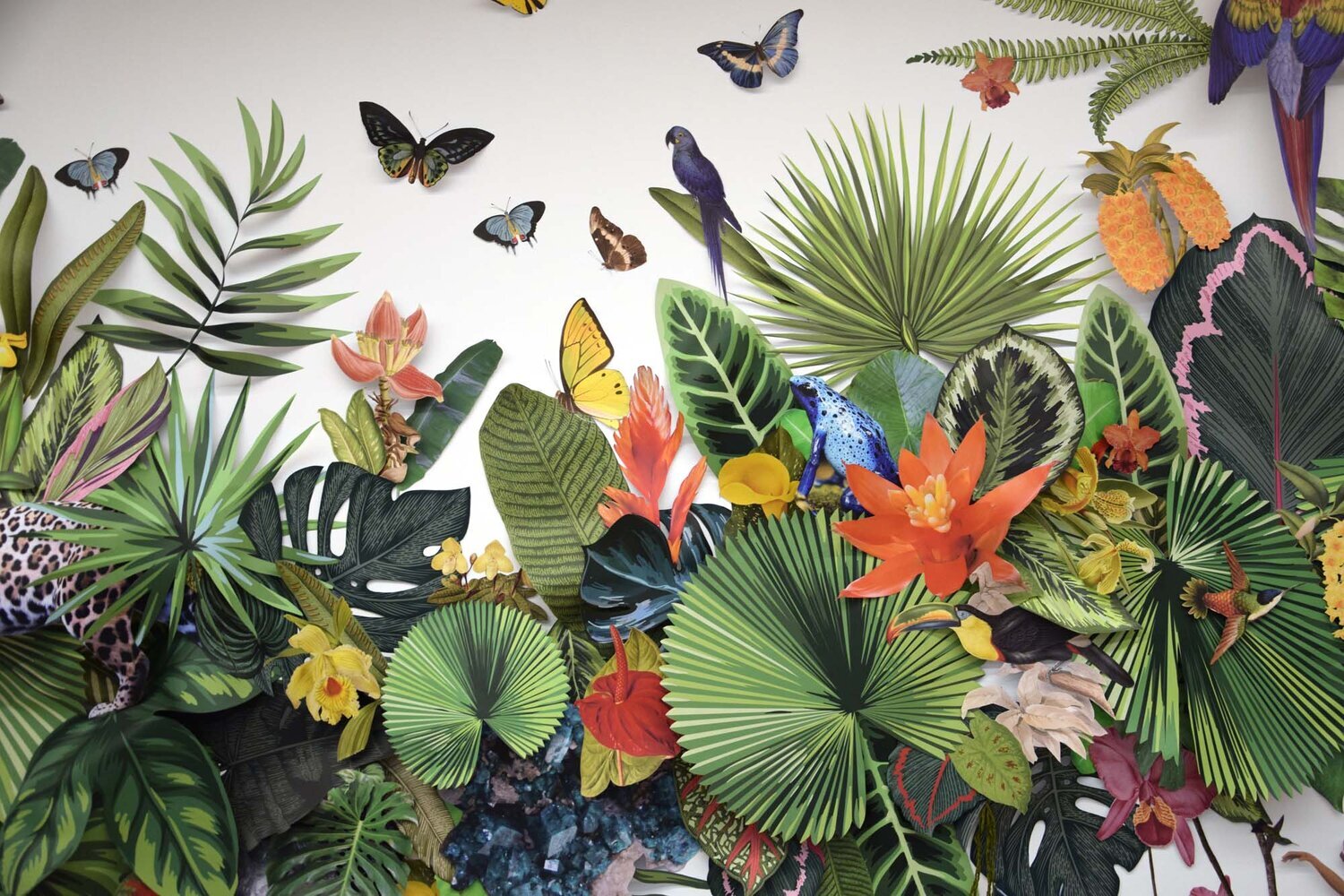 How do you relax when you have free time?
I love playing with my son and reading books.
Any last words?
Yes- just to remind us all that now is the time for climate awareness. Less consumption, buying more used goods and consuming fewer fossil fuels. And voting for folks who will pass policy to curb climate change! It is getting so urgent we all need to be in on this as much as possible. My art is visually arresting because it depicts nature... and I really worry that I am making something that will one day be a moratorium for something we destroyed. The real thing is better than any installation could ever be!