Calla provides the festive touch in every bouquet. The special shape of this flower is a real eye-catcher. Already since ancient times - we're talking the Greek and Roman empires here - the stylish calla has been seen as a flower that represents beauty and happiness. As you will see and learn from enthusiastic fellow florists, it still does. Floral designers simply love callas!
The Stylish Shape of the Calla
It is especially the stylish shape of the calla (botanical name: zantedeschia aethiopica) that makes this flower unique. Callas are available in the most beautiful soft modern tints and the flowers exude simplicity and peace. That is why this elegant flower is suitable to combine with other amazing flowers in bouquets or arrangements in every season. The elegant and exclusive image of the calla is also an enrichment for every arrangement.

Simply Play
The calla is a favorite product worldwide in exclusive arrangements - especially in funeral work and decorating weddings. But besides these special moments, as a florist, you will always want to distinguish yourself with interesting product combinations and impressive bouquets. With its simplicity, peace, personality, and unique style, calla creates extra impact and brings harmony and excitement to your bouquet. What is more beautiful than a loosely tied bouquet made up of a few of these characterful, special flowers which are given the space to let themselves be seen? Flowers that are all different in color, shape, structure, and length will create a beautiful contrast and bring a bouquet to life. Try the calla mixed together with a gorgeous large rose, a luscious carnation, or a wild spider chrysanthemum and experience the contrasts of color and shape. Here are some interesting combinations which the consumer will love.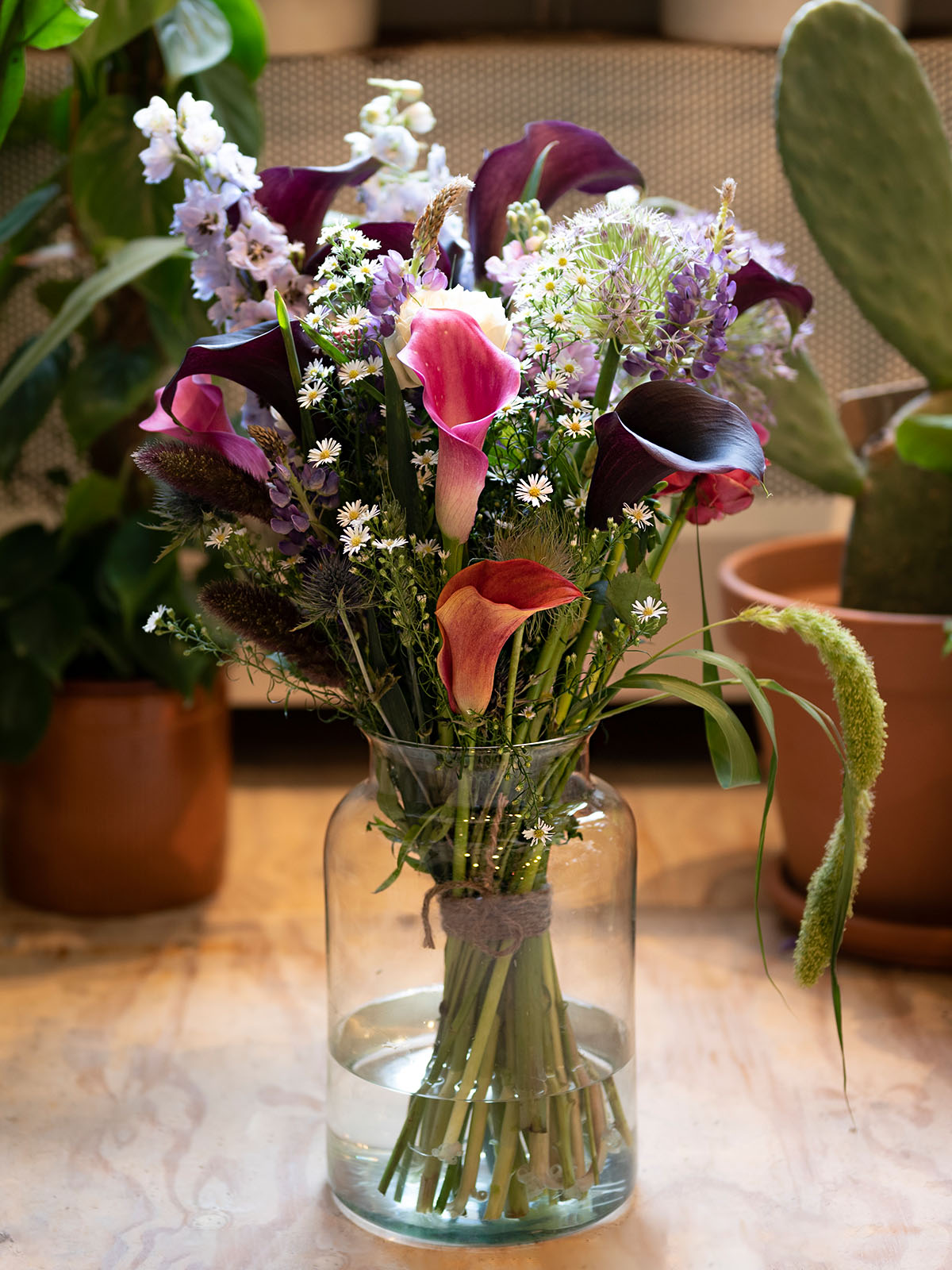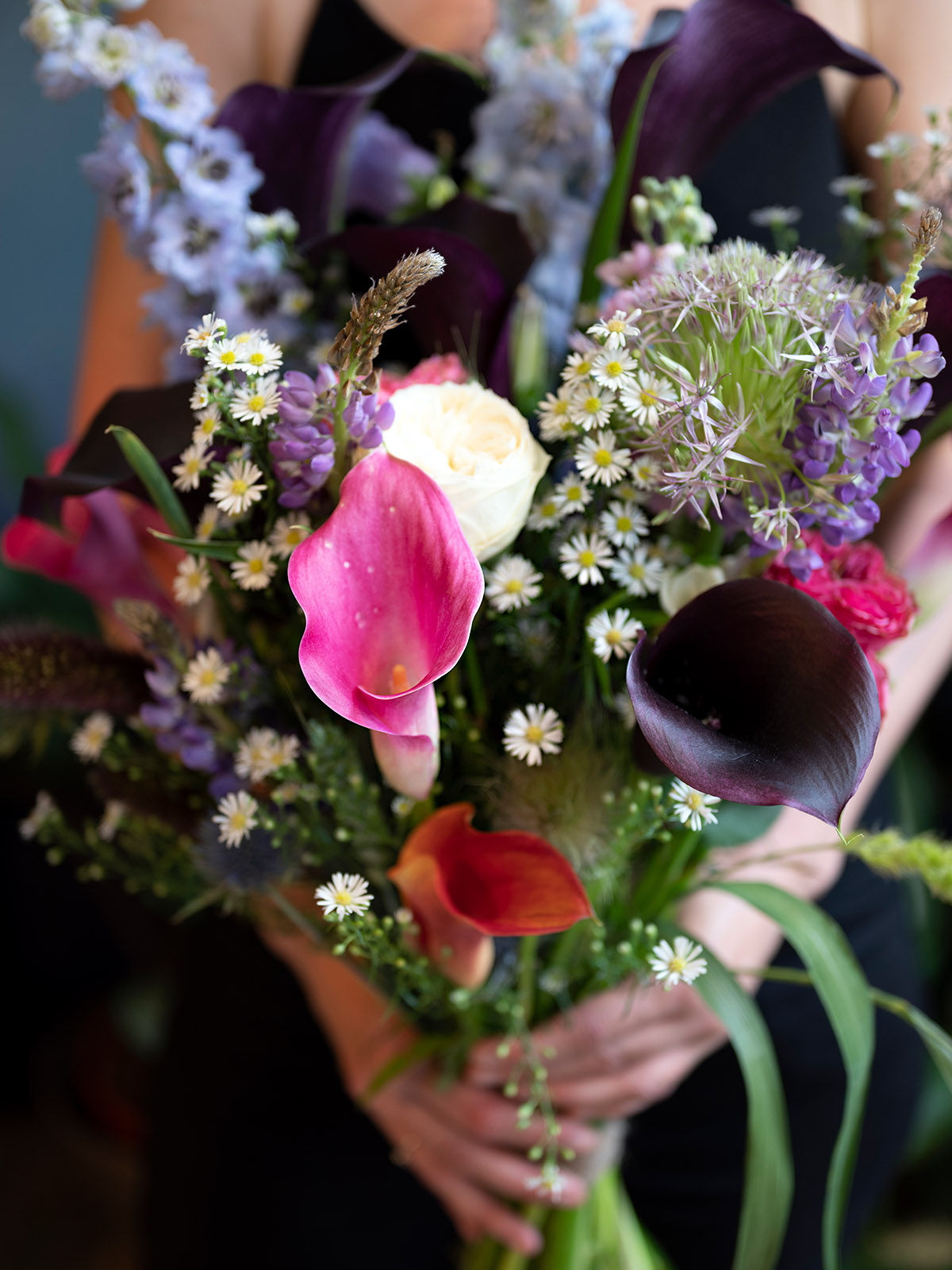 Sometimes we are too conservative with using callas in formal arrangements. Play a little with the colors and amazing shape of the calla and experience the effect and enrichment of your flower arrangements.
Simply Design
The calla doesn't only work well in combination with other flowers. If you place one or more callas in a lovely vase you will also create a real design statement because of its unique shape. Callas are often presented in design magazines in this way, sometimes in a really simple and stylish manner but also as a mix of natural colors, frivolous and fun! The calla can look fragile but is actually strong and firm to work with in floristry. It is also one of the few flowers that are easy to bend. Because of this, the calla gives an extra dimension to florist arrangements. Experience the special design character of the calla and also the sales opportunities they offer.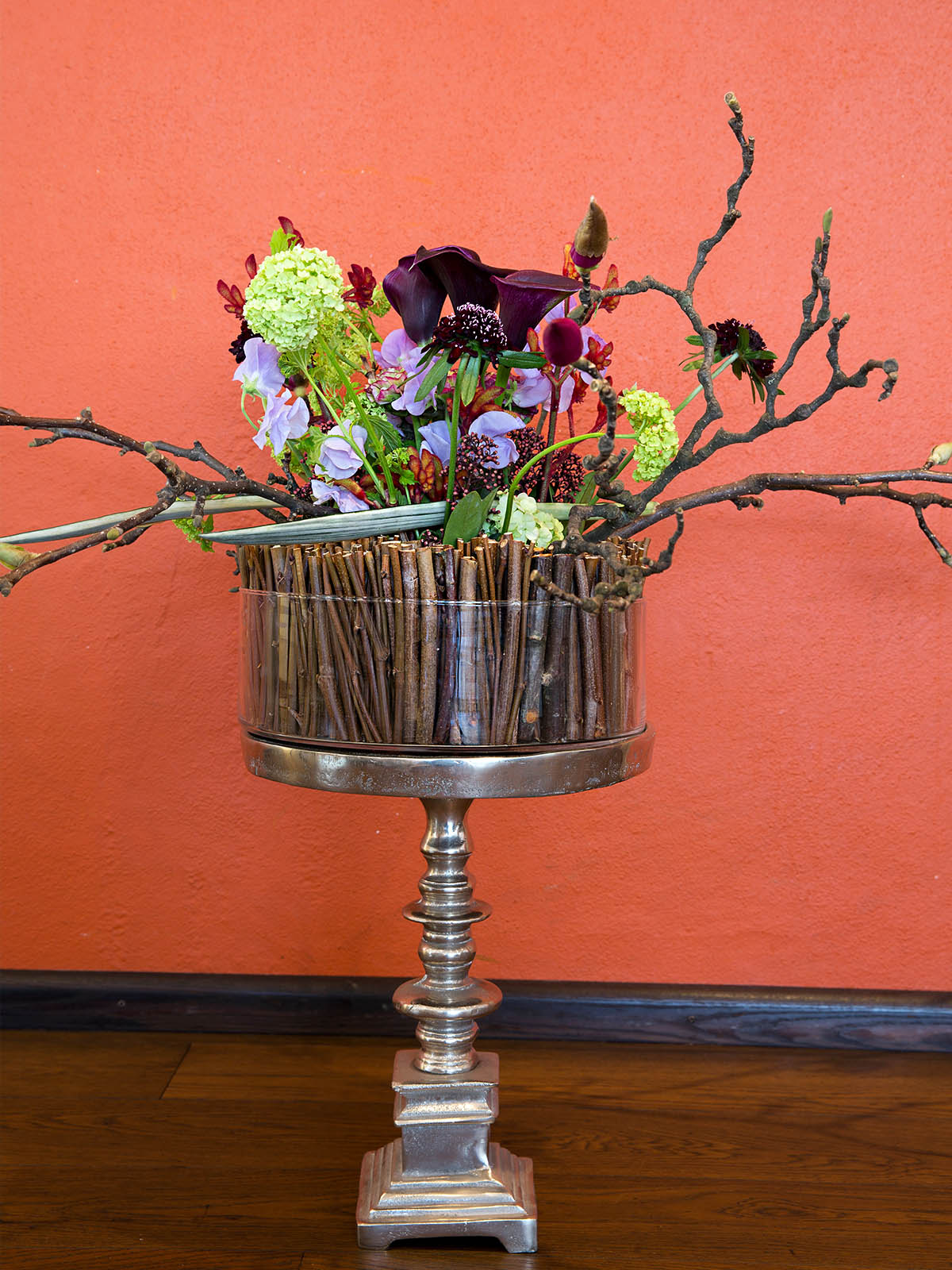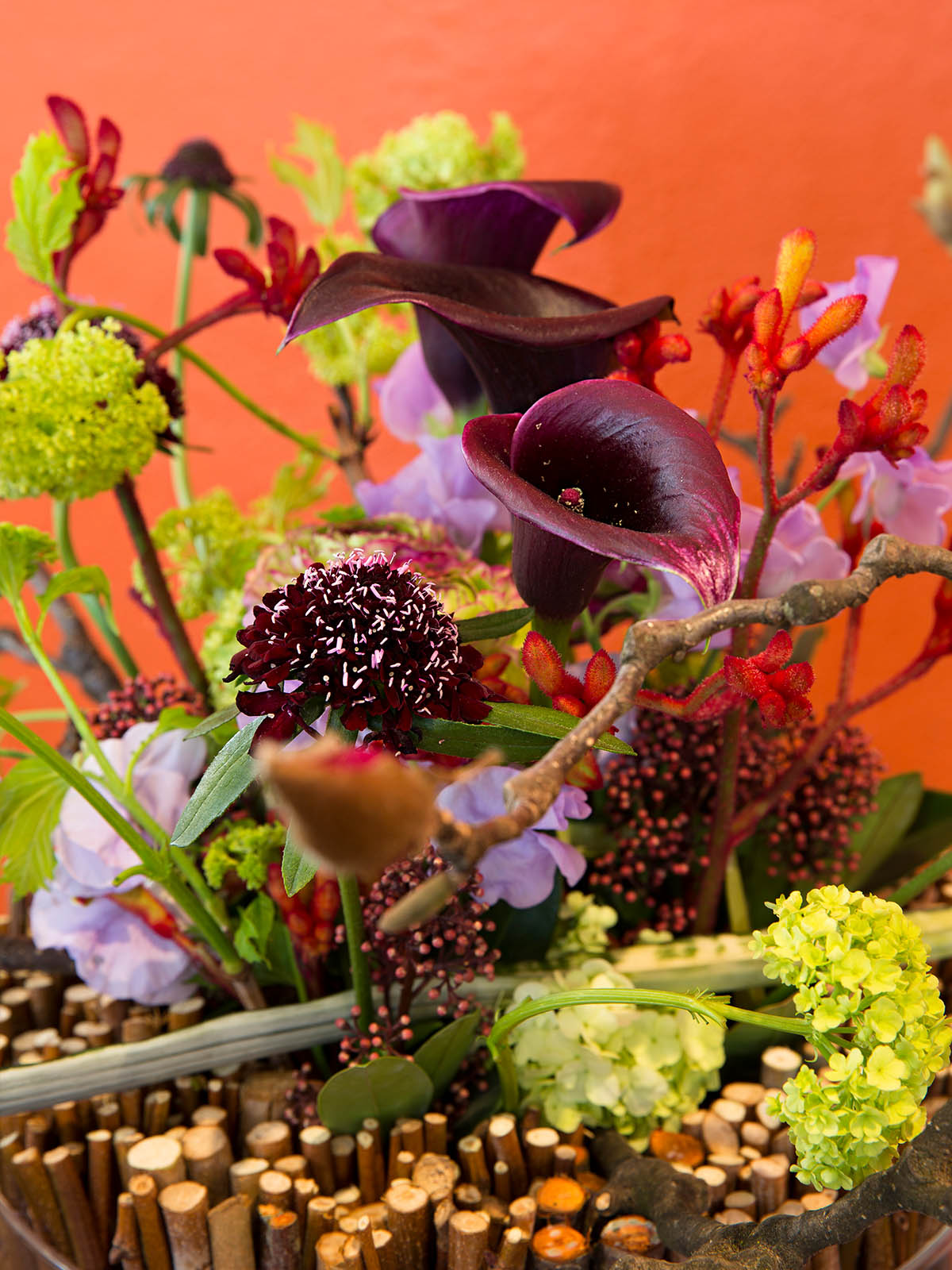 Simply Reviews
All the growers of the world can grow the most beautiful callas, but it is the florist who will captivate the consumer, with their creativity and skills. More and more florists discover the simplicity and impact of callas in their flower arrangements. Not just for funerals or bridal bouquets but also for weekend bouquets and table arrangements! Here are a number of comments from some famous and influential florists and designers.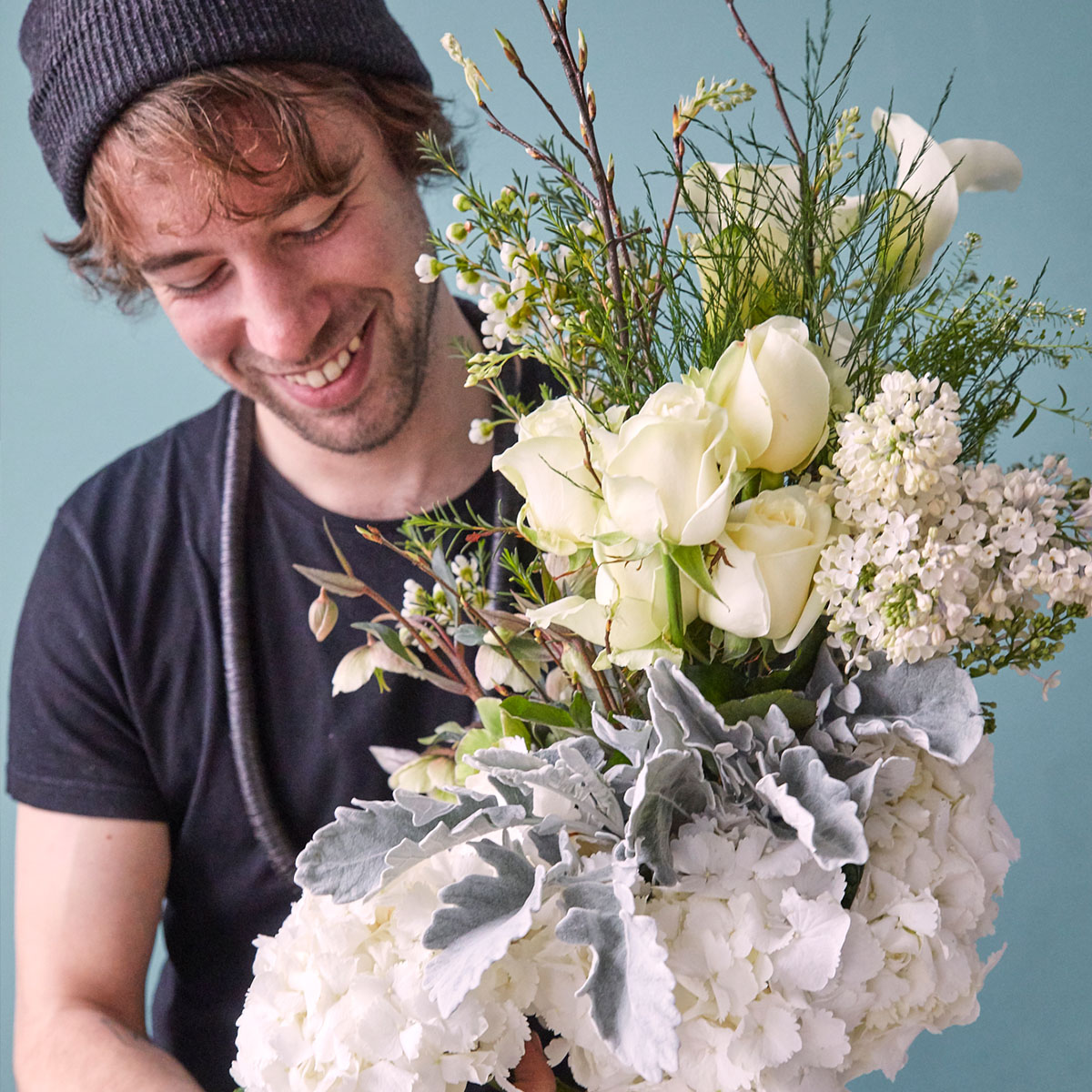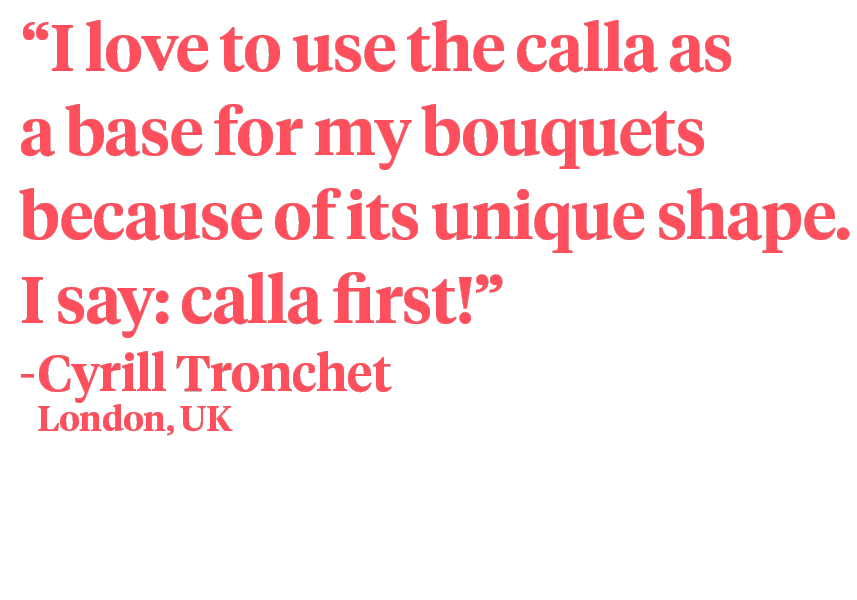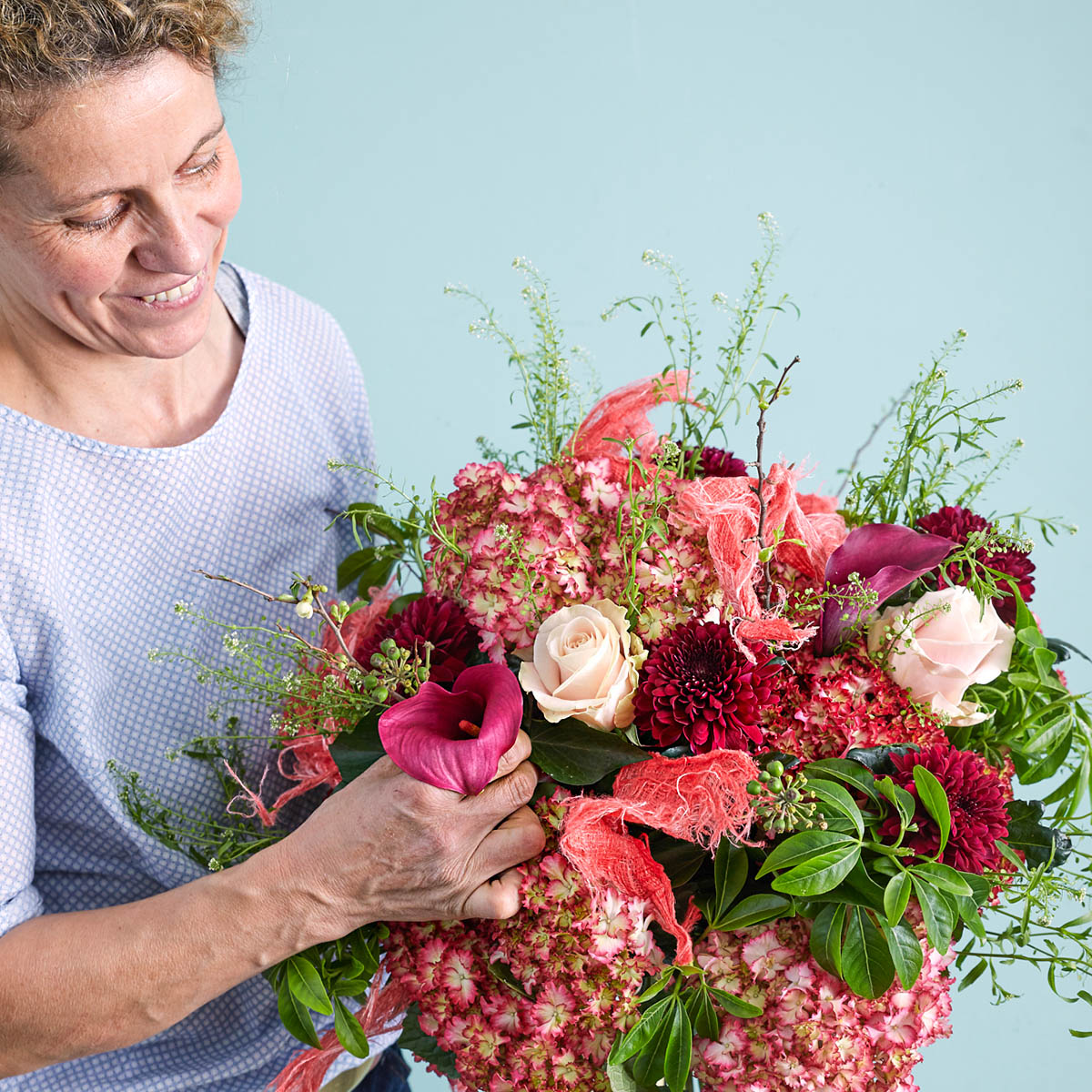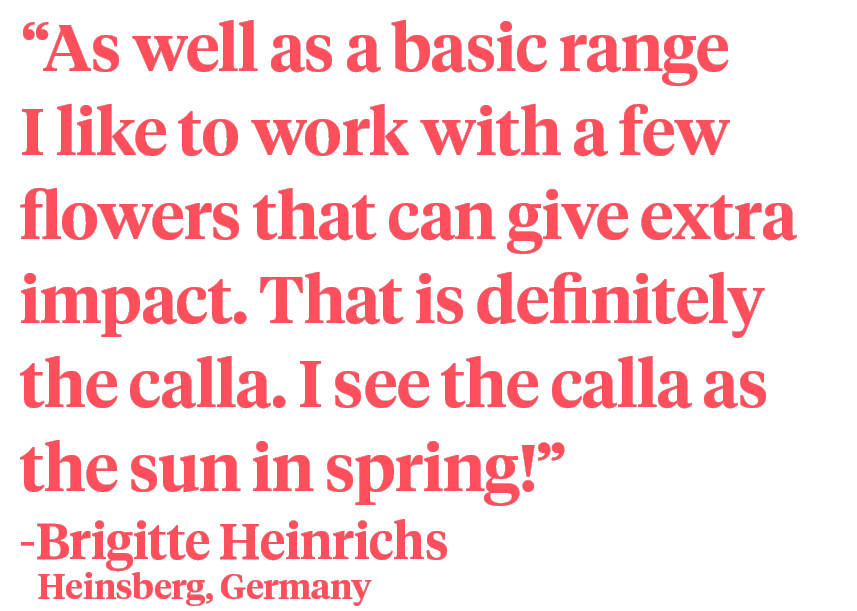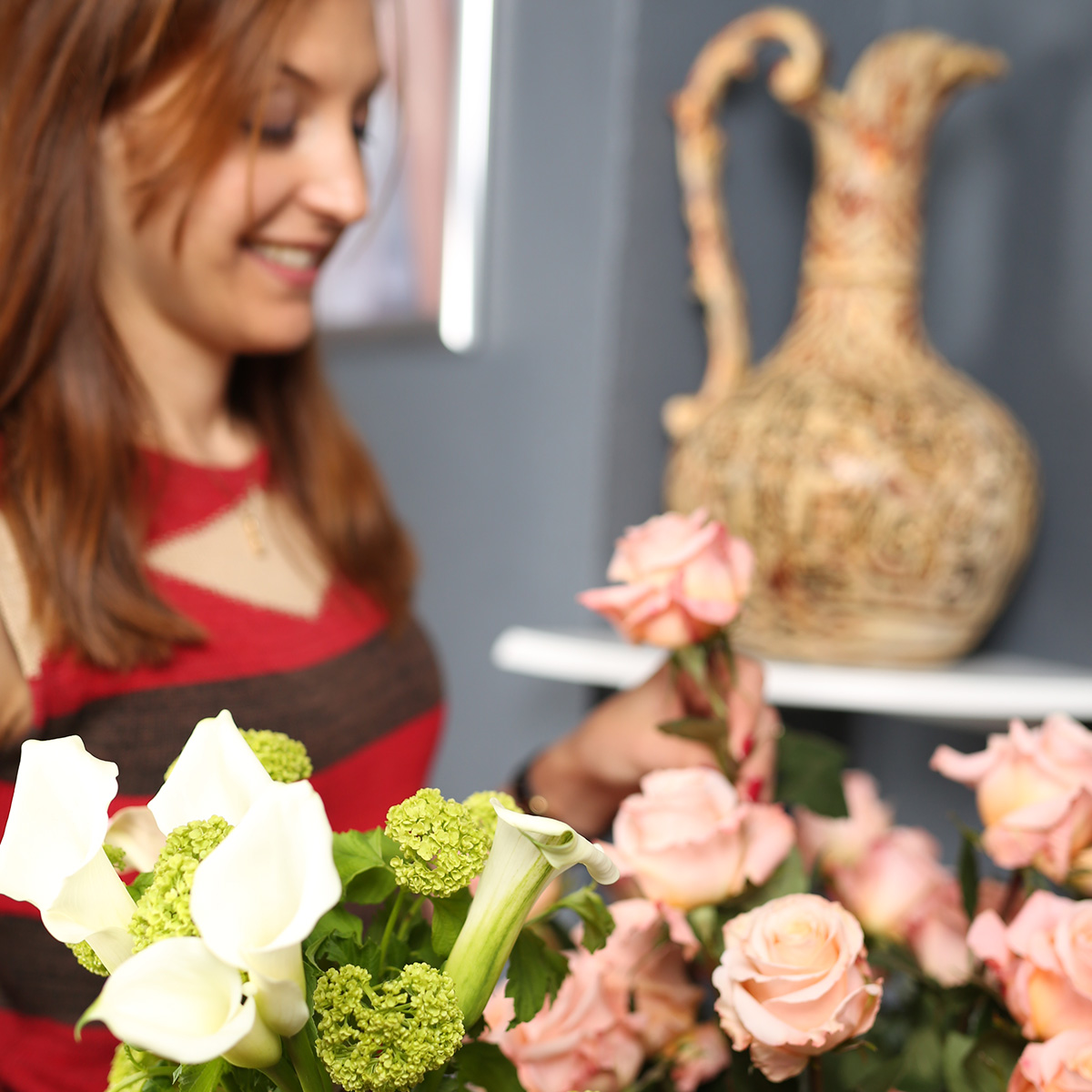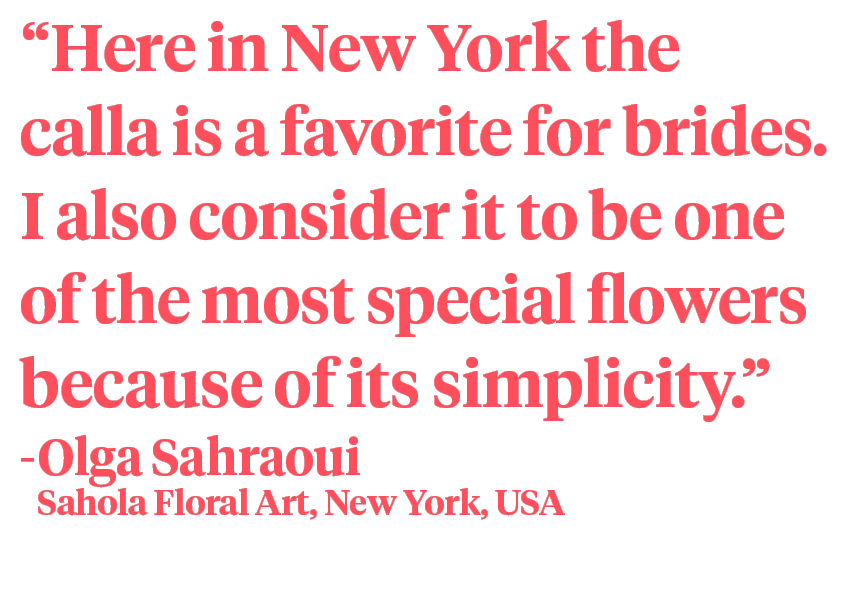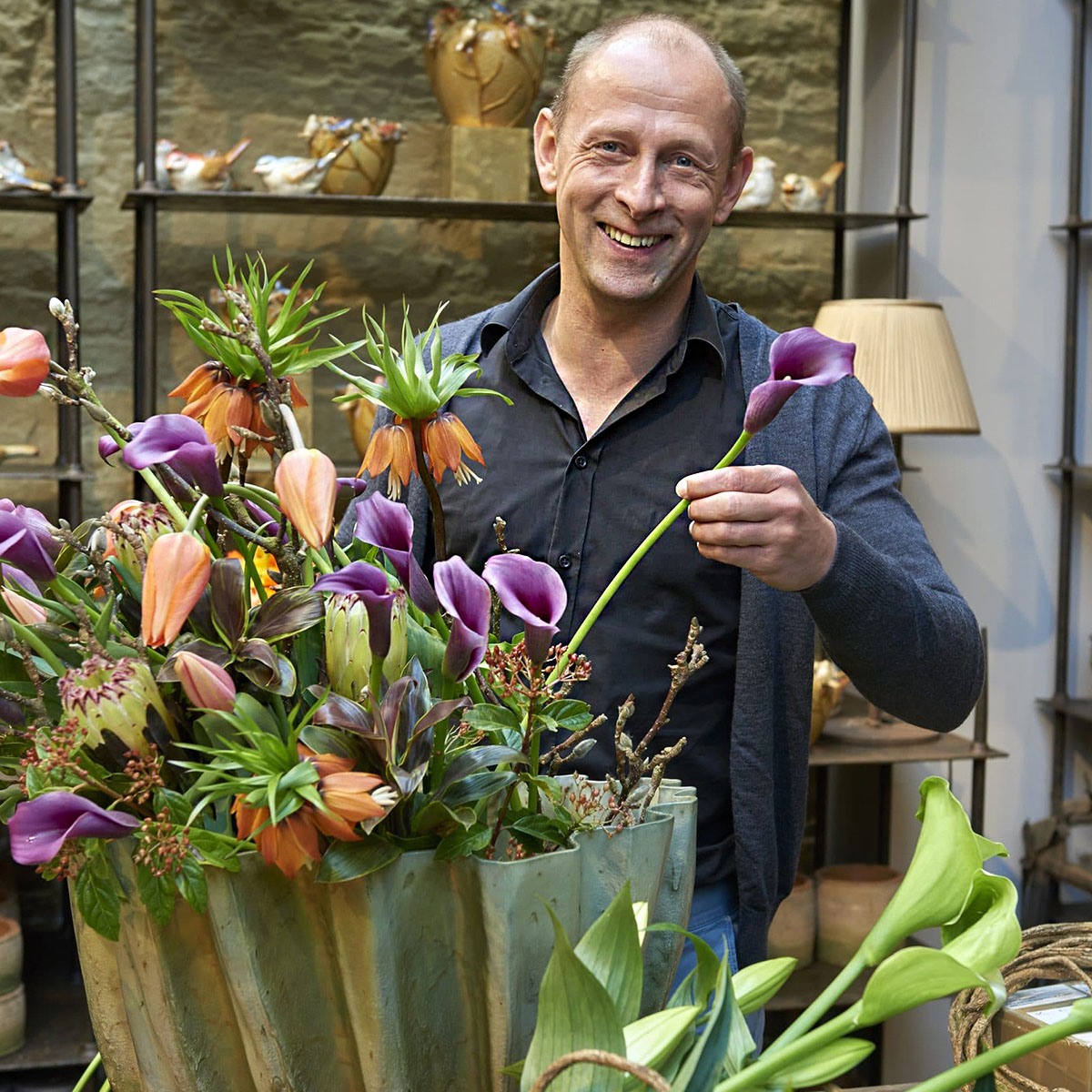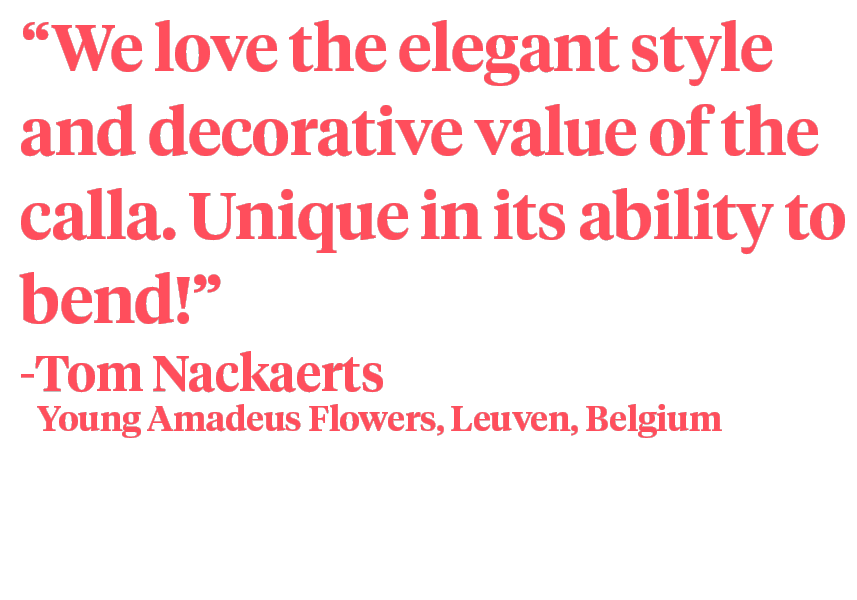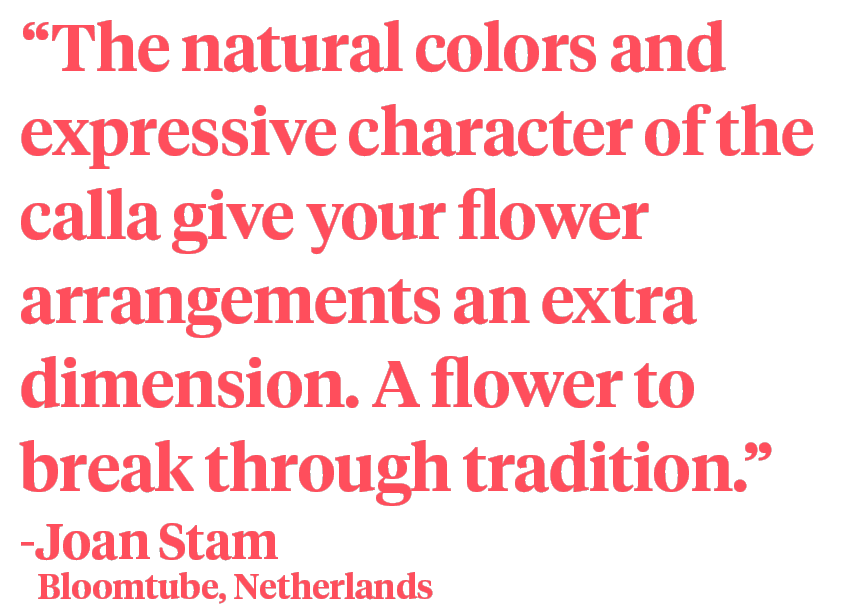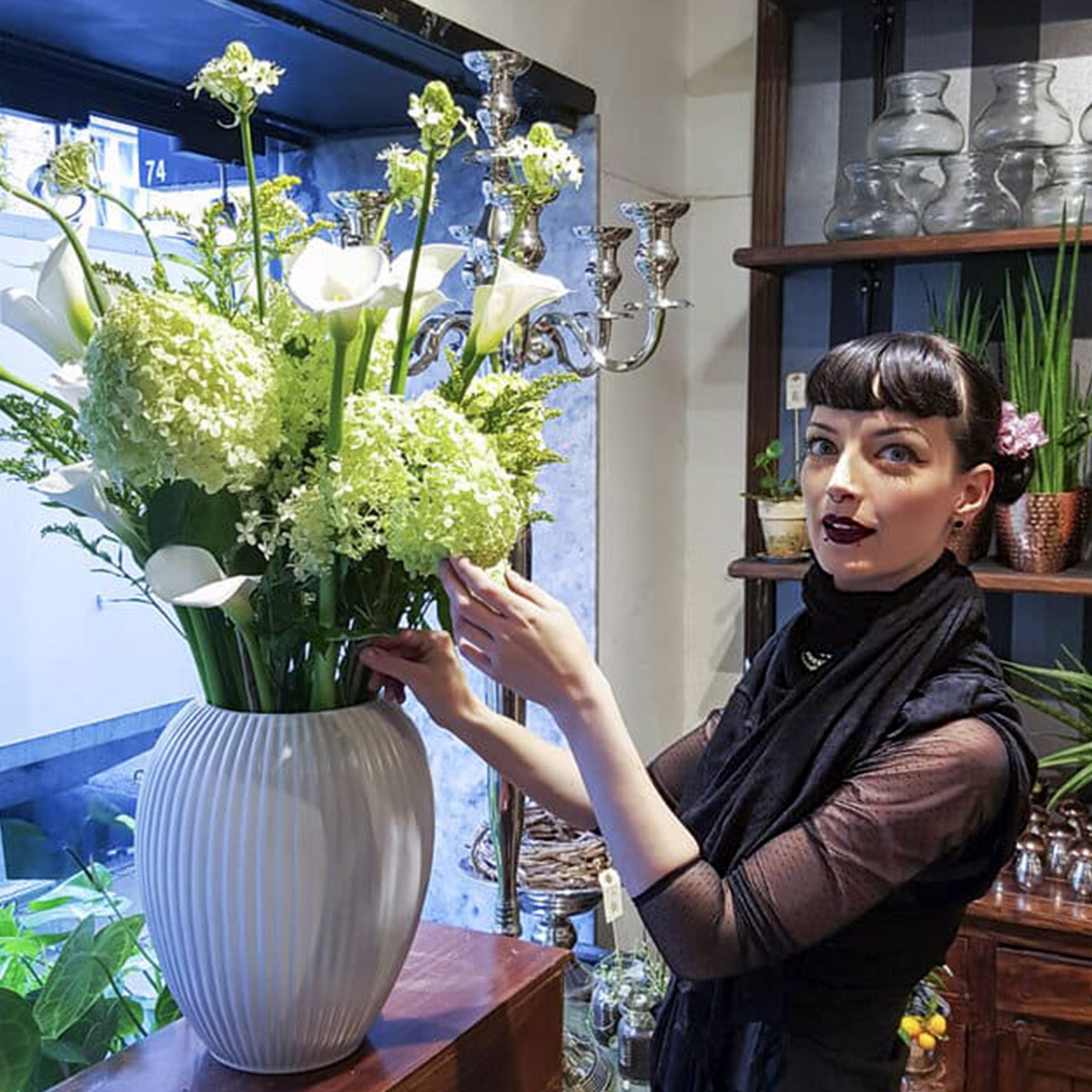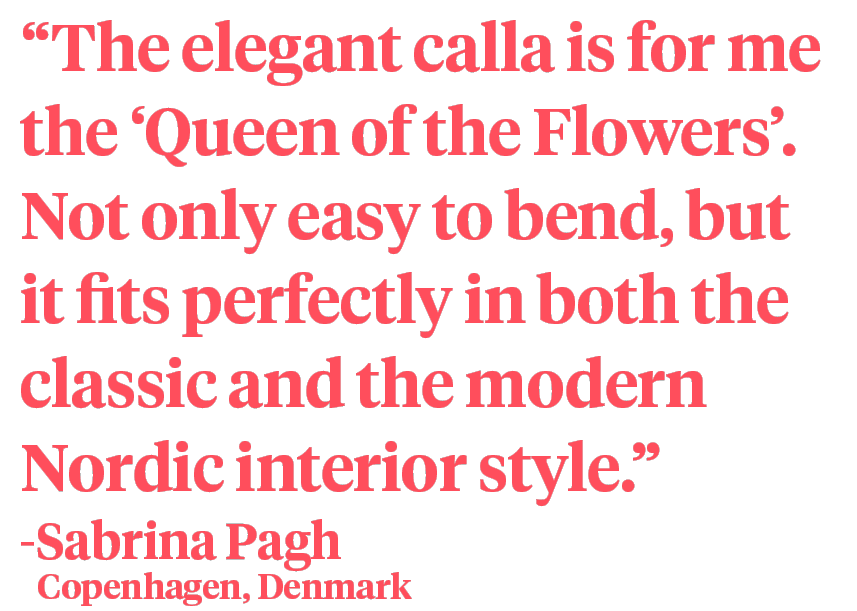 Simply Small, Medium & Large
The calla is available in a range of lengths and is therefore very suitable for bouquets and arrangements in diverse formats. The short small flowering types are perfect to use in small 'posy' bouquets, but the extra-long and large flowering Aethiopicas are a real eye-catcher in businesses or at events.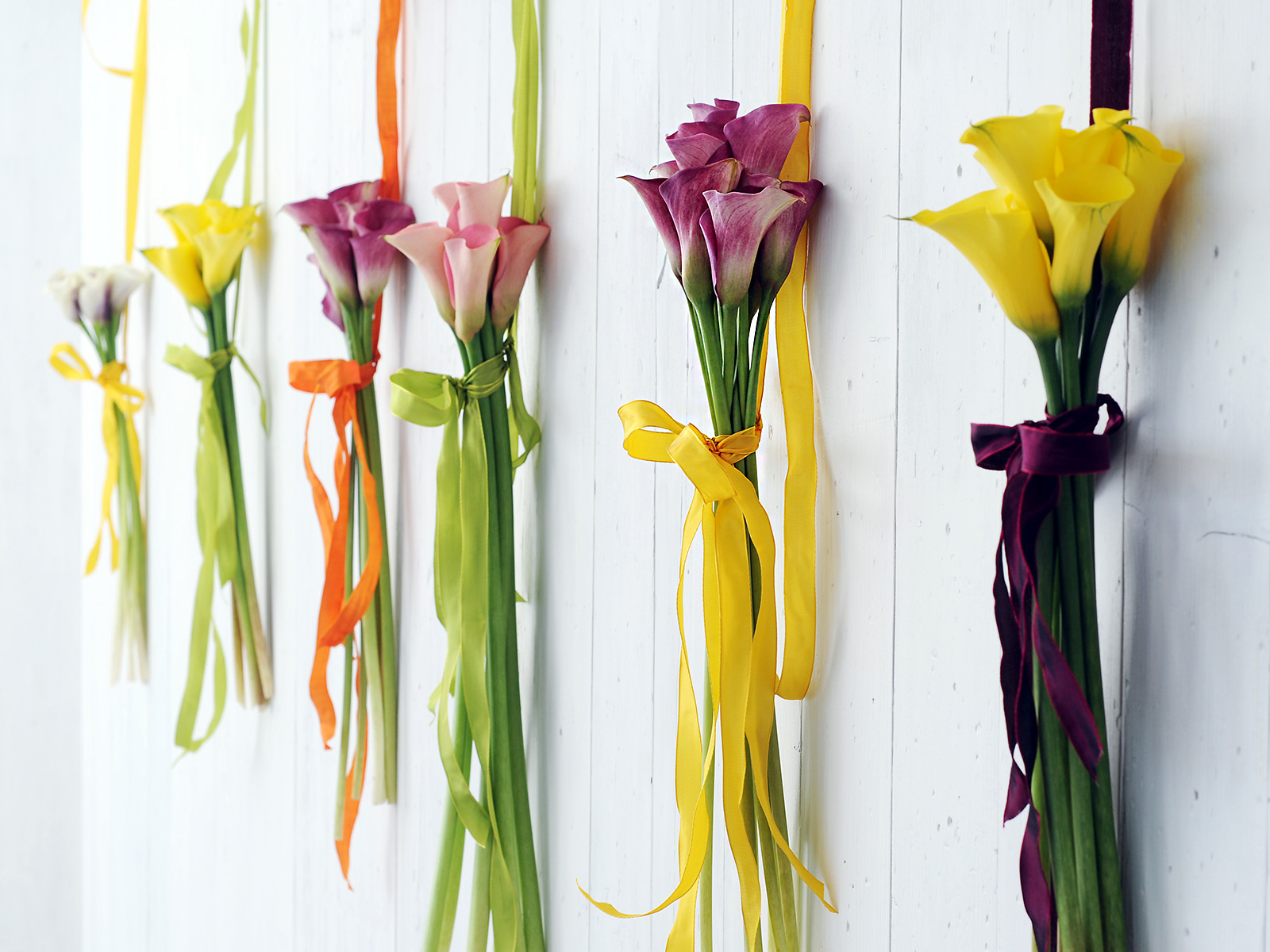 Simply Colorful
The calla collection can be recognized by its large palette of natural colors. The beautiful intense white varieties are especially well known and valued by florists. The fresh yellow and warm orange varieties are also popular and distinctive. In the last few years, the pink versions also seem to have become popular, from soft pastel tints to bright fuchsia. Also unique in the calla color palette are the dark purple and even black varieties, which make a powerful statement in modern bouquets. The fresh green varieties and the bi-colored flowers - with combinations of purple with white or red, with a hint of green - are very special. Regarding the red, have you already used the intense red calla in a fiery romantic bouquet?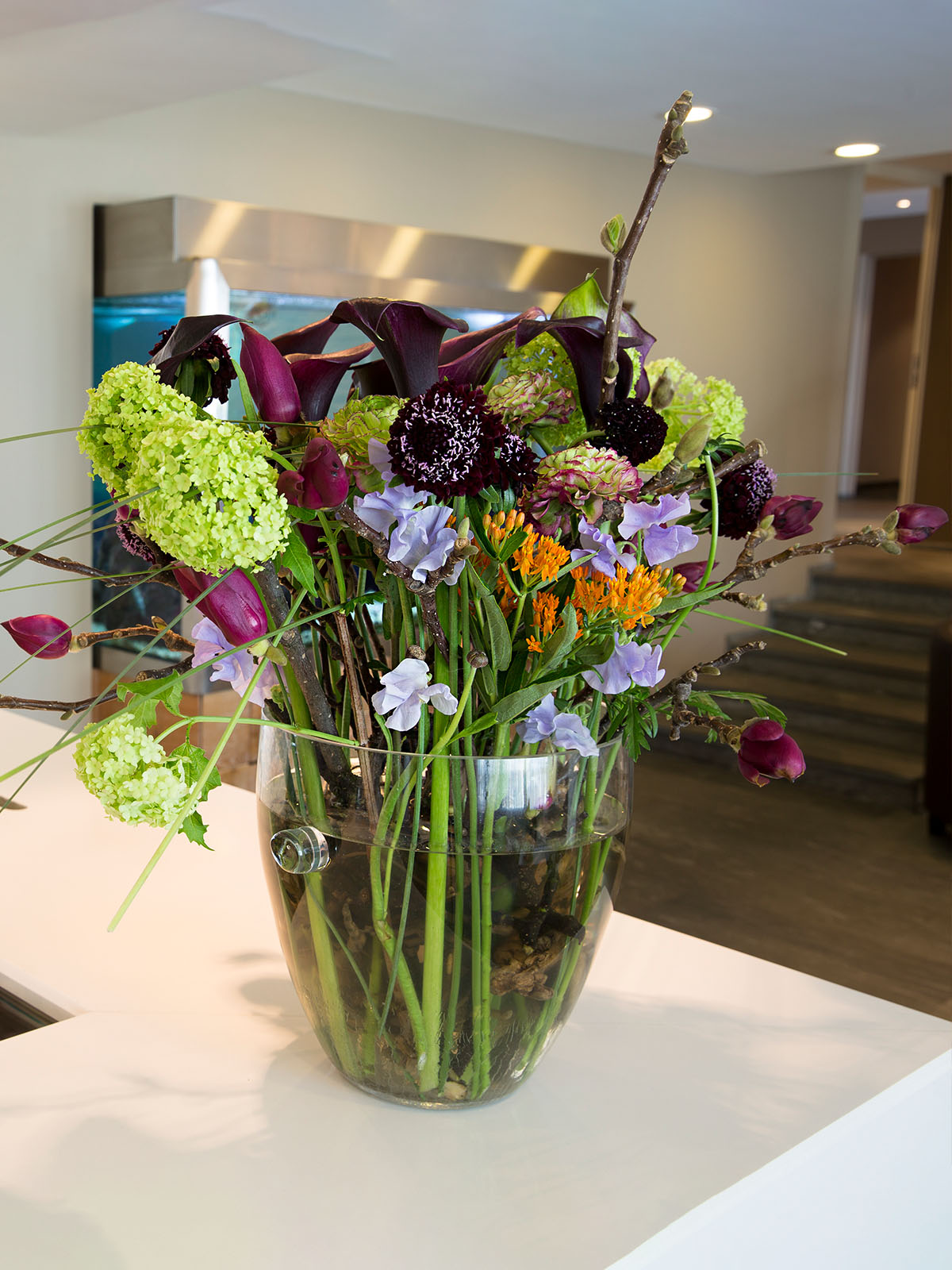 Simply Care
A few care instructions to improve the vase life in your shop:
1. Callas love a clean vase or buckets with clean water. Use as little water as possible to avoid the build-up of slime on the stems.
2. It is advisable to add a chlorine tablet or bulb flower food to the water.
3. Before placing the flowers in the vase, let the callas drain and cut a few centimeters off the stem with a sharp knife.
4. Regularly cutting the bottom of the stems and refreshing the water will increase the vase life.
5. Remove stems covered in slime straight away.
6. Be careful not to damage or knock the bracts. Always pick up the flower by the stem.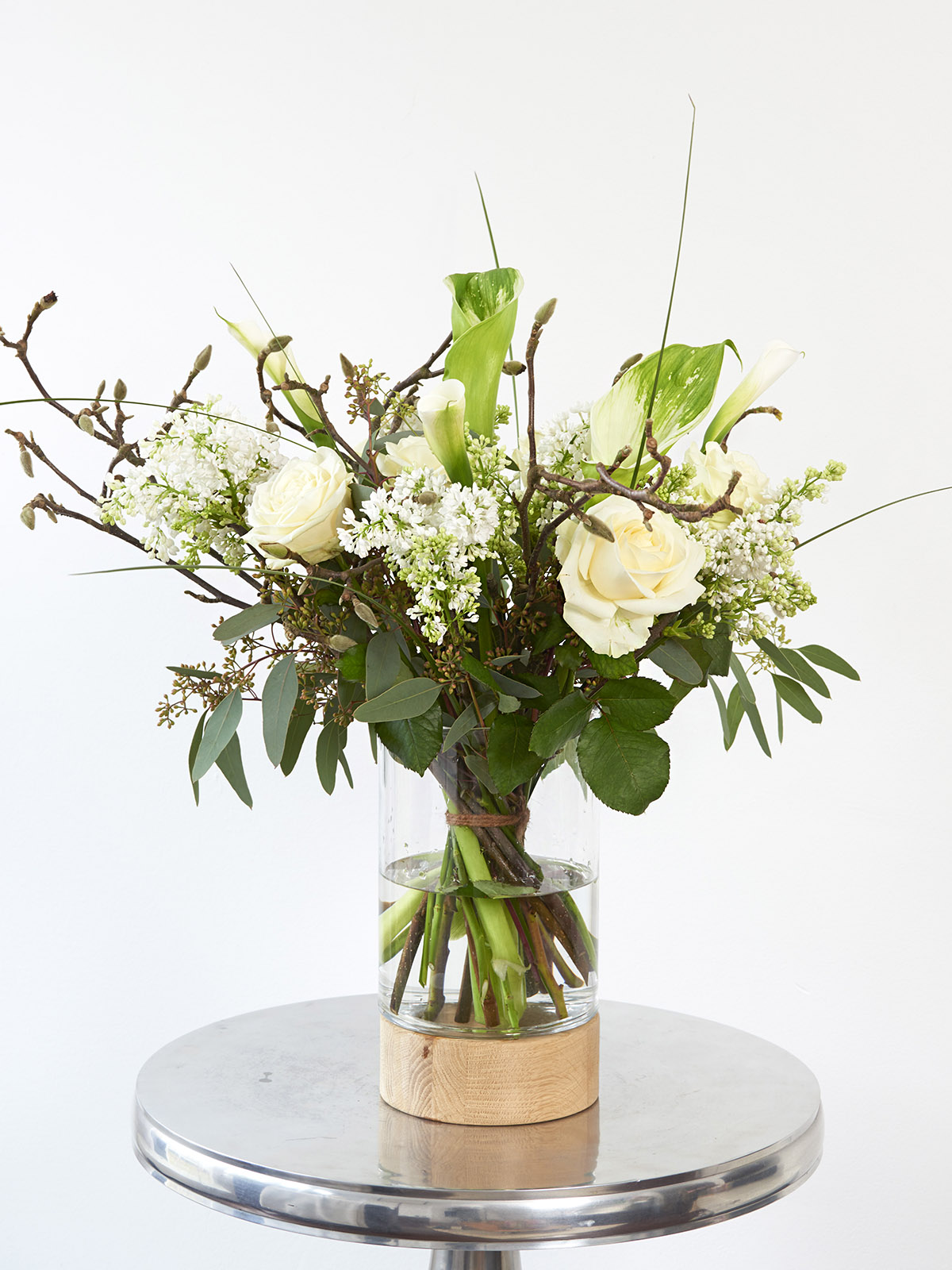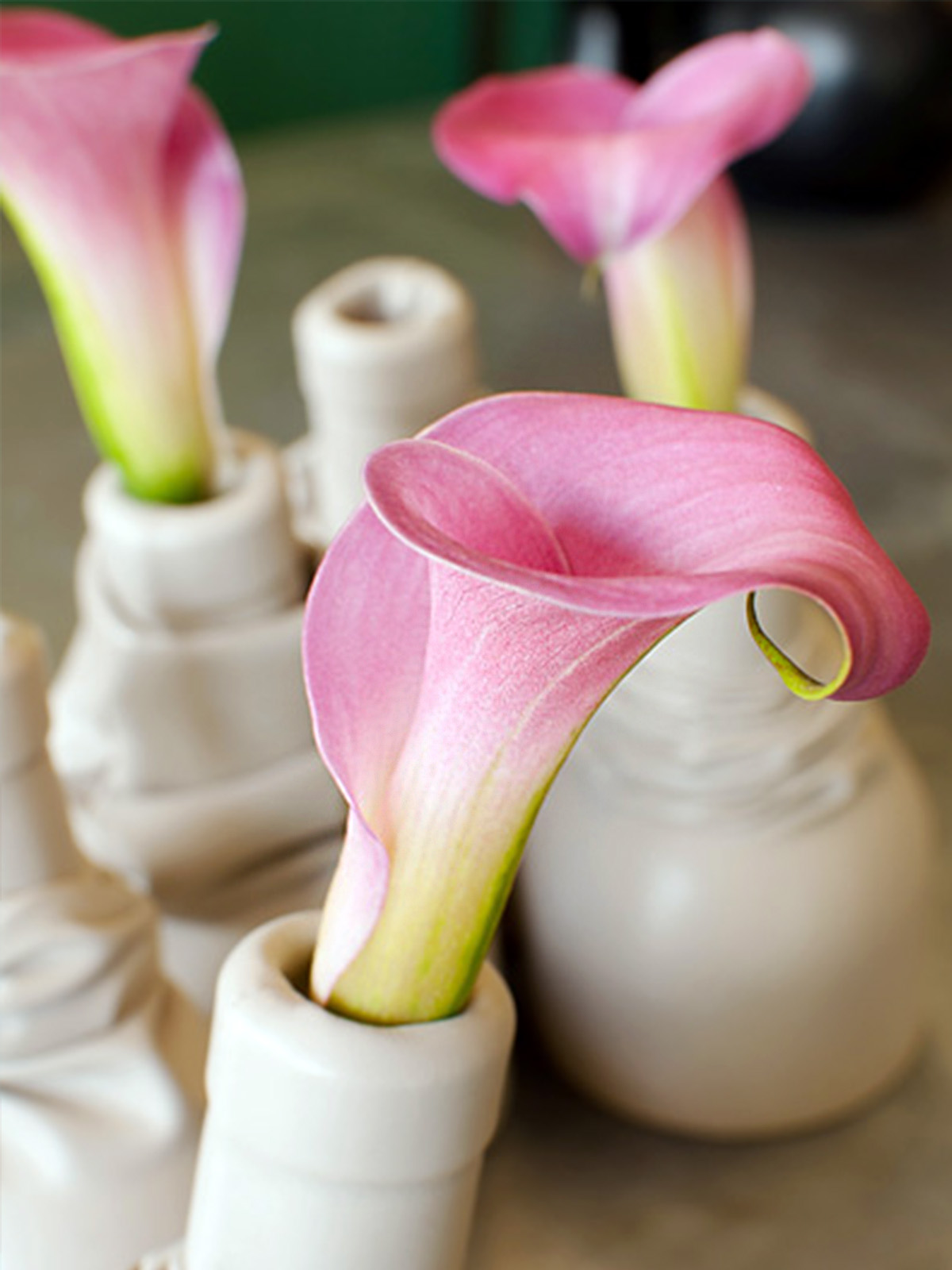 Inspiration by Simply Calla
Don't know where to begin to get more information and ideas about the stylish calla? Just visit Simply Calla, the inspiration platform for florists, garden centers, growers, wholesalers, and other horticulture professionals. It is a joint promotional initiative of all growers and breeders of zantedeschias and aethiopicas (of which the main color is white) and is supported by the growers of the Captain Select group.
All images courtesy of Simply Calla.