The pseudobombax ellipticum, also known as the bombax ellipticum, is an unusual deciduous tree that belongs to the family of Bombacaeae. A fabulously and attractive fast-growing tree with a smooth green caudiciform trunk that can reach 18 meters in height. Coveted for its unique brush-like flowers in late winter, the leaves are an attraction as well. This tree is a true gem within the plant world. Are you already a proud owner of the pseudobombax ellipticum?
The Unusual Pseudobombax Ellipticum
The pseudobombax ellipticum is native to southern Mexico, El Salvador, Guatemala, and Honduras but most plants you'll find on the market are actually grown in Florida, California, and Hawaii. This plant has a typical grey-green trunk that is enlarged in its basal part, which functions as water storage for summer droughts. The diameter of this enlarged part of the trunk can even reach up to 1 meter! From its thick trunk, the pseudobombax ellipticum develops many branches which grow attractive, big leaves that are a brownish color when young but turn green when the plant matures. The pseudobombax is a deciduous caudex-forming tree that loses all of its tropical leaves in winter. In spring, large, velvety lipstick-like buds appear and then produce huge, explosive stunning flowers that look a bit like
floral fireworks
. After flowers finish it puts out stunning pink and red new leaves that get bigger with age then turn green.
What is a Caudex Plant?
The pseudobombax ellipticum is, as mentioned before, a
caudex plant
. These plants, also known as fat-bottomed plants, are one of the hottest trends among plant collectors at the moment. But what is a caudex plant? In short, the caudex of a plant is the stem, the rootstock from where new growth arises. The related term caudiciform, literally meaning stem-like, is sometimes used to mean thick-stemmed. Caudiciform plants or fat plants are a totally unrelated group of plants all having a fat stem or trunk at the base from which the stems grow. Caudiciform plants do not require much maintenance. Because they are able to store water for dry periods, you do not need to water them regularly. They can survive quite well without nurturing them. During the months of active growth, water sufficiently, but only when the soil is completely dry. Avoid watering when the plant is hibernating. Otherwise, it will easily rotten.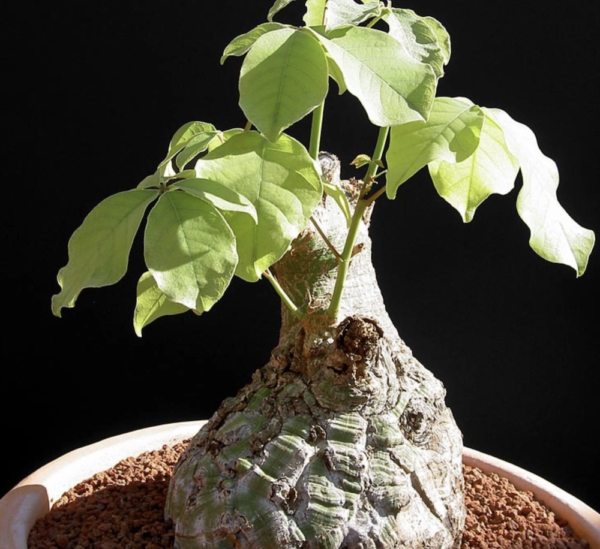 Shell-Like Pattern of Gray and Bright Green Bark
The pseudobombax ellipticum is very interesting with a tortoise shell-like pattern of gray and bright green bark. Note that pot-grown plants are very sensitive to hot summer sun and should be protected. This plant was used by the Mayans and is depicted in their art. Its seed can be toasted and eaten while the fruit fibers (kapok) were used for batting and insulation. Pseudobombax ellipticum is planted as a living fence in Central America.
You Can Enjoy Your Pseudobombax Ellipticum All Year
Pseudobombax ellipticum can also be grown in pots and trained as a fascinating Bonsai subject. This plant is an interesting addition to your houseplant collection because you can enjoy it year-round. During the winter, it shows off its smooth green bark and picturesque structure. Then in spring, it grows striking white to neon-pink flowers that burst from cigar-like buds. Summer brings beautiful foliage that can range from red to bright green as the plant matures.
How to Take Care of the Pseudobombax Ellipticum
Bombax ellipticum is not particularly difficult to take care of. It needs sun and plenty of water. But pay attention: if you water too much root rotting can affect your plant. It's from tropical areas, with a high degree of humidity. It doesn't bear temperatures below 0 ºC. In colder climates (like Europe) it's better to grow it in a pot, so you can easily put it indoors in winter. This plant needs a bright position: it doesn't like shade.
Popular on Instagram and Facebook
When you open your social media, many pictures and movies are coming by from caudex all over the world, including the pseudobombax ellipticum. They are very popular, but not that easy to get. And rather expansive too. But once you have one, it's almost like a little baby, you can't stop taking care of it. Growing and collecting caudiciform can quickly go beyond a hobby to obsession, a common occurrence in the plant collecting world.