Response to Place is the name of a series of contemporary art vessels from paper artist Bianca Severijns. The Israel-based Severijns mirrors the complexity of living in her country, evoking heavy emotions with the observer.
Bianca Severijns
Bianca Severijns is a contemporary artist creating amazing paper artworks. She transforms paper into intricate complex artworks that create a unique visual impact. Severijns is known for her original and distinguished paper language with which she aesthetically arranges hundreds of hand-torn pieces of paper into sculpture tapestries, murals, and reliefs. Her works explore subjects of displacement, uprooting & re-rooting, and social themes.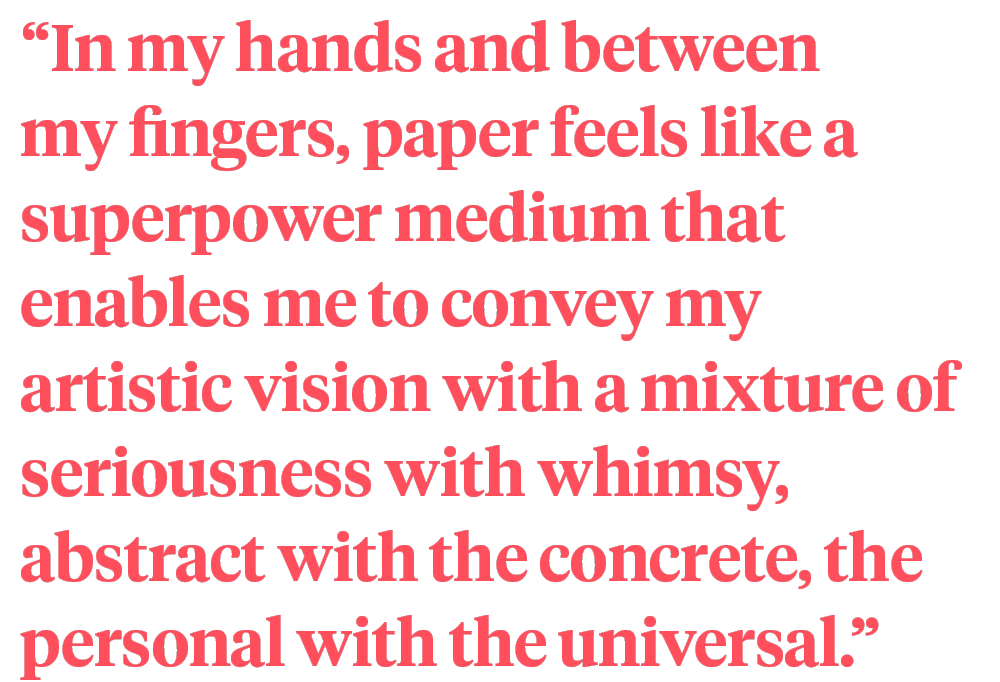 Five Contemporary Art Vessels
These five contemporary art vessels from Severijns are viscerally crafted paper objects created as testimonies of living in a country of extremes, conflicts, and disputes. As an artist, Severijns explores her personal journey of having been born in the Netherlands and then at a later age moving and assimilating with her family into Israeli society. She has witnessed the complexity and absurdity of everyday life here on various levels: cultural, social, political, military, religious, etc. The rapid national shift to an (extremely) conservative Israeli government is a painful experience for Severijns as it conflicts with the ideals and values she pursues.
Art vessels #1 and 2. Technique: hand-torn paper, acrylic, konjac. Measurements: H 53cm

Despite all this Israel is home to her! It is the place where she raised her three daughters from youngsters to adults. It is the place where Severijns developed herself as an artist. The enriching growth process as an artist could not have taken place without the experience of living in this new homeland. Most of her subject matter relates and responds to this place.
Closely Related and Connected to Home
Unconsciously, Severijns' most recent artworks are chosen objects that are closely related and connected to home: carpet, blanket, and vessels. Never intended to be applied art objects, Severijns transforms these homely objects into contemporary art pieces full of metaphors and connotations. Bianca Severijns: "In my hands and between my fingers, paper feels like a superpower medium that enables me to convey my artistic vision with a mixture of seriousness with whimsy, abstract with the concrete, the personal with the universal."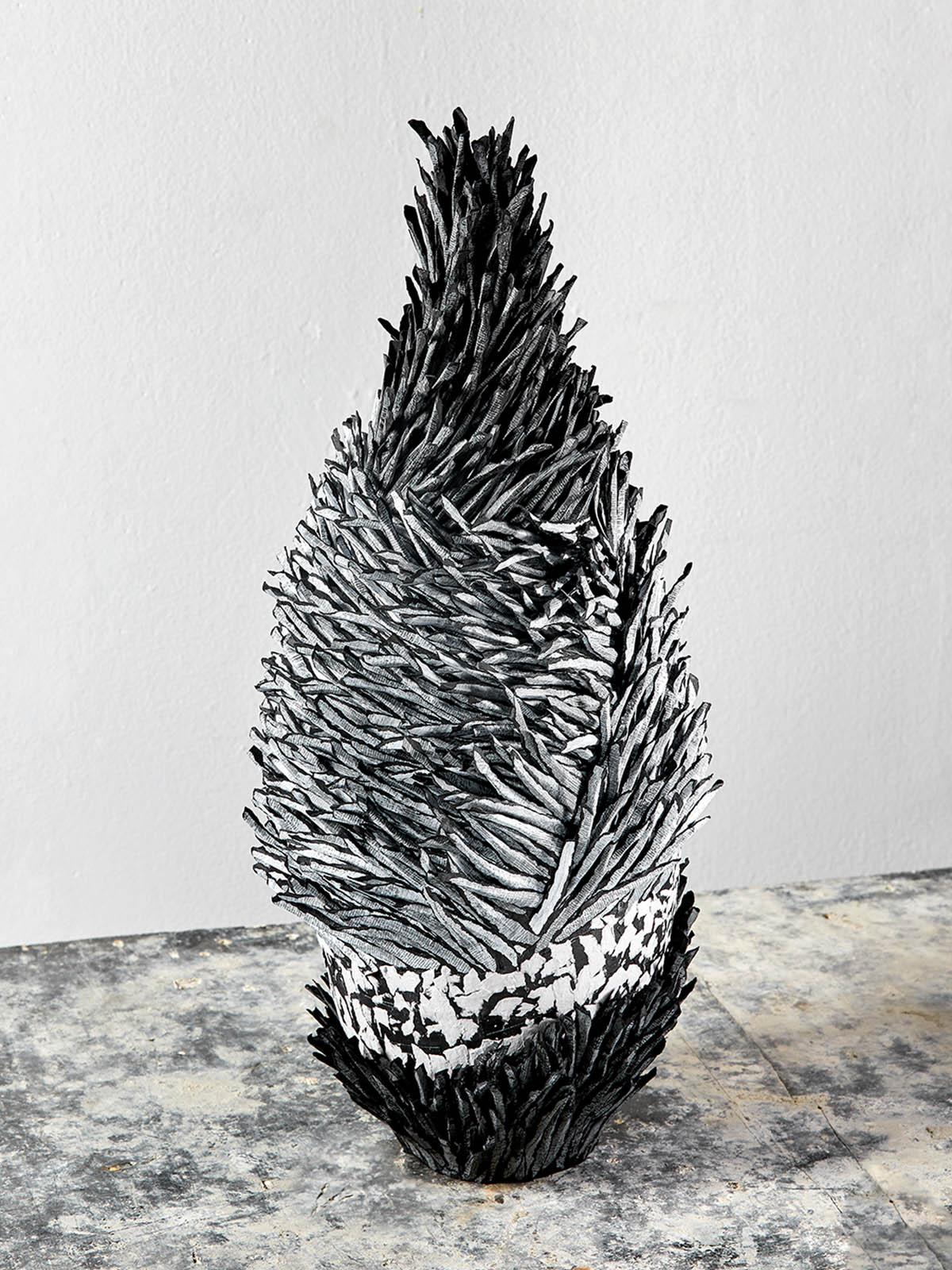 Art vessels #3. Technique: hand-torn paper, acrylic, konjac. Measurements: H 53cm
The Complexity of Living in Israel
In this series, the contemporary art vessels mirror the complexity of living in Israel. She starts each vessel with the same shape made of coarse black paper pulp. Then she layers them with hand-torn pieces of paper that are a metaphor for the layers of complexity. She plays with the inner world – the outer world. At first glance, the vessels appear to be attractive pieces of art. But at closer inspection, each vessel contains distorted elements. Severijns left holes, splits, cuts, or total bareness as representations of the darker sides of living here. In some of the vessels, she literally ripped off freshly applied paper pieces to create a resemblance of imperfection and disharmony.

In this contemporary art vessels series, Severijns demonstrates her artistic competence by innovatively enhancing the dexterity of paper; transforming and challenging old techniques; and experimenting with new creative processes.
Art vessels #4 and 5. Technique: hand-torn paper, acrylic, konjac. Measurements: H 50cm and H 37 cms


All images by Sigal Kolton