The Virtual Tulip Festival is hosted by Sarah Campbell and Jordan Marx from Intrigue Designs. Their inspiration came through a bunch of yellow tulips. It lightened the room completely and so they decided they wanted to make a lot of people this joyful. They gathered a team around them with people that give them energy and waves of laughter. A dream team to make their Virtual Tulip Festival a reality. The Dream Team
Bron
,
Sue
,
Ana & Anaïs
,
Michelle
, and
Beth
made incredible designs. In this article, Sue's arrangement is highlighted. This event is made possible through the support of the U.S. tulip growers, their European bulb suppliers, and funding from the European Union.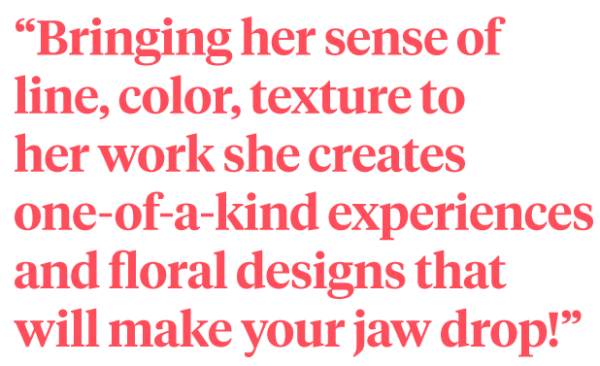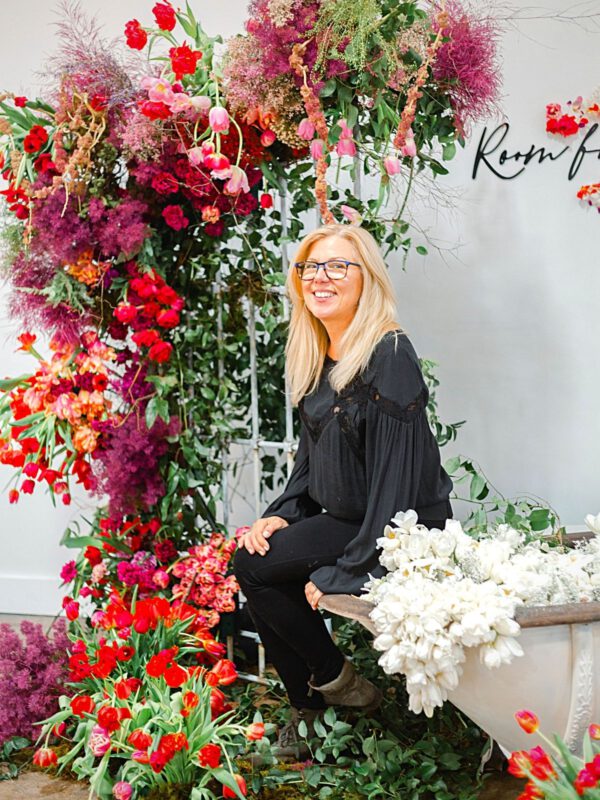 Sue Davis
Sue's energy is infectious! It's impossible not to laugh when she's around. Her floral career began 30 years ago. After doing set design for QVC, her passion for creative arts led her smiling face right into florals. Since then, she's done incredible things in our industry. She is a national speaker/educator and the founder of The Design Sanctuary Workshop. Her floral workshops and events are often the talk of the flower-town, being held across the USA from Philadelphia to Honolulu. She has trained countless apprentice florists and inspired many to start their own shops! Bringing her sense of line, color, texture to her work she creates one-of-a-kind experiences and floral designs that will make your jaw drop! Her designs are sure to make your hearts skip a beat. IG: @freshdesignsflorist WEB: freshdesignsflorist.com
Sue Tells Her Story
Being a successful wedding florist, being in a relationship, and being in love was not on my mind when I was in my twenties. When I had a date, after a few hours, I just wanted to go home and watch TV. End my thirties I was thinking that it just wasn't going to happen for me, but then I met somebody and on our first date he gave me red tulips. As a florist you think: true love.... is that possible. We kept dating and we were really falling in love and five months later at Valentine's, he gave me red tulips again...True love it is.
So for Sue red tulips are part of the story of her life.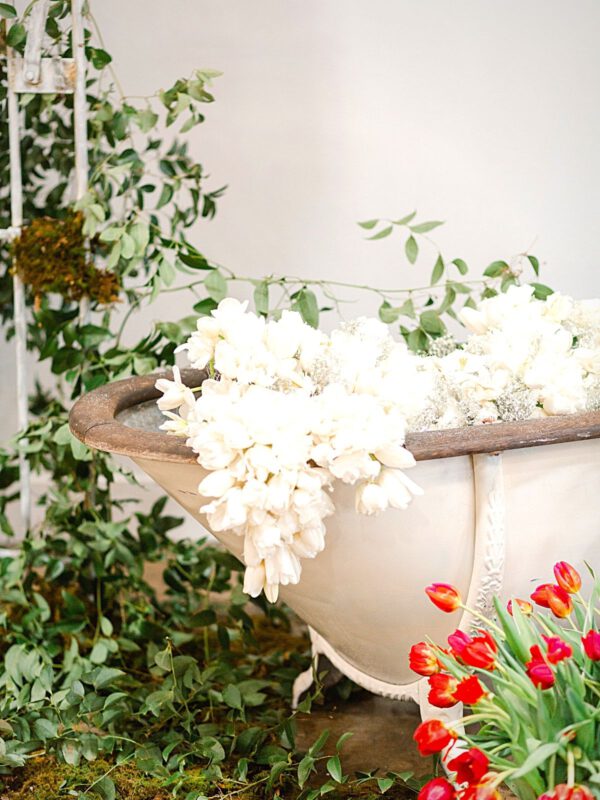 Bubbles in a Bathtub
My design is based on the romantic feeling that comes along with the feeling I have with the red tulips. I wanted to create a bathtub with bubbles surrounded by flowers in a private atmosphere. The gates are used for that purpose. I hope it's a bathtub you want to go into.
Sue's contribution to the Gather: Virtual Tulip Festival is a joy for the eye and would be a dream come true for many.