Every mother in the world loves to be surprised on Mother's Day. The perfect gift was, is, and will always be flowers. So, how to surprise mom even more? Try callas, those beautiful graceful chalices on an elegant long stem. They make a perfect couple with a beautiful and graceful mother.

Colorful Calla for Mother's Day
The calla, also known as zantedeschia, is available in many colors and hues. For Mother's Day you can combine several pink hues to make an exclusive pinkish bouquet. Success guaranteed! Just look at some of these bouquets. Stunning, aren't they?
Image left: Calla Captain Violetta®, by Wouter Koppen. Image right: Calla Captain Melrose® and Captain Romance®, by Jeanine Govaers, courtesy of iBulb.
Or go a bit wilder with yellow, pink, and darker colors for a more summery effect. The colors seem to jump for joy. What about this cheerful bouquet with seven callas from the Captain series?
Calla Captain Promise®, Captain Odeon®, Captain Trinity®, Captain Lovely®, Captain Romance®, Captain Goldwin®, Captain Safari®. Images by Jeanine Govaers, courtesy of iBulb.
Simply Mix & Match
Do you know that the color range of callas mixes perfectly with other product groups? What could be more beautiful than a loosely tied bouquet consisting of a few special flowers with character, which are given the space to show themselves? Flowers that differ from each other in color, shape, structure, and length.
Try flowers like lilies, astrantia, and astilbe, or what about a beautiful rose, carnation, or spider chrysanthemum? Experience the contrasting play of colors and shapes while you create a beautiful contrast by bringing a bouquet to life. Definitely an instant hit that will surprise the consumer.
You can decide if you want to go for a mono-colored yet multi-varied bouquet? Or perhaps some ton-sur-ton variations? You'll on the go see how easily the calla feels comfortable among other lovely flowers, without losing its powerful appearance.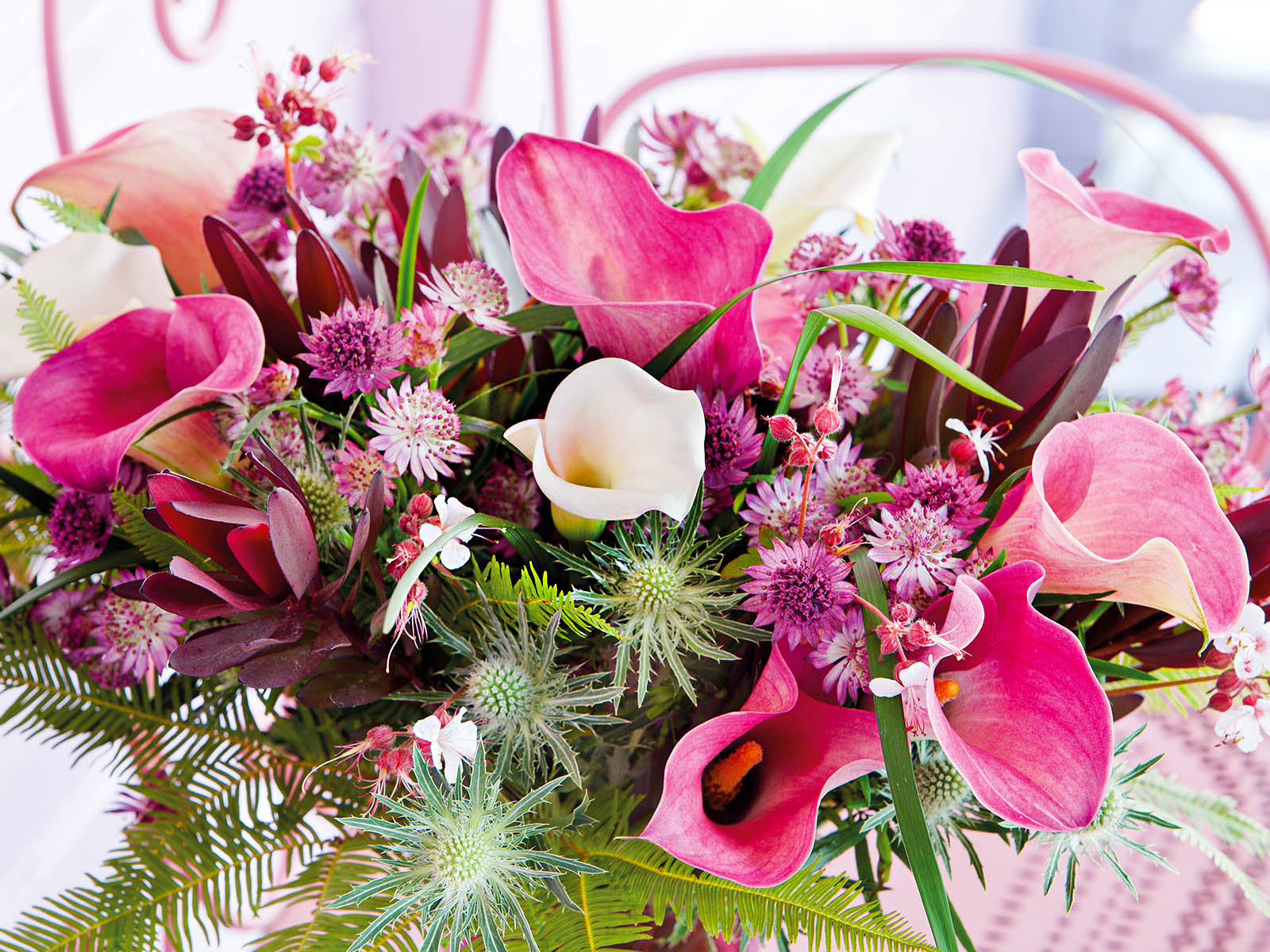 Play More
Sometimes we are too conservative with the use of the calla in floral arrangements. That's why the calla inspiration platform Simply Calla encourages us to play more with the colors and special shapes of the calla. Experience the effect and enrichment of your flower arrangements. Yes, the calla may seem fragile and delicate, but actually, it is a very strong and sturdy flower to work with. It is one of the few flowers that also bends well. The calla gives an extra dimension to arrangements and other flower arrangements for a florist. Experience the special design character of the calla and especially the sales opportunities it offers.

As a florist, you can distinguish yourself with exciting product combinations and impressive bouquets. With its simplicity, tranquility, idiosyncrasy, and unique style, the calla creates extra impact and brings both harmony and excitement to a bouquet.
Calla Captain Romance®. Images by W.H. Zandbergen, courtesy of iBulb.
Header image Calla Captain Romance®. Image by W.H. Zandbergen, courtesy of iBulb.