We are Hoek Flowers, a family business from the Netherlands with a big passion for flowers. Our assortment consists of 4,000 varieties, including 25 different types of Rose Avalanche+. We supply directly to florists in more than 56 countries, so once an Avalanche+ starts its journey via our company it goes all over the world.
An Avalanche Trip
So let's go on a trip together with our rose buyer Amerik and have a look into the journey the Avalanche+ rose makes at Hoek Flowers. Amerik already works twelve years for Hoek flowers and is specialized in roses for twenty-five years. Avalanche+ has a special place in his heart. Why? Because it is a versatile and charming flower that stands for quality. And that is incredibly important to him.
Amerik:
"I buy roses for twenty-five years now and Avalanche+ is one of our bestsellers. For me, this rose is very unique because it always opens. I think this flower is a bestseller because our florists are familiar with the quality and appearance of the rose."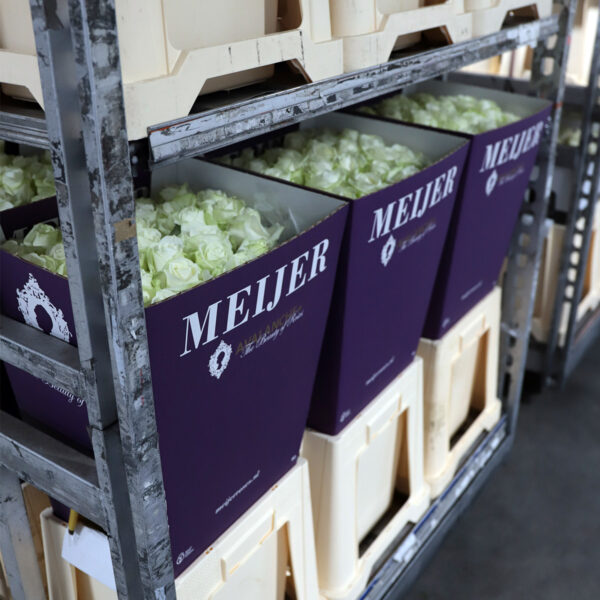 The journey of Avalanche+ starts at our growers. We buy this rose directly from the grower, just as 80% of our assortment. The growers we work together with, are passionate and focused on perfect quality, just like we are. Close relationships with our growers are very important to us. The growers give us interesting information regarding product quality and availability. We regularly visit our growers and we contact each other a few times a day. Our growers even check the stock in our webshop themselves. If they see that our stock needs to be filled, they send us new flowers. That's what we call teamwork! When the Avalanche+ arrives in our building it gets strict quality control. After quality control, it has to 'pose' in front of the camera in our photo booth. This picture gives the most realistic view of what the rose will look like upon arrival at the location of our customers.
The Pink Box
When an Avalanche+ rose is ordered online, the 'fun' begins. The biggest part of our logistics is automated, which means that the Avalanche+ rose literally flies through our building over hundreds of meters of conveyor belts. After arrival in our high-tech packing area, the Avalanche+ is packed by our marvelous team in a lovely and recognizable pink box.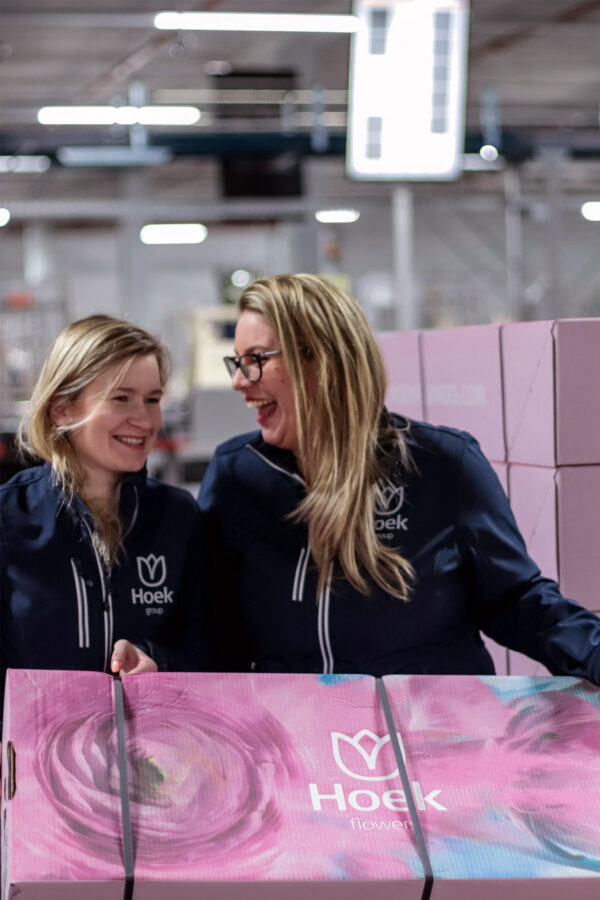 After packing, the Avalanche+ is ready to be transported and delivered to our florists. The journey from the grower to the florist is extremely fast and, of course, refrigerated, which means the florist receives a very fresh Avalanche+ rose at their doorstep. When these beautiful rose arrives at our florist, they will be used to create stunning wedding bouquets, and installations for events or will be part of a design for a stylish fashion brand.