With every trend color, a palette of colors is chosen to make combinations. And so also with the Thursd Trend Color of the Year 2023 - Passion Red -, a palette makes it whole. They're not just colors but the color palette has a meaning and it wants to create awareness for many things.
The Thursd Trend Color Palette of the Year 2023 Passion Red to Create Awareness
There are many things in life that are really important. Passion for what you do is one of them. Without that, your work will seem meaningless. In our floral industry, it's known that as well breeders, growers, florists, and end consumers are passionate about flowers, and what they do. The combination of the Thursd trend color palette of the year 2023 shows vitality, calm, strength, devotion, and balance. Create your floral designs using these colors and create beauty and awareness.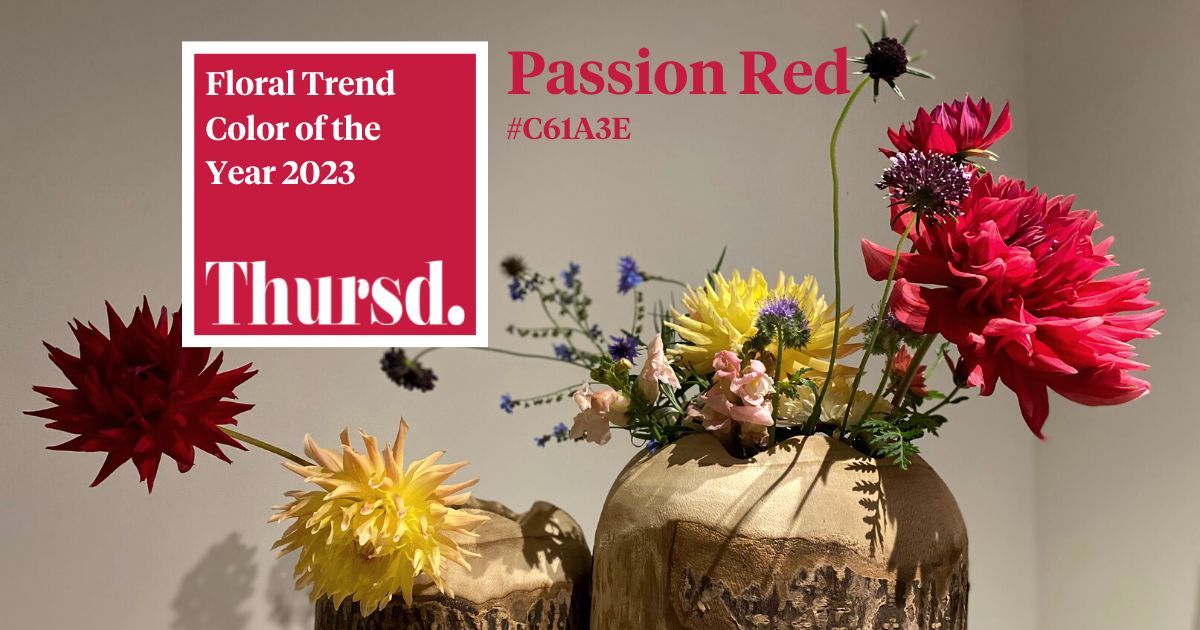 The Meaning of the Trend Color Palette of the year 2023
The trend color palette of the year 2023 has a bright peach following the passion red. Peach is a playful color that stands for vitality and energy. Peach finds its origin in nature and this bright peach is an encouraging color. The peach is followed by a warm creamy hue. Cream is a soft yet warm color and highlights personality and calm. As our soil is so important to us, this earthy brown color could not be missed in the palette. The Earth is our most precious gift and our passion must make sure we take care of this planet. Brown is the color of resilience and strength. Lavender stands for purity, silence, devotion, and serenity. And last but not least the dusty turquoise: the color of our oceans. We strive for clean waters. Turquoise is the color of emotional balance. May we find a passion for balance in our lives for our planet, and for the future.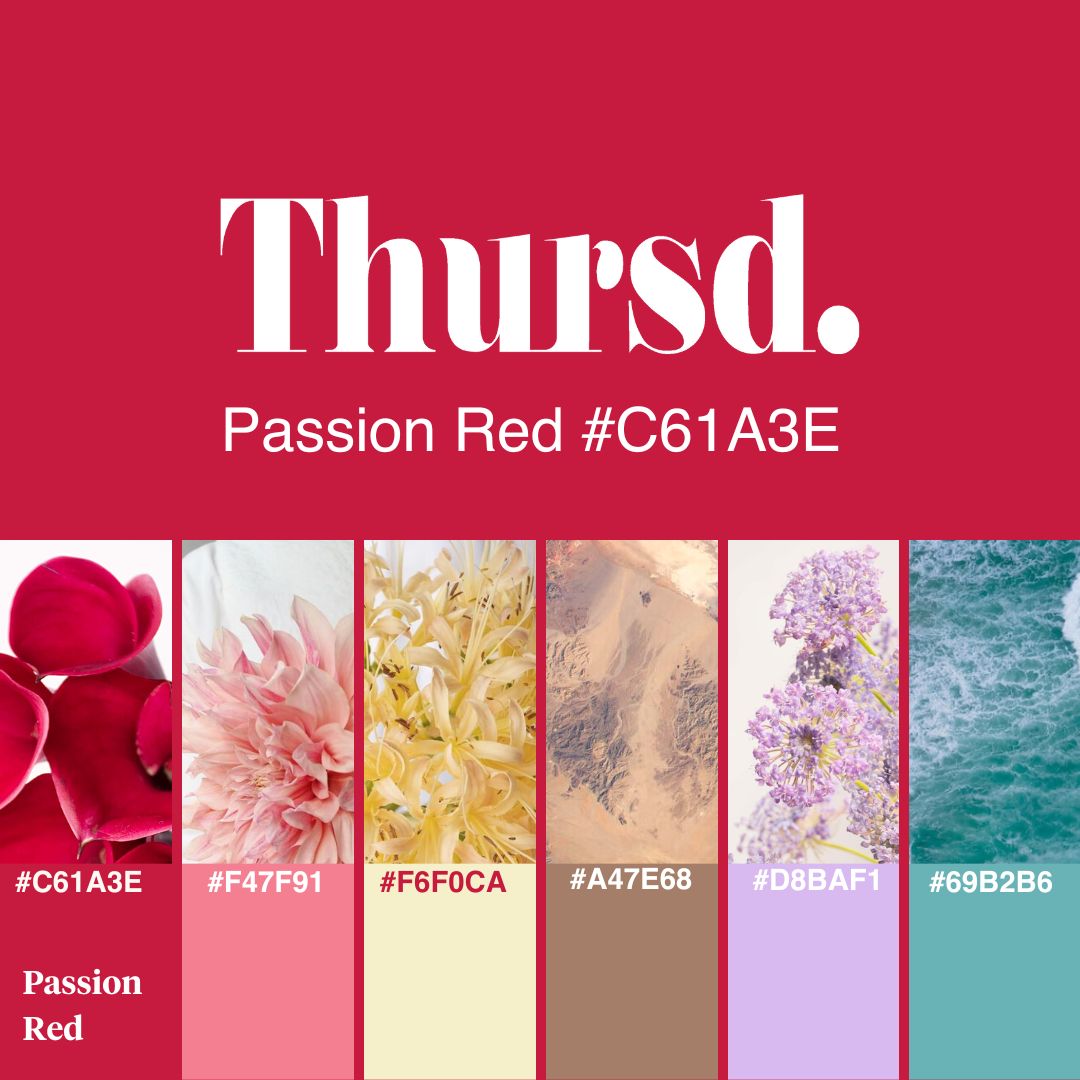 Thursd Trend Color Palette of the Year 2023
Although there are always a great number of meanings a certain color can have, we're here to give it all in for the passion that the red color symbolizes. A Passion Red flower is a perfect way to say, "I love you" when words are not enough. It carries the meaning of passion, true love, romance, and desire. Besides passion and love, red has a range of symbolic meanings from many different cultures, including life, health, vigor, war, courage, anger, and religious fervor.
Light pastel peaches are often seen as sweet, pleasant, and friendly. Bright and intense peach colors, on the other hand, can symbolize vitality, energy, playfulness, and encouragement
Cream is a sophisticated color, it's a warm color too. This calm color speaks calm and personality. It can easily be the base color, but it can also highlight a design.
Earthy Brown is the color of our planet, of soil, and sand. It's a strong color that stands for strength. The Earth is our biggest treasure and we want to be able to save it. Brown represents either wood if it's dark and rich, or earth if it's light. Though it has an energetic, nurturing quality, brown should be used sparingly in your decorating and be well balanced with other colors to avoid a lack of ambition and drive. Turquoise Blue is a good color to combine with brown because of the earth-water harmony.
Lavender flowers represent purity, silence, devotion, serenity, grace, and calmness. Purple is the color of royalty and speaks of elegance, refinement, and luxury, too. The color is also associated with the crown chakra, which is the energy center associated with a higher purpose and spiritual connectivity.
Turquoise is a shade of blue that lies on the scale between blue and green. It has characteristics associated with both of these, such as the calmness of blue and the growth that is represented in green. Turquoise also represents balance. Also emotional balance: Represents open communication between the heart and words. And the Dusty Turquoise we are talking about is the color of our oceans. Let's take care of these waters with passion.