Florists and consumers who have never used Chrysal with their hydrangeas, or any other flowers, before will be astounded when they do. It is not a big secret that both clean water and flower food enhances the lifespan of cut flowers, but with hydrangeas, the use of hydration and nutrition is a must. You will not regret it when you adore your hydrangeas for over three weeks! Take this advice from Chrysal and top grower HIP-Holland for unexpected long floral pleasure.
Why Flower Food for Hydrangeas?
The answer to this question is quite simple: every stem of hydrangea is a big ball of small flowers. All these tiny flowers require a lot of nutrition in order to stay open. Next to that, it's a flower that grows on a woody stem. It's crucial to keep the flow of water through this stem clean in order to prevent the flowers from crumbling.
Fresh or Classic Hydrangeas?
Hydrangeas know two overlapping seasons, one for the 'fresh' colors, and one for the 'classic' colors.
Fresh colors are clear white, green, pink, red, blue, and purple. This 'type' of hydrangea cut flower is basically available all year round, but the supply is at its top during the month of March to October.
When the hydrangea shows an antique-like tint, it's called 'classic'. These are also available in various colors, like classic pink, blue, green, and purple. The classic colors are mainly available from June to February. Classic hydrangeas are ideal for drying, which gives them really a second life for your dried flower designs.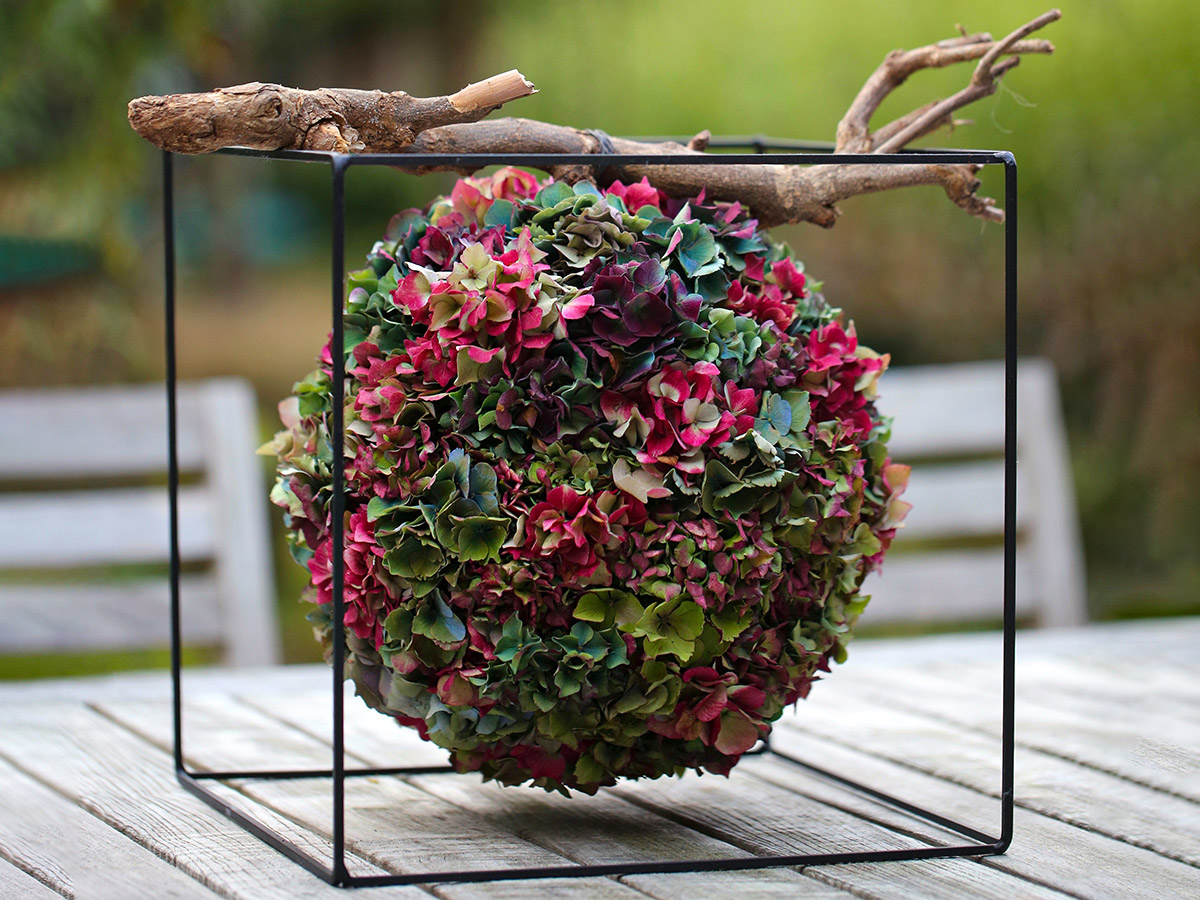 The Expertise of the Grower
Rob Spaargaren is the owner of HIP-Holland, a hydrangea breeder with a total focus on quality, reliability, and long life for his hydrangeas. Rob takes pride in growing reliable quality flowers that have a very long vase life. And Chrysal helps him with this.
Rob:
"Our hydrangeas have a big head, a big 'ball'. So the carrying capacity of the stem must be enough to hold this flower up. We put a lot of attention and effort into the quality process to guarantee its strength.

This starts already in the greenhouse, where we provide sufficient daylight to make the flowers on the ball harder. Solid flowers bring not only longer vase life but also better transportability. Imagine that our flowers travel from the Netherlands all across the globe to countries like Japan, China, and the United States. Only strong hydrangeas will survive a journey like that and still maintain their full color too."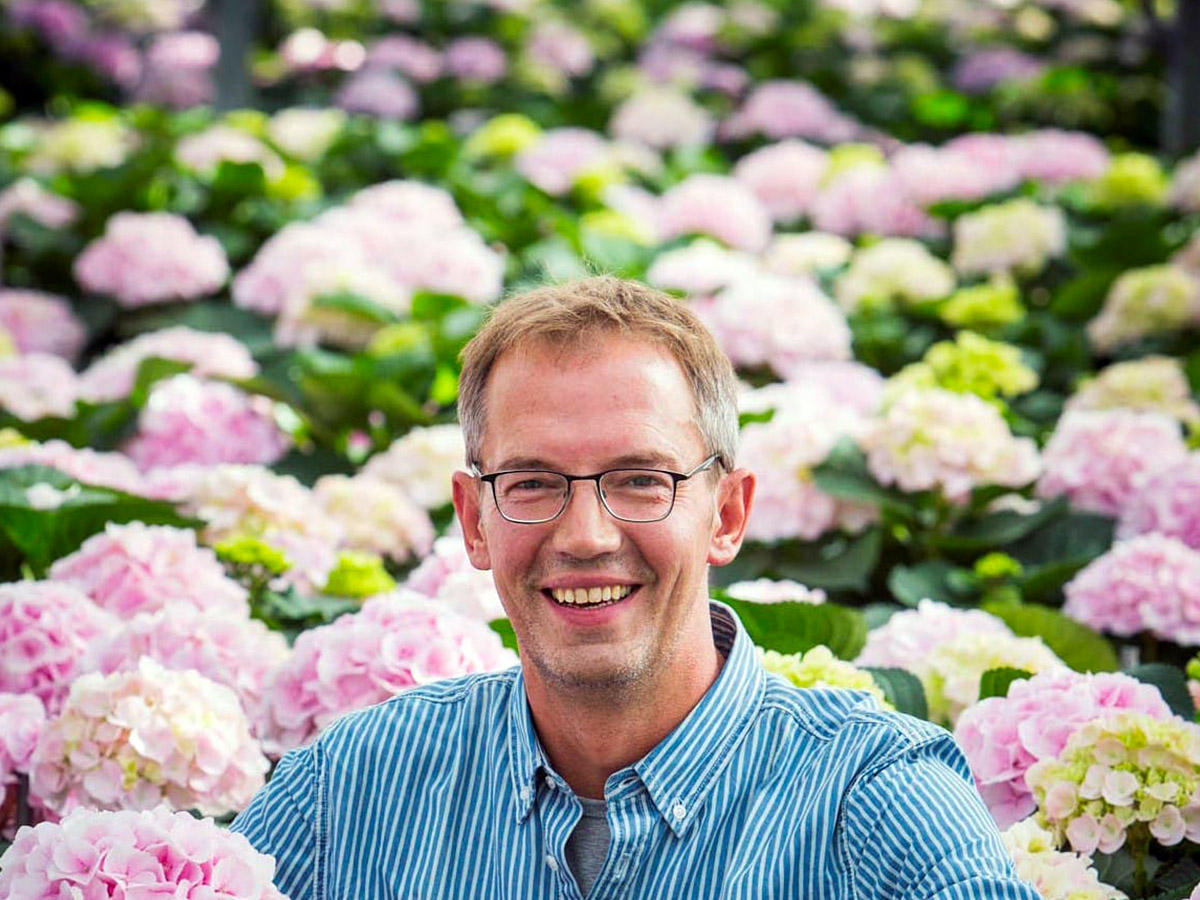 "In the next phase of the production process, after the harvesting, we use Chrysal Grow 20, a product that stimulates water uptake and improves its quality. We are very satisfied with this product because it does the trick: keeping the water clean, avoiding the spreading of bacteria, and providing a longer lifespan for our flowers further up in the floral chain with the trader, florist and consumer.


An important additional win of Grow 20 is that it does not contain aluminum sulfate, like similar products do. If you ask me, this is a great environmental-friendly solution.

If I could give florists and consumers a tip on how to get the most out of their hydrangeas, it would be to simply cut off a little part of the stem when it arrives at your place to let the flower drink better. Especially because hydrangeas are shrubs with a woody stem that are vulnerable to tightened veins."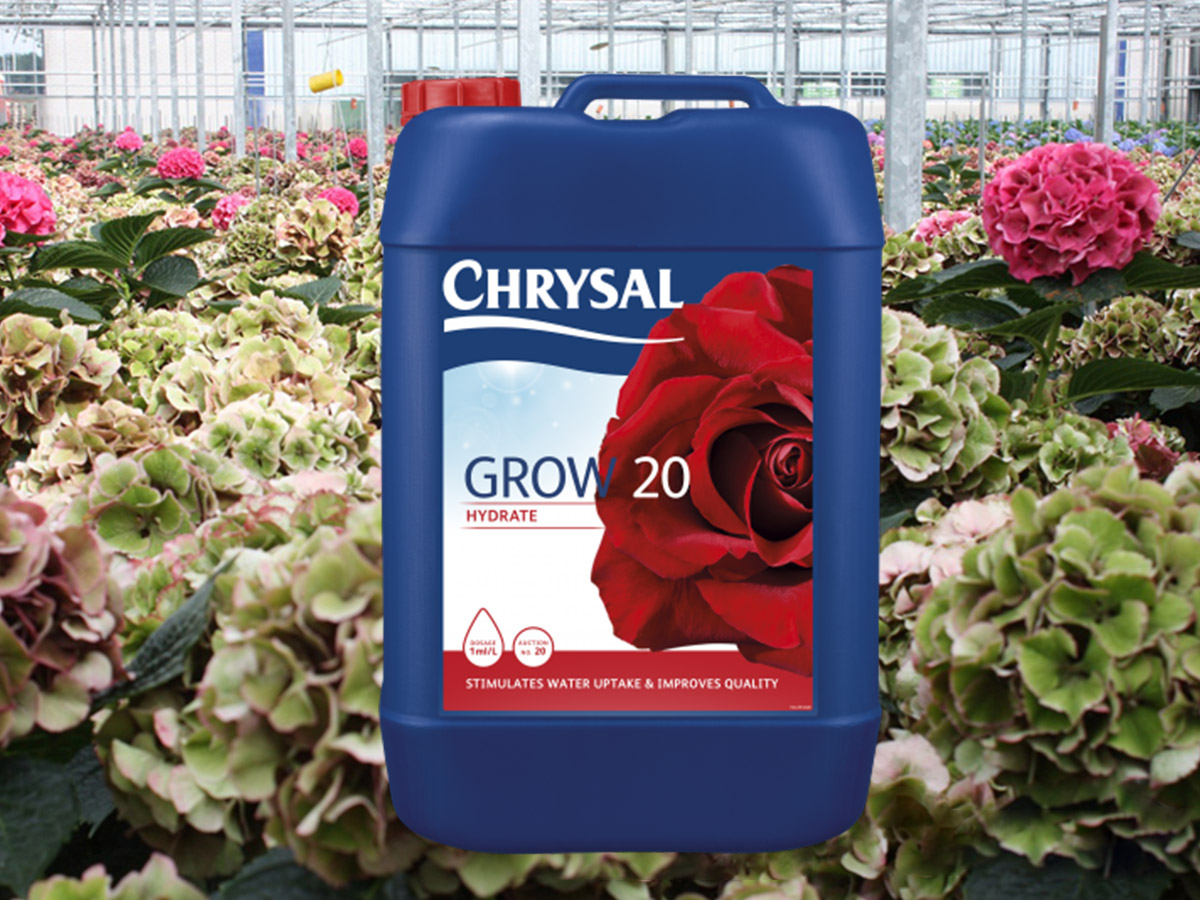 Advice From Chrysal for Florists
Hydrangeas have high energy and water need. They have very strong transpiration and also need a lot of energy to maintain color and strength. Due to the enormous flower surface and thinness of its petals, the flower will wilt if there is not enough liquid available. If this happens, cut off about 2-5 cm of the stem with a sharp knife and place the stem in cool, fresh water with Chrysal flower food for syringa. Since hydrangea is a shrub, just like syringa, viburnum, forsythia, and prunus, this is a perfect solution. One sachet quickly hydrates the flower and boosts its energy level of the flower, which is vital for good vase life.
Dutch hydrangeas are produced in greenhouses, and their peak production is in spring until late fall. Abroad they can be grown outdoors, and depending on the climate they will be available year-round. Outdoor-grown hydrangeas sometimes have a very wooden stem end. In case the flower starts to wilt, cut off that part of the stem.
White hydrangeas - most of the time used for weddings - can turn blueish in the center of the flower when you use a post-harvest product containing aluminum sulfate. This is a real nightmare for every florist. Therefore make sure you use clear flower food or conditioners like Chrysal Professional 2 for the storage period and Chrysal flower food for syringa or Chrysal Professional 3 for the consumer phase. And, of course, it helps if you buy from a grower that you've verified not to use aluminum sulfate for pre-treatment.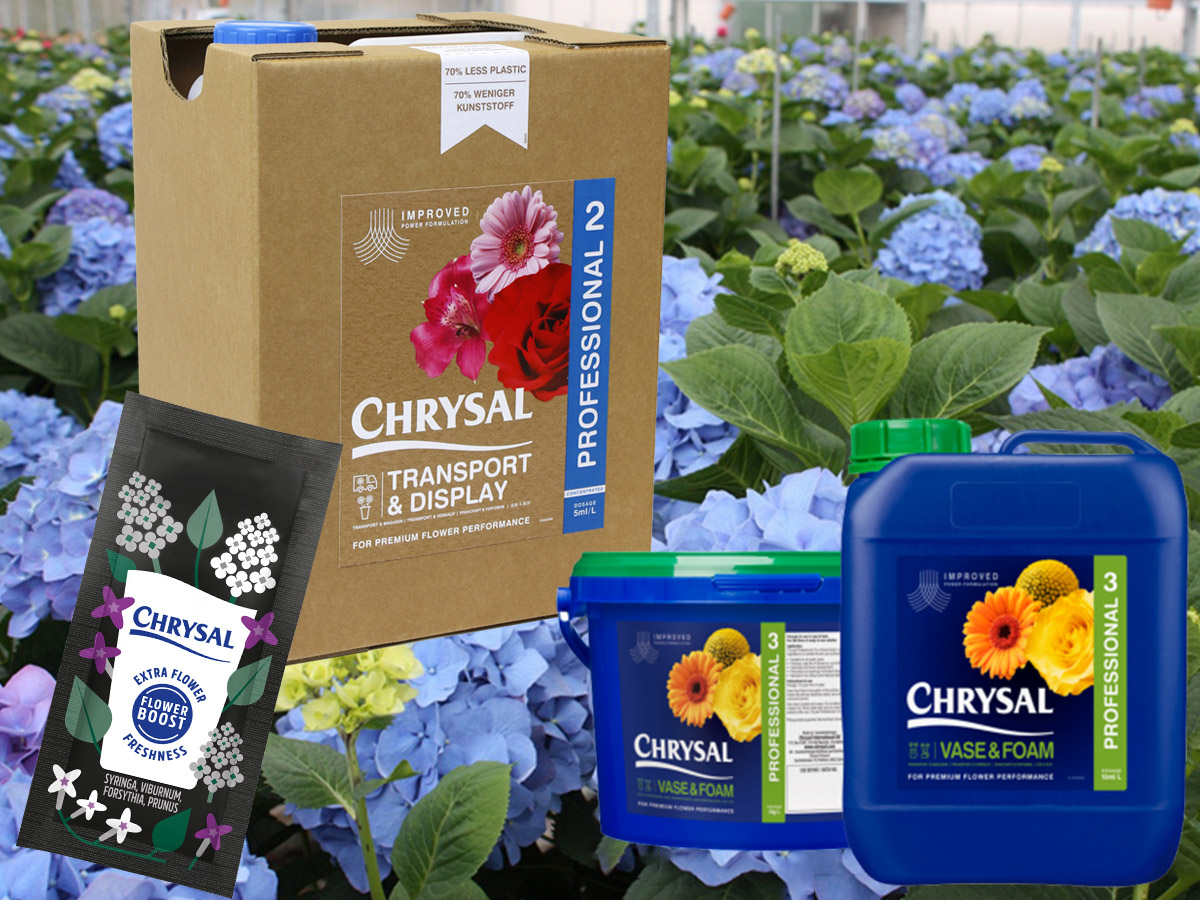 Care Tips for Consumers
The name 'Hydrangea' is derived from Greek and means 'water vessel'. Hydrangeas live up to this name because they need to hydrate a lot! Be sure to keep an eye on the water level and top up when needed. Don't forget to use flower food though when refilling the vase with water!
Cut the stem 2-5 cm with a clean, sharp knife or secateurs. If the flower has a woody stem end, cut this off completely when the flower starts to wilt.
Use Chrysal flower food for syringa to enjoy your hydrangeas the longest. Yes, also here the solution for shrubs works best.
Keep flowers away from draft, heat, and direct sunlight.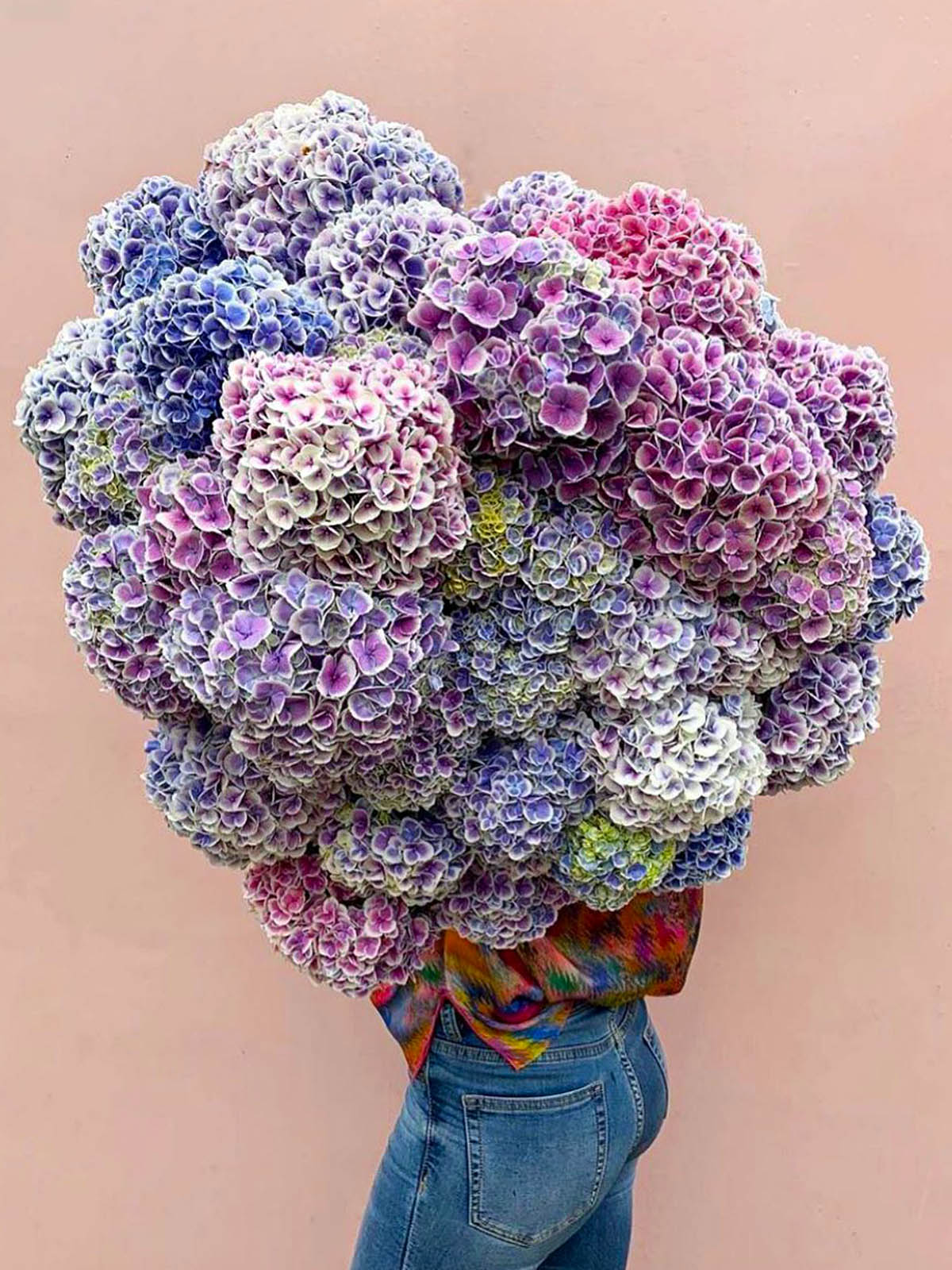 Watch the Effect of Chrysal Universal on Hydrangea
In this 53-second timelapse film Chrysal shows how your hydrangeas can still be going strong even after 15 days! It's worth your "Wow!"