An artistic team made of photographer
Ula Kóska
and make-up artist
Beata Bojda
has made an incredible Slavic-themed photoshoot that features Polish (and Slavic) folklore elements. In Polish folk culture, they used to wear wreaths and bunches of flowers that were a part of both religious and secular ceremonies such as marriage, funeral, festivals, or Easter.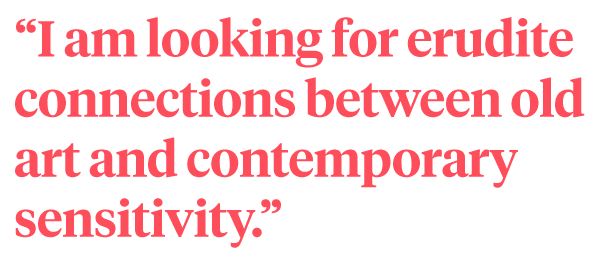 Nothing Short of Stunning
They used paper handicrafts, as this has been well known, and traditional method of creating such wreaths in Poland. In their project, they used techniques coming from the Polish Opoczno area, although this technique is also an integral part of Malopolska and sub-Carpathian tradition. All these Flowers were handmade by the traditional method of tightly twisting into shape. And as you can see, the effect is nothing short of stunning.
Ula Kóska
On her
Facebook page
, Ula Kóska profiles herself as a fashion photographer: "I gained experience in this field on my own, through interesting cooperation that I managed to establish at that time. However, I very quickly started creating my own formal language, searching for my own style, often referring to consciously interpreted kitsch or camp aesthetics. This aesthetic trend and the accompanying atmosphere of nostalgia have become a characteristic feature of my photographs, which I create under the banner of Paradise Kitsch. I am looking for erudite connections between old art and contemporary sensitivity. I am inspired by the photography of
Peter Lindbergh
and
Paolo Roversi
- they both explore the painterly aesthetics that are close to me, and the sleepy, nostalgic atmosphere of a kind of slowdown, which gives me time to admire the female outfit and body. At the same time, I am fascinated by the possibility of playing with the convention created by creative photography, a kind of joke, quotation marks, in which we take a strongly stylized message each time. In my photography, the traditions of modern painting, interpreted in the medium of photography (for example the sfumato manner), meet current trends in fashion."
Beata Bojda
Beata Bojda is a make-up artist, characterizer, educator, and cosmetologist. For several years she has been a juror of the "Art Visage" National Championship of Artistic Make-up. For years, she has been writing articles for the professional magazine "Nowości w Kosmetyce" ("News in Cosmetology"), and she worked for the big screen as well. Beata works with advertising agencies and fashion designers creating make-up for shows and photos. Winner of the Artist of the Year 2014 award by Make-up Trendy magazine. Awarded by Les Nouvelles Esthétiques with the title of Beauty Industry Icon in 2015.
All photos by Ila Kóska
All concept/style/make-up by Beata Bojda