Only a minority of flower shops provide cut flower food to their customers. Quite incomprehensible when you know that the lifespan of your bouquet will be extended by days. A small investment with a big result.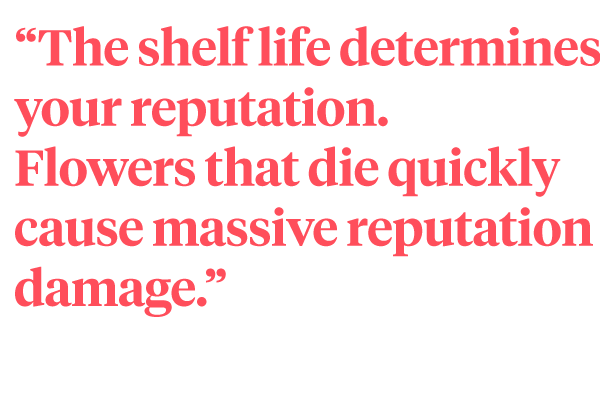 A Good Florist Gives Food To Cut Flowers
"When does a florist consider himself a good florist? When people come back and say, "Your flowers will last the longest." The shelf life determines your reputation. Flowers that die quickly cause massive reputation damage. You won't go back there. "
These are the words of Jan Joris, Sales Manager Belgium, and Luxembourg at Smithers-Oasis. Floralife is a subsidiary of Smithers-Oasis and was the first to come up with cut flower food in 1938. Jan continues:
"It is actually incomprehensible that this investment for cut flower nutrition is still too often not made. It's a must! If you don't make that small investment to give your flowers the best foundation, you can never deliver quality. A good florist does not worry about that price. The only thing that interests him is that he does not receive any complaints and that the customers return. "
Proven To Stay Fresh Longer With Cut Flower Food
Only 15% of the florists accompany a bouquet of a bag of cut flower food.
"There is still a lot of work to be done. How is that possible? They are often not convinced, the price also plays a role, but that is a shame because a bag costs not much! Cut flowers have been proven to stay fresh longer with cut flower food. Roses from the Netherlands are already compulsorily pre-treated. It is therefore very important that this treatment is continued by the florist and the customer "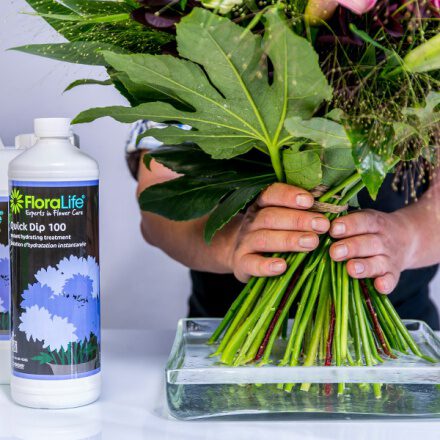 Good Or Bad Florist?
"You don't control all the factorsas a florist. Some florists work with a cooling system. The difference with no cooling is day and night. Sometimes florists complain, but then you ask "how hot is it in your shop?" "30 degrees", they say. Yeah, it's not difficult then, is it? The effect of heat, light and draft on the flowers is enourmous. It's a complex story. Most florists know that you cannot place a bouquet next to the fruit bowl, but do they also tell their customers that?" "Even smoking around flowers is bad. It contains ethylene gas: an aging hormone. Transport also has an influence on the freshness and life span of flowers. Transport your flowers as much as possible on water and in a room that is as cool as possible. It even happened that I saw flowers still in their packaging, dry on the shop floor. Who knows how long they will be there? That all plays a role in terms of shelf life. These things make the difference between a good and a bad florist. "
Use the Right Products
Floralife has all the necessary products for a successful buying experience:
"We now even have a product with which you no longer have to cut the flowers: Floralife Express Ultra. The florist only has to remove unnecessary leaves from the stem. When he or she makes a bouquet for his customer, the florist cuts them at the right length for the them. He/she then sells the bouquet in an Express flower food bag so that the customer no longer has to cut the stems at home. " "Floralife QuickDip, a second product, is the lifesaver for certain flowers. By using it, you can save a lot of money. A good example are hydrangeas: they often droop quickly. You put the cut stem in the undiluted product for 1 second, and they will bloom again automatically. "
14 Days Shelf Life For Roses
The exact shelf life of cut flowers depends on many factors, explains Jan:
"First and foremost it depends on on the quality in purchasing. A florist will cover himself by saying "Oh, my flowers will last for at least one week", but that's actually the worst he can do. If you pay 40 euros for roses, they have to last longer than that. The only thing the consumer remembers, is how long the flowers have remained fresh on the vase. He forgets about the costs! Imagine buying roses for Valentine's Day and they have already wilted after a few days. That makes you feel quite loved! Well-prepared and post-treated roses should last over 10 days. I always go for a shelf life of 14 days ", says Jan Joris of Smithers-Oasis BeNeLux. "Therefore, I always use Floralife flower food bags at home."