The smell of the apple blossom, the bees flying around and the summer night haze ran through my mind in that photoshoot. If two old bohemian friends from an art-emphasized high school meet, they always have fun together, and the same they create beauty through friendship commitment. The idea was to create an Apple Blossom Boho Wedding Bouquet photoshoot for a YouTube video.
Romantic Apple Blossoms for My Boho Wedding Bouquet
I was borrowing my dress from the Vanemuine Theatre that's in Tartu, a city in Estonia, my small country in Northern Europe. It is located in the southeastern part of the country, near the banks of the Emajõgi River. Tartu is the second-largest city in Estonia, after the capital, Tallinn. Tartu is known for its rich history, picturesque old town, and vibrant cultural scene. It is often referred to as the intellectual and cultural hub of Estonia due to its prestigious university, and the model's dress was bought from a Finnish second-hand shop. This dress creates the perfect atmosphere for my Apple Blossom Boho Wedding photoshoot.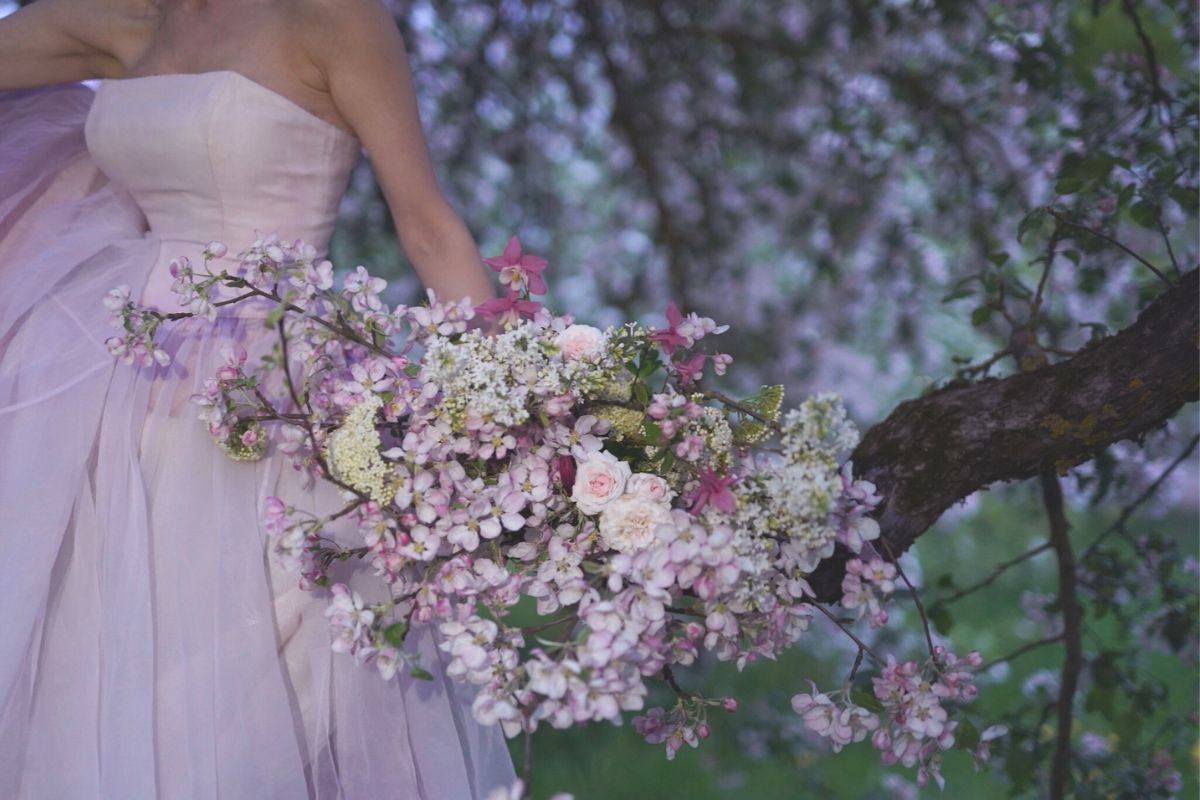 How to Make a Boho Wedding Bouquet
In this video, I show how to make a hand-tied boho bouquet. This bouquet is suitable for a wedding or a beautiful gift to those that you love.
Strip all excess leaves from your processed branches and flowers, and remove them from about two-thirds of the length of the stems.
Start with one middle branch, holding it between your palm and thumb.
Add longer branches to the sides, to form an oval shape.
Start adding branches by laying them at a slant in front of the previous branches and slightly turning the bouquet in your hand as you do so, spiraling the stem around each other.
Hold stems more in this x-axis. The trick to keeping your bouquet airy is in your grip: don't squeeze the flowers too hard in your hand, keeping your fingers firm but loose. The more stems you´ve added, the better they will start to support themselves in your hand and the more you can loosen your grip. This allows you to add more air and materials to the bouquet.
Build the structure and shape with blossom branches. Add your flowers throughout the branches to fill out the shape.
Once you´re happy with your bouquet, tie the stems with twine or floral tape.
Then cut the stems neatly to a uniform length and finish off with ribbon, if you'd like.
Freestyle Boho Wedding Bouquets
Actually, I like the nowadays wedding bouquets. They are more 'freestyle' than before because they are easy to make and more ecological. I used soft pink colors because they have great romance, elegance, and purity. Like always, I and Kati were ready for the photoshoot at twilight, but in the end, it created a nice mystical feeling to the pictures. My dear friend Kati Keert had the wonderful idea to climb on the apple tree with a princess dress and it was creating a balanced contrast.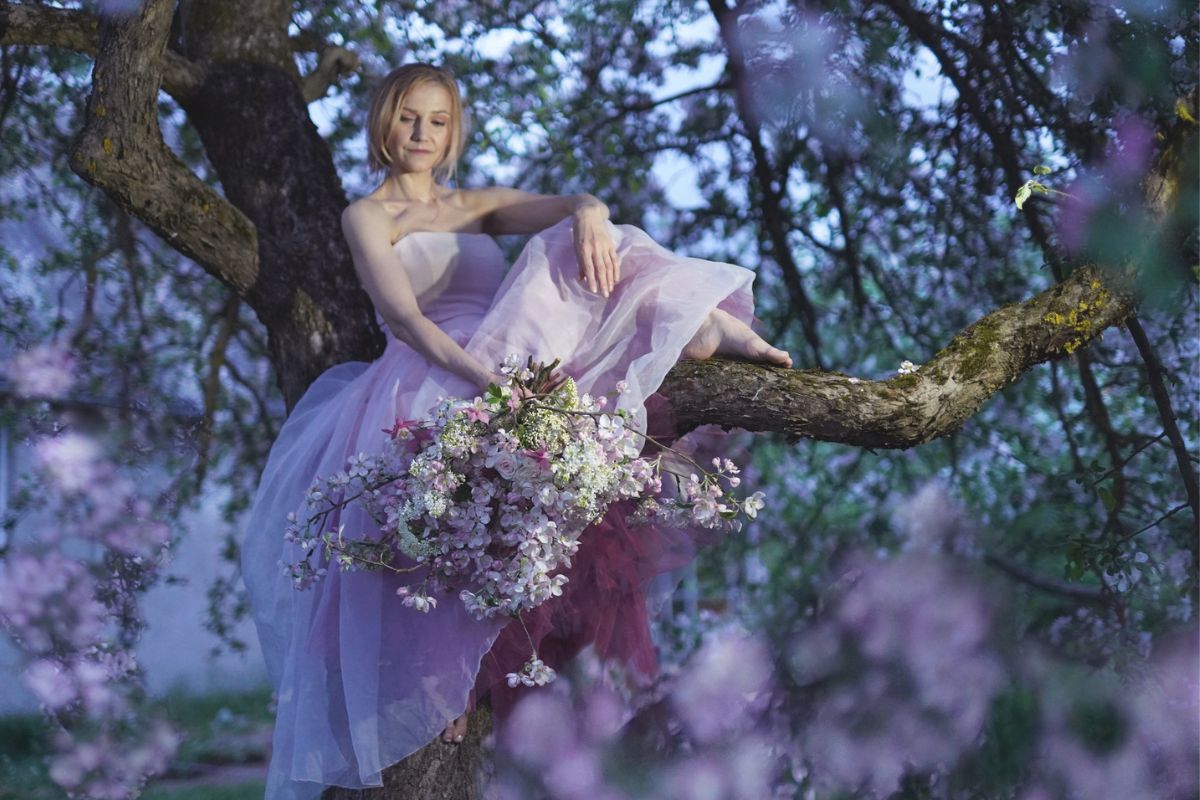 The Process of Creating
Creating and being creative takes time, and floral arrangements have the power to suck in for hours. I have learned that creativity is very important: go with the flow. Don't lock up different situations and surprises that are going to be a part of the progress. Try to be in the moment. The infatuation with flora is like meditation. It´s a way of connecting to nature and yourself.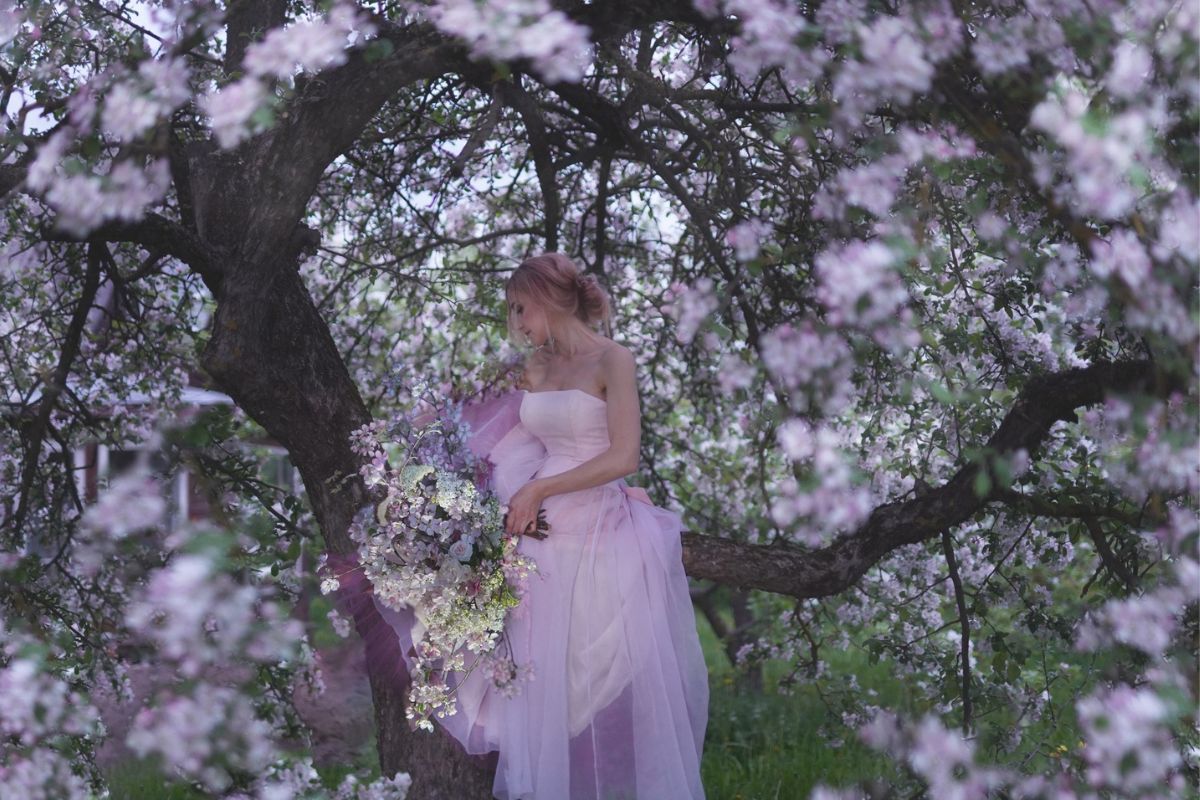 Apple Blossoms in Estonia
In Estonia, apple blossoms usually bloom between late April and May. Warmer springs can cause apple trees to bloom earlier, while cooler weather can delay the blossoming process. It's important to remember that these timeframes are approximate and can be influenced by various factors. We were lucky to already have some sun and these gorgeous blooming apple blossoms.
It creates this romantic mood for our Boho Wedding Photoshoot that one can dream of. If you want to know more about me, check my Instagram, Facebook, and TikTok.