If you think that the classic composition in the center of the table will be boring and unoriginal, choose Flowers, which will make it interesting. I know Iryna Byelobrova for several years now, participating in many floral events. For
Fleuramour
 in Alden Biesen Castle in Belgium, she is known to do large-scale installations together with her Ukrainian florist team.
Designing With the Beautiful Pansies
Iryna
Spring is a Klondike for experiments! Pansies, anemone, forget-me-nots, and flowering apricot branches ... Admiring them is a picture from childhood, when my great-grandmother planted a viola in the garden under flowering trees, among small flowers, where the first butterflies flew and the rays of the sun were shining.
Classics of the Genre
Iryna:
Viola is beautiful in its simplicity. But is it better to put it on  Oasis or in test tubes? That's the question. The composition uses two staging techniques. When you perform a classical arrangement, you always want to do something unusual. This is how many florists work. I took non-standard yet simple flowers.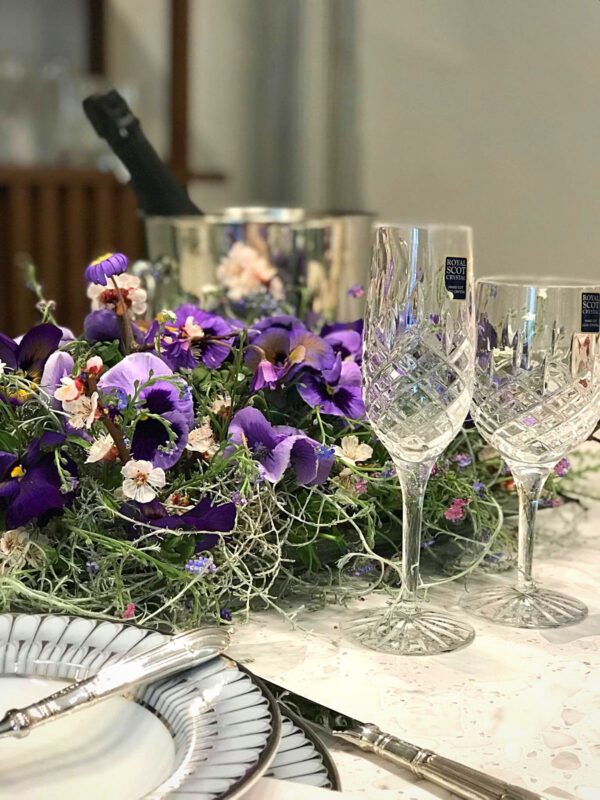 Childhood Memories from Pansies
These flowers Iryna remembers from her childhood:
My grandmother planted out Viola in the garden every spring. Their stems are so delicate and thin, you need to put them in floral foam with tweezers and very carefully. Deep purple is the temptation to drown in the eyes of your partner with whom it is pleasant to share a glass of wine or an exquisite dinner. Pansies are simply elevated to a cult.