Decofresh Roses, a company that sells the most beautiful roses, has some new varieties. And I got to work with them: how cool is that! There are two new roses, Pimms and Cream It, and some wonderful carnations, both the kind of flowers that we love to work with! We are Esther van Wijngaarden and Sari van Weije, and we are both specialized in occasional flower arrangements. Curious what we have made with these beauties?

A Walk in the Candy Store of Roses
I went to pick up the roses myself in Aalsmeer, Netherlands. I was allowed to walk around the candy store of roses. How wonderful to see! It makes you aware of how much passion a grower puts into his product and how much energy it takes to grow a rose. With that thought in mind, I put all the flowers at home in the water. Not in a rush, but with great care. I cleaned and disinfected the buckets well and then filled them with warm water. We want to process the roses when they are at their most beautiful! I removed the leaves, this prevents the water from being contaminated. In the week that I had them at home, I changed the water three times. Every time I saw the roses opening more and more; what a difference! And I haven't even mentioned the wonderful scent that was hanging in my house! I can't wait to work with them.
Preparation
In the meantime, I made the backdrop on which I wanted to make the flower arrangements. The concept was based on weddings, baby showers, and birthday parties. The arches were handmade and painted; a florist must also be handy! The colors of the arches matched well with the colors of the roses. This so-called backdrop had been in my head for a while and when I got this assignment I was convinced immediately: this is it!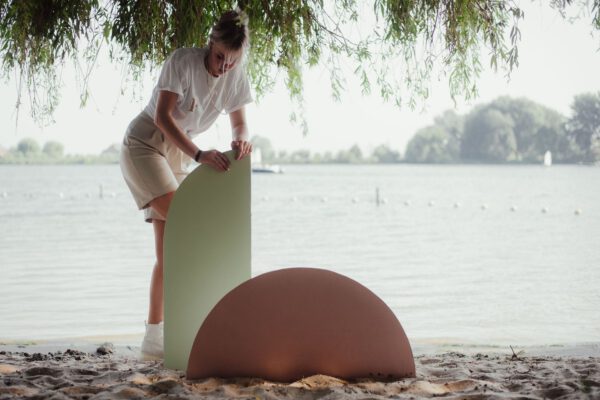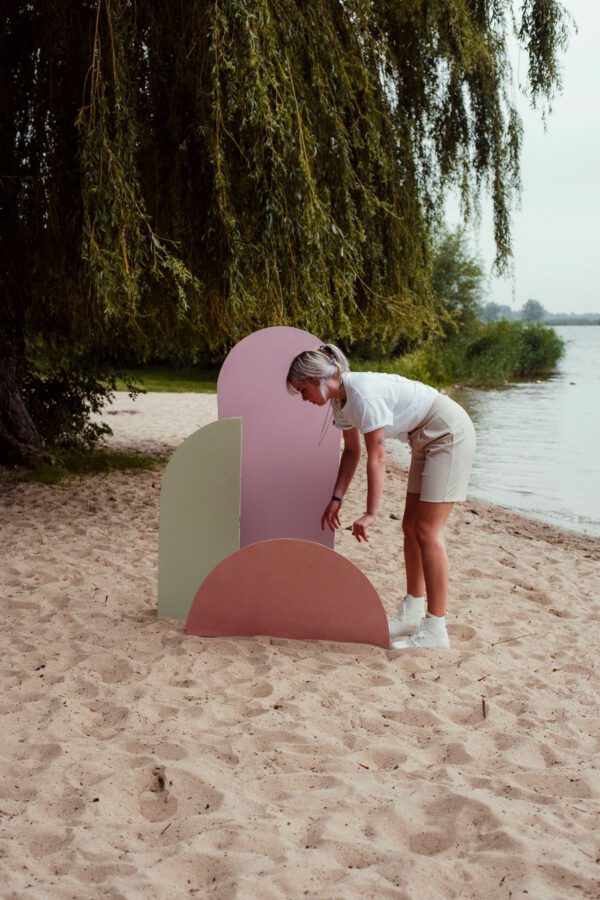 Rose #1: Pimms From Decofresh Roses
Sari van Weije: "The moody trend has been going on for a while, and I want this to continue! I love those lovely warm tones that can continue into black. Of course, you could also combine this flower arrangement with a beautiful white wedding dress, but today I'm feeling a bit edgy. In my bouquet, I used the carnations and roses from Decofresh and some additional materials from my own garden. The warm colors of the Pimms rose contrast nicely with the cold colors of the purple roses. That way it remains an interesting whole to look at. I lined a matching hat with roses to complete the outfit. Would you dare to try this combination?
Photographer Gabriella Adriana
Gabriella Adriana: "My work as photographer is very challenging because every photoshoot is completely different. This was another shoot for the books. Previously, I did a flower design course that I know Esther from. My love for flowers has always remained, and that's why it was really a gift to photograph the girls and their beautiful flower arrangements. The roses from Decofresh that we used were very beautiful. My favorite is rose Pimms because I also use a lot of brown in my photography and it fits my style completely. I think this is my new favorite! This shoot inspired me to make more use of natural materials during normal photo shoots. Flowers give so much more atmosphere... At home, on special days, parties, and also in these photos!"
Shooting Day
The location where we shot is Mijnsheerenland in the Hoeksche Waard, Netherlands. This location really has it all! A beautiful forest area, a large field, and a beach with water. The backdrop turned out to be fantastic with the sand and the rose which also has a sand color. As a base, I use dried palm leaves, pampas grass, and fresh ruscus branches. These products provide a quiet surface so the roses can steal the show! Pimms is a beautiful rose. The brown color gives a vintage look, and the red edge ensures that the rose really attracts your attention! You will look twice to see if this is a real natural color. It is extremely filling and will open twice as big! A unique strain that I will be using many times in the future. When all the beautiful Decofresh Pimms roses were in, I added some details with some dried flowers and a pink glitter branch. Something crazy again. That's Esther van Wijngaarden, always a party in the flower arrangements!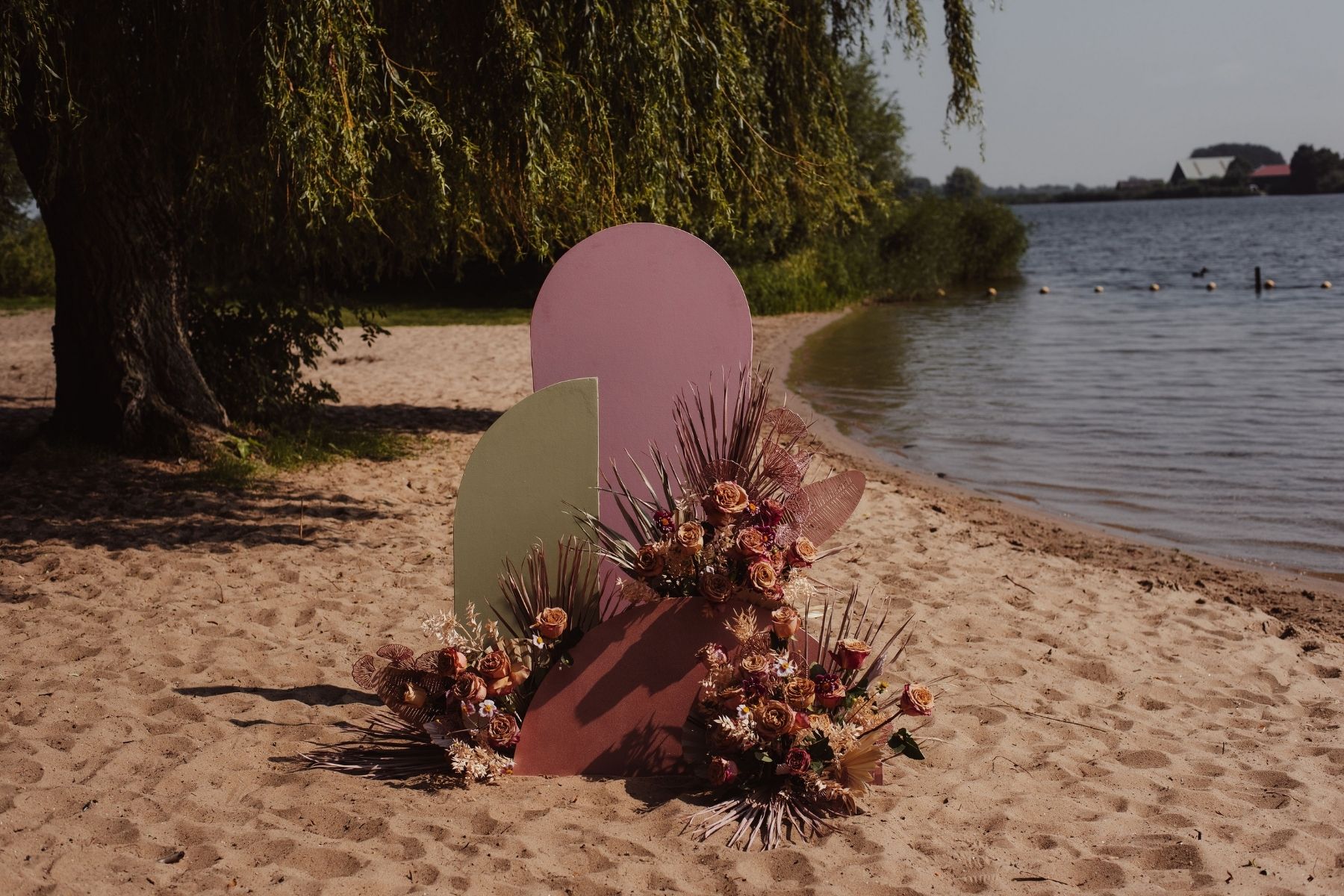 Backdrop Flood With Decofresh Roses
When the Pimms roses were photographed, I adjusted the design and added other varieties of Decofresh, like a backdrop flooded with roses. I love pastel colors; you will always find them in my work. By using this combination you also see the style of EVW again. That's what I'm going for!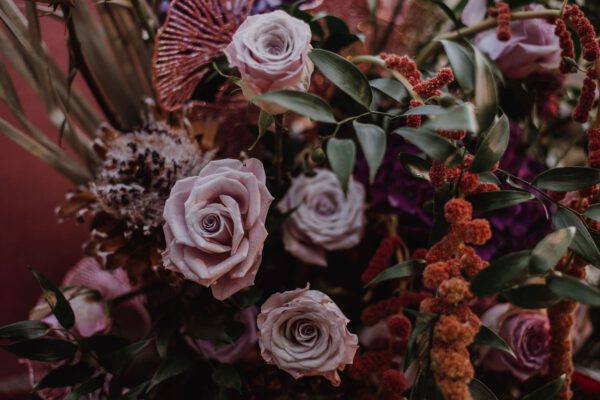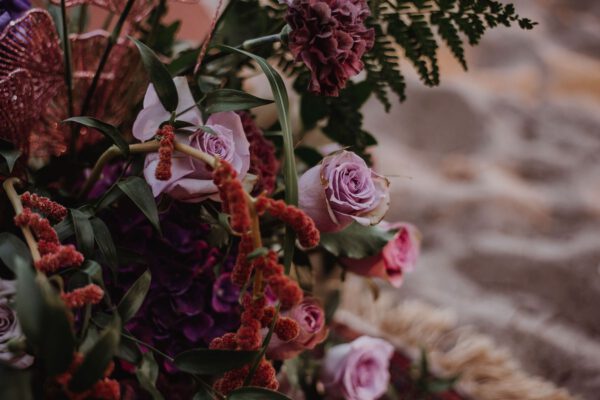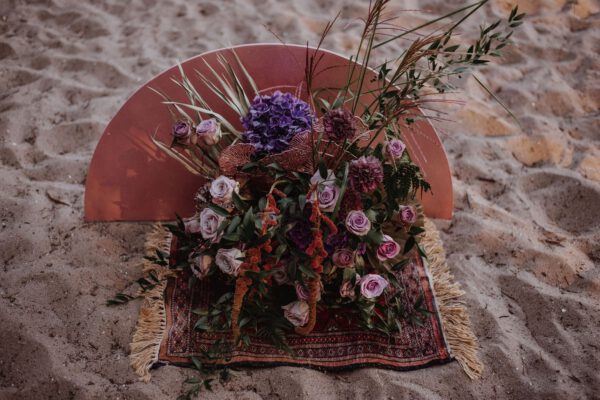 Meanwhile... Sari With the Carnations
Sari van Weije: "I was inspired by a basket I found at the thrift store. This is where I get a lot of my substrates from. I like to challenge myself to give something a second life. This is sustainable and fun too!"
Sari: "Sustainability is very important to me. That's why I made this piece without using floral foam. That means the only waste I have is the stems of the flowers. In the basket is a bowl with chicken wire in it, which I fill with water. My flower arrangements consist of gypsophila and the beautiful carnations of Decofresh. This baby's breath serves as a filler to give it a cloud-like effect. The carnations flow through the basket: a real flower arrangements out of the box! The colors of the carnations are gorgeous, I used white, powder pink, and dark purple. These three are my favorites because the colors are so contrasting to each other, yet compliment each other! And I mean, a carnation that's so dark it's almost black, how bold is that??"
Rose #2: Cream It From Decofresh Roses
This rose is super interesting, it is not white, not yellow but it has a very nice vanilla color. I don't use much white myself, but because this rose is so soft in color I couldn't wait to use it. I did not think that rose Cream It needed any other players for this arrangement. Just a nice base and she would do the rest herself. Cream It can be used for various occasions. As you can see, this arrangement can be for a wedding as well as for a funeral. She radiates luxury and tranquility, we ♡ her.
My Floral Arrangement With Rose Cream It
Below you can see the design of the flower arrangements that we had just made, in combination with the wedding party backdrop. By choosing the calm colors, this is also a beautiful design for a funeral or a classic wedding. A versatile design with a timeless rose, a beautiful combination if I do say so myself! It is beautiful in its simplicity. But for the second shoot, I added some flowers. Dahlias from our own garden and the beautiful... carnation.