Kate the Earthling
My name is Kate Shooltz and I work as an artist under the brand name Kate the Earthling. I have an art studio in Philadelphia but I do projects all over the country. There are many large companies out there doing really amazing large-scale projects, but I do all the preserved moss walls designs myself and every piece of my creations are arranged and made by me in my studio. I put a great deal of love and effort into each of my pieces and try to make something special for each of my clients!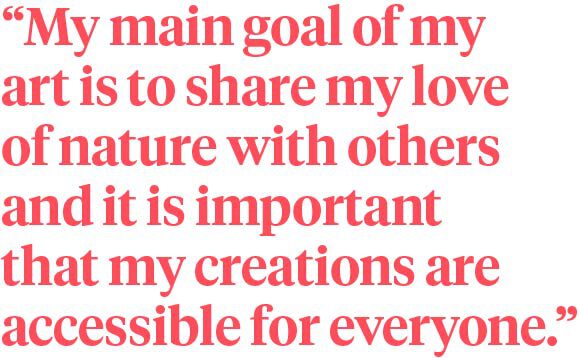 I work with preserved plants to create one of a kind preserved moss walls for anyone and everyone. My creations are inspired by the natural world and my time spent exploring nature. I do residential and commercial pieces in all shapes and sizes. I am now doing mostly custom work but also have an online store where I list ready-made items that are usually smaller in size and budget.
Creating One of a Kind Preserved Moss Walls
I have been a lover of nature since I was a little girl and within the last few years realized the great impact that nature has on my life. In 2014 my life was focused around a career in real estate and I was living in Utah getting my masters in real estate development. While studying there I took a class called "Green Communities" and began to learn about the concept of "biophilia" which is essentially the love of life and the natural world. This day in class was literally the day that changed the course of my life and I will remember it vividly forever! I knew that day that my purpose was to share my love of nature with others through biophilic design. Over the next few years, I started to experiment with living walls and I would make small ones for my friends and family to test them out. They were beautiful but I began to realize two things: 1) once they are turned over to the client it is up to them to keep it alive and remain green, and 2) the cost of maintaining them is very high and ongoing – especially with large-scale living walls. I decided I needed an option for clients that might not have a green thumb. Long story short – I started to focus on preserved moss walls. The main goal of my art is to share my love of nature with others and it is important to me that my creations are accessible for everyone. Preserved plants give me this opportunity since they do not require any maintenance thus cutting down the cost, eliminating the need for light, water, time, etc. I can make creations in any size to fit anyone's space or budget.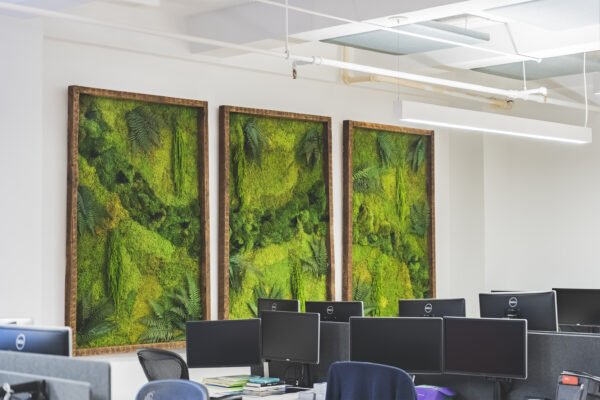 An All-time Preserved Moss Wall Favorite: The Buddha Wall
All of my creations are made with preserved mosses of several varieties. I commonly use preserved sheet moss, mood and pole mosses, shag, and reindeer. In addition, I also use preserved amaranthus and various fern varieties in almost everything I make as they really give it life and dimension. Often, I include a twisting branch, dried and preserved flowers, and sometimes faux succulents if requested. I try to avoid using faux things as much as possible, but sometimes they are the best option for the design. One of my favorite installations is what I like to call 'The Buddha Wall'. Up until that project I had been doing smaller pieces and custom orders for about a year and a half. These clients had just bought a new home in Philadelphia and wanted to get a large custom installation for the stairwell in their home. The piece was designed to fill the entire wall corner to corner so it was important to get all the measurements right and it came out to be close to 6' x 10' – significantly larger than anything I had ever done. The project design was really unique and incorporated a buddha statue in the center, some branches and faux lotus flowers, and lots of amaranthuses. The installation day was a big challenge – even though we did all the measuring beforehand, we ended up having to cut the piece in half on-site to get it up their stairwell. It turned out to be a great success and was so stunning in their space. I never in a million years would have seen myself as an artist at that time so the path my life has taken to get here has been unexpected but so rewarding. Thinking about where I was - back in school learning about biophilia and wondering how I could make that my life's work – to then standing there and seeing the finished Buddha Wall is really special. It truly is a testament to following your passions and seeing where life leads you.
Living the Biophilic Lifestyle
"Biophilia" is a love of life and the living world and to live a biophilic lifestyle is to incorporate nature into your life whenever possible. If you think about the human connection to nature it makes total sense why we need it in our lives. Humans as a species had their childhood in nature – it's where we formed and evolved and it's what provides us with what we need to survive and grow. This connection to nature is a part of who we are and whether or not we realize it we need to be and are comforted by the natural world. Many studies have now been done about the impact that nature has on humans and how we are benefited by having it in our daily lives. At work, in hospitals, in classrooms, etc. – people have physical, emotional, and physiological reactions to nature that improve our wellbeing. Some of these benefits include elevated mood, increased creativity and focus, and faster healing and recovery times.
Finding Your True Happiness Through the Presence of Nature
I think many people are living a biophilic life, but aren't aware of the impact it's having on them. To live a biophilic life doesn't mean you have to be outside hiking in the woods every day. It just means you have the presence of nature as much as possible. This can be done with an activity, home décor, visual stimulus, or even sounds. Biophilic design is really fascinating in the ways people are incorporating nature into spaces.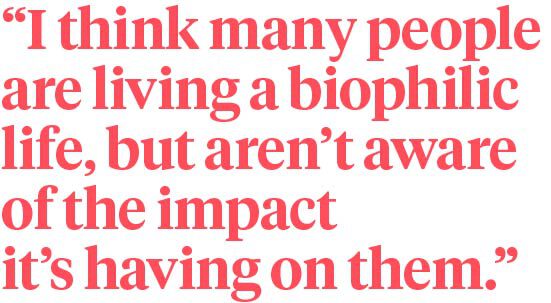 I can speak personally about the impact that nature has on my day and has had on my life. The happiness I feel when I am in nature on a hike or just at home admiring my plants and listening to the rain or the birds outside is true happiness. This is the reason for my art - my passion is for nature and my purpose is to share that with others through my creations!