Rose petals are associated with romantic deeds. And how to do without them at a wedding ceremony? The ancient Romans introduced the tradition of using rose petals as an attribute during ceremonial events. It was they who developed the desire, habitual today, to scatter the petals of these flowers on the way at any important event. And they are the secret keepers of romantic confessions...
Petals in Bouquets
Petals are a wonderful material for an original and stylish bouquet. Garlands of live rose petals give the bouquet perfect lines, movement, liveliness, and special charm.
What to Make With Rose Petals, Which Technique?
WHAT TO MAKE FROM ROSE PETALS!? Most often, rose petals are used in cooking and cosmetics. But for such purposes, we recommend using your own grown flowers. Plants for business undergo special processing, so they lose their beneficial properties. But you can still use the petals effectively. Create a decoration or piece of furniture. There are techniques when not a flower is completely disassembled into petals, creating a new shape, but the petals are the bricks of a new creation. I will show you how much you can make from ordinary roses and petals, you just need to give free rein to your imagination.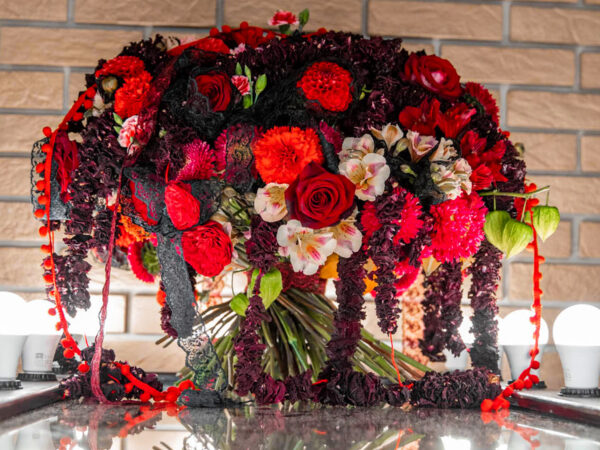 Have you ever used roses from a bouquet for decorative purposes? The recipe for an unusual bouquet of dry rose petals. Rose inflorescences are disassembled into separate components. We string each petal on a decorative thread or wire and dry in this form in a suspended state in a dark, ventilated place. After a week, you will have gorgeous garlands of dark shades. Can be used as a decor - decorate the house. If you add a little polish, the colors will become more vibrant and vibrant, as if you sprayed them with water. The next step is to create a wire structure that you will place the garlands on. This completes the whole process of collecting the bouquet. Fresh flowers are in perfect harmony with dry material. The buds of fresh roses, alstroemerias, asters, carnations are straightened between the dried petals, leaving room for thought. In the interior, the obtained decorative elements can be used to decorate home compositions and gifts.
The Seductress
At first glance, the image of a seductress fascinates, she seems unapproachable, which in itself attracts, but at the same time, one can feel some promiscuity and a desire for new acquaintances. The bouquet is assembled from soft pink roses with the addition of burgundy. The new variety of florinca Noa is almost invisible, but it is he who gives the shade of crimson color. And in the end, the almost black phalaenopsis orchid takes the gaze quite a bit to the center. Black feathers and dyed coral fern hide the brilliance of the hues around the edges of the bouquet. Wonderful black dresses to the floor, bordered with a red thread of petals with light openwork ribbons - the hallmark of this image.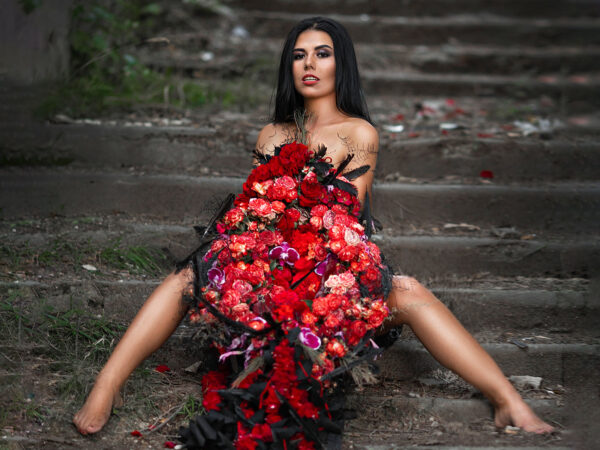 Don't rush to throw away the rose petals. You can dream up and continue to enjoy the beauty.
A Boat With Rose Petals
What girl doesn't dream of a romantic photo shoot in a boat decorated with flowers? Red is the color of love. It is not easy to convey the shades of red correctly, and no matter how it goes, it does not merge into one common mass. In large works, additional colors are needed to help make out the details of the main tone. The whole structure was based on the twisting willow branches painted in black. Scourges of golden hops and light fluffs of
clematis
serve as a backdrop for a red palette of roses, carnations, dahlias. Dirty pink alstroemeria Ballet is in harmony with the skin tone of the models. A very small number of Princess asters add crimson depth. Garlands of live and dry rose petals Black Magic produces a variety of reds with a black tint. A model in a velvet dress is the best solution. We can only hope that our heroes will be happy.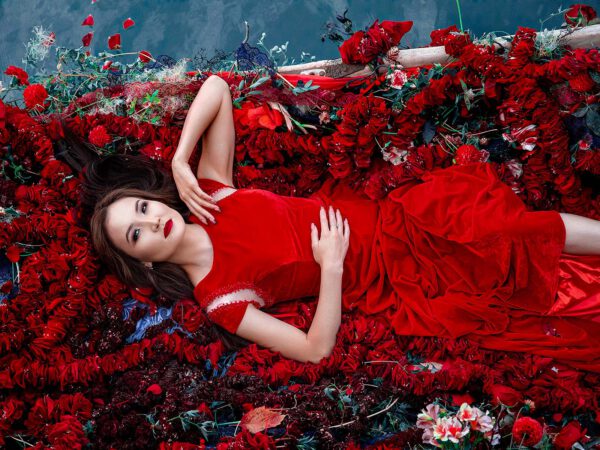 Did you like it? Text and floristry by Petr Anokhin (
@petr_anohin_
), photography by Arina Anatoleva (
@_artset
), the model with a bouquet is Diana Rakhimova, the models in the boat are Ulan Nurlanov and Gulnar Eshmanbetova, makeup artist is Elnura Keneshova.