As container gardening and outdoor decorating continue to grow, lines are blurring between what we traditionally think of as indoor pot crops and outdoor decorating. This transition is opening up exciting possibilities for pot crops, mixed containers plants, and the bedding segment. Majorette and Durora Gerberas are prime examples of this crossover. Sakata's Confetti Hypoestes, Astra Platycodon, various primroses and Campanula Appeal are other good candidates for multiple uses. For traditional pot crop distribution, they offer tried-and-true crops as well, like Sinningia Avanti and Brocade, Calceolaria Dainty, and Star Wars.
Container Plants From Sakata That'll Spruce Up Your Garden in No Time
As an independent breeder of premium bedding plants, pot crops, and cut flowers, Sakata has over one hundred years of experience in developing quality genetics for commercial growers and gardeners. Earlier innovations, like the world's first F1 hybrid pansy introduced in 1966, have become industry standards – and their genetics are still to be found in today's leading series.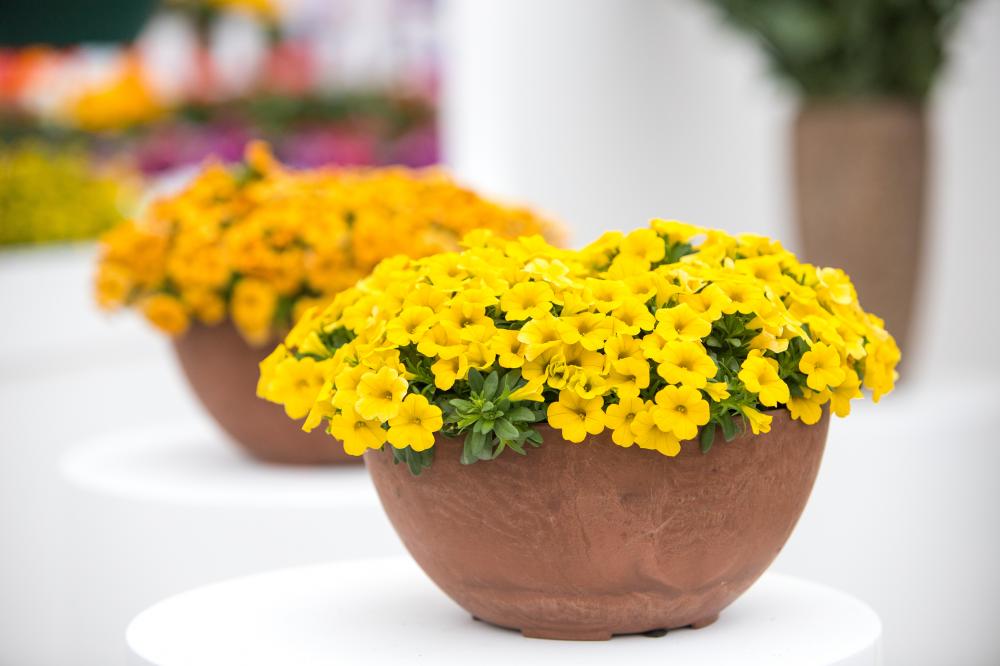 This history also means that Sakata has the breeding experience and the creativity to create the breakthroughs of today and the classics of tomorrow, such as Candy Showers, the first-ever trailing Antirrhinum from seed. Scroll down and find your inspiration for potted plants that will spruce up your garden in no time.
Campanula Appeal (Medium Nanum Annuum)
Appeal is a high-value pot crop bursting with bell-shaped flowers with a delicate appearance. Elegant plants have huge retail appeal. This crop is economical to produce and stands out in spring and summer assortments. It has an excellent retail appeal and makes for an ideal gift plant item. Appeal, with its Christmas tree shape and unique flower form, is perfect for indoor color but also a great addition to your patio tabletop.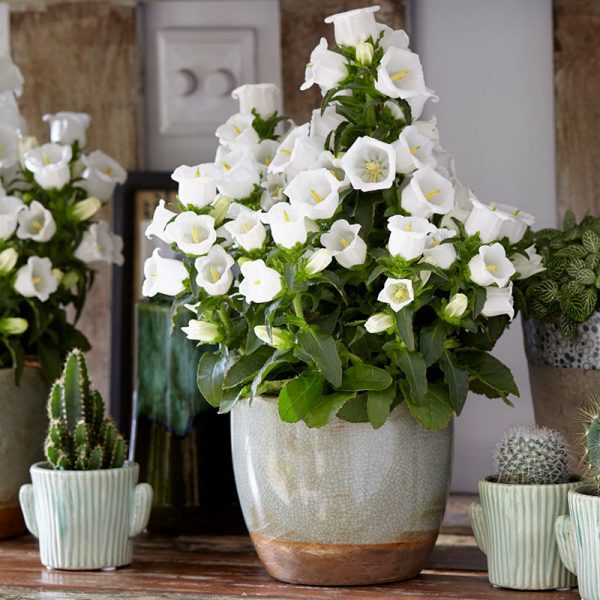 Platycodon Astra (Grandiflorus F1)
The platycodon Astra is a retail superstar. One of those plants you just have to pick up at the garden center for your home or as a gift. It fits great into modern-mixed gardens and is ideally suited to highlight patio containers. Astra is a versatile pot plant that works just as great indoors as it does outdoors. With its large, eye-catching star-shaped flowers it remains a firm consumer favorite.
Hypoestes Confetti Compact (Phyllostachya)
With a compact habit and decorative foliage, Confetti Compact is well-suited as an indoor pot plant and can be used as a component item in mixed containers with other indoor foliage plants. It works equally well in outdoor mixed containers and baskets. It has a short production time which makes the Confetti Compact ideal for year-round production. Furthermore, it has an excellent shipping tolerance and shelf life.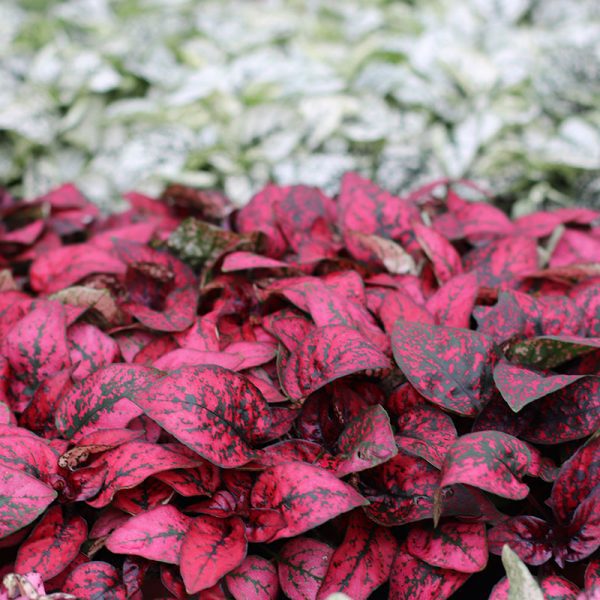 Primula Danessa ( Acaulis F1)
Danessa is a unique primula! A heat-tolerant primrose that is extra-early flowering and suitable for early fall flowering. It has great plant habits and comes in a good range of bright core colors which makes it ideal for that whiff of after-summer color in the garden. It programs and mixes easily with autumn pansies as well. Danessa requires no cold for flower introduction, so you can start planting your primulas right away.
Primula Dania (Acaulis F1)
Another great primula choice from Sakata is Dania. This attractive container plant has fewer cold requirements than some other primula series, making it highly suitable for early sowing and flowering. The Dania series has more natural compactness and therefore requires less PGR's. The brightly colored flowers are nicely shaped on a compact but strong plant. Definitely a quality series for early season sales.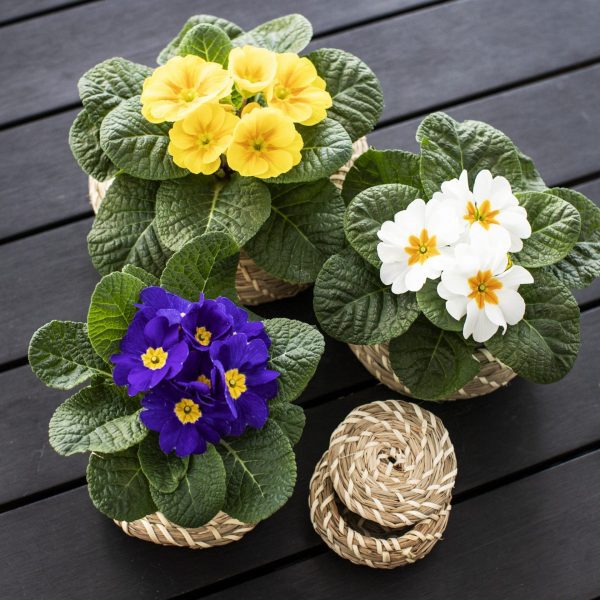 Gerbera Durora (Jamesonii F1)
Gerbera Durora is a lovely annual that is compact and easy to grow. It is ideal for outdoor patios and balconies but also lends itself perfectly for flower beds, with its large double flowers on compact plants. Durora's attractive double flowers age slower than other varieties so they do not only already look great in the store, they keep on performing excellently as a container plant or in the garden.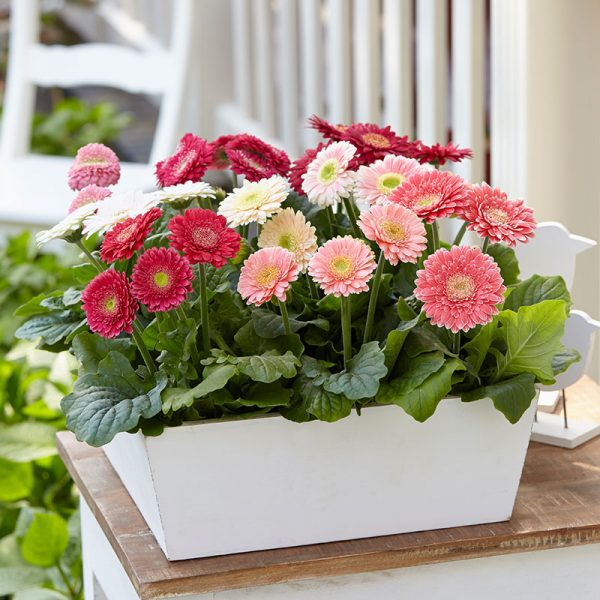 Gerbera Majorette (Jamesonii F1)
The Majorette series is bred for uniformity in earliness and plant habit. Due to this uniformity, Majorette is easy to cultivate and the bench run is much faster than any other series. With its large flowers and striking colors, this gerbera makes a lovely addition to any patio or garden. The full-bodied plants with a high number of stems and stunning flowers are to be enjoyed for a long time.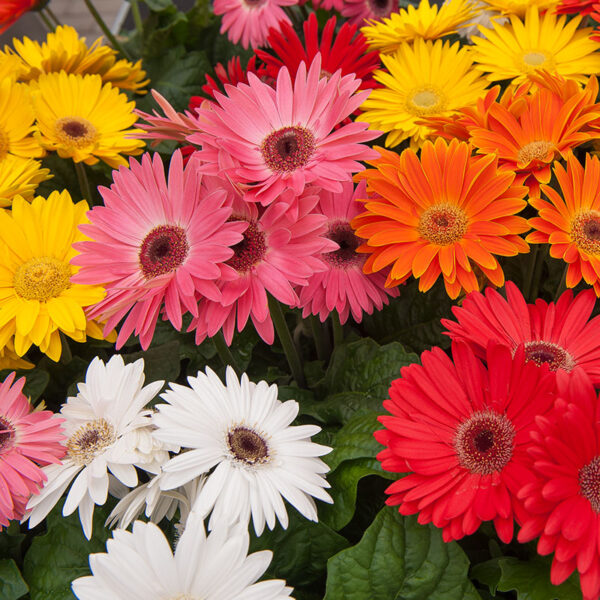 Trachelium Passion In (Caeruleum)
Trachelium Passion is an attractive eye-catcher container plant that is perfect to purchase at the end of summer. It makes for a great centerpiece flower in large mixed containers but can also be grown outside in the garden beds and then harvested for a lovely bouquet inside on the table. Passion is a compact plant with outstanding branching and is heat tolerant. Though not suitable for professional cut flower use, it makes for a great homestyle garden bouquet with its large, decorative umbels.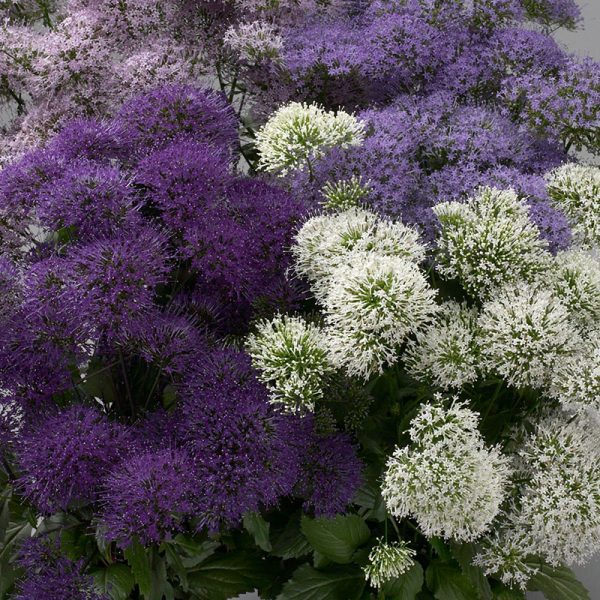 Pericallis Star Wars (Hybrida)
Star Wars is a uniform multiflora type producing masses of medium-sized flowers. With its slightly smaller flower size and bicolor booms, it makes up for a great complementing flower to Satellite. It's one of those annuals that looks beautiful wherever you put it, whether that's outside on the patio or in the house - Star Wars will spruce up the place either way.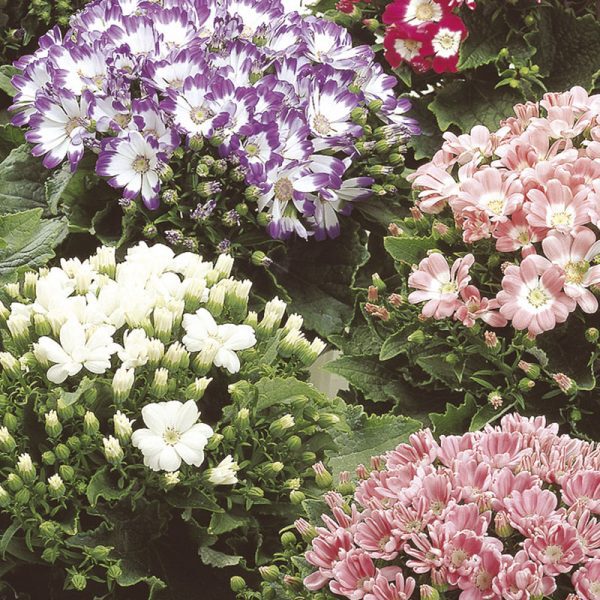 Primula Rosanna (Acaulis F1)
Primula Rosanna has gorgeous rosebud-shaped flowers which makes it - besides a gorgeous container plant to look at - a perfect plant to gift. I deal for the gift and pot plant market, its beautiful large flowers that come in bright colors are sure to capture the eye of anyone who comes in its vicinity.