Besides color and texture, flowering vines add height and interest to the garden. They are a great option to use in the overlooked parts of your garden and can provide privacy and screening. Flowering vines are perfect for adding depth and breaking up straight lines in your garden, to brighten up smaller areas with their vertical growing, to cover up bare walls and fences, but also simply for their ornamental appeal.
The Best Flowering Vines to Add to Your Landscape
While you may be uncertain about adding a vine to your garden because you've heard stories of English ivy and other plants that can become invasive, there are many well-behaved flowering vines to choose from. They can be annual, or perennial, and there are vines for practically every USDA Hardiness Zone. Here's a look at the best flowering vines in both categories so you can add some color and height to your landscape.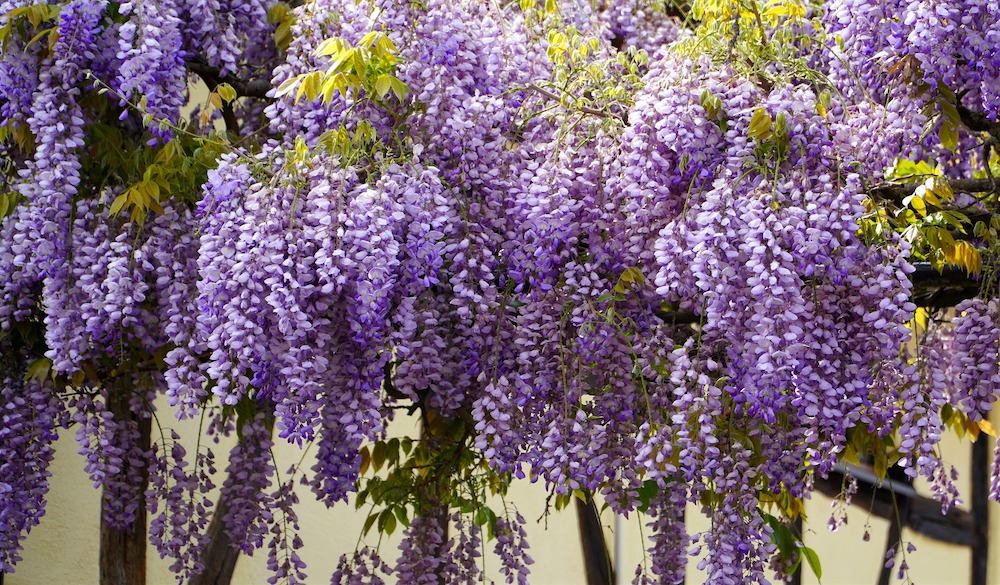 Sweet Peas (Lathyrus Odoratus)
Sweet peas are a romantic and very well-behaved flowering vine. They are great for small spaces and can also be grown as a trailing plant over the side of a railing or balcony. Sweet peas have a lovely, mild scent and come in colors ranging from white to pale pink to salmon to blue. Plant them in the spring from seed; they don't like super-hot weather, so they often fade by summer. They like full sun, but some shade is tolerable, and possibly even preferable in hotter parts of the world.
Black-Eyed Susan Vine (Thunbergia Alata)
Not to be confused with the perennial plant named black-eyed Susan, this fast-growing vine blooms with small, cheerful flowers that do resemble black-eyed Susan blooms (hence the name). The cheery blooms of this flowering vine may be yellow, white, apricot, or pink. They work well in pots and hanging baskets, but also look great when climbing a trellis. In hot climates, the Black-Eyed Susan vine is considered a perennial and this plant loves full sun.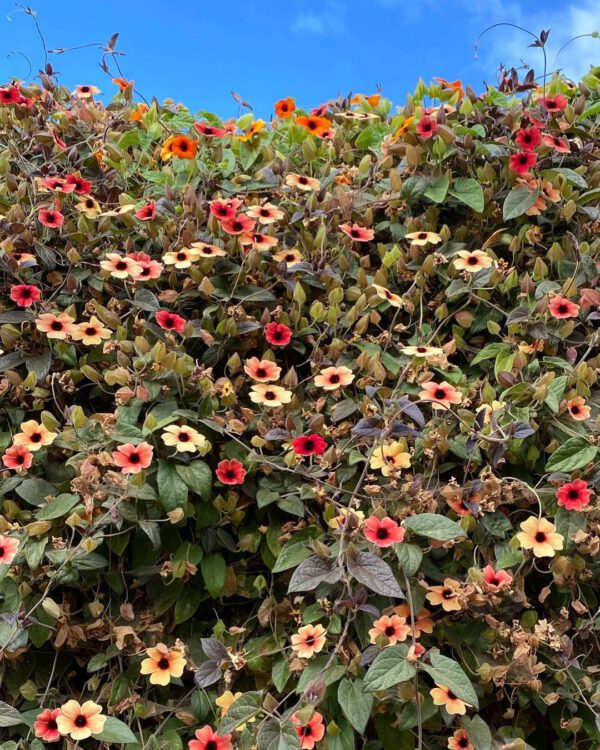 Virginia Creeper (Parthenocissus Quinquefolia)
Do you have an ugly wall that is in dire need of some good covering? Pick a Virginia Creeper. This flowering vine favorite is fast-growing and takes on a beautiful red fall color. The Virginia Creeper is not too fussy about soil types so it's a perfect plant for attacking those problem areas in your garden, patio, or balcony.
Scarlet Runner Bean (Phaseolus Coccineus)
The Scarlet Runner Bean is a lovely heirloom vine with gorgeous red blooms that actually attract hummingbirds. Even better, the beans of this plant are edible. You can eat them fresh when they are small or let them grow big on the vine and then harvest them for drying at the end of the season. The Scarlet Runner Bean is a fast-grower that needs plenty of room and a lot of sunlight.
Mandevilla (Mandevilla sp.)
Mandevilla is a gorgeous vine that has attractive glossy green foliage as well as large, bright flowers. The plants bloom from summer into fall in pink, red, and white. You can grow mandevilla in the ground, but it's also one of the best flowering vines to grow in a large container. Of course, you'll need to have a trellis or arbor next to or in the container for it to grow up. It likes full sun but needs a little afternoon shade in hot climates.
Climbing Hydrangea (Hydrangea Anomala Petiolaris)
Climbing hydrangea is one of the top flowering vines for a shade garden. Most other vines thrive in full sun, but this is a shade-lover that can climb up walls, trees, and other structures. This shade-lover boasts creamy white flowers all summer long. Its vines are very heavy, so it needs something sturdy to climb or lean against. It's super-slow-growing, so be patient as it can take years to establish.
Clematis (Clematis sp.)
It's hard to find a more versatile perennial vine than clematis. You can find varieties that bloom in spring, summer, or fall in a wide range of colors. Clematis is a well-behaved vine that can be grown in the ground or in containers. Plant it in the right spot, and you'll be amazed at the flower show it will put on each year. They like their heads in full sun but prefer their roots to be shaded, so plant other perennials at their base to help shelter the roots.
Honeysuckle (Caprifoliaceae)
This hardy perennial vine has gorgeous tube-shaped flowers. Pollinators such as hummingbirds and bees will flock to it! Make sure you choose Lonicera sempervivens or Lonicera periclymenum, not the invasive Japanese honeysuckle (Lonicera japonica), which will take over your entire garden.
Bougainvillea (Bougainvillea sp.)
Bougainvillea is a truly show-stopping, vine-like shrub if you live in a region mild enough for it to be perennial. Bougainvillea can grow 20-30 feet and blooms with masses of brightly colored, tropical-looking flowers that have a paper texture to them. Dwarf varieties are available for smaller spaces and are easier to keep under control.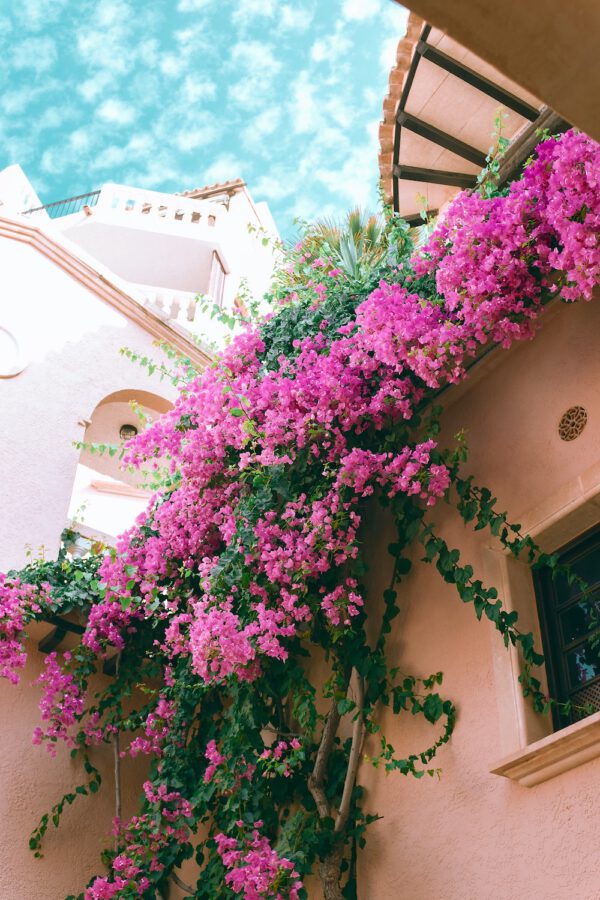 Wisteria (Wisteria sp.)
Wisteria is a cold-hardy perennial with lovely, draping flowers that resemble clusters of grapes. The lilac-blue flowers are sweetly scented and appear in mid-spring. They do, however, grow incredibly fast and need a lot of attention to keep from going into unwanted places. Look for an American rather than an Asian variety to get a tamer plant. They prefer full sun but it's smart to choose a sheltered spot if you live in a colder climate.
Firecracker Vine (Ipomoea Lobata)
The Firecracker vine is one of those flowering vines that aren't well-known among most gardeners, but it's one of those varieties that should be. It tolerates heat and drought, and hummingbirds love it. It's considered an annual in most climates, but it may survive as a perennial in warmer regions. It blooms all summer and enjoys full sun. Flowers are tubular and first appear as red before maturing to yellow and finally to white. You'll get all three colors on the vine at some point.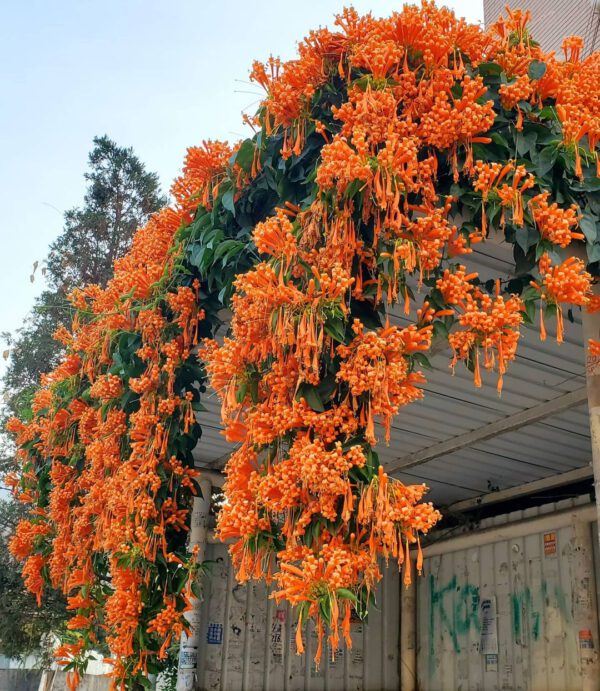 Caroline Jessamine (Gelsemium Sempervirens)
Native to the southern U.S., Carolina jessamine blooms very early in the spring. Unfortunately, it's not hardy in colder, northern regions, but southern growers can enjoy the semi-evergreen to evergreen foliage and the bright yellow flowers. It blooms in early spring, with some reblooming in fall. It's a fast-grower that works well to cover unsightly views. The vines can grow 20 feet tall but are very well-behaved in the garden. It requires full sun.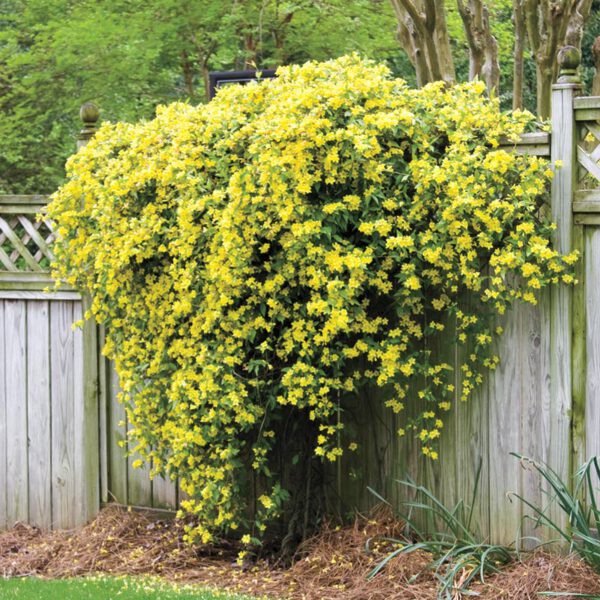 Chocolate Vine (Akebia Quinata)
Who wouldn't want to grow a flowering plant called chocolate vine? A distinct chocolate fragrance makes this plant one of the most unique flowering vines you can grow. Vines are quick-growing and can get up to 20 feet in one year. Prune often or plant in pots to keep them under control. This flowering vine prefers full sun but can tolerate part shade.
False Hydrangea Vine (Rose Sensation Schizophragma Hydrangeoides)
Similar in appearance to climbing hydrangea, this vine actually is a different plant altogether! The petals are singular and come in pink or white, whereas climbing hydrangeas only come in white. This vine tolerates shade, though it needs some light to bloom, but is a great option for most zones.
Nasturtium Vine (Tropaeolum Majus)
Nasturtiums are a versatile annual that, with their beautiful round leaves and cheery flowers, work well in containers and beds, but they also can be trained up a trellis. You'll need to do a little work to get them to climb up a trellis, but they are great for small spaces and won't try to take over your garden. Bonus: The leaves and flowers are edible! They like full sun. Flowering vines go above and beyond by adding color and often fragrance to attractive foliage and a climbing habit. A good thing to keep in mind when planting vines is patience; they can take a few seasons to get established. Be aware of how much sun or shade your vines require and plant them accordingly. Pro tip: when using a trellis for your vines, try to install it when planting so you don't have to disturb the roots later.