Choosing your wedding colors is a big step in the process of finalizing your wedding vision and decor. It can feel a bit overwhelming if you don't know where to start or if you're having trouble picking final wedding color palettes. Just like other trends, some wedding colors come and go, while others stand the test of time and look stylish no matter what.
Wedding Color Palettes That Have Stood the Test of Time
Colors are focal points of a wedding because the other details are generally centered around the color theme of your wedding. For this reason, couples choose their wedding colors by season, tradition, or style. However, some couples neither care for tradition nor season but think outside the box. If you're that couple, there's an array of timeless wedding color palettes to choose from.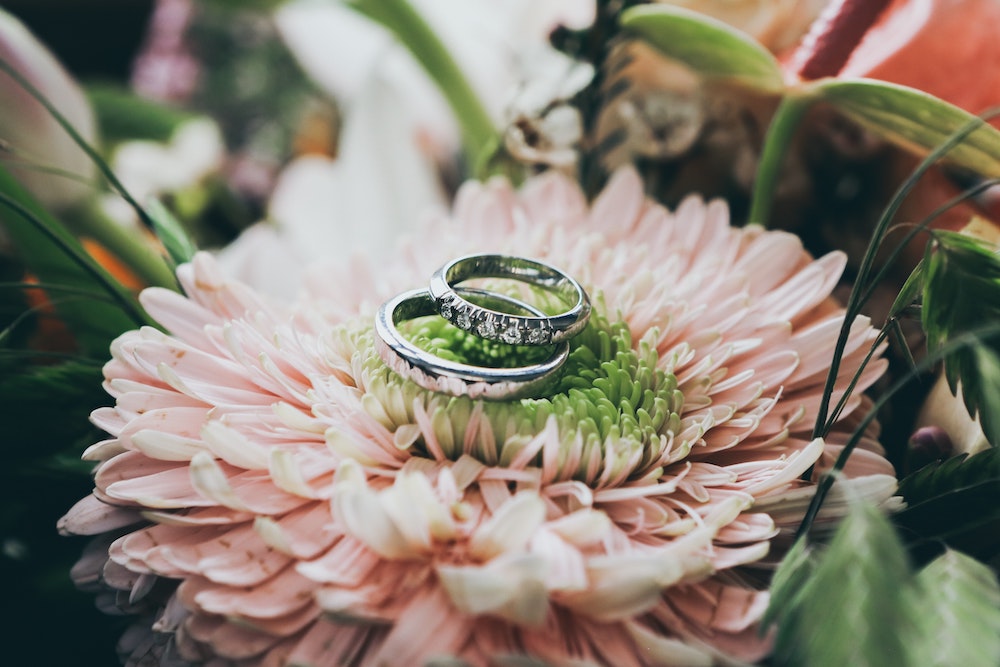 Traditional color pairings like black and white, yellow and blue, and pink and gray have filled our wedding mood boards long before the bended-knee moment. While looking to branch out of traditional color palettes for the walk down the aisle, we relied on the experts who have used their years of real-life wedding experience to create visions of colorful day-of celebrations. To help you pull off the perfect palette, we've sorted out the best timeless wedding color palettes for you.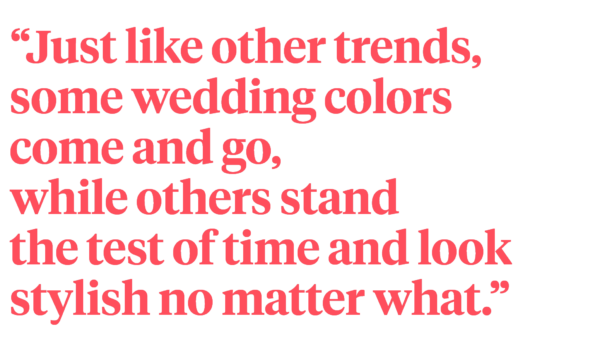 Classic White Color Palette
The classic white wedding theme never ever fails to wow. It's traditional, sophisticated and beautiful, and looks great in virtually any setting – in a luxury mansion or your local church hall. All you need to decide is whether you want pure white or ivory, then shop accordingly. You'll have no problem at all finding anything in this color for your decorations and stationery, and your venue will most likely have white tablecloths and white napkins as standard. If you're having floral centerpieces or decorations, you can have them all in white too – or go for color, they'll look stunning in the sea of white. In fact, anything other than white will truly stand out. This theme is also ideal for customization with your favorite color, and you don't need much of it either – just a few accents here and there will do the job beautifully.
Romantic Blush Color Palette
Blush is undoubtedly one of the most popular timeless wedding color palettes. Delicate and elegant, this super romantic color makes everything in your wedding event look beautiful, lovely, and breathtaking!  From wedding dresses, bridesmaid clothing, wedding arches, and aisle runners, to wedding centerpieces, wedding signs, and wedding invitations, there are so many ways to incorporate some romantic blush into your wedding day. A blush wedding is timeless and romantic. Blush is the ideal color to give your lovey-dovey wedding a sophisticated twist. And the pink blush-themed wedding is a trend that started a few years ago and has not stopped being one of the brides' favorites.
Navy Blue and Gold Color Palette
Navy and gold are some of the most timeless wedding colors, and they look gorgeous in any season. They can pull their own weight, but you can also add dimension to this palette by incorporating accent colors, such as dusty blue, gray, or even burgundy. The dark blue tone instantly gives your wedding a regal, dramatic look.
Earth Tones Color Palette
Earth tones can be lovely, especially for outdoor weddings. The best part about having a neutral color scheme is the colors never clash. Everything looks so effortless and classic. Nudes, greens, and taupes are all perfect for a timeless wedding color palette.
Black and White Color Palette
You can never go wrong with this tried-and-true color combination. Black and white are an iconic duo for many reasons: they work across all themes, wedding seasons, and budgets—and no matter how many years have passed, they never go out of style. Depending on the type of attire and decor you choose for your wedding, black and white can instantly adapt from a formal affair to an ultra-modern, minimalist wedding theme. They serve as the perfect base palette to play around with different types of greenery, flowers, and accent colors to complement your specific wedding vision. While wedding trends change every year, there's something so classic about a black and white wedding. It's a color scheme that is simple, yet timeless and never goes out of style and is both elegant and contemporary.