A great tip for travelers loving to seek other plant and flower lovers is Carolin Cacao Cafe & Gelato in Valladolid, Mexico. Great food, great drinks, a lovely host, and... an amazing garden.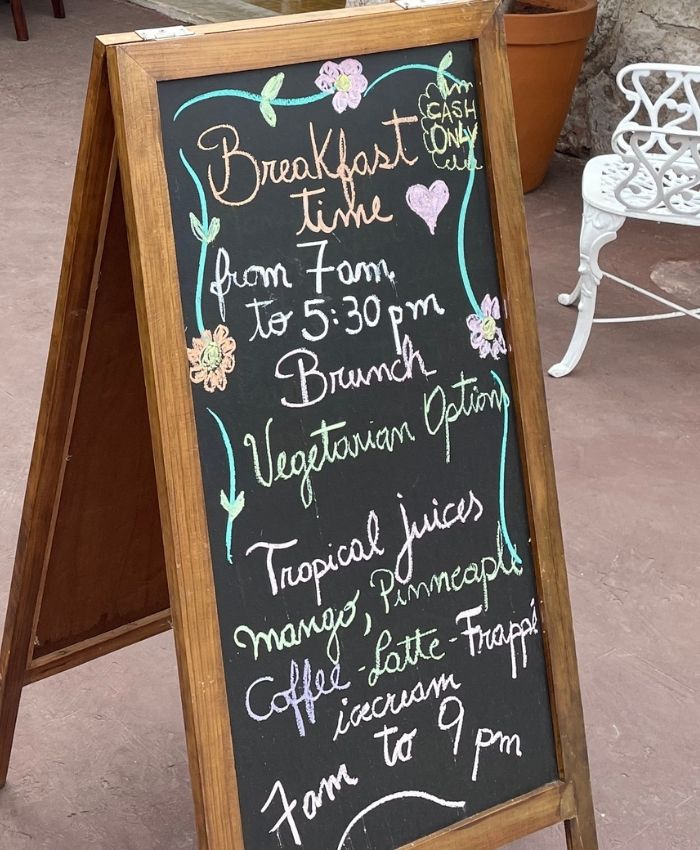 Carolin Cacao Cafe & Gelato Is Close to Chichén Itzá Pyramid, One of the Seven Wonders of the World
This cute establishment is found at the center of Valladolid. Valladolid is a town near the famous Chichén Mayan ruins on Mexico's Yucatán Peninsula. A town visited by many tourists who stay in touristic places on the peninsula such as Playa del Carmen, Holbox, and Tulum. A visit to Valladolid is a must. Not only because the town itself is worth a visit, but also because in Valladolid you find this amazing little restaurant, owned by radiant Carolin Maldonado, who originally comes from Santiago, Chile.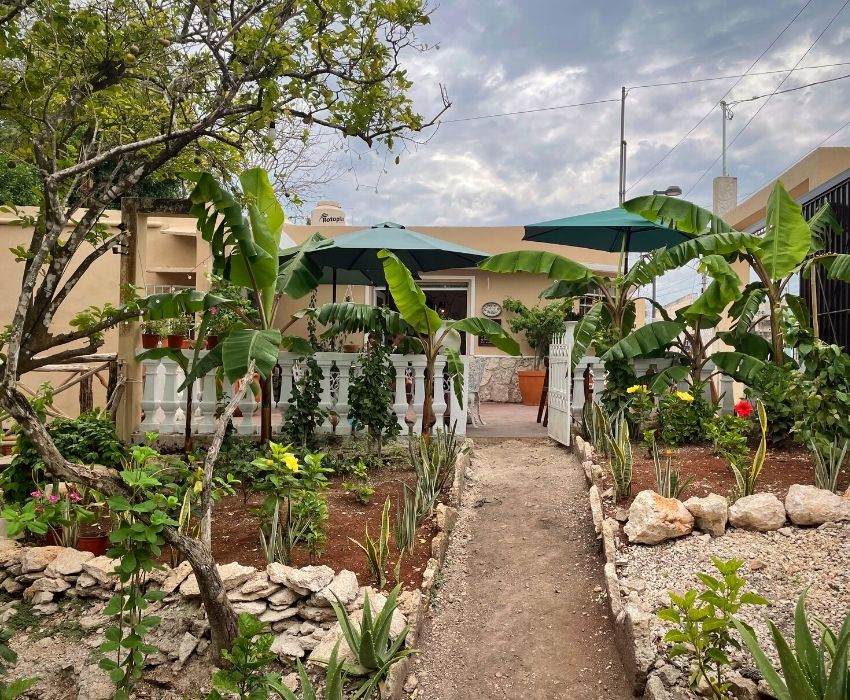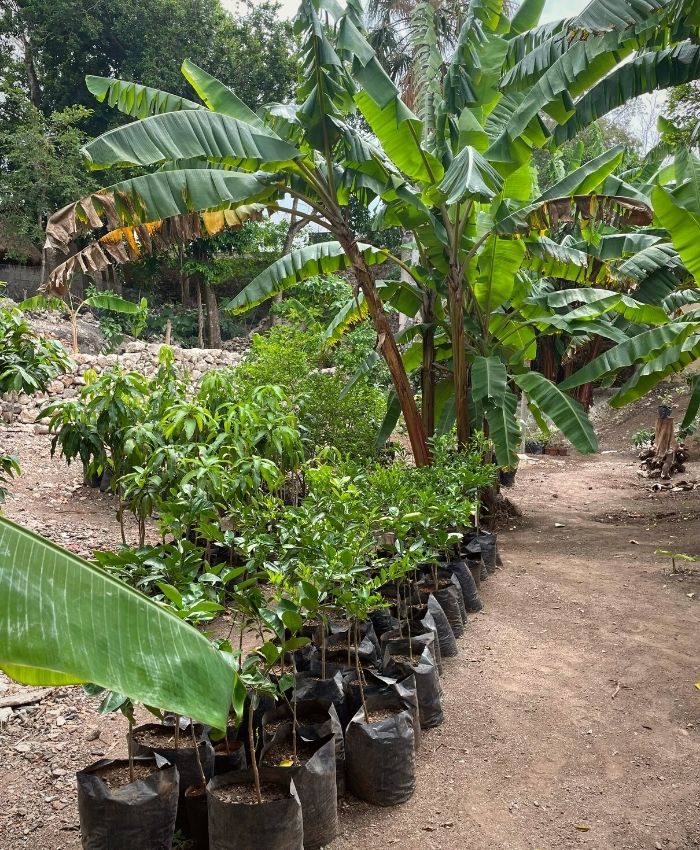 No Dumping of Trash No More
Carolin is already living in Mexico for 23 years now, considering herself to be Mexican too. In the recent past, when Carolin bought the lot, there was no garden next to her house. It was basically used by the neighborhood as a dump. Since the garden is built pretty recently, only a few months ago, some people still throw trash over the fence, not recognizing the beauty it has become in recent months.
A Hidden Secret
Caroline still finds broken glass and lots of plastic in the soil. She had to remove and clean a lot of trash to make the garden what it is today. There's no drainage, but after heavy rains, the water disappears quickly. This has a reason, as she believes:
"Older people in the neighbourhood told me they remembered when they were young the garden had an access to the famous Cenote Zací, an underwater cavern filled with a beautiful blue pool. This was found right in the center of Valladolid through a cave-like tunnel, running a few 100 meters underground. How cool is that?"
Cutting and Propagating
Carolin created a garden with many green and flowering plants. She has many bougainvillea and hibiscus varieties. Most of them come from taking cuttings. When Carolin walks around Valladolid and sees special flowers and plants, she asks the owners to have a cutting, so she can grow her own.
A Beautifully Landscaped Garden
The garden is beautifully landscaped, you can find many large banana trees, which fruit she uses in her dishes and juices. Carolin is propagating many plants, such as the bougainvilleas, hibiscuses, and also the Seville orange trees of which the fruit gives the special sour taste to the local famous pulled pork dish 'cochinita pibil', a Yucatán's ancient barbecue tradition.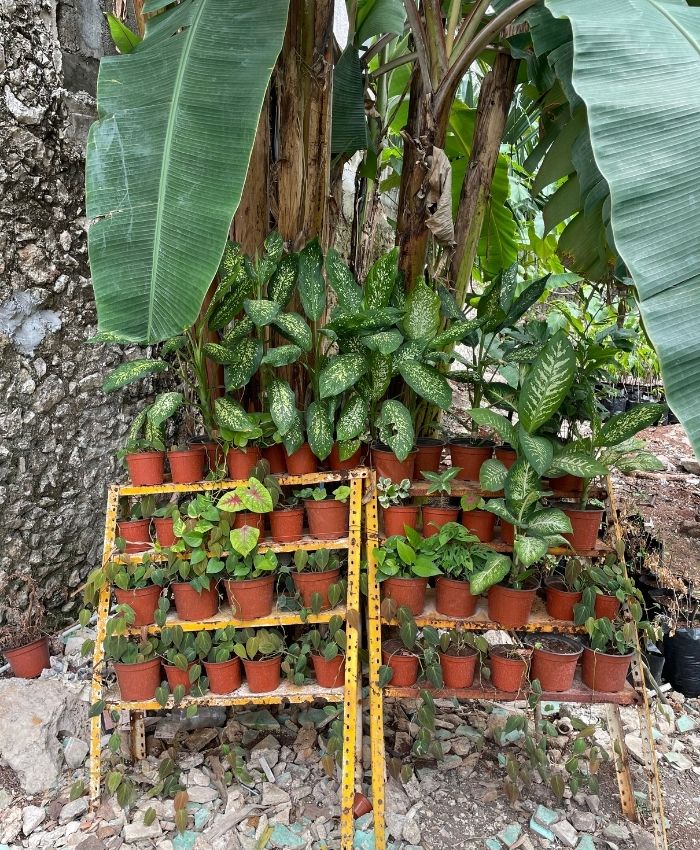 The Best Breakfast in Town
Some plants are for sale as well, giving Carolin a little extra income besides the income from the restaurant. Besides a wonderful garden with many beautiful plants, it's no wonder that the food is excellent as well. The juices are extraordinary, probably the best in Valladolid. Visiting Carolin's place is definitely a great tip for travelers loving to seek great food, great drinks, a lovely host, and... an amazing garden. Just look at the Google rating, it's top-ranked!
Below you see the menu and some of the dishes.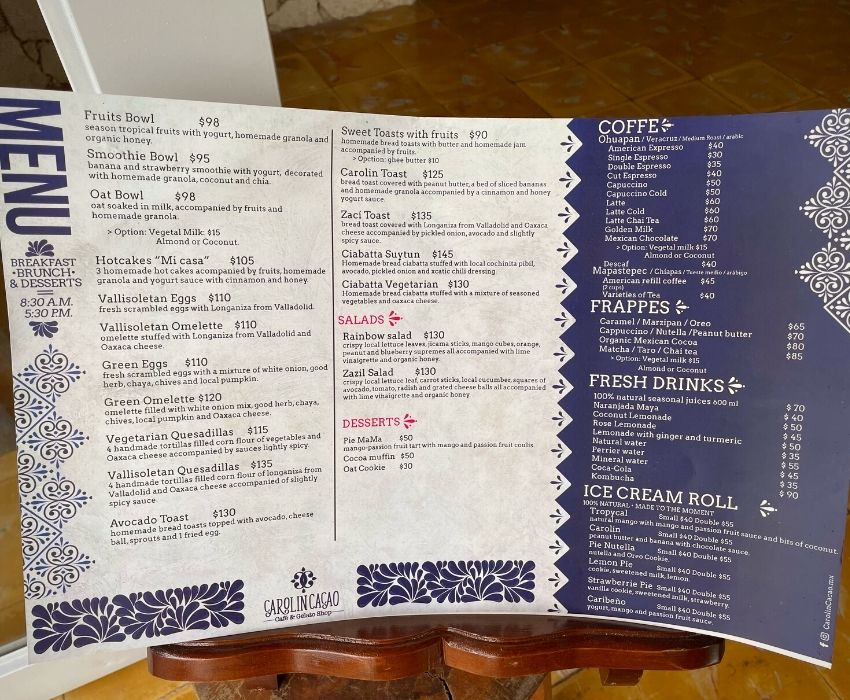 Lovely Decorated
Carolin also took care of the interior, the establishment is an oasis of peace and lovely decorated.
Don't forget to have ice cream rolls as well, they make one on an ice plate, and taste delicious.