Leopoldo Gomez represents the Artisanship in Floristry from Mexico. His style reflects the colorful, vivacious spirit of his heritage, mingled with his respect for nature and the rich culture that bridges modern back to its history. He was the Interflora World Cup competitor representing Mexico in 2019. He was the winner of the Gateway to the Americas Competition, as well as the Huis Ten Bosch International Floral Design Competition in Japan. Leopoldo teaches his exquisite craft through his regular posts on Instagram and Facebook and on his Patreon platform.
A Floral Interview With Leopoldo Gomez
Leopoldo Gomez is a renowned international teacher of floral design, based in Mexico City. Well known for participating in many competitions he has developed a real signature style. Mostly proud to represent his country Mexico and its culture and heritage and drawing inspiration out of architecture and arts, Leopoldo's work is enhanced with emotion, creativity, and technical expertise. His style is widely acclaimed and sought after for its striking color palettes, vivid combinations of textures, and masterfully-crafted armatures and structures. He describes his work as "introspective" in which the essence of nature is clear.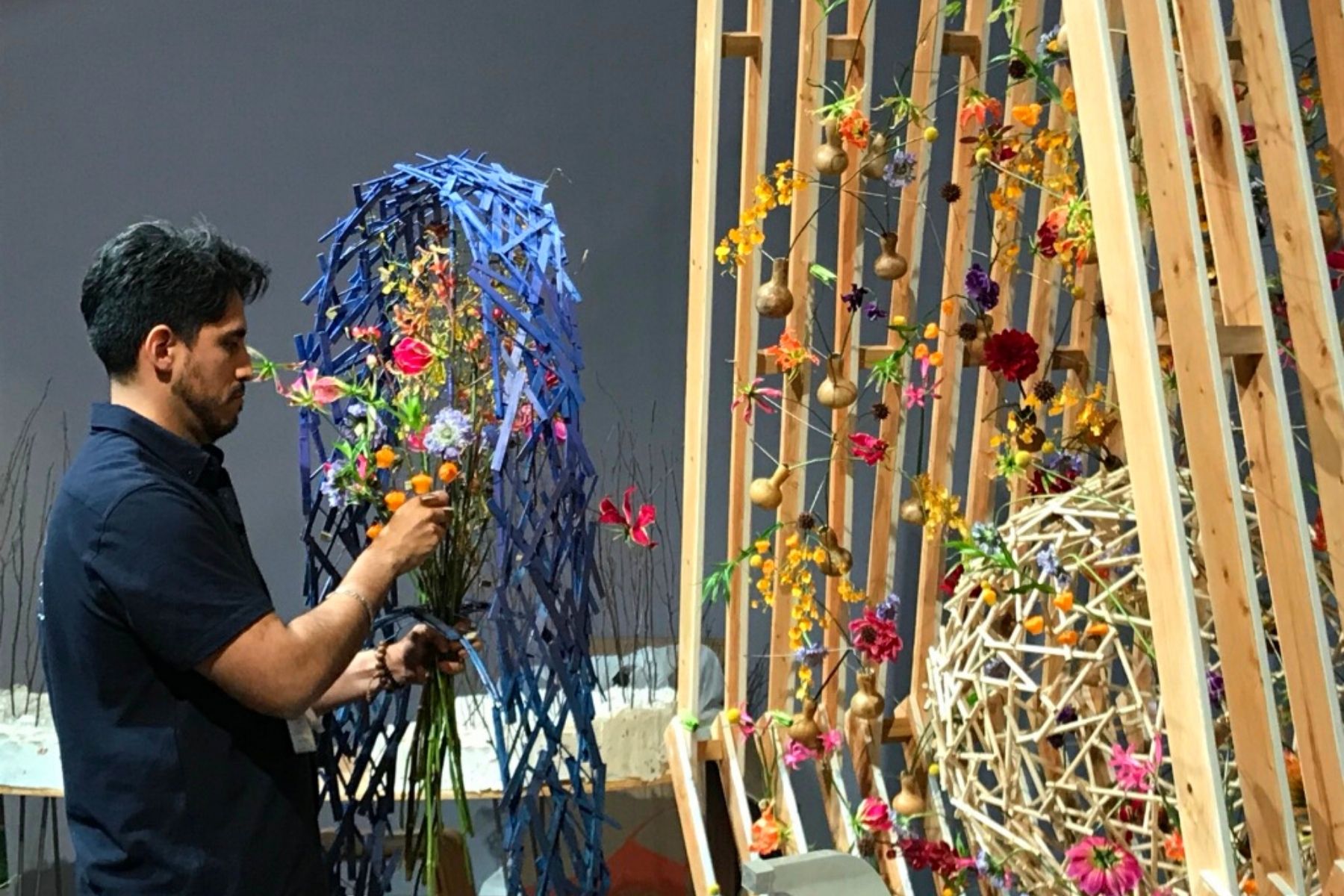 After several years of working and teaching for Smithers-Oasis Mexico, Gomez co-founded the Centro de Arte Floral. It offers a full curriculum for floral professionals and novices. Gomez teaches year-round at his school, which normally offers international courses on-site at the facility as well as intensive courses online and abroad. Of course, COVID forced them to bring it all online.

More about Leopoldo Gomez
Leopoldo teaches many courses online since COVID-19. It changed a lot for him. But going back in time he talks about his interests, studies, work, and more. Strange how life has its course for everybody. Enjoy Leopoldo's story.
Q: Can you tell us how your life took a turn into the floral world?
Leopoldo:
"I was working at my mother's catering company years ago, and at the time, my mother wanted somebody in the company to take some design classes to incorporate floral design packages in their services. But nobody was available to do that. I was the only person to attend the classes, so I did. I loved it. I had found my passion and so I did all flower design for my mother's company. But surely I never imagined that life would bring me there. My college degree was in business administration, and I studied that subject for many years. To be honest, my true interest and passion when I initially started my schooling was architecture. But I ended up choosing business - it seemed a more lucrative idea at the time."
Teaching Floristry
To Leopoldo, it's really important to be able to share his knowledge and to guide his students to become the best florists possible. He teaches online video classes: floral fanatics will have access to a monthly detailed video tutorial posted to show and teach various mechanics that can be used in simple and intricate floral designs. And with co-founder Bogar Marin and CAF professor/graphic designer Atziry Escobar from Centro de Arte Floral they have a great educational program. Because a couple of tips are great for all of us.

Q: What is your idea of the perfect flower arrangement?
Leopoldo:
"The perfect arrangement exemplifies the principles and elements of design within its composition. And at the same time, the design conveys the artist's desired emotion, regardless of the style. That's what it should be to me. But you always have to try new things, also when you fail it's OK. You learn from it. Create floral compositions with style and identity, and of course, sell them.
Leopoldo always says to his students:
"You put the enthusiasm, commitment, and desire to learn. We have the expertise, the knowledge, and the methodology with an experience that we know you will love. We will walk the path with you, so you don't have to stumble all the time."
Q: Besides skills, is there something you would like your students to learn?
Leopoldo:
"Yes, I would like them to appreciate the fleeting moments in life. Flowers are also constant reminders that life is delicate, precious and goes through many stages, as everything in life goes as easily as it comes."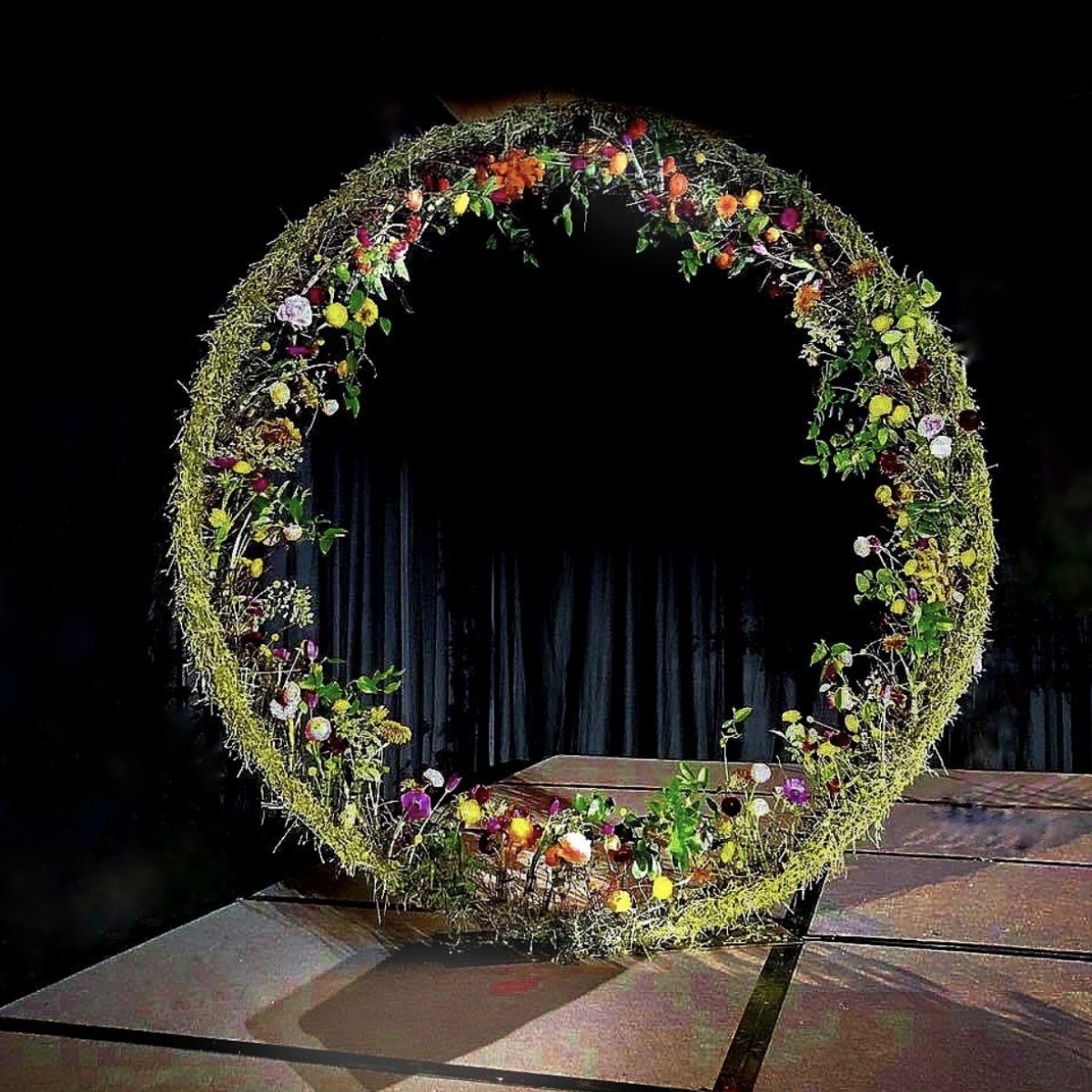 Making Structures
To start and create all kinds of structures in wood, wire, or any other material is the base to make floral design upon. There are many techniques and skills to learn.
Q: How do you start to create structures?
Leopoldo:
"When we create small versions of our vision it helps us to understand which kind of problems we could have in the process. Also creating miniatures we develop our skills with the wires and tools without spending a lot of hours or materials, this makes that most of the time we don't feel frustrated.

Why create armatures? If you want to be unique in your work you should apply techniques that not everyone does, foam, kenzan, chicken wire are some of the most used techniques and all of us can use them (of course this could be the base to create something unique also), but not all of us can create special mechanics, this will separate you from the rest."

Grateful About So Many Things
Leopoldo is happy about his life at the moment. He treasures his wife most, he especially loved designing flowers for his wedding, he is very easy-going according to his friends, he is patient and flexible. His surroundings say that Leopoldo is grateful for so many things, he tries to be relaxed and carefree, rather than rushed or stressed.
Leopoldo:
"I asked a few friends to describe my character, and they said I'm laid back, creative, loving, respectful, funny, patient and a little bit crazy. Isn't that great?"
Q: Past year was challenging - how did you overcome it?
Leopoldo:
"I feel extremely grateful. We can all agree that this past year has brought many unexpected changes and uncertainties, and the situation has given us time to slow down and reflect. In evaluating my current daily life, I find myself very thankful for the simple blessings that I am surrounded by, and the love and joy that I am fortunate enough to have in family and friends around me."
Inspiration in Nature
A lot of designers find their inspiration in nature, and Leopoldo Gomez is no exception. It's a reliable source... But everything he sees can be an inspiration to design flowers.
Q: Where do you find your inspiration to design with flowers?
Leopoldo:
"I find inspiration everywhere! Sometimes it can come from unexpected sources, like the culinary arts, television commercials, or even kids' toys. Most of the time, however, my most reliable inspiration source is nature. I also love to look for inspiration in architecture, sculpture, interior, and furniture design, indigenous cultures, and any form of modern art."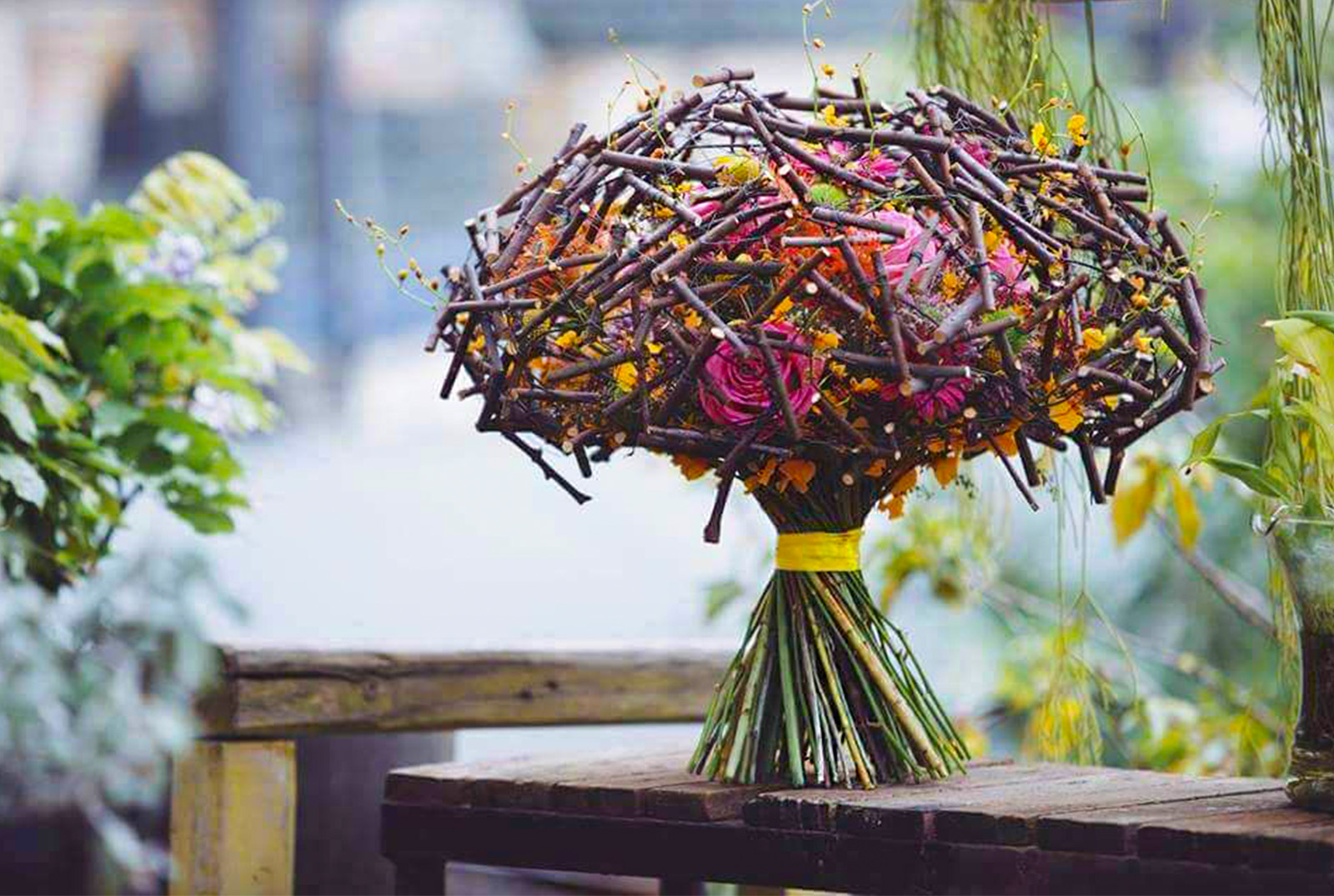 To Be Organized
Leopoldo knows that half the work is the organization, in your shop, when you are decorating, or even in a contest. It saves you so much time and effort.
Laughing about it, yet serious:
"I would change my tendencies so that I could magically be more organized."

Proud to Represent his Country
For Mexico, Leopoldo is known for his participation in many contests and several international design competitions.
Q: What do you consider your greatest achievement?
Leopoldo:
"My Mexican heritage is very important to me, so I am honored and proud to have been able to represent my country—and share my beautiful culture—at several international design competitions. I competed for Mexico in the Gateway to America's Cup, in Interflora's World Cup in Philadelphia, in Barcelona's World Flower Cup, and in the Huis Ten Bosch's International Floral Design Competition in Japan."

Trends for 2022
Trends or important but they don't define skills. However, skills can be used to make trends visible.
Q: What do you think about trends for 2022?
Leopoldo:
"To me, trends have a way of cycling - there's always something for someone's taste, so different methods, skills, and styles usually stick around. And that's a good thing I believe. The only important trend for 2022: it has to be sustainable and eco-friendly."
Look at this Street Floral Art! Without a doubt, bringing floristry to everyday life is my greatest passion, trying to bring a bit of nature to our lives. And sharing this kind of experience with students is the best.
A Message for Young People
In life older and more experienced people have great messages for young people. Guidelines to make life more fun, more relaxed, or easier. Sure, everyone has to walk their path, but some advice is never lost.
Q: What's your advice to yourself going back in time to when you just started?
Confident Leopoldo says:
"Don't let the fear of failing ever hold you back from trying anything you want to do. Failure is not the end of the world."
Q: What's your advice to someone just starting in the flower industry?
Leopoldo:
"Pursue proper education and never stop learning. Seek experience in every way you can think of. Volunteer, take classes, read, research on your own, participate in a community garden project if possible and learn botanical nomenclature. Also, follow or subscribe to designers on social media that share design aesthetics that you are drawn to and are inspired by. There are many different aspects to the industry, so figure out which path interests you most. It's as they say, "if you do what you love, you will never work a day in your life."