Melissa Smedes was a happy floral designer last week, at the Dutch Junior Championship Floral Art, she got third place.  Born in Drachten, a small village in the North of the Netherlands, Melissa grew up to be a strong personality that likes to be challenged creatively.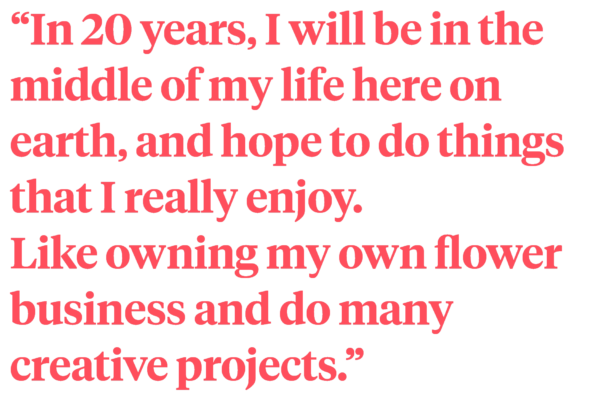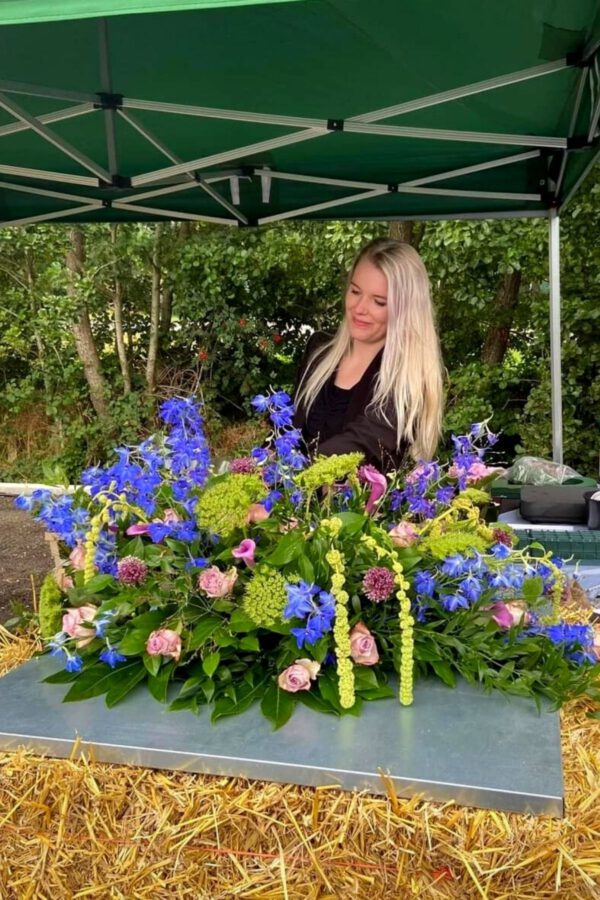 Who is Melissa Smedes?
Melissa already at a young age was very creative, she was designing and making her own jewellery. You can easy say that creativity was in her blood from an early age. In secondary school she goes to follow a floral class for the first time. Immediately she is obsessed with flowers and natural materials to design with. She decides then to make a choice that will change the course of her life forever; a floral education and career in flowers. Melissa experiences that her creative spirit, and curiosity for everything growing and blossoming, and the flower world is the prefect fit for her. Already early in her 'floral career' she was asked to help as a floral designer to work at some of the booths at at the
IFTF
 exhibition in the Netherlands, which is an International Floriculture Trade Fair being held every fall. So far that was one of the most fun jobs she did. And confirmed her she was on the right track. Curious about her life? Her goals? Read on.
So Melissa, what decided you to participate in this championship?
It seemed to be a very nice and fun challenge, and I would be able to learn a lot about myself. I think it's important to see what other designers are doing with the same assignment you get, to see how they handle it. And besides that, I could show a completely different side of myself. So, when I learned about the competition, I jumped in immediately to participate.
How do you think you did?
I think it all went pretty well and was happy with the final result.  I learned a lot from participating in this contest, also from my fellow candidates. If I had to do it over, I would use a more impressive and big flower to create a better focal point in the arrangement. I think by doing that it creates a 'calmer', and more balanced design.
What do you think of the verdicts of the jury?
At the end of the competition I did a tour through all the designs of everyone with one of the jury members in which she explained a lot about the different designs: how in one design the floral designer created more tension than in another, and how technical skills are very important. I agree with the jury's comments. For a next time, (I would definitely participate again), knowing what I know now, for sure I would be doing a much a better job. The whole championship was so nice to do, what I liked most was seeing and working together with fellow candidates with the same big passion for flowers. The whole ambiance was great.
About your design, what did you do? What were the assignments?
Assignment 1: make a 3D painting within the GOLD theme! The prepared workpiece should visually not be more than 1/3 of the total workpiece. It is not allowed to add living material in advance. The workpiece must keep for at least 5 days and may be provided with extra water at least 1x per day. We were given 120 minutes to perform at the competition location. Preparation at home Assignment 2:  innovative floral concept in 2022 on an OASIS BIO floral foam block. Create a small design with a sales price of €25 and a medium design with a sales value of €50. Mandatory stitch technique and 7 days shelf life. We were given 60 minutes for the execution and preparation at home.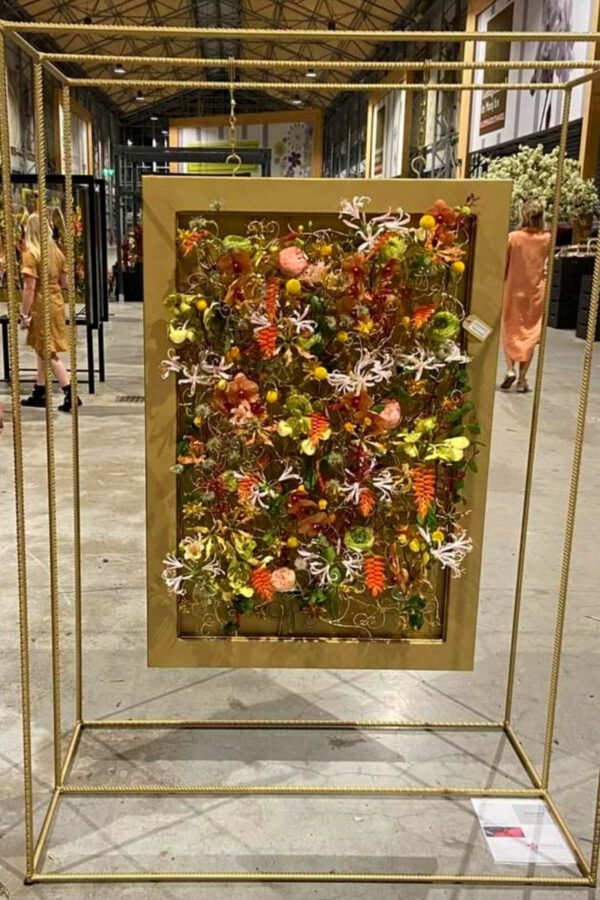 How did you choose your flowers?
I went looking for which colors I liked best with the gold theme. Then I mainly came up with the warmer colors of phalaenopsis, vanda orchids, and other flowers. I also liked to incorporate plants in it, like the beautiful tillandsia diariana for the beautiful orange color and shape that you can use again to create the 3D effect. In assignment 2 I liked to use a somewhat cooler color combination. Also because it had to be innovative.
Where do you stand in floristry now? And where do you want to be in 20 years?
I really want to work on a freelance basis and execute big projects and installations. And weddings! And in 20 years, I will be in the middle of my life here on earth and hope to do things that I really enjoy. Like owning my own flower business and do many creative projects.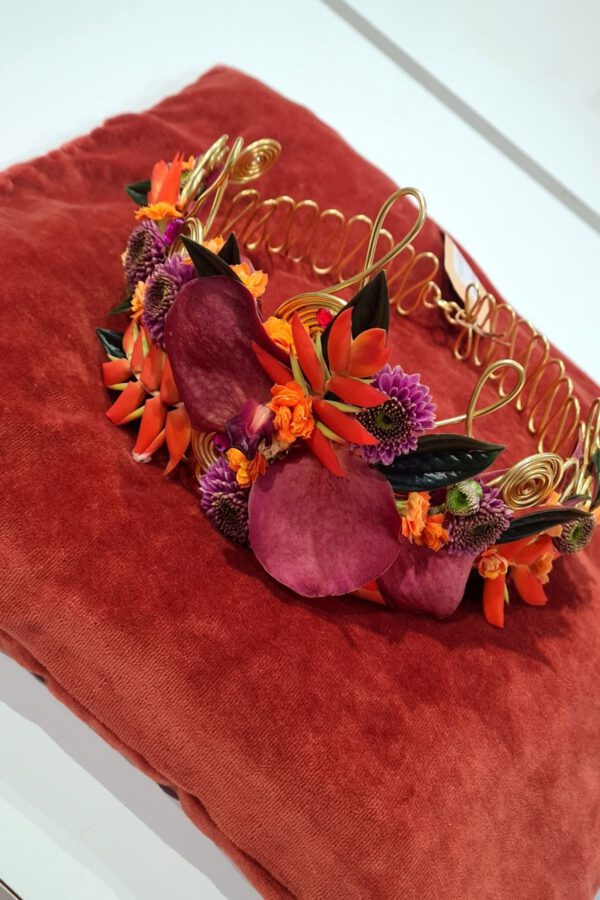 What is your favorite flower? And how come?
I find that a very difficult one, I think so many flowers are beautiful, but I think for me the gloriosa, for example, is really beautiful to make unique things and the shape is also beautiful.  You become an immediate 3D feeling using it. Orchids are very beautiful because there are so many colors in 1 flower.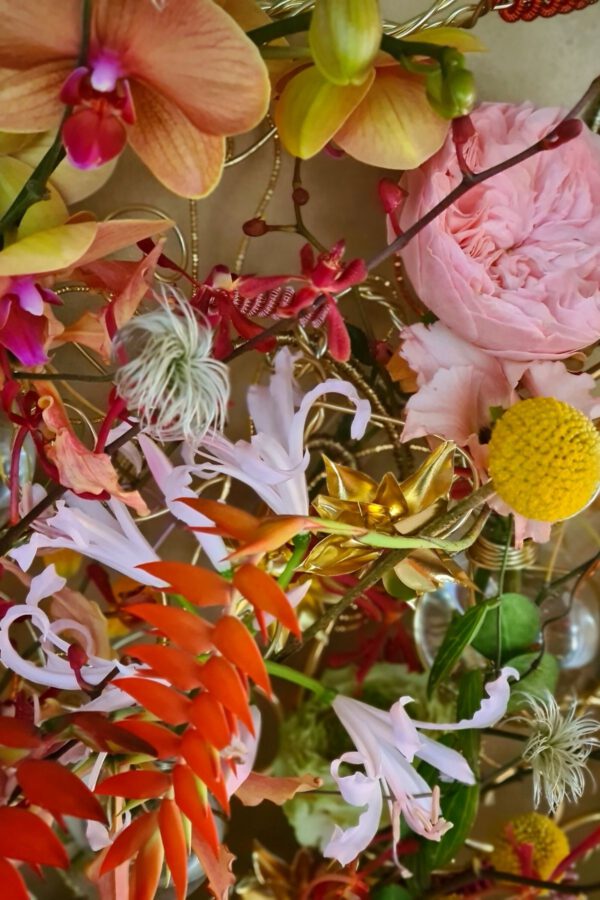 Very curious about how you keep up with the trends?
I always look a lot in magazines to keep up with the trends and Thursd is a real inspiration for me.  I often go to hobby fairs where I see things that I want to use in my flower arrangements. And I love professional trade fairs to see what the future holds - a pity last years weren't many occasions to visit fairs because of Covid-19.
What could be the Thursd floral Color of the year 2022?
Yellow for me: because it is the color that stimulates and energizes.