Hood Design Studio, based in Oakland, has designed two 'treehouses' covered by an extended photovoltaic trellis on the Silicon Valley campus of a software company. What is the goal of this project you may be wondering? It's to get people visiting outdoor spaces more and truly connecting with the part of nature their days need.
Silicon Valley - A Tree-Like Installation With Photovoltaic Panels
The creators of this outstanding project, Hood Design Studio, create a tree-like sculpture or installation for the benefit of the human mind and body. The tree-like trellis, which is located on a four-acre property between two buildings, provides an outdoor working space for employees of the business software NVIDIA. The site's two elevated, circular platforms are supplied with curved hardwood chairs and additional seating for outdoor work.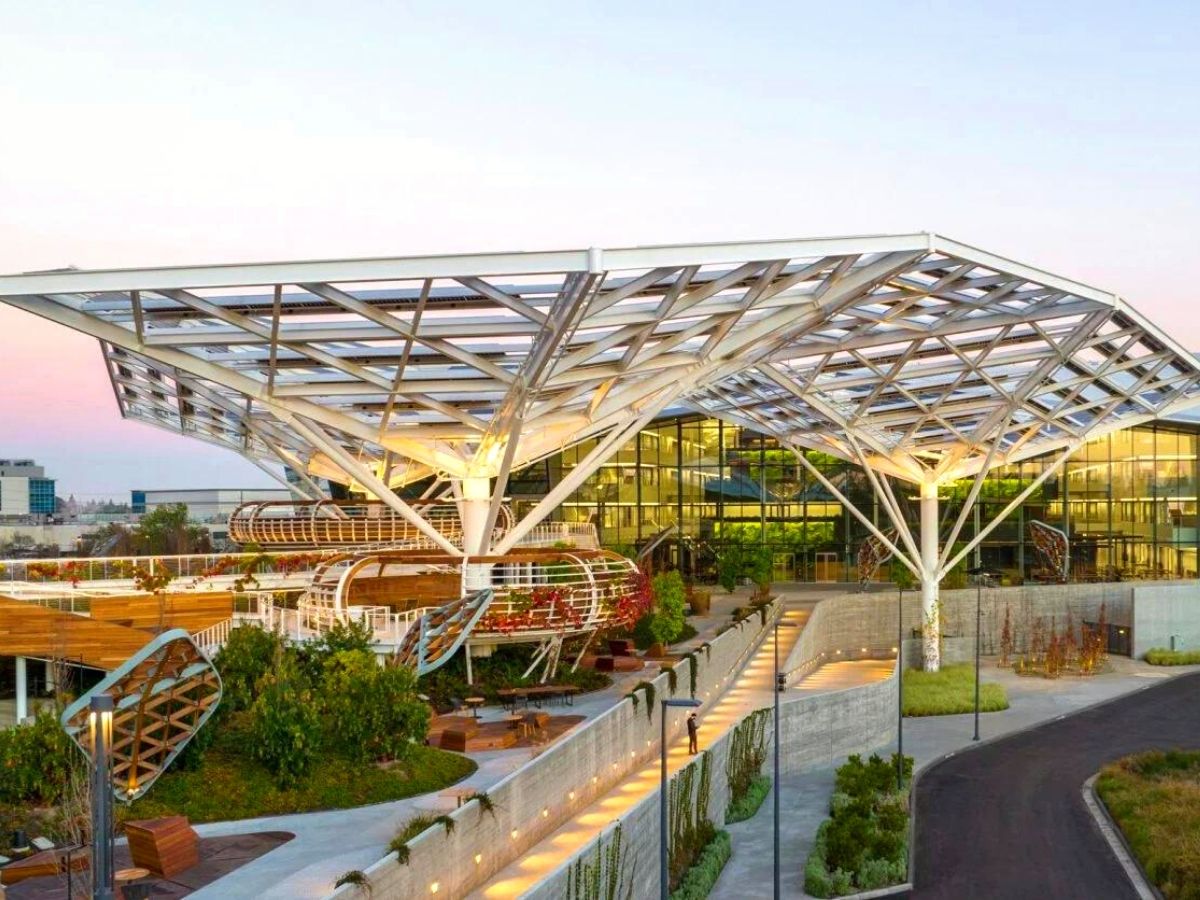 In more detail, two treehouses, or nests, form pieces on the ground to encourage people to come outside which appears to be the main goal of this project. The loss of connection to nature these days has become worrying, given that work and daily activities have become extremely time-consuming and people are losing touch with that special side of nature and the benefits it gives society as a whole.
The Tree-Like Sculpture More in Depth
A wide trellis above the seating area platform provides shade while generating power for neighboring buildings via translucent photovoltaic panels. The lattice also allows sunlight to reach the plants below which is a huge benefit for the natural environment as well. It's a win-win situation for everyone and everything that surrounds this space filled with greenery. The large tree framework resembles a tree, a structure that opens up and out rather than being focused inward.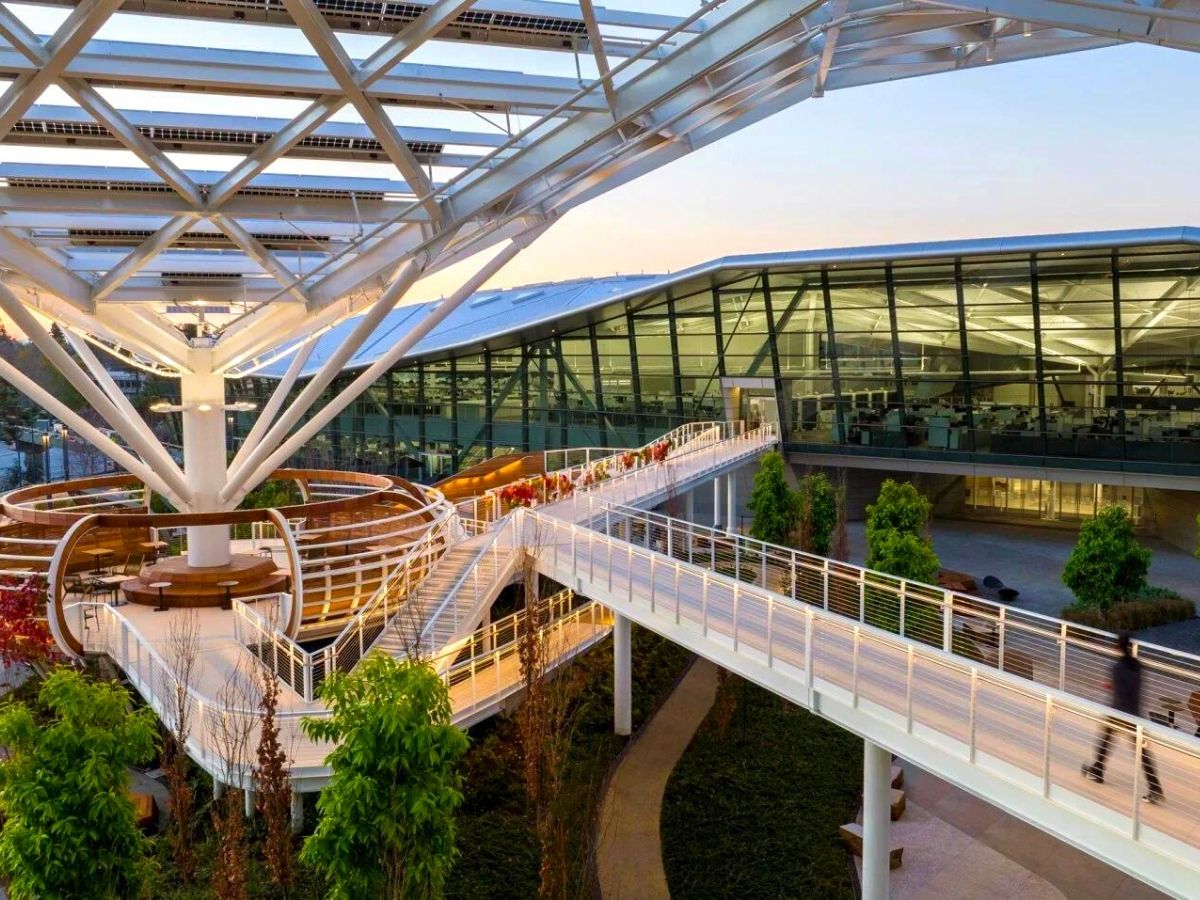 On the other hand, a network of elevated pathways connects the seating areas to neighboring buildings and leads down to the hardscaped ground level. The landscape design's undulating hills commemorate the agricultural tradition of the neighboring Bay Area of California, where farms and ranches encompass 2.3 million acres of land. The selected trees were strategically placed to create organic forms from a distance, but upon closer inspection, follow a grid layout. Two types of red oaks and cultivars specific to this area were chosen for their low branching to create a treed landform at eye level said principal-in-charge Alma Du Solier.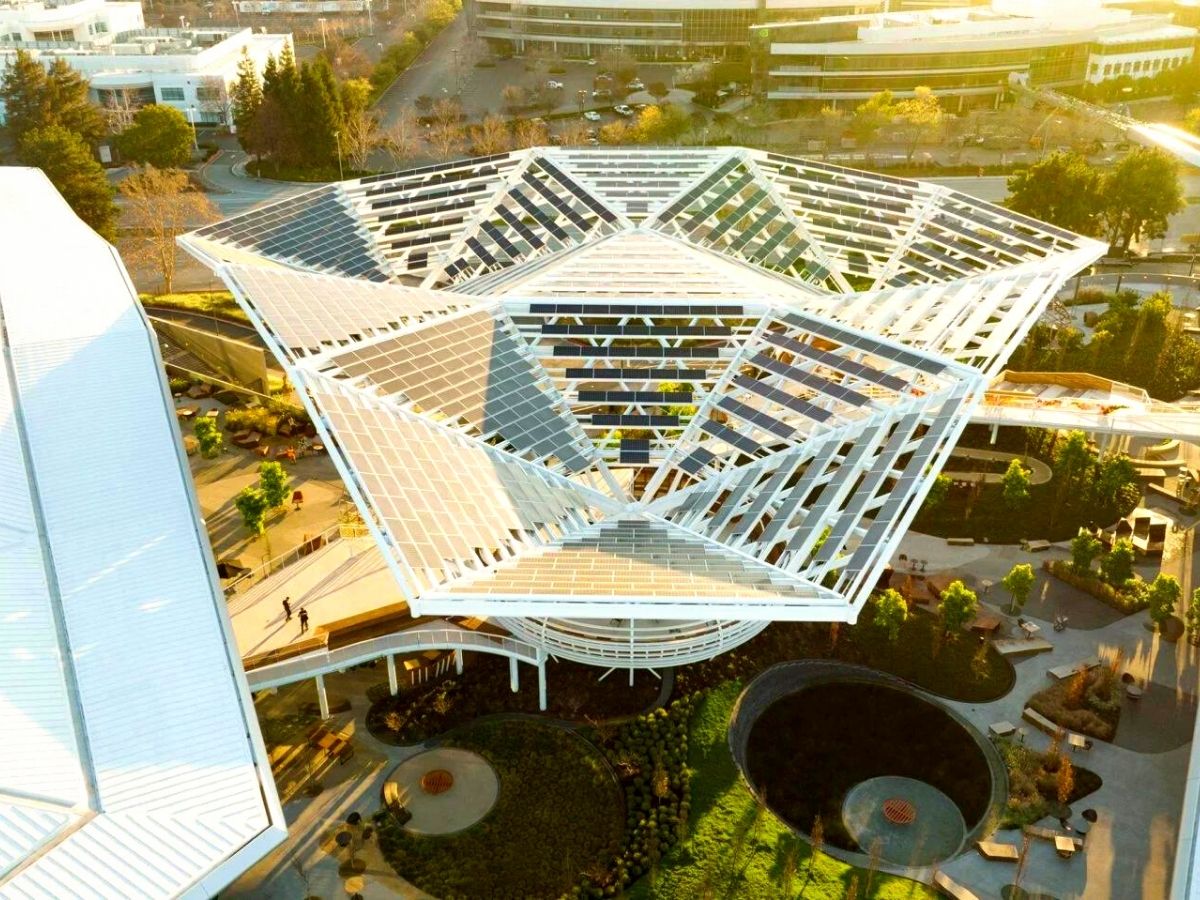 The Benefits of Panels Covering the Outdoor Workspaces
In Silicon Valley, photovoltaic panels cover this amazing outdoor workplace created and designed by Hood Design Studio. They highlighted the concept of an inhabitable landscape, creating hardscape and architectural components such as a dual-structure tree house where workers may effortlessly transition from inside to out.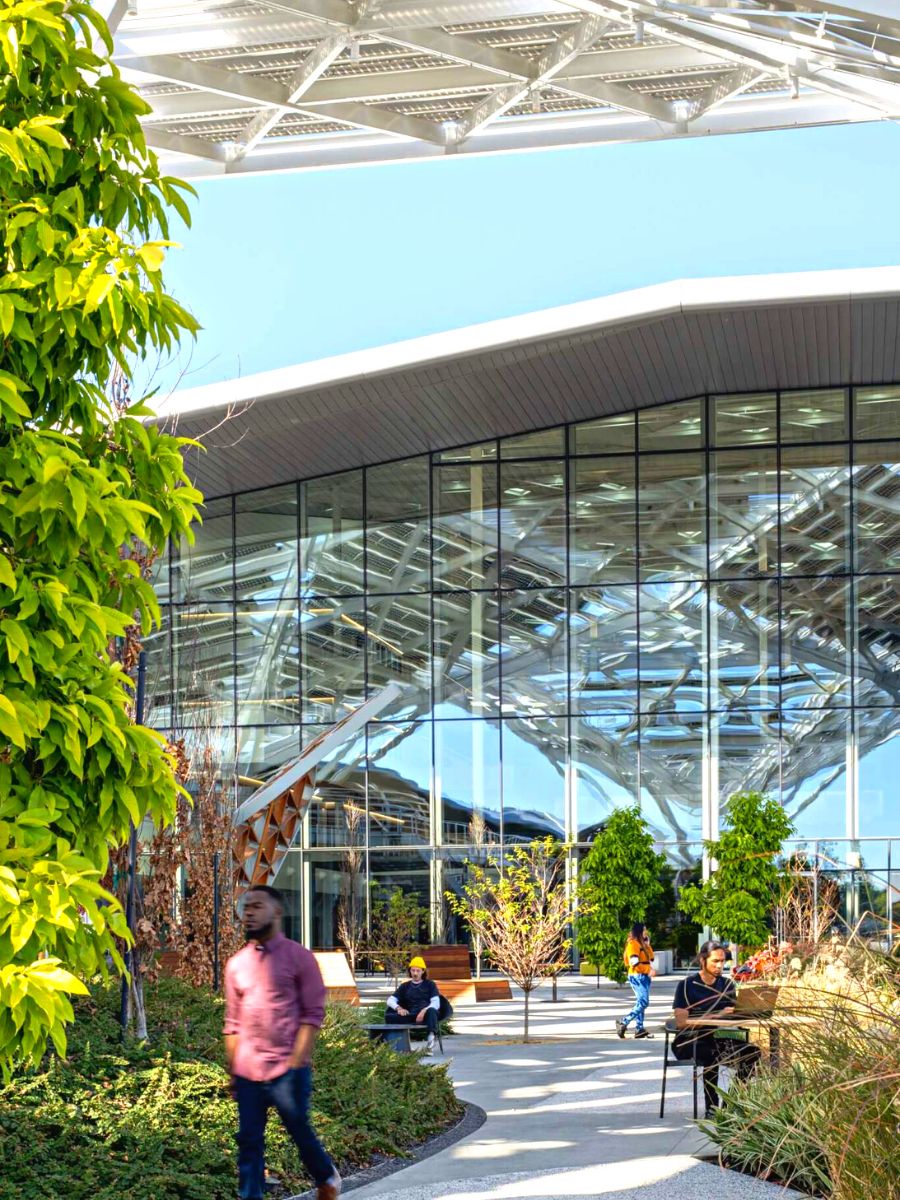 Another source of inspiration was the greater regional environment of the South Bay, which is rich in undulating hills and agricultural functions. A massive, trellis-like shade structure covers the tree house, offering shelter from direct sunshine while bowing to the trellis form's utilitarian agricultural past. The structure, which is lined with PV panels, also generates power for the buildings.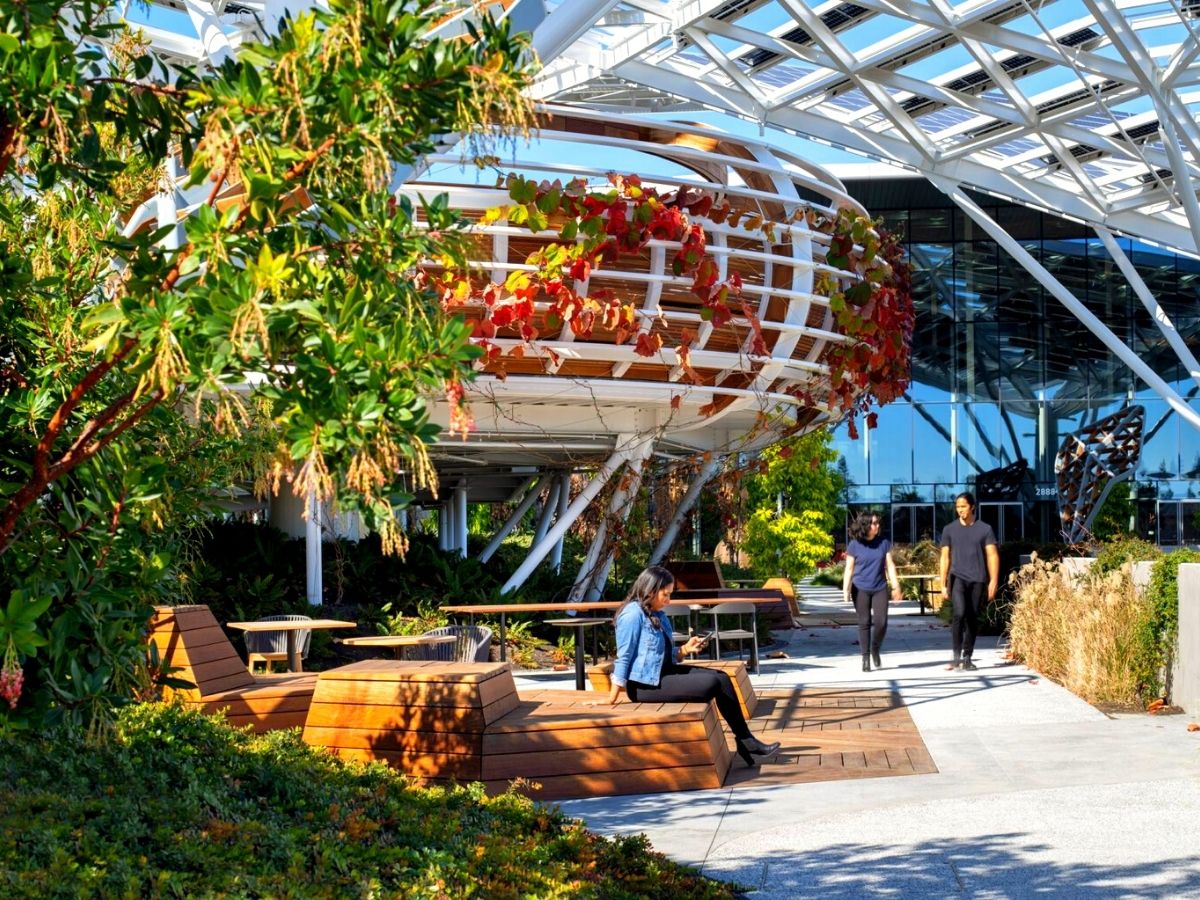 The outdoor area incorporated about 64,000 unique plants and nearly 400 trees into the environment, which spans two levels. Combining native plants like Artemisia, carex, and bearberry manzanita with adaptable non-native plants like strawberry trees and adapted red oak varietals helps the landscape withstand varying levels of sun and shade, as well as potentially high sodium levels in the recycled water used for irrigation.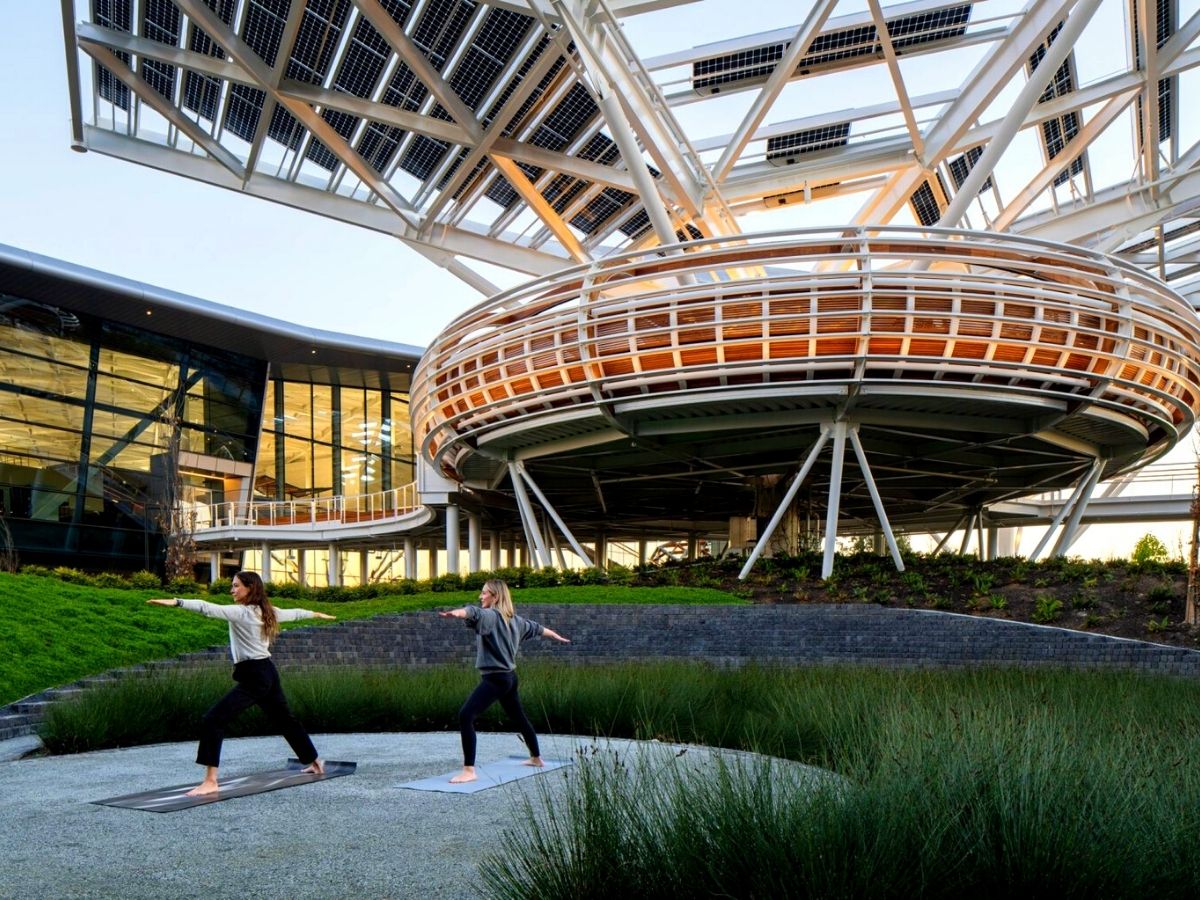 Hood Design Studio's ultimate goal was to push the boundaries and create a landscape that felt tied to regional identity.
Photos by Jason O'Rear.