Finally... Here It Is, and Here We Are!
You might already know or have read about the fact that Agra Wool International from the Netherlands has developed in 2018 a 100% biodegradable floral foam alternative. Up until now, we have communicated this new product under several preliminary names like '100% Natural Floral Foam', 'Floral Base', and 'Floral Blocks'. Due to the fact that we don't want to give distributors, resellers, and users the impression that our new and groundbreaking product has any relation to floral foam - which is very polluting to the environment - we now want to announce and introduce the definite name:

Sideau®
is perfectly suited for florists and flower arrangers who want to use a fully environmentally friendly base for their creations. Sideau® has the same characteristics as floral foam in terms of use. In contrast to floral foam, which is made from oil derivatives and phenol resin - which is plastic - Sideau® is fully biodegradable and made of Earthwool®, a natural product made from basalt, a volcanic igneous rock.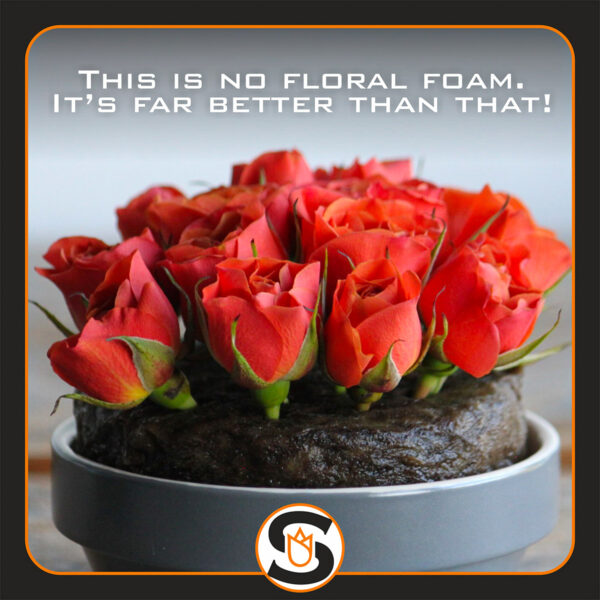 The Name Sideau®
The product name Sideau® is derived from the first name of the owner of Agra Wool, which is Sido. Furthermore, the name consists of two phrases: Si and d'Eau, which explains one of the main characteristics of the product: it absorbs and holds water perfectly. Even better than the traditional floral foam. So, yes, water!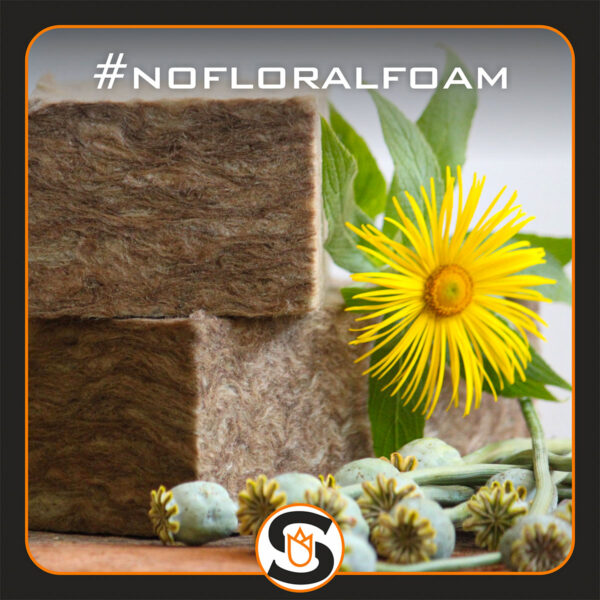 A Natural Product
Sideau® is made of Earthwool®, a natural product made from basalt, a volcanic igneous rock. In addition, Sideau® is made with Ecose®, a natural binder, free from acetylates and formaldehyde. In the composition of the binder, therefore, petrochemical raw materials make way for vegetable raw materials like sugar beet or cane sugar. By heating, the material caramelizes hence the brown color. During the production of Earthwool®, 70 percent less energy is required than in the production of traditional yellow rockwool. Sideau® is noticeably softer but still very dense, does not emit any odor or discoloration in the water. Sideau® is therefore friendly to people and the environment. It does not crumble and is therefore pleasant to process.
Sideau® Is Easy to Use
Sideau® Product Characteristics
• Sideau® is completely natural (made of basalt and an organic binder of Sucrose). No petrochemicals or microplastics are used in the production process • Sideau® absorbs water incredibly fast (a few seconds) without the formation of air bubbles in the product • Sideau® is usable for all kinds of flower arrangements, dried flowers, silk flowers, and fresh flowers. One product for all your flower arrangements • Sideau® is reusable because of its spongy structure. It can be used for a second time by, for instance, wrapping chicken wire around it • Sideau® continues to absorb water time after time. This allows you to add water if the flower arrangement threatens to dry out • With Sideau® you no longer have any waste of product. If you have pieces left over after cutting the Sideau® blocks into shapes, you can easily tear these pieces into smaller parts and keep them. Put them in a pot, vase, or wooden crate, like our "Moestuin Kistjes", and use Sideau® as a substitute for potting soil. Anything with a root will grow on it • Sideau® has a neutral Ph-value of Ph 7.3 and a small nutrient supply of Ec 0.8 • Sideau® is easy to cut with for example a bread knife, without crumbling • Sideau® can be disposed of in small pieces in the green container (according to the legislation of your country). You can also deposit it on your compost heap. What remains when degraded is basalt flour (sand) which is completely natural and harmless to nature. Basalt is full of nutritious minerals and is also used in agriculture and horticulture to upgrade heavy clay soil • Sideau® is a registered product of Agra Wool International, Netherlands [video width="1920" height="1080" mp4="https://www.thursd.com/wp-content/uploads/2021/06/totf2021se-07-agra-wool-video-sideau.mp4"][/video]
Sustainable Florist
Agra-Wool is affiliated with the
Barometer Duurzame Bloemist (Sustainable Florist)
initiative. • We have since April 2021 the approval of SMK to be added to the list of products that may be used for florists with the label "Barometer Duurzame Bloemist" (Sustainable Florist). • SMK is the research institute that determines which products meet the requirements of the "Barometer Duurzame Bloemist" (Sustainable Florist).

Sideau® is going to change the world of environmentally conscious florists and flower arrangers and for sure is the 100% biodegradable floral foam alternative. Our worldwide clientele consists of flower designers with an ECO and environmentally friendly attitude.
Together we can make this world green again!
Contact and Follow Us
If you want more information about Sideau®, the availability of the product in different shapes and sizes, the product characteristics, and pricing, please don't hesitate to contact us. Agra-Wool International Spoorlaan Noord 175 6042 AB Roermond, Netherlands Phone: +31 (0)475 47 20 17