In Switzerland, summer has always been considered the best time for hiking in the mountains. You can go away for a whole day or even a few days, stay in a small hotel in a mountain village and from there do some short hikes in the surrounding area. The strongest and most experienced hikers can spend their entire vacation in the mountains by going on the 20-day Via Alpina 1 hiking route.
The Via Alpina hiking route through the northern Swiss Alps crosses 14 beautiful mountain passes and 7 Swiss cantons with different cultures, geology, and topography.
Its total length is more than 390 kilometers. The route is relatively flat in the St. Gallen area, but as you approach Glarnerland, the road starts to climb. The route's most beautiful and difficult section passes through the Bernese Alps. In some places, it is only accessible to experienced travelers.
The Via Alpina runs between Vaduz and Montreux and has 20 stages, each with one day's travel time. You can complete them one after the other or limit yourself to just one part of the route.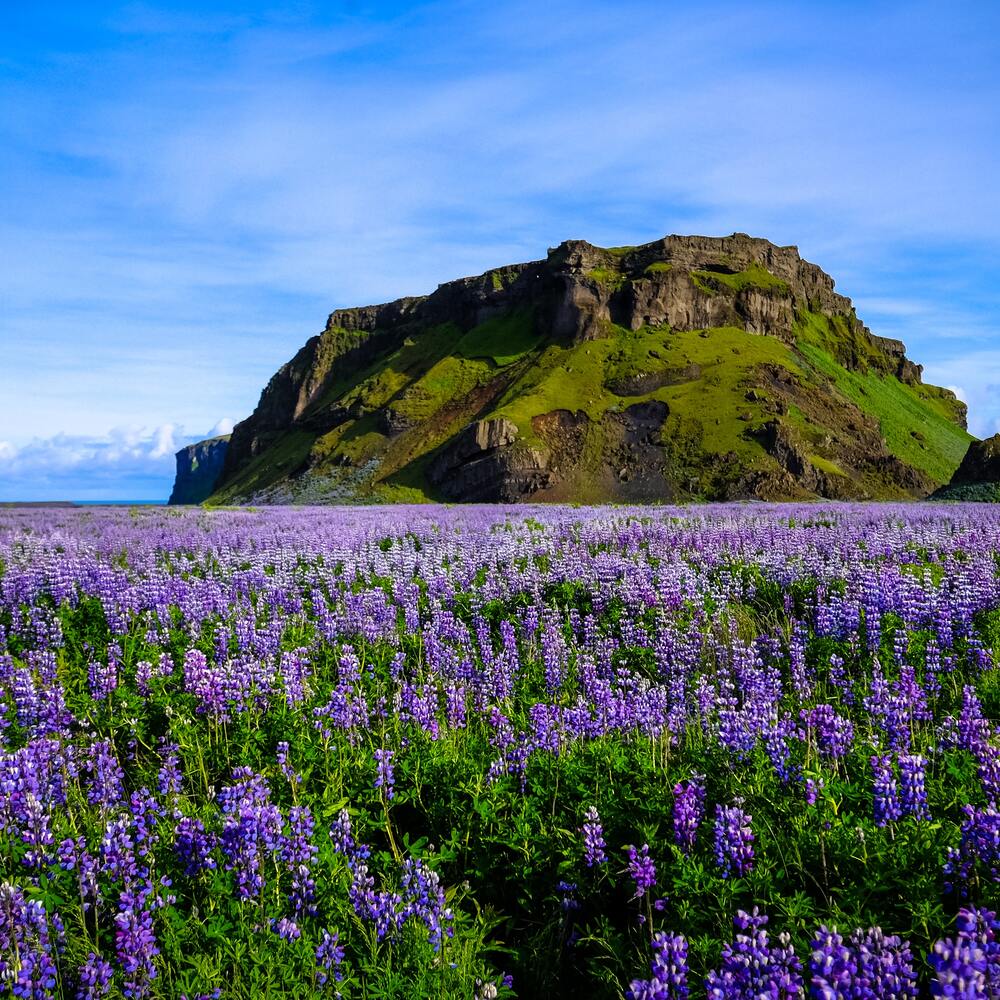 Why Via Alpina 1 is the best summer wildflower hike?
Via Alpina 1 hiking offers an incredible opportunity to experience various natural beauty, including wildflowers, during the summer months. Here are some reasons why the Via Alpina 1 can be a fantastic choice for a summer wildflower hike:
Diverse alpine flora. The trail crosses through several countries, including Slovenia, Austria, Germany, Liechtenstein, Switzerland, and Italy. This geographical diversity means you'll encounter a wide range of alpine ecosystems with unique wildflower species. These areas provide a stunning display of wildflowers in summer, with a vibrant mix of colors and species.


Alpine meadows. Along the route, you'll hike through lush alpine meadows and high-altitude pastures. These areas are known for their rich floral diversity, with many wildflower species blooming during summer. Meadows are often carpeted with colorful flowers like gentians, edelweiss, and alpine asters.


Breathtaking scenery. The Via Alpina 1 offers breathtaking views of the Alpine landscape, including towering peaks, pristine lakes, and deep valleys. The contrast between the rugged terrain and the delicate wildflowers creates a stunning backdrop for your hike.


Seasonal timing. Summer is the prime season for wildflower viewing in the Alps. Most wildflowers bloom from late spring to early autumn, with the peak season typically occurring in July and August. Hiking the Via Alpina 1 during this time ensures you'll encounter the most vibrant and diverse wildflower displays.


Unique species. The Alpine region is home to several unique and rare wildflower species that can only be found at high altitudes. For example, the iconic Edelweiss symbolizes alpine flora and can be spotted along the trail.


Natural beauty and tranquility. The Via Alpina 1 offers a chance to immerse yourself in the natural beauty of the Alps. Hiking through alpine meadows filled with wildflowers can be a serene and meditative experience, allowing you to connect with nature and find tranquility.


Cultural Experience. Along with the natural beauty, the trail also provides opportunities to explore charming alpine villages, experience local cultures, and sample regional cuisine, making it a well-rounded adventure.
While the Via Alpina 1 is not solely focused on wildflowers, it certainly offers an incredible opportunity to witness and appreciate the diverse and beautiful alpine flora during the summer months. To fully enjoy this hike, plan ahead, be prepared for varying weather conditions, and adhere to local regulations and trail etiquette.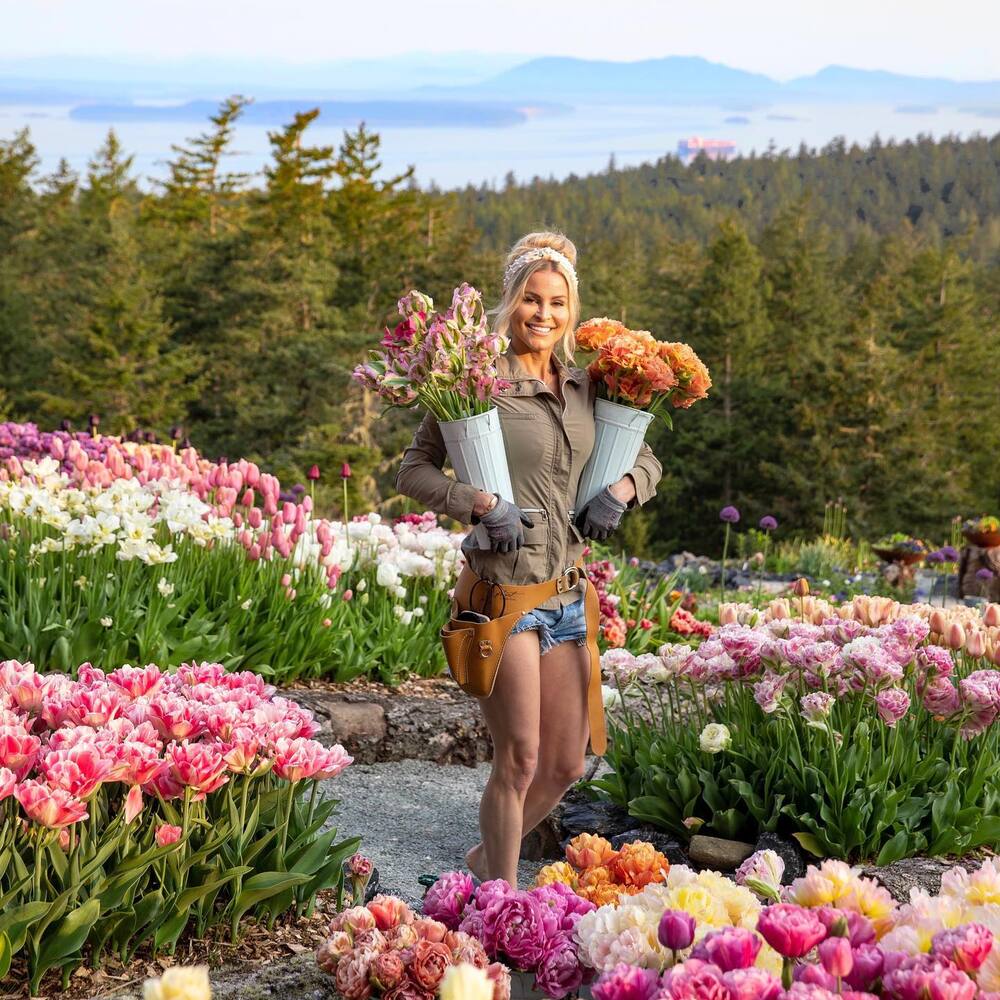 What flowers can be met during Via Alpina 1 in summer?
The Via Alpina 1, which traverses the European Alps, offers a diverse range of wildflowers during the summer months. The alpine regions are known for their rich and colorful flora, with various species adapted to the harsh mountain environment. While the specific flowers you encounter can vary based on the altitude, location, and exact timing of your hike, here are some common wildflowers you might encounter along the Via Alpina 1 during the summer.
Edelweiss (Leontopodium alpinum)
Edelweiss description. Edelweiss is perhaps the most iconic of all alpine flowers. Its small, woolly white flowers are arranged in a star-shaped cluster with fuzzy green leaves. The name "edelweiss" means "noble white" in German.
Edelweiss habitat. Edelweiss thrives in rocky, limestone-rich soils and is typically found at high altitudes, often clinging to steep, rocky cliffs and crevices.
Edelweiss symbolism. It symbolizes purity and rugged beauty and is often associated with the Alps and mountain climbing.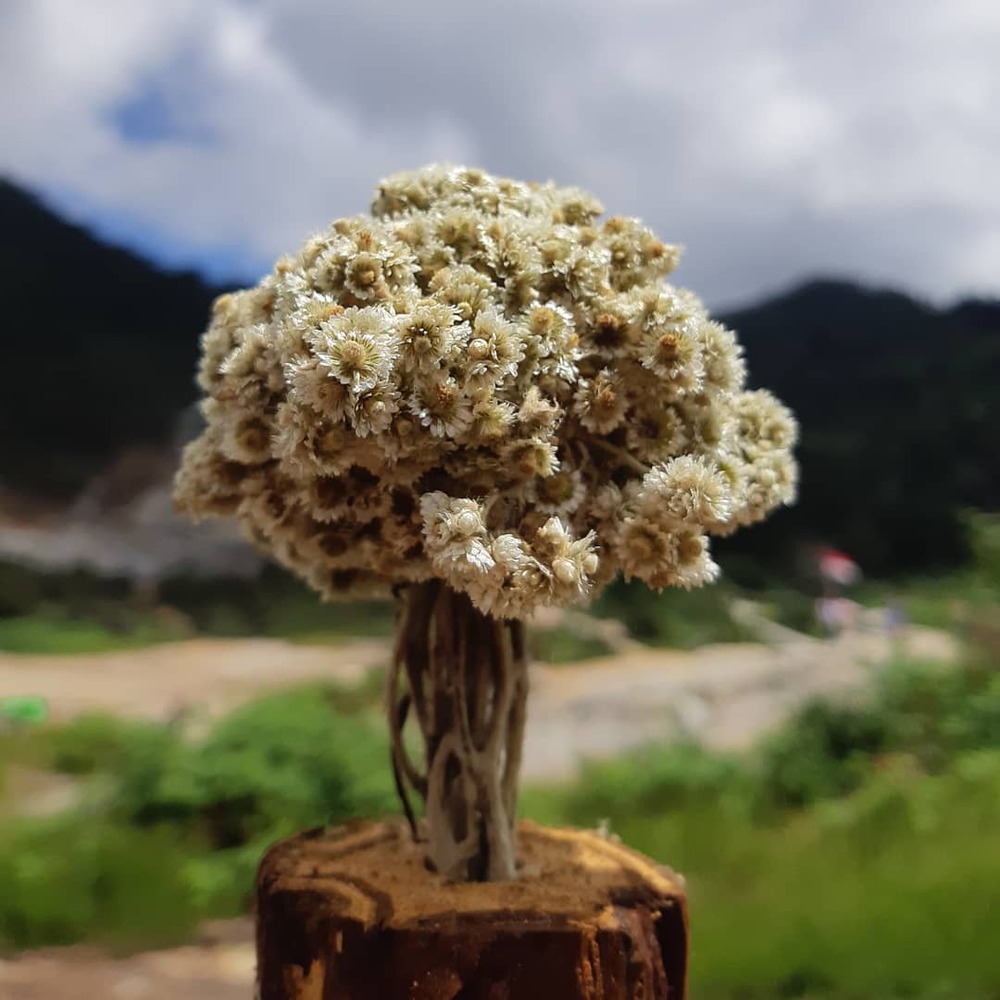 Alpine Aster (Aster alpinus)
Alpine asters description. Alpine asters have daisy-like flowers with purple or blue petals and a yellow center. They often grow in clusters and can be quite showy.
Alpine asters habitat. You'll find these asters in alpine meadows, rocky terrain, and open slopes. They can tolerate various soil types.
Alpine asters attractiveness. Their striking colors make them a highlight of alpine landscapes in the summer.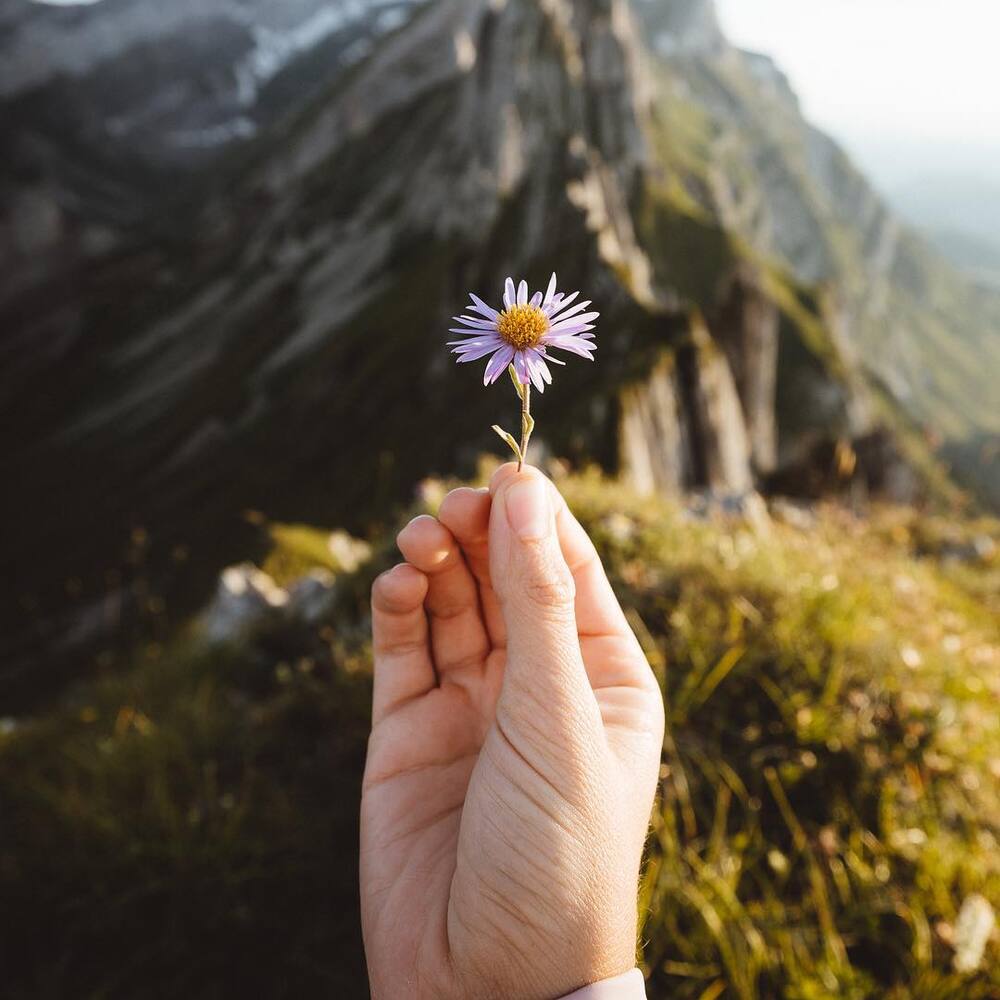 Gentians (Gentiana spp.)
Gentians description. Gentians come in various species and colors, but they are best known for their vibrant blue or purple trumpet-shaped flowers with green leaves. They have a distinctive, bitter taste.
Gentians habitat. Gentians can be found in various habitats, including meadows, rocky slopes, and alpine grasslands.
Gentians symbolism. In some cultures, gentians are associated with healing and are used in traditional herbal medicine.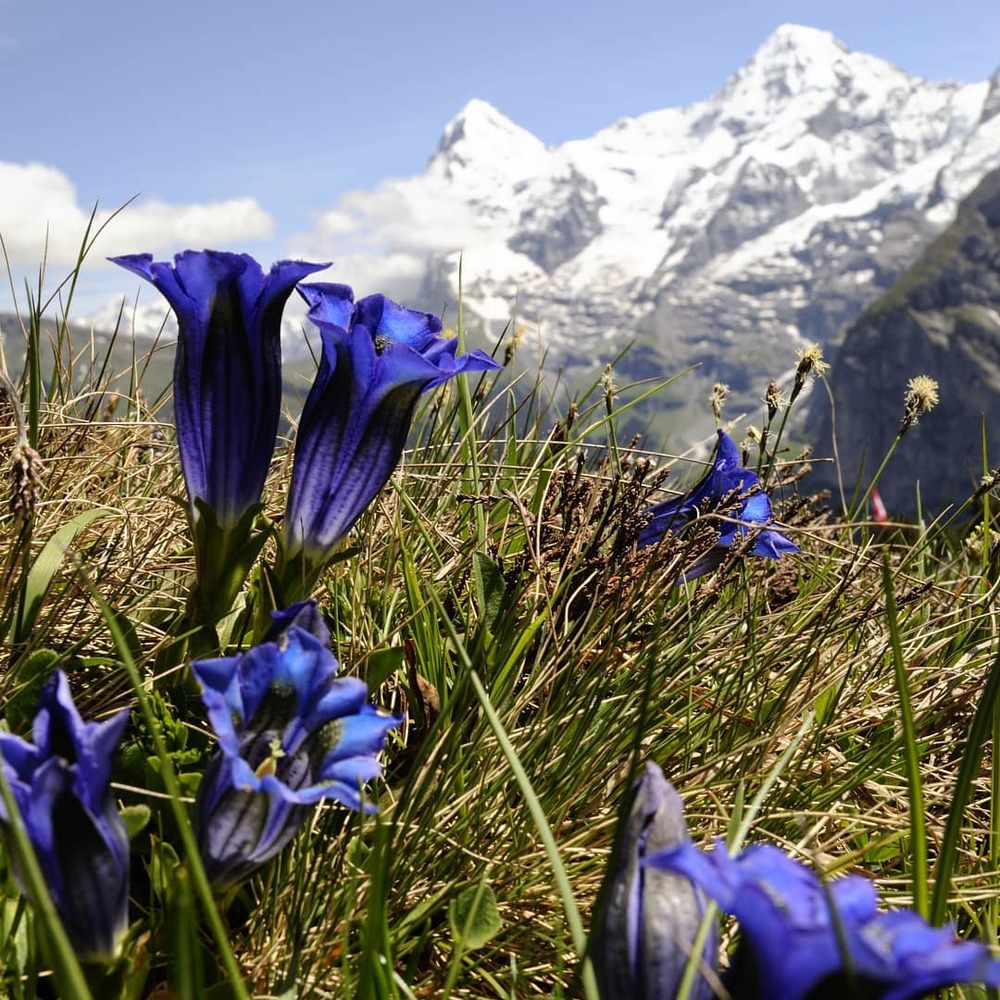 Alpine Arnica (Arnica montana)
Alpine arnica description. Alpine arnica features bright yellow flowers with a daisy-like appearance. Its leaves are lance-shaped and slightly hairy.
Alpine arnica habitat. It prefers meadows and open woodlands, often in nutrient-poor soils.
Alpine arnica medicinal uses. Alpine arnica has been used in traditional herbal medicine for its anti-inflammatory properties.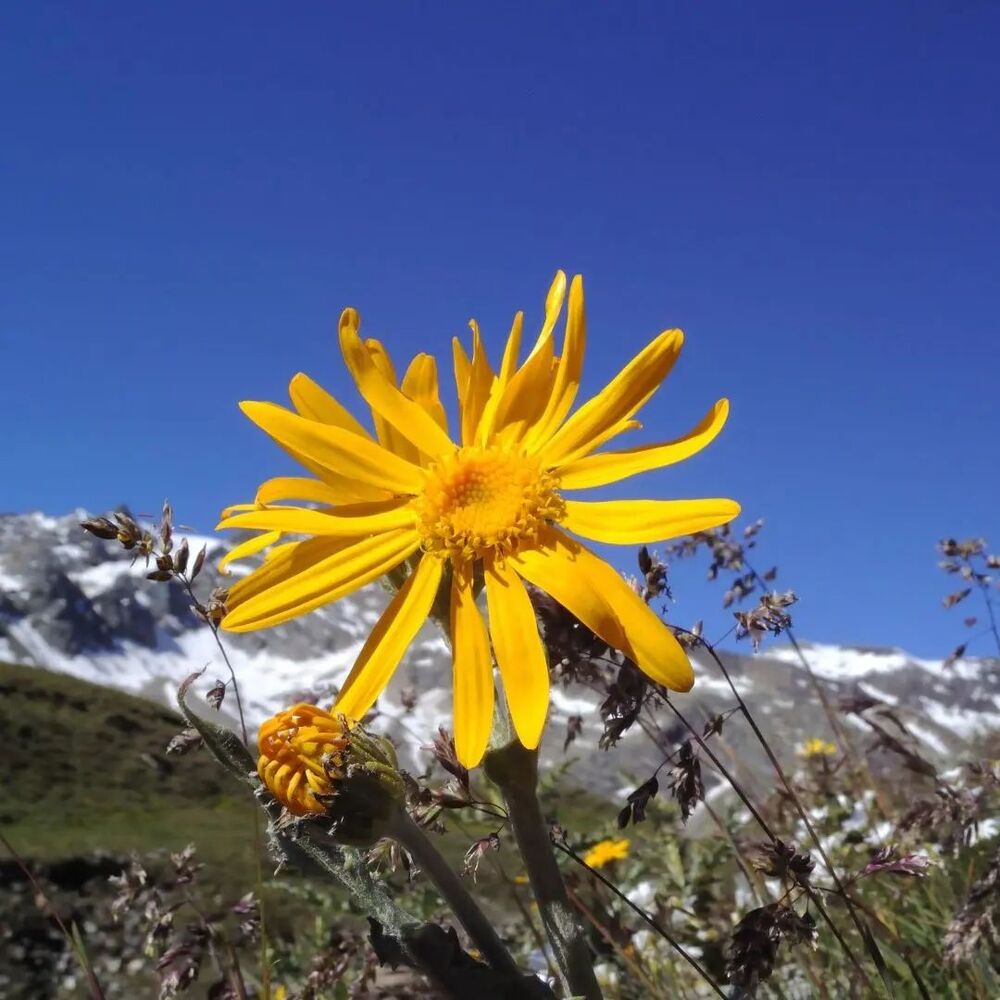 Alpine Bellflower (Campanula alpina)
Alpine bellflowers description. These charming bell-shaped flowers come in various shades of blue or purple. They have delicate, slender stems and leaves.
Alpine bellflowers habitat. Alpine bellflowers are typically found in alpine meadows, grassy slopes, and rocky terrain.
Alpine bellflower varieties. There are several species of bellflowers in the Alps, each with its unique characteristics.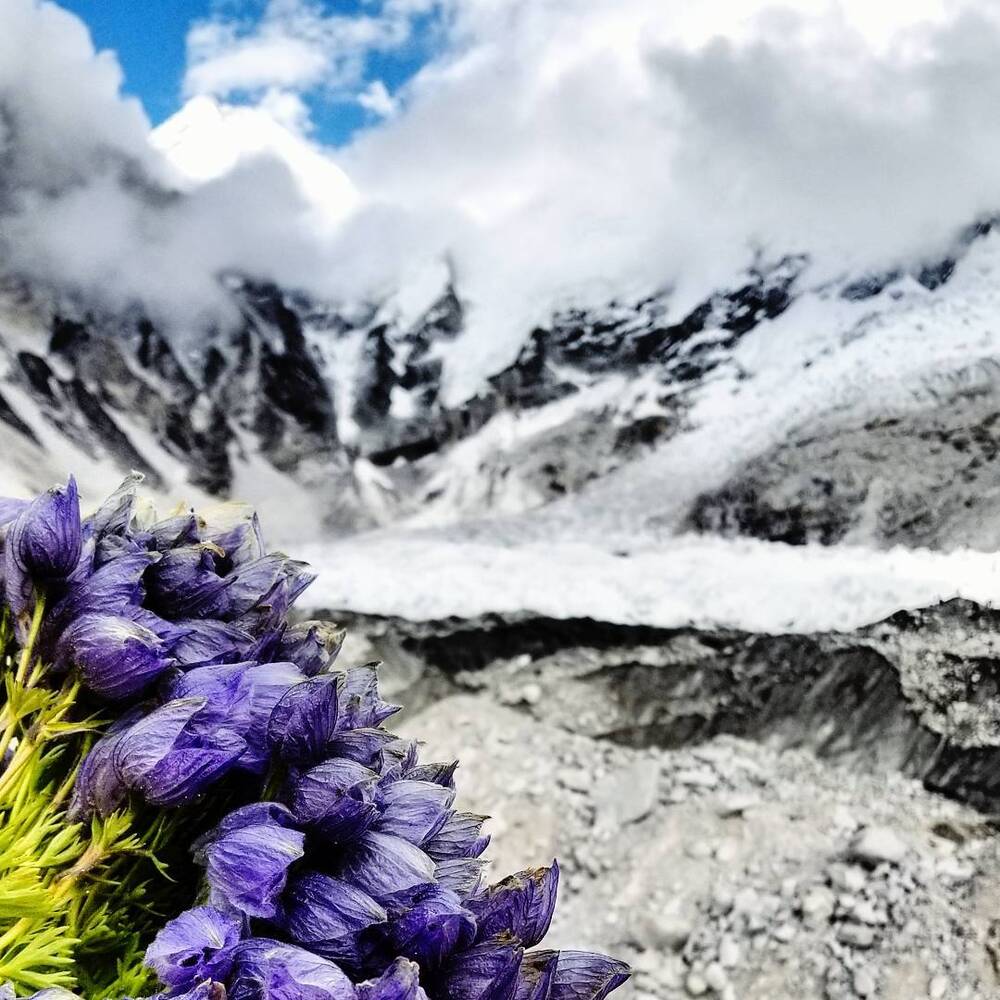 Mountain Avens (Dryas spp.)
Mountain avens description. Mountain avens are low-growing plants with white or yellow flowers that resemble wild roses. They have distinctive fern-like leaves.
Mountain avens habitat. They thrive in rocky and alpine environments, often on scree slopes and rocky ledges.
Mountain avens hardy adaptation. Mountain avens are well adapted to harsh alpine conditions and are among the first flowers to bloom in the spring.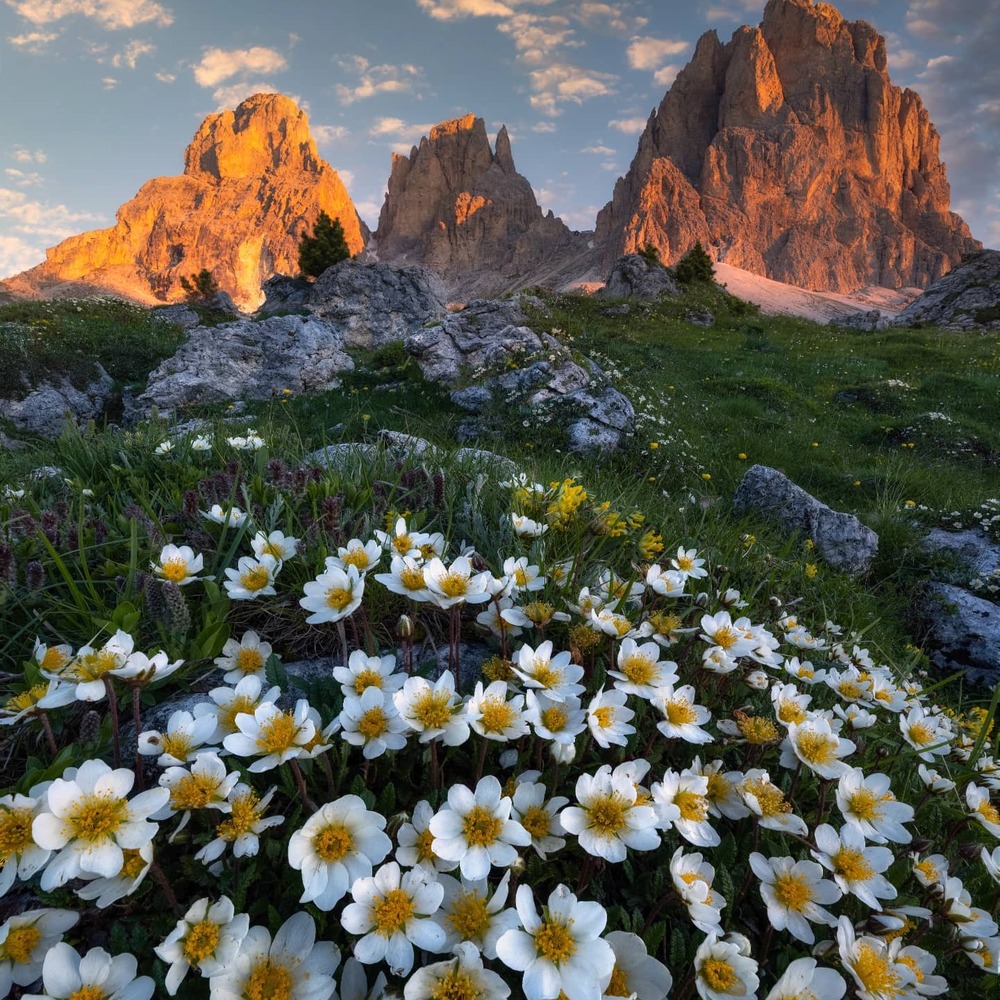 Alpine Forget-Me-Not (Myosotis alpestris)
Alpine forget-me-nots description. These small, sky-blue flowers have a distinctive five-petal shape. They often grow in clusters.
Alpine forget-me-nots habitat. Alpine forget-me-nots thrive in alpine meadows, rocky slopes, and damp areas near streams.
Alpine forget-me-nots symbolism. The name "forget-me-not" suggests a sentiment of remembrance and love.
Remember that the timing of flowering can vary depending on the altitude and local climate, so you may encounter different flowers at different stages of your hike. The summer months, particularly July and August, are generally the best time to see a wide variety of alpine wildflowers in full bloom along the Via Alpina 1.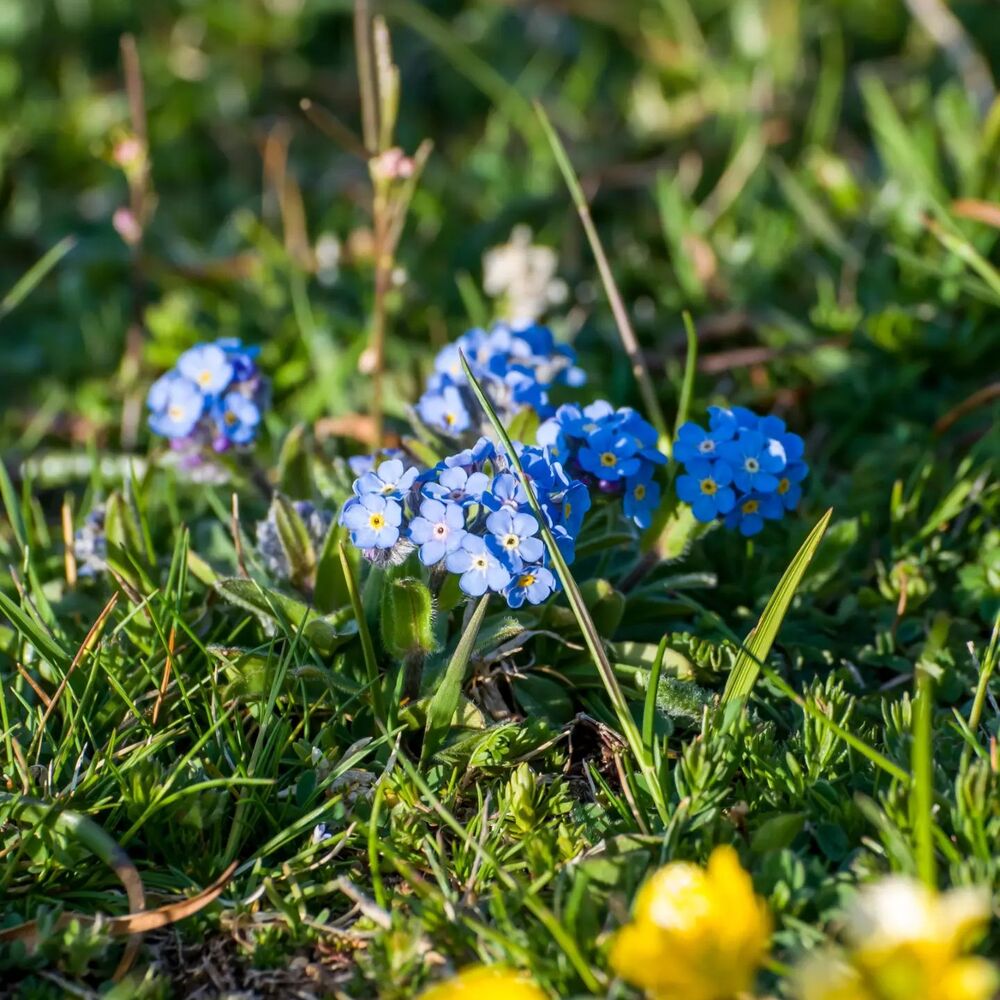 Conclusion
Whether you're an avid botanist, a nature enthusiast, or simply seeking an unforgettable summer adventure, the Via Alpina 1 beckons with its diversity of wildflowers and the promise of a journey filled with awe-inspiring sights, rich experiences, and a deep connection to the Alpine world. It's a hike that will leave you with cherished memories and a profound appreciation for the wonders of the natural world.