'By Nella Frameworks' is the name of Nele Bynens' artwork. She paints abstract flowers - both with acrylic and oil - and makes paintings of birds. In her own crazy way, painting like wing beats.
For Nele, color and cheerfulness are central. With a painting she says quite a lot, she questions herself a lot, and there is a constant dialogue with herself. In Nele's head, it's clear she wants to grow and move to the next step. She paints with passion and zest for life, she makes her colors by mixing hours and hours until it is what she wants them to be…
Flower Art on a Canvas
Nele Bynens tries to bring positivity to all her canvases. She finds her inspiration not only in everyday life, but also while traveling, and in all kinds of events that affect her emotionally. Her intention is to make beautiful work, customized work is her favorite.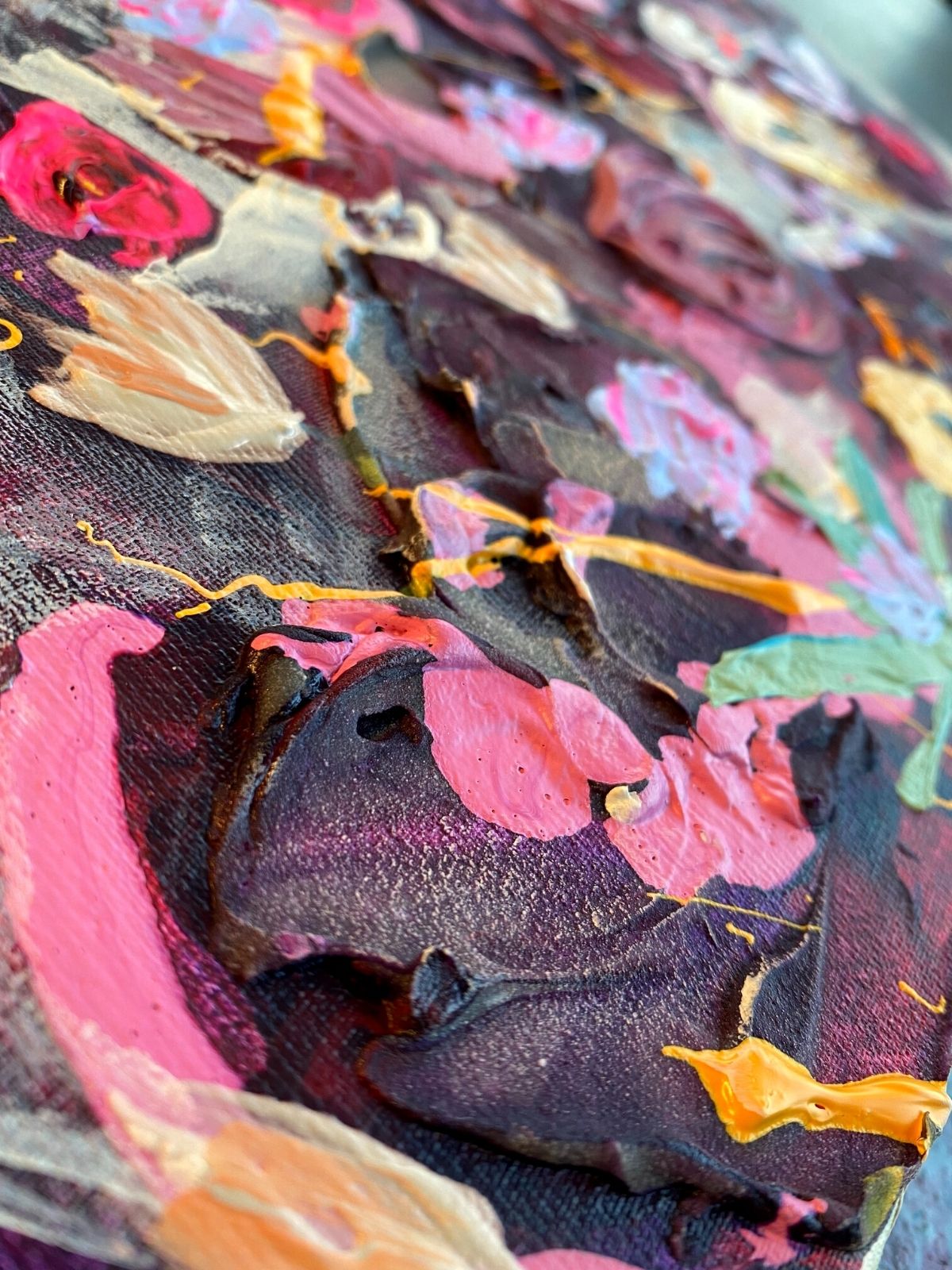 Nele:
"I also just want to make beautiful work. Beautiful in interior, nicely fitting in a frame that I have seen before. Customization is part of the whole. I look at people's homes, examine their space, study the incidence of light, listen to those who tell me their stories… In short, it must be a bull's eye; 100% fit.


'Bury your head in the sand'? No. But through this expression, I do get to my ostriches. I have a huge attraction to these animals. Their look, their mimicry. Funny and sometimes terrifying at the same time. So sweet, yet you don't mock it. I always give them a name, not just like that. The names then belong exactly to the painting as I had it in mind."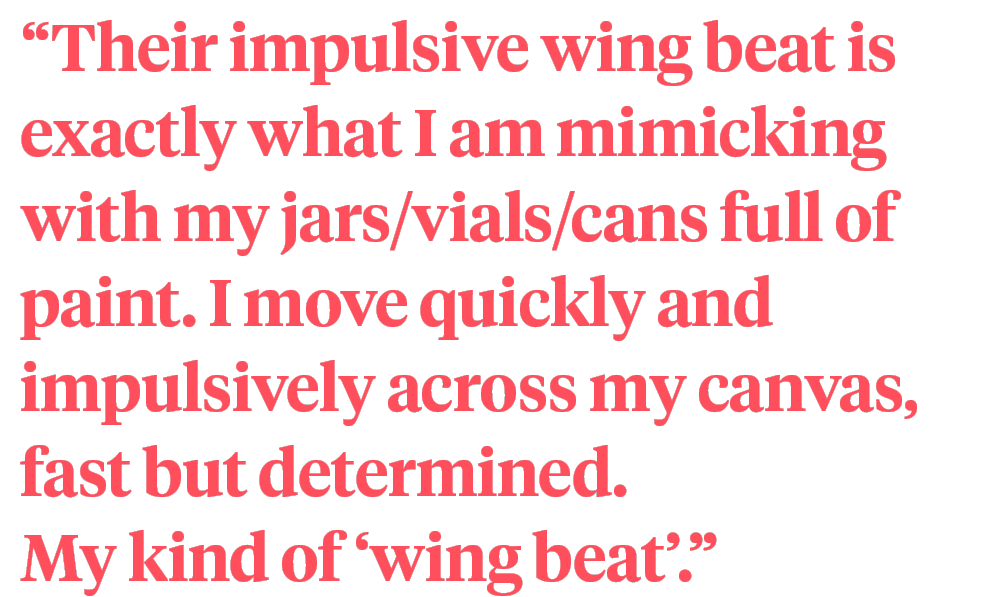 Birds
60% of Nele's paintings are birds. The fleeting can take flight, the strength of each bird is different, their exceptional gift, their feathers, and colors.
Nele:
"Their impulsive wing beat is exactly what I am mimicking with my jars/vials/cans full of paint. I move quickly and impulsively across my canvas, fast but determined. My kind of 'wing beat'."
We asked Nele if she has some favorites herself and of course, every artist has. Here are her top 3.

Flowers
The other 40% are abstract works and flowers.
Flowers because Nele can't live without them. In her own living space and studio, she is very much attached to having flowers.
Nele:
"I enjoy the color and the shapes that nature gives us. How brittle and fragile the flowers are, how special the multitude of colors; that palette is amazing. I often rely on the flowers I have at home when I make my colors. My favorite bouquet is a wild picking bouquet that has a diverse mix of shape, style, and color."

Favorites
Nele really loves a lot of flowers. In her canvases, she uses lots of colors, all mixed by herself. That's how she creates works of art with a soul. On her website, you quickly get an idea of ​​what Nele makes, www.nelebynens.com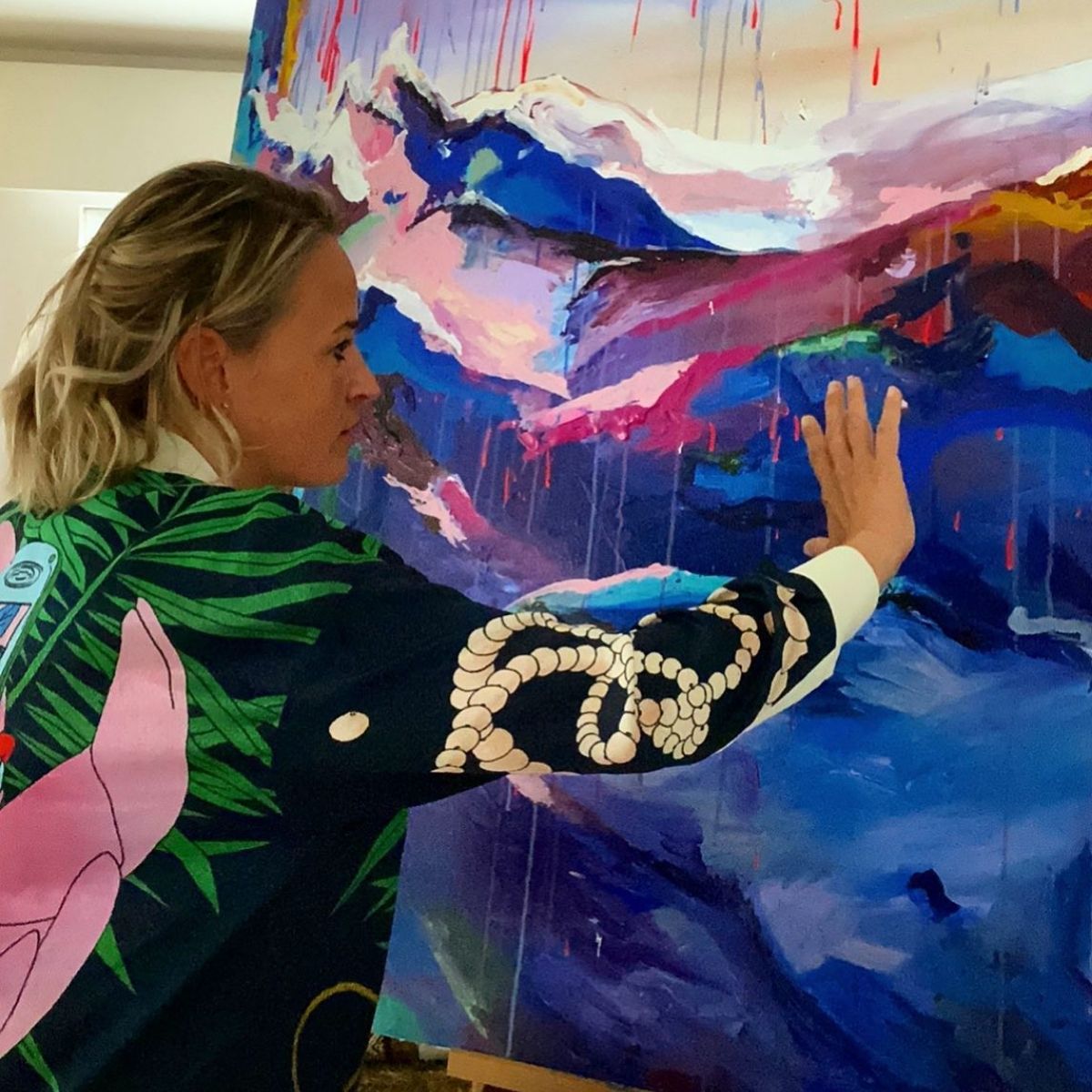 Nele:
"My favorite flowers? Freesia, peony, cornflower, iris, thistles, protea, agapanthus, grasses,...

My canvases are preferably colorful, enthusiastic, playful compositions that bring positivity. Which often makes the viewer laugh. Sometimes it is only the eye contact between the painting and the onlooker that allows the message to sink in quietly. A look is worth a thousand words, even with a painting. I want that.

I work very dynamically, standing up, walking around my canvas. In this way, they become fresh realizations that tell you a lot. I want to make people laugh and look, and look and look… They are works of art with a soul, unique, and with a fresh look at life."