Clematis and Chasmanthium flowers took over Dmitry Turcan's spectacular piece which was exhibited in the Chelsea Flower Show 2023. Dmitry initially made four sketches for this event, of which 'Memory Lane' was selected by the organization for him to create. The outcome was nothing else but incredibly fantastic. Dmitry chose Clematis as the main flower, and here are the results.
Clematis and Chasmathium Were Dmitry Turcan's Main Characters
Every year, garden and flower lovers worldwide come to London for the RHS Chelsea Flower Show. 150,000 visitors take in the inspiring exhibit gardens, floral designs, and garden plants over the course of five days. Members of the British royal family regularly attend, and BBC Television gives the event a lot of coverage.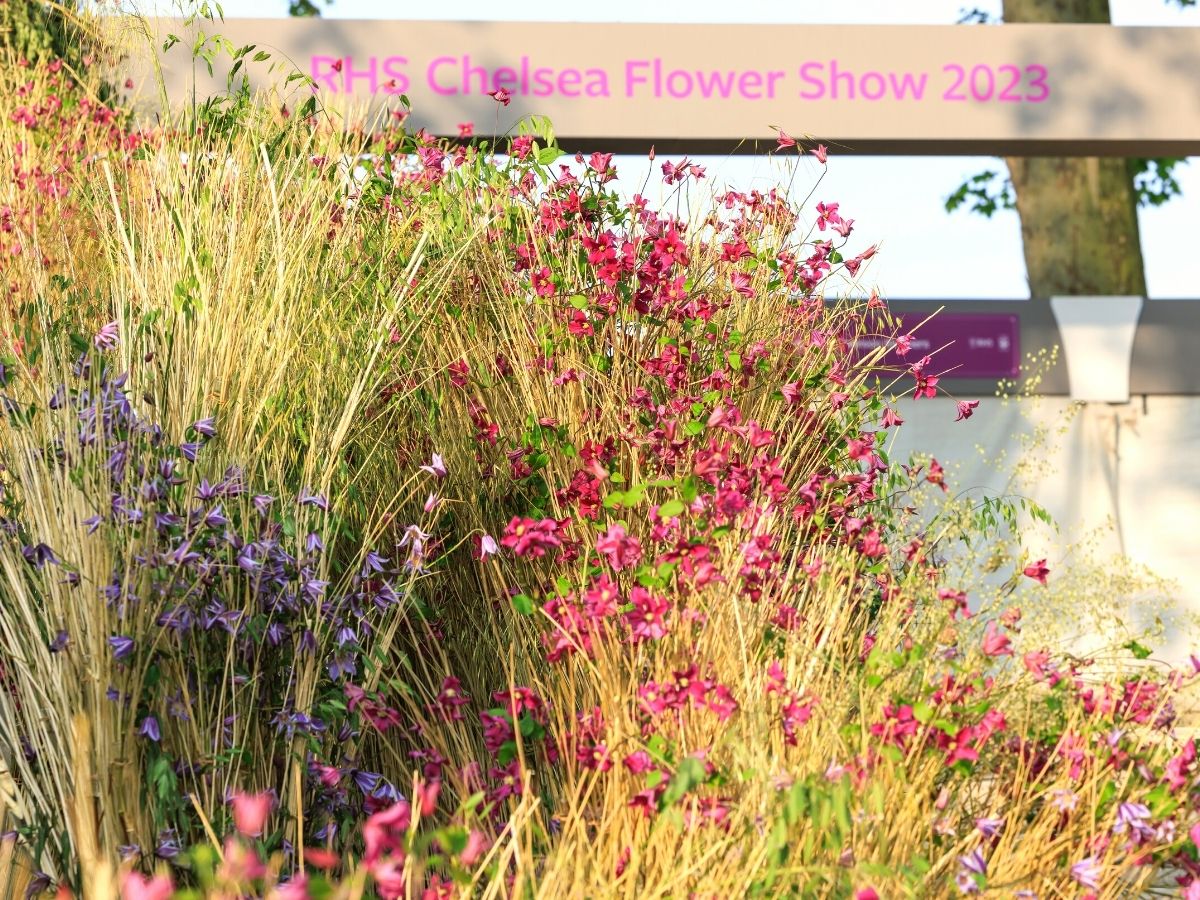 The 2023 edition undoubtedly featured various floral designs that left visitors star-struck, and one of them is Dmitry Turcan's design titled 'Memory Lane', which is filled with hundreds of Clematis and Chasmanthium stems.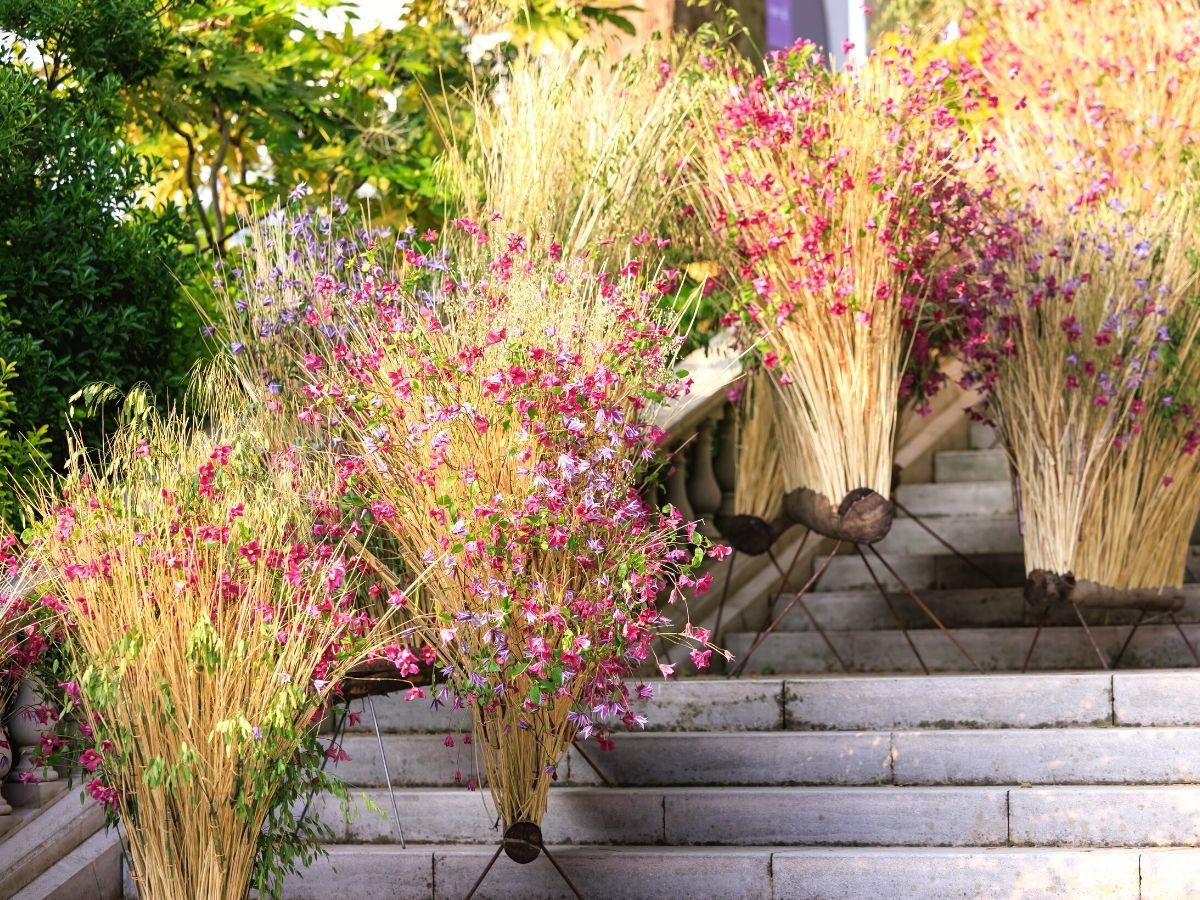 Clematis Beautifully Floats Like a Butterfly in Dmitry Turcan's Design
What is it that led the popular designer to work with Clematis in the first place? You're just in time to find out! Dmitry shares:
"I have been working with Clematis for over ten years, and I am in love with it. The flower perfectly suits my style: flowing and airy. I have dreamt for a long time of creating an installation with enormous quantities of Clematis. Clematis fluttered like a butterfly over the design, moving in the wind. It is the perfect flower for this beautiful location."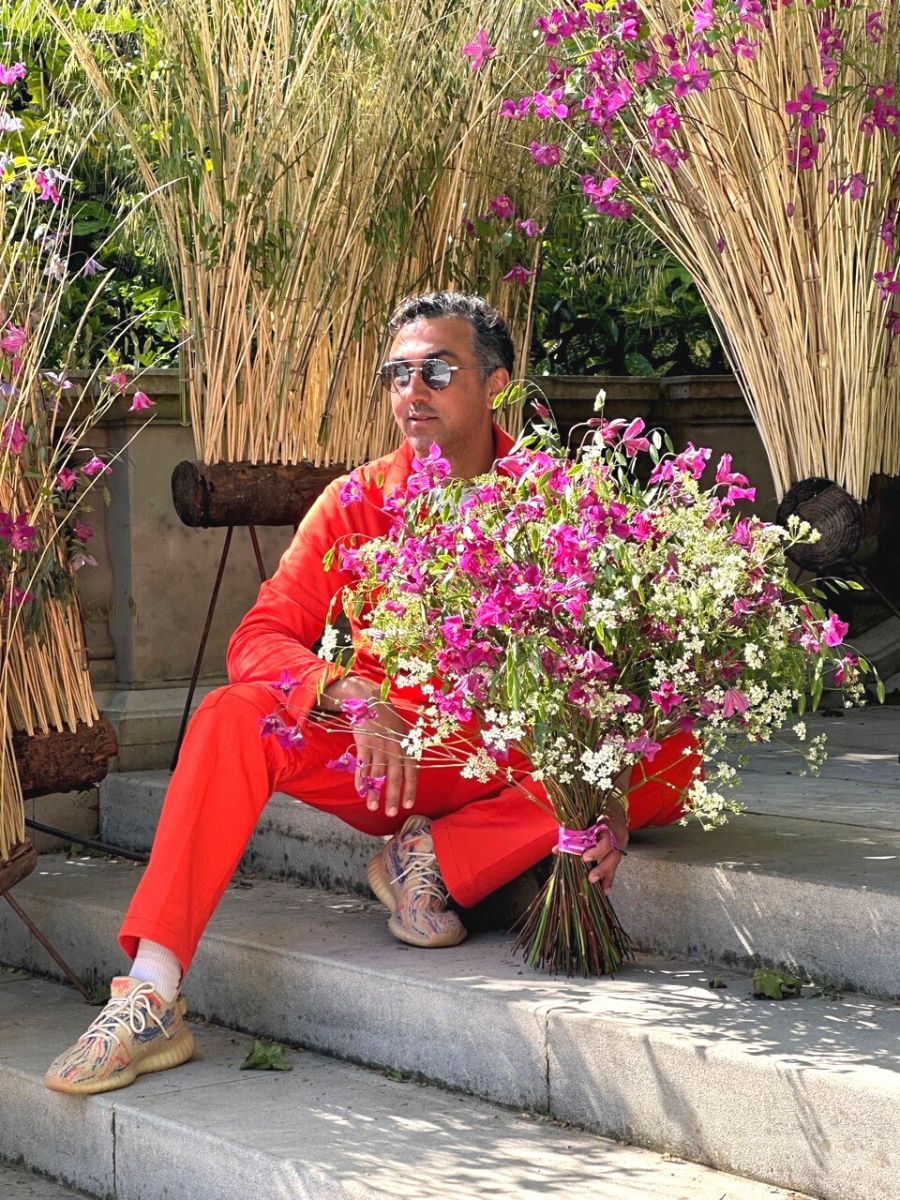 In addition to Clematis, Dmitry incorporated Chasmanthium Mantis. This grass is adorned with many flags that sway with the wind. He described Chasmathium Mantis as making a whispering sound in the wind like the installation directly talks to you amongst its power and beauty to the human eye and heart.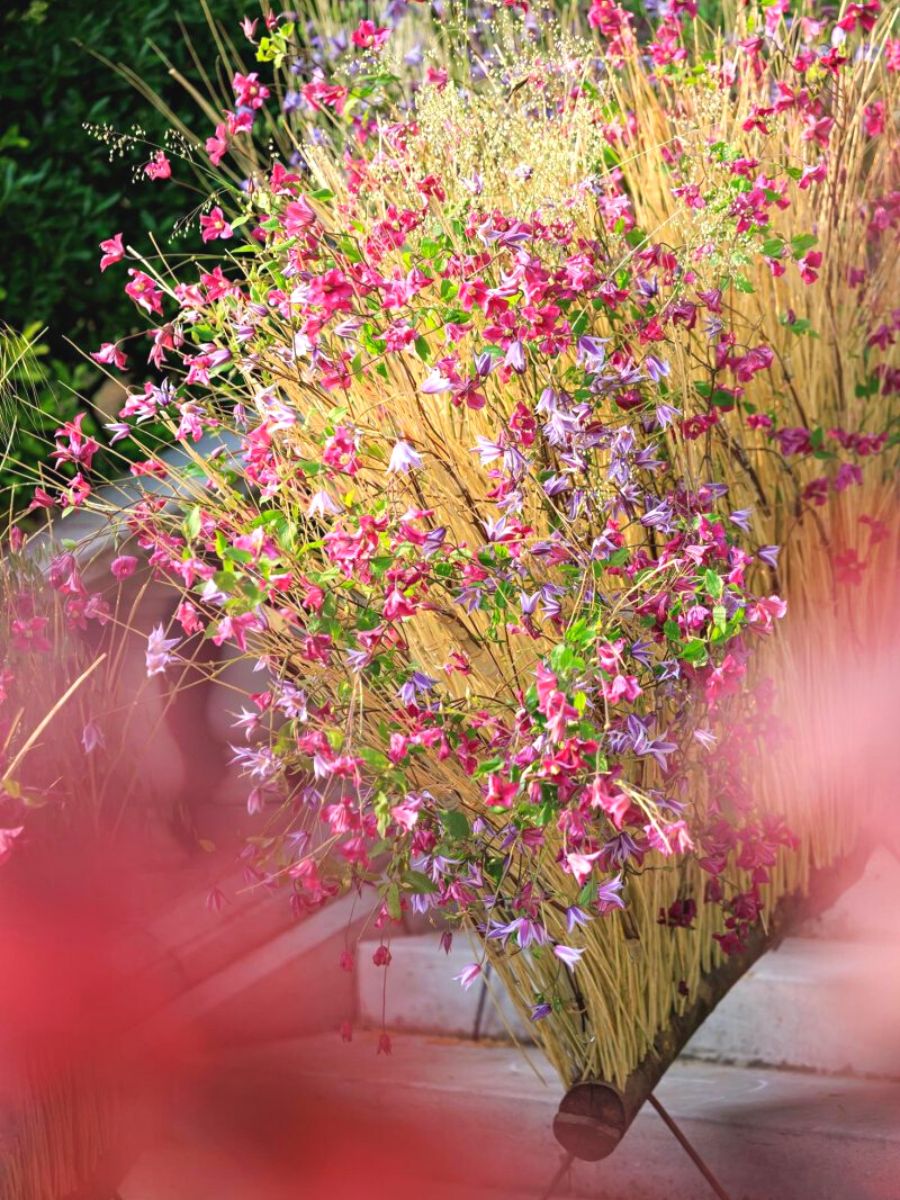 Go Deeper into the Spectacular Design and How Viewers Adored It
Specifically for this design, Marginpar asked their farms to provide longer stems of Clematis and Chasmanthium. With lengths ranging from 80 cm to 100 cm, they wanted to make sure Dmitry could create an out-of-this-world arrangement while giving it an extra wow factor. The design has already garnered high praise, as many visitors mainly know Clematis as a garden plant. Viewers were also surprised to discover that it is also available as a cut flower.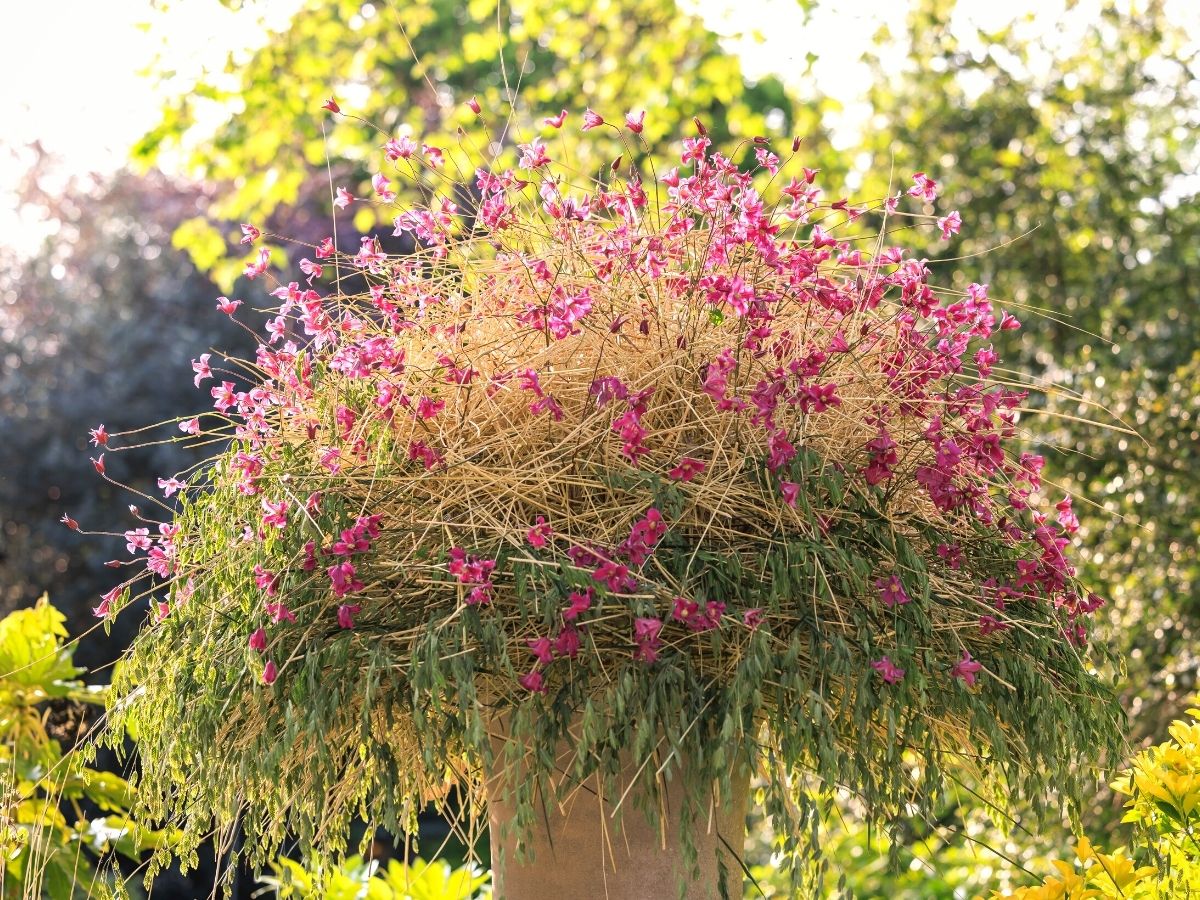 Dmitry Turcan loves to expand his insights and this time he shared:
"Clematis is a strong flower that lasts a long time, as long as you know how to use it: where to cut, what to do with the leaves."
For the preparation of Dmitry's arrangements, a leading team was very important. Composed of six people, he and his dream team spent days preparing. The base consisted of narrow tree trunks with welded iron legs. Tens of thousands of holes were in fact drilled into the tree trunks, where cleaned willow branches were inserted to support the long Clematis stems.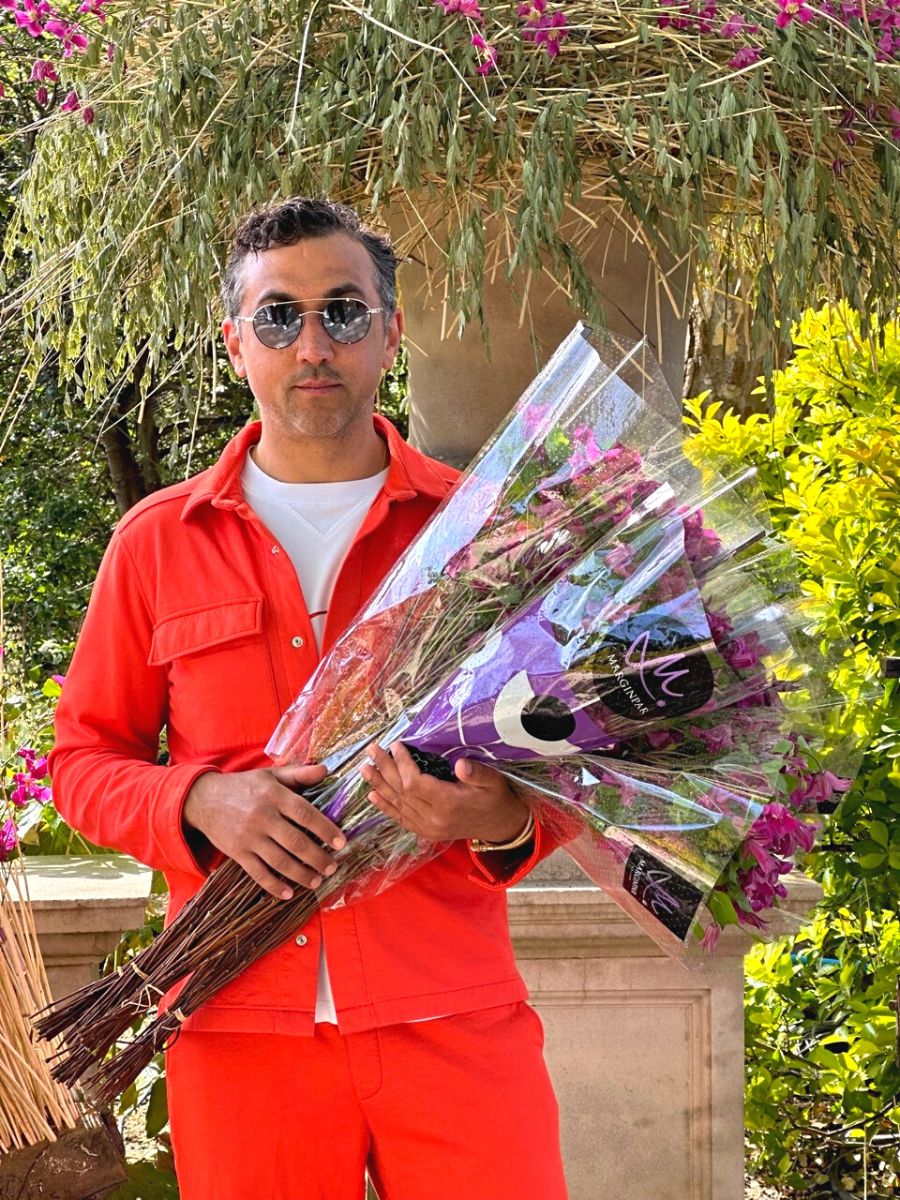 A Design That Pays Tribute to Queen Elizabeth
Dmitry has had his team remove the leaves from the Clematis stems, extending their lifespan. For this design, he chose the purple Clematis Amazing® Star River and the pink Clematis Amazing® Kyiv by Marginpar. The design is a tribute to Queen Elizabeth, to whom Dmitry dedicates this piece.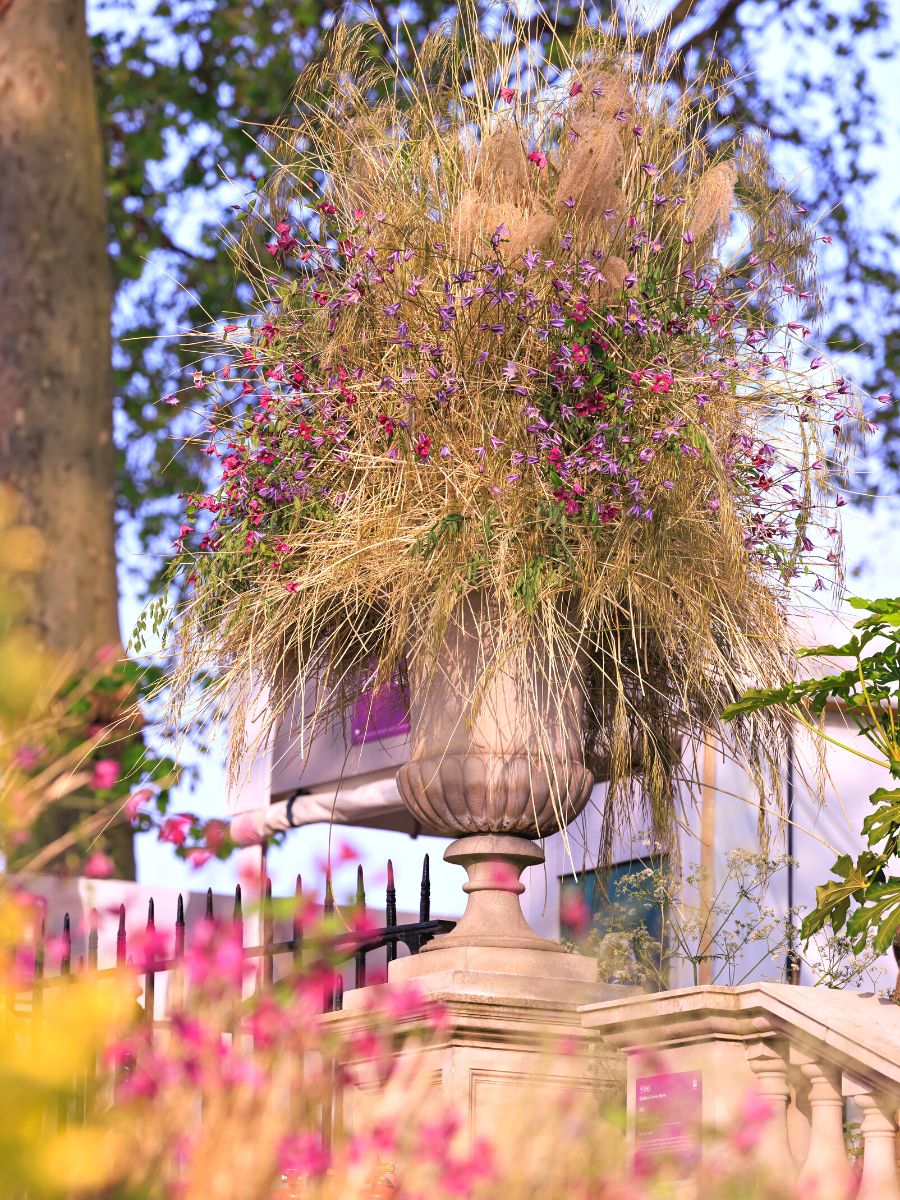 "I wanted to create artwork in her honor. That's how this idea with graphic lines, like lifelines, was born. Placing it on stairs enhances the design. It resembles life as it goes up and down. You decide when to pause, look back, and determine if you're heading in the right direction."
Queen Elizabeth served as the patron of the Royal Horticultural Society, the organization behind the Chelsea Flower Show. Proudly and joyfully, Dmitry Turcan chose Marginpar flowers for his exceptional design. It is a sight to behold, and it's wonderful to see how it can inspire so many visitors.
Photos by Oliver Dixon.