Danziger's Lepidium Green Dragon® is a flower among other flowers because that's what it is. Not 'just a green filler', but a real flower. This breeding breakthrough from Israel looks great with almost any combo. And it adds volume, texture, and whimsey to mixed bouquets. But Lepidium Green Dragon® is so much more than a simple leafy green with flowers. Available all year round! Here's the bigger story behind lepidium's quick rise to prominence.
Lepidium Green Dragon®
To give a delicate unique touch to any arrangement, Lepidium Green Dragon® blends in perfectly. And it gives tremendous energy to a bouquet. The green color matches every season or trend. Did you know the vase life of Lepidium Green Dragon® is at least ten days after shipment? And not to forget: these flowers are resilient: shipping and handling don't hurt them.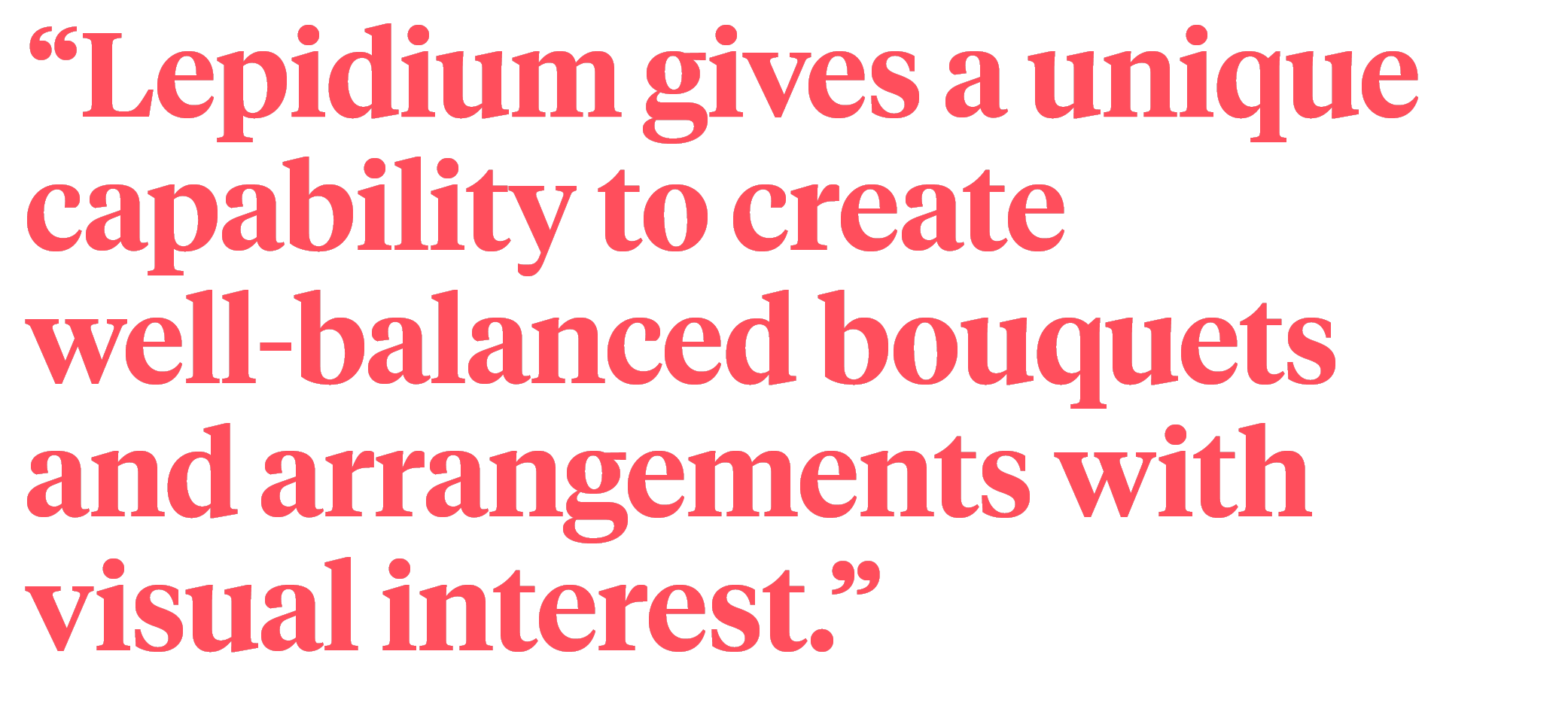 Lepidium, a.k.a Virginia Pepperweed, Peppercress, and Pepperwort
Lepidium is a unique flower and decorative filler known by many other names such as Virginia pepperweed, Virginian peppercress, and pepperwort. Its delicate green branches are covered in tiny seedpods, giving it a frilly, whimsical country garden look. It has three uses in one; it can be used as a filler, as an accent flower, or as green foliage. It adds texture, volume, and a fresh touch of green to any floral arrangement, flower bouquet, or boutonniere. It can also be dried and can be painted.
A Good Time for Flowers
Sales of flowers have gone up tremendously in the last couple of years. At the Dutch auctions of Royal FloraHolland, they have reached the highest ever. This milestone clearly shows that the pandemic is driving an exceptional interest in cut flowers. On this account, there is a growing attraction for new flower varieties such as Lepidium Green Dragon®, which is a relative newcomer in the floriculture scene. Light, airy, long-lasting, and sturdy, this lepidium makes a perfect cut flower and is a real attention grabber. Its small and unique berries add to the value of this flower's character and usefulness in both fresh and dried applications.
On Instagram
See great pictures on Instagram with the hashtag: #Lepidium. Danziger also promotes the hashtag #imaginemoreflowers. Good idea to check this one as well.
Not Just a Leafy Green
The feedback of floral designers around the globe is always very positive. The flower is a true pleasure to work with and wanted internationally. Green Dragon® is no ordinary leafy-green, no ordinary flower, and no ordinary filler. The earthy and natural blends of the texture of Lepidium are clearly recognized. The flowers cover a longer stretch of each stem, with wide and voluminous inflorescence, which is seen as a great advantage to floral designers. And the colors of Lepidium match each season or trend.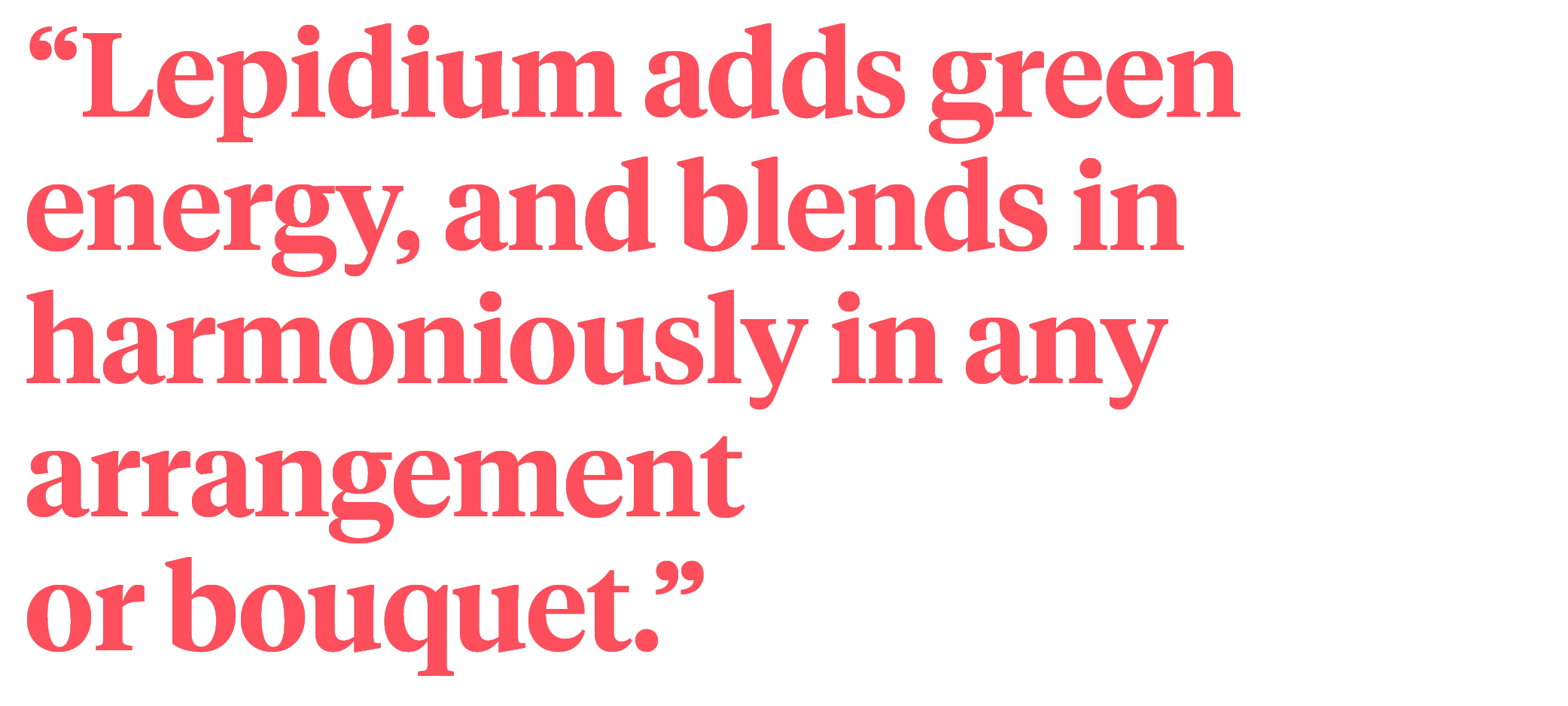 Floral Designers About Lepidium
Designers talk about the flower for its 'unique capability to create well-balanced bouquets and arrangements with visual interest'. Lepidium is also said to 'complement the focal flowers and enhance them by adding beautiful texture, volume, and energizing bright green exuberance to every bouquet'. Another designer says Lepidium 'adds green energy, and blends in harmoniously in any arrangement or bouquet'.
Many also point to the fact that it's 'good volume for every cent', What more do you want to hear as the grower of this flower, or as its creating breeder?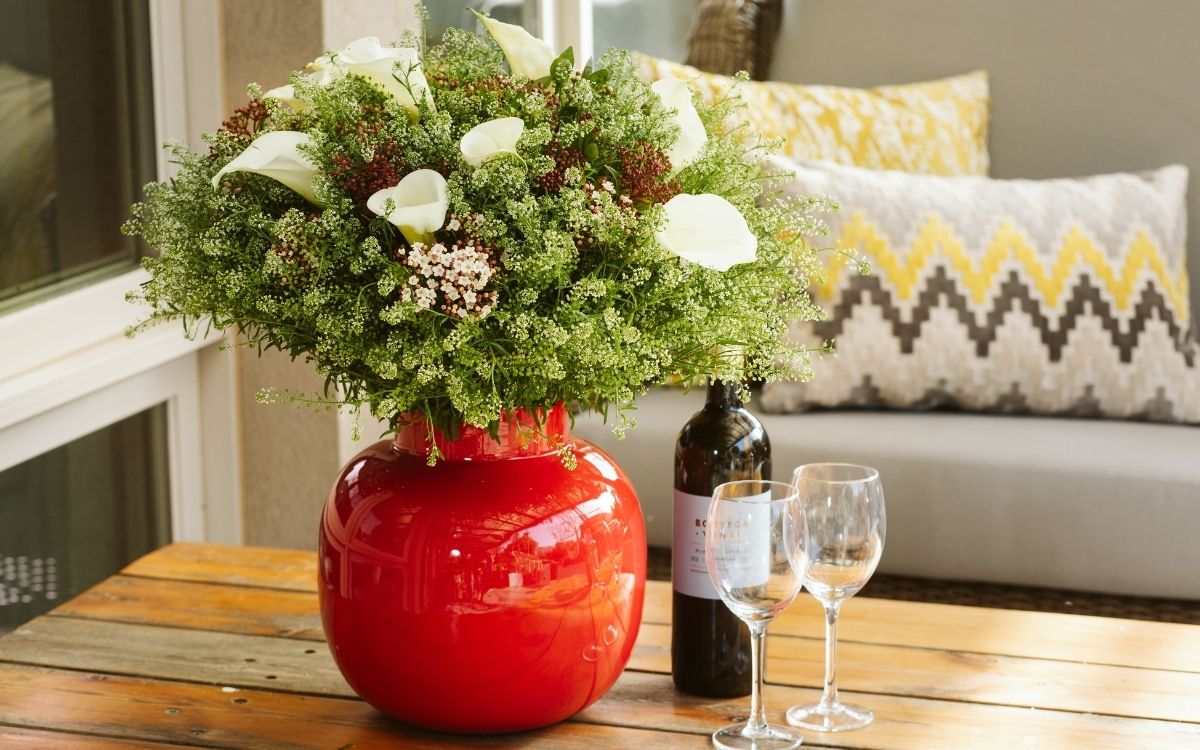 Creator/Breeder Danziger
The proud breeder of Lepidium, Danziger, happy with all the positivity around this variety, understood the potential of this flower and rolled out a campaign video with the tagline 'Connect with Nature, Energize your Wellness', to create even more buzz around this flower.
One With Nature
Green Dragon® looks freshly picked from the field – where whirling butterflies surround them. As such, the flower perfectly fills the needs of the 'wellness conscience' generation, that wants to feel relaxed and at one with nature. Global marketing research found that consumers care deeply about wellness, expressed by a renewed appreciation of nature. In a world of wellness goals, the role of sustainable materials, lush green plants, and farm-fresh cut flowers is becoming more important each day.
Scientific Facts
AIPH's recently published and scientific-based factsheets, for example, indicate that people who have flowers in their homes feel happier and more relaxed. Also, flowers and plants accelerate healing due to their stimulation of a positive outlook. What's more, exposure to natural, green surroundings has shown to be restorative, based on measures such as self-reported mood, performance and attention tasks, and physiological actions that signify positive emotions and reduced stress. The presence of flowers in the home can deliver these benefits.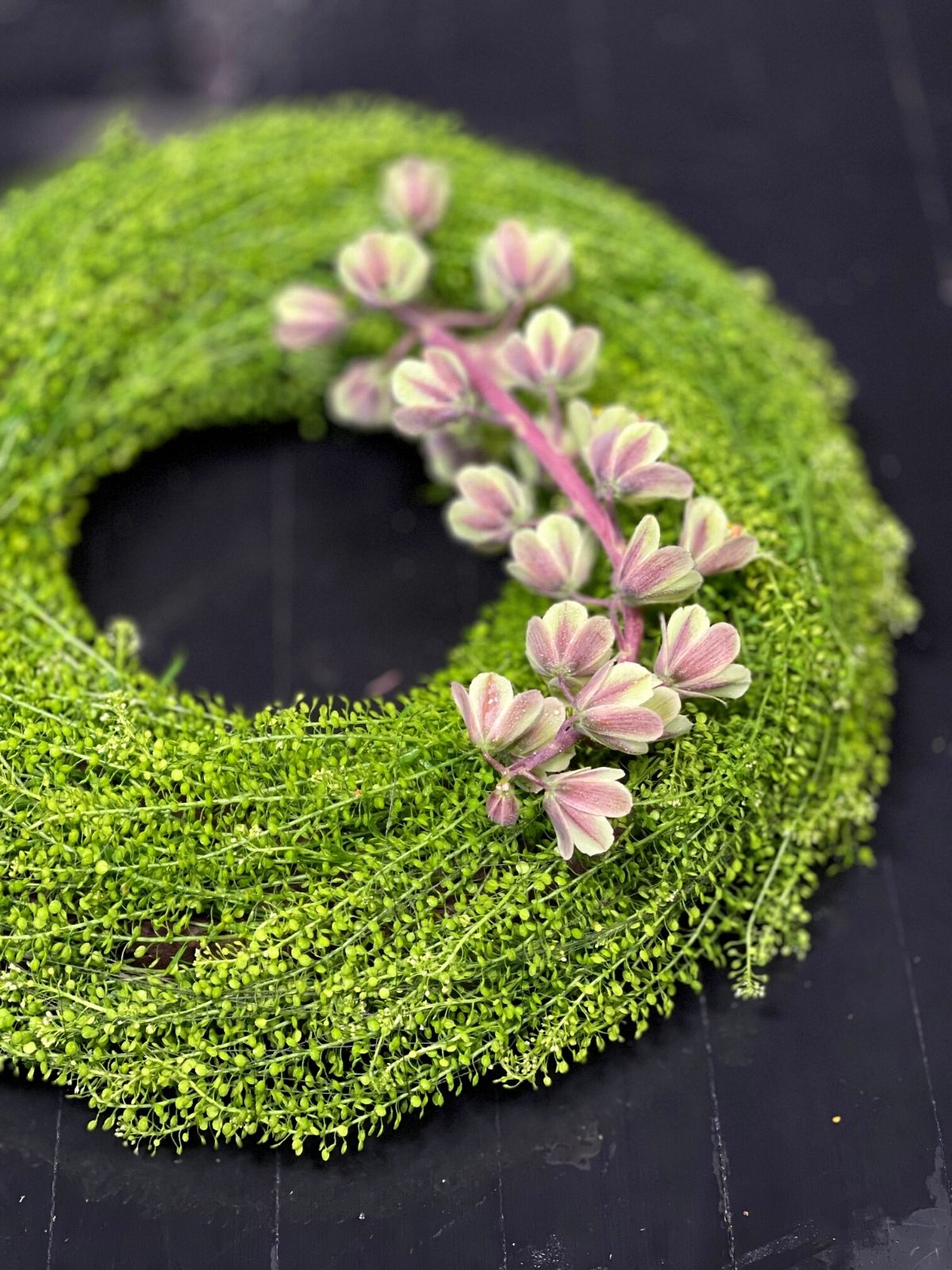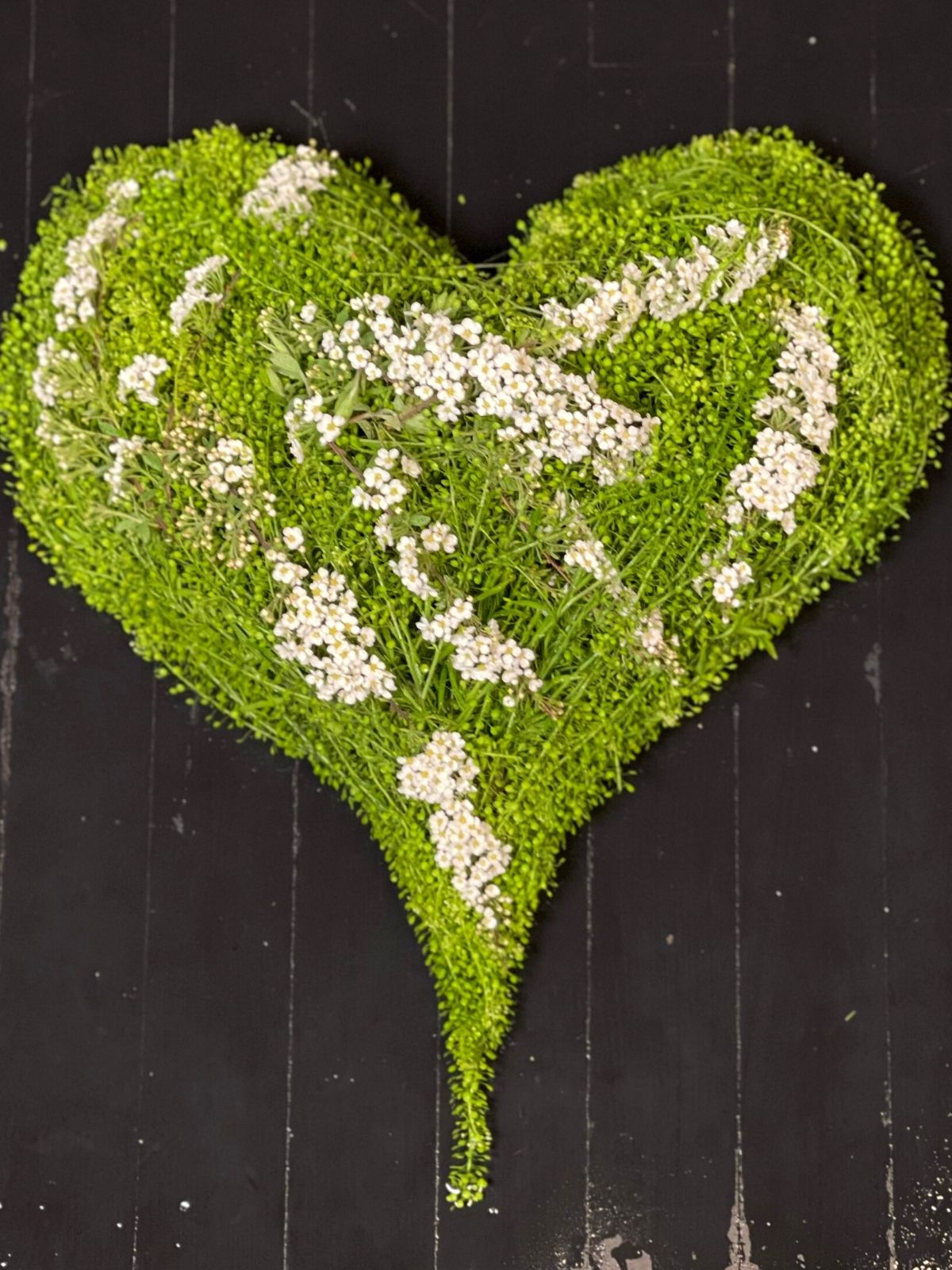 Clearly, as you can imagine after seeing these images, a bouquet with Lepidium Green Dragon® in it is good for, not only the eye but for your personal well-being as well.
Positive Energy With Lepidium Green Dragon
In this context, Green Dragon is a standard-bearer of positive energy. The flower has a fresh and zesty yellow-green shade that evokes the first days of spring when nature awakens, revives, restores, and renews. Green Dragon invites consumers to take a deep breath, oxygenate and reinvigorate. It makes people feel pure and fresh and gives them a sense of balance. This Lepidium is much more than a filler flower. The 'Green Dragon' is absolutely fabulous.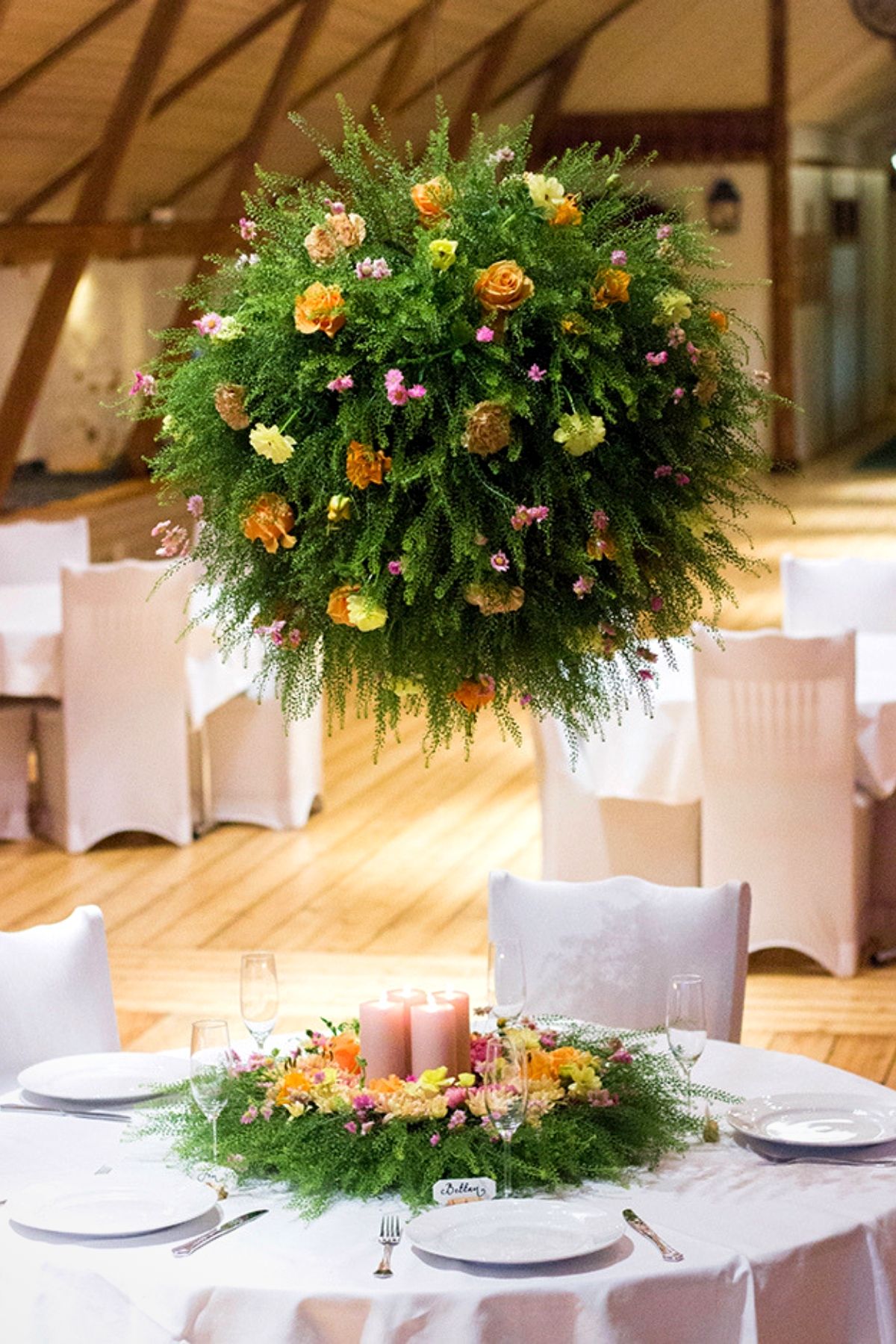 Header image by Claudia Tararache