Yes, Phalaenopsis orchids are gorgeous, but have you seen Dendrobium Sa-nook's colors and unique shape? They will sure drive you crazy in love and will have you filling up your house with stunning orchid creations. To all the tropical gardeners and floral designers out there, how about perceiving and trying a new type of orchid that will allow your creativity to soar at the moment of creating, plus will add a touch of delicacy and extreme beauty to any space you want.
Dendrobium Sa-nook's Origins
Family Orchidaceae or orchid family is one of the largest flowering plant families, comprising about 880 genera with more than 26,000 plant species. Of course, Dendrobium Sa-nook (and Phalaenopsis - the most known type of orchid variety), are also part of the orchid family. The Phalaenopsis is currently cataloged as florist designers' and buyers' favorites. But this will change. With a much smaller total production than the Phalaenopsis (a fraction of it) a Dendrobium Sa-nook makes it possible to be different and offers a flowering plant that is much more special. As a floral designer, you really can distinguish yourself. People at home receive much more compliments because the flowers are rare.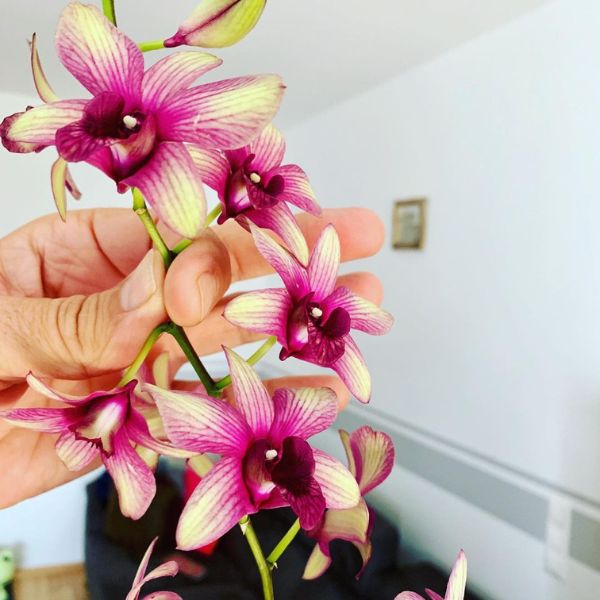 Dendrobium Sa-nook Are Floral Designer's Favorites
Native to tropical and subtropical regions of Asia, the Pacific Islands, and Australia, the Dendrobium Sa-nook orchids give rise to blooms that are strikingly colorful and as if this flower could not get any better, they have a faint, but pleasant smell ready to make your days finer. Although there are many gorgeous orchid flowers to talk about, Dendrobium Sa-nook steals the show and we'll tell you why they have quickly become tropical gardeners, floral designers, and buyers' all-time faves.
Dendrobium Sa-nook's Differentiation Factor
There are 3 crucial key factors that make Dendrobium Sa-nook's beauty very imposing over any other orchid variety. Size, unique colors, and originality. Dendrobium steals everyone's attention due to its size attractiveness and distinctive gentile shape of the flower. If you're a flower designer or tropical gardener and you're thinking about getting a Dendrobium Sa-nook to decorate your house or tropical garden or create a floral masterpiece with them, don't think about it twice.
But that's not all, have you seen this variety's idiosyncratic and mesmerizing color shades? As a florist, you can be different, create differently, and feel different when using the Dendrobium Sa-nook for any creation or decoration. It's an upgraded version of the Phalaenopsis orchid we all know of!
How to Care For Dendrobium Sa-nook For Impressive Blooming Results
It's very important to take into account what type of lighting, food, and watering your Dendrobium Sa-nook needs for them to keep you company for a longer time.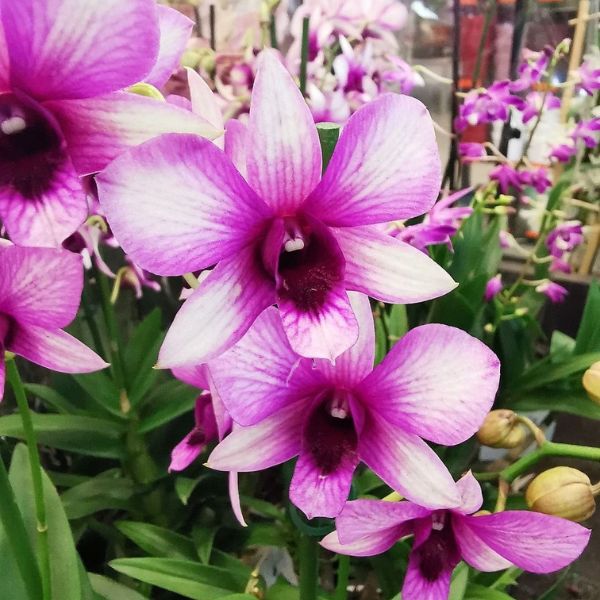 Light
Place the plant next to a window that receives natural light. However, during the summer avoid direct contact with sunlight so that the leaves do not burn and fall off. The ideal temperature in your home should be between 12 and 35 degrees.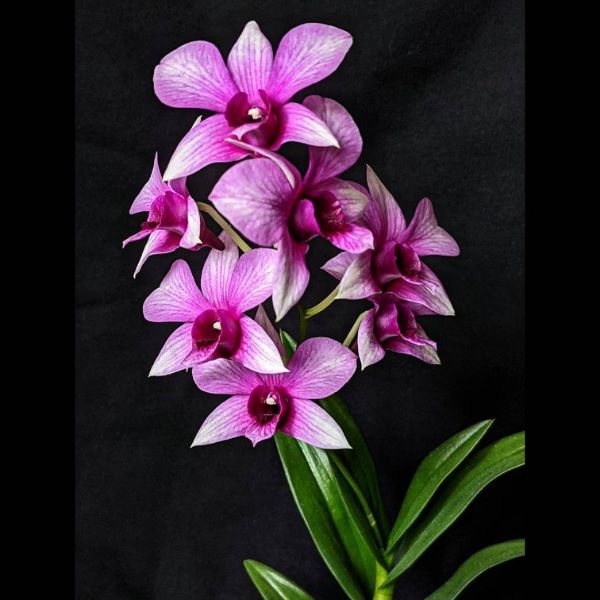 Food
For your Dendrobium Sa-nook orchid to survive and thrive it's best to feed it every 15-20 days with special orchid fertilizer. Make sure to go to the nearest flower store and get a specific orchid fertilizer for best care results.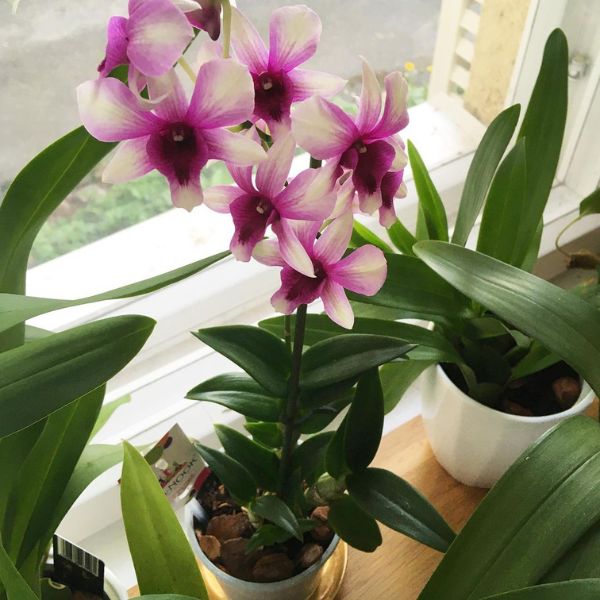 Water
Water your Dendrobium once a week and sparingly. It is not convenient for the roots to be submerged in large amounts of water, as this can cause your orchid to rot.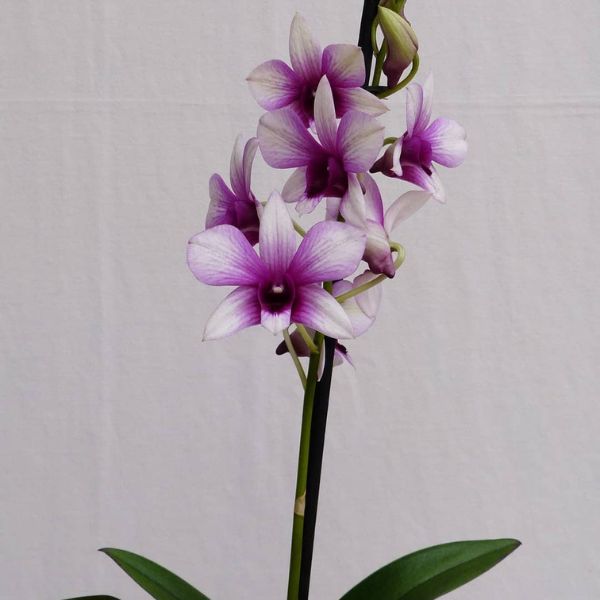 Why Dendrobium Sa-nook Will Make Your Day Happier and Brighter
This special orchid variety is ready to turn any frown upside down because of its magical ability to actually make you smile, and make any day brighter just by seeing it. Because come on, who wouldn't smile if they get a gorgeous Dendrobium purple orchid, whether it be a gift for a loved one or as a gift to yourself, this orchid is waiting to be yours and make you the happiest.
Dare to be unalike, dare to choose something contrasting, and make everyone notice how Phalaenopsis orchids are not the only option available out there! If you like to get creative with flowers, Dendrobium will definitely give you a uniquely creative, and differentiated advantage over other flowers.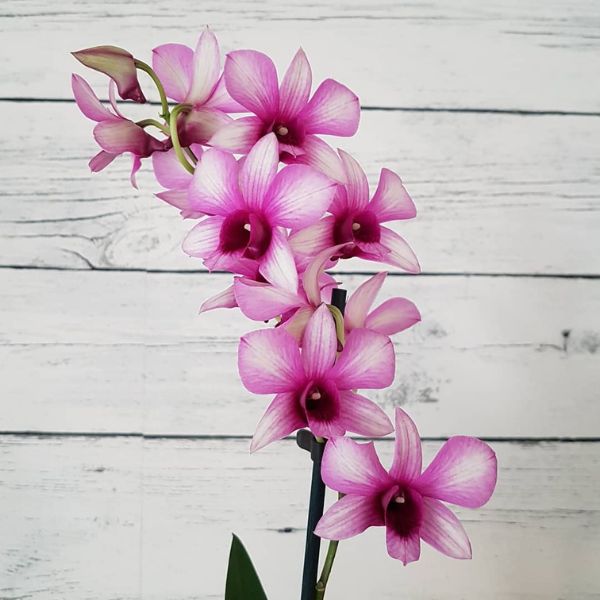 To all the tropical gardeners, floral designers, and artists, this prepossessing orchid is waiting to be yours. Ready to live the Dendrobium Sa-nook magic and create the floral arrangements of your dreams?