In a remarkable collaboration, Mexican artist Fernando Laposse and renowned French champagne house Perrier-Jouët have joined forces to create a fascinating floral installation that celebrates nature in all its fundamentals. Unveiled at Perrier-Jouët's pop-up location in Tokyo, this awe-inspiring creation will also grace the prestigious Design Miami event from December 6th to 10th, 2023.
For all intents and purposes, the installation is a visual banquet of 3D-printed birds, plant leaves, and flowers, all boasting a glassy finish, thanks to the innovative use of eco-resin and sage starch. The artist's respect for nature is evident in his choice of materials - all vegetation and plant matter was collected by the artist himself
An Installation That Pays Respect to Nature and Celebrates the Beauty of Flowers
At the core of this partnership for the installation is the two parties' shared admiration for nature and a firm commitment to celebrating the beauty of flowers, as well as their vital role in the pollination cycle.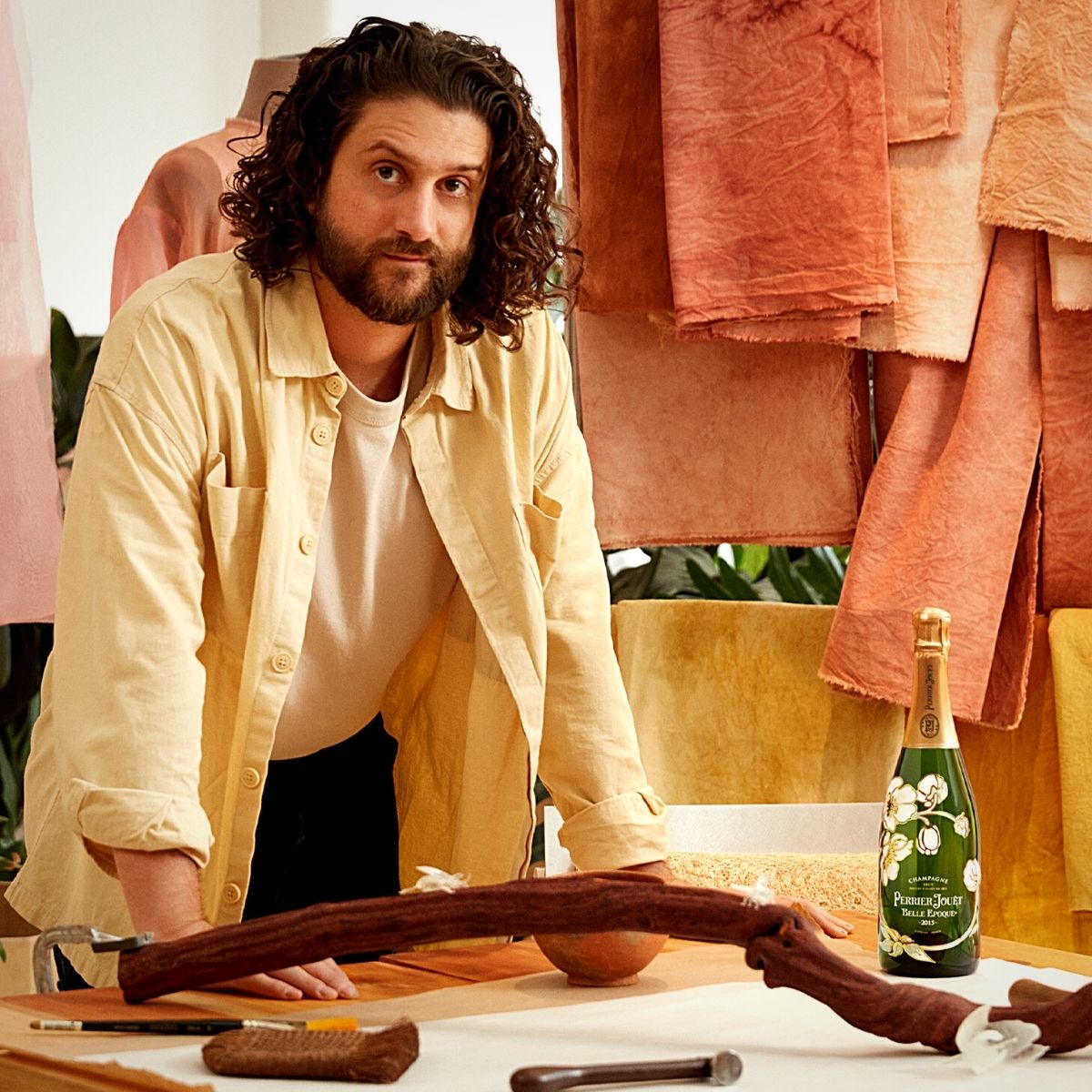 Laposse, an accomplished artist who studied at London's Central Saint Martins, a constituent college of the University of the Arts London, and has exhibited his work around the world, has a deep connection with nature and a passion for sustainable practices.
On the other hand, Maison Perrier-Jouët was founded based on a shared love for nature and art by Pierre-Nicolas Perrier and Rose-Adélaïde Jouët. Nature, still, remains its source of inspiration, and the champagne house hopes the collaboration with Laposse will prompt conversations about environmental issues, with the prospect of a better future for the planet.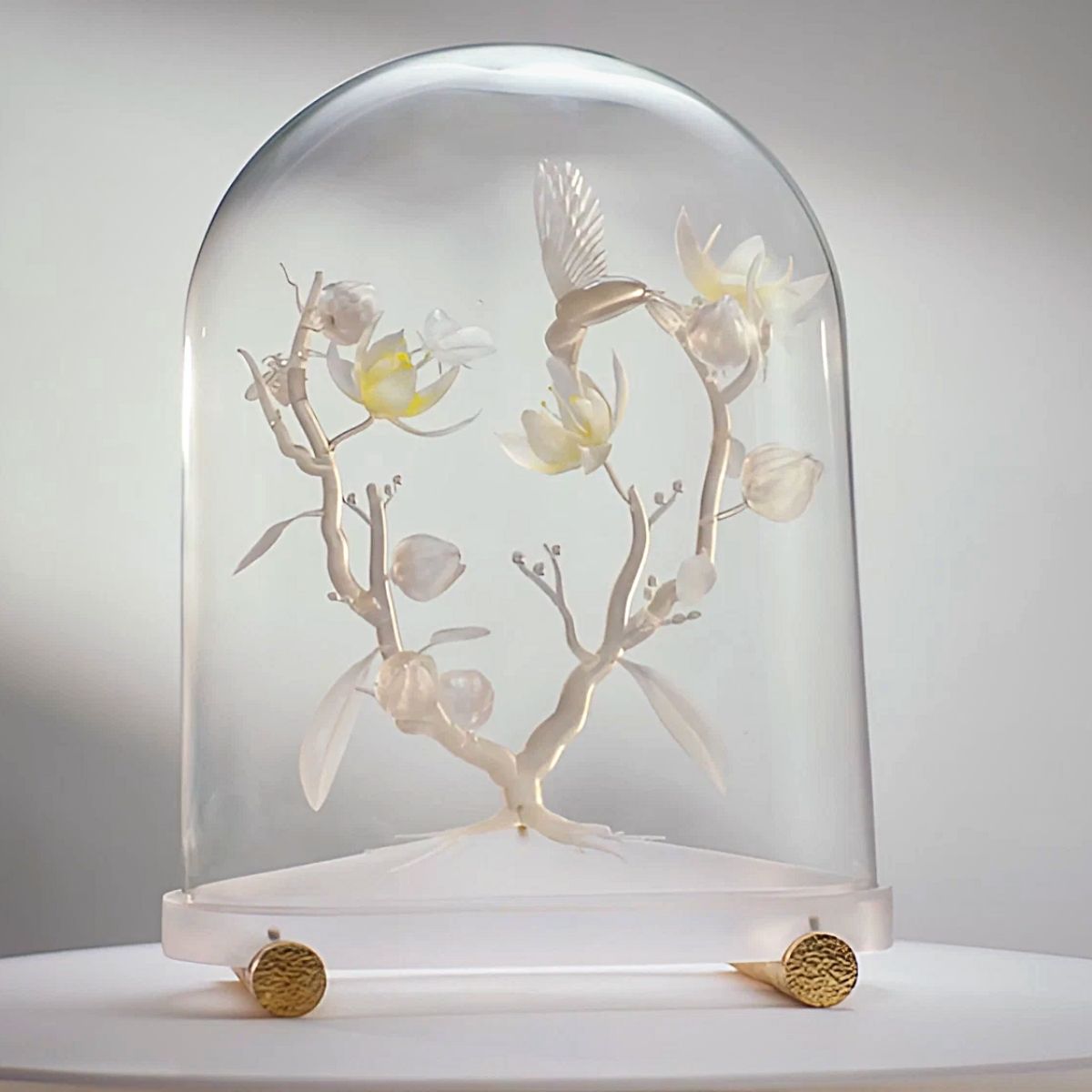 Back to the artistic installation, named the Pollination Dance, is a masterful blend of artistry and innovation. It comprises elaborate 3D-printed animals and flowers, and each piece showcases a polished gloss, due to the eco-resin and sage starch used in the printing process. But what truly sets it apart is the thorough attention to detail and the use of natural materials.
The focus of the installation features a hummingbird mid-flight, sucking nectar from a flower, and an array of delicate flowers on a twisted branch, in a scene that vividly illustrates the complex process of pollination and the harmonious interactions between plants, insects, and animals. It is a demonstration of the important role that flowers play in ecosystems.
Each piece deployed in the composition is mounted onto a sculptural landscape made from naturally growing plants, and completed with natural silk fibers that are present all the way through the installation.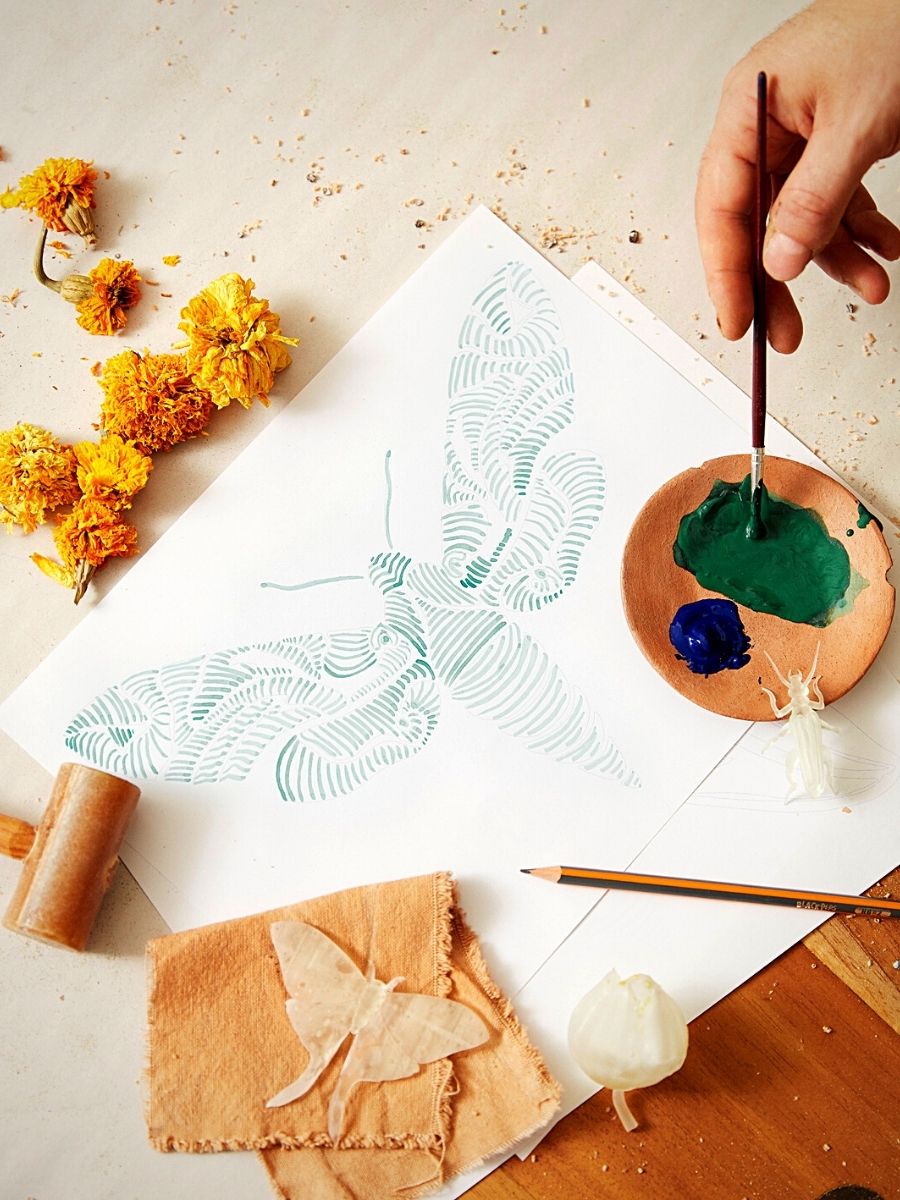 Laposse, himself, personally foraged the vegetation and plant matter used in the installation, handpicking the different varieties from the Mexican jungle. He then proceeded to expertly incorporate them onto the sculptural landscape as he made the installation.
Adding to the natural allure, the natural silk fibers are dyed with a vivid palette of colors derived from cochineal insects and marigold flowers and are interspersed all over the scene, enhancing that nature-inspired feel.
The translucent flowers, which are a central focus of the installation, symbolize the shared commitment of the artist and Perrier-Jouët to coexist harmoniously with nature. This ethereal quality also pays homage to the enduring aesthetic that defines Perrier-Jouët's brand identity, further enhancing the connection between art and champagne.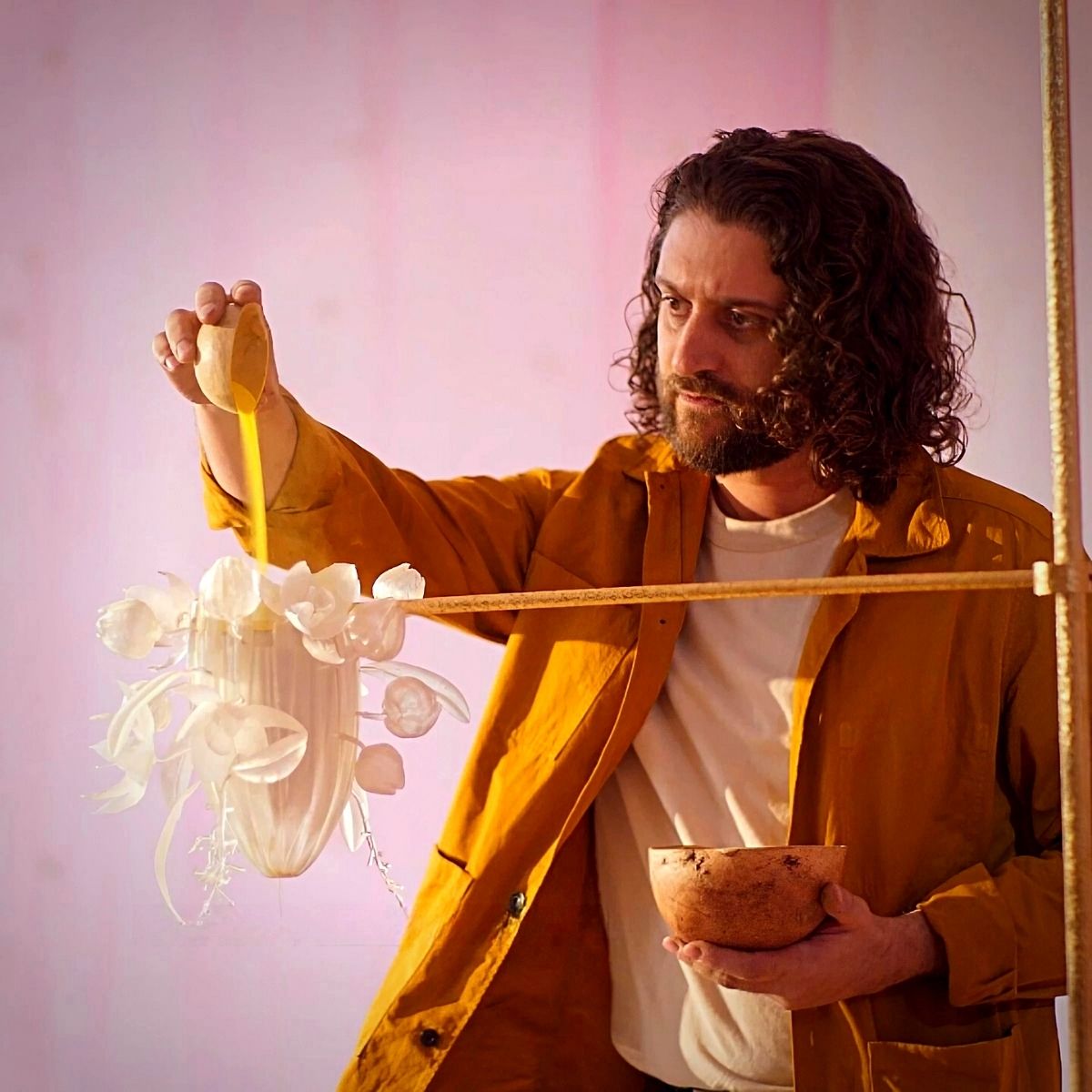 A Call for a Responsibility to Protect Nature
Away from its visual splendor, this collaboration seeks to spark conversations about pressing environmental issues. And Perrier-Jouët, a champagne house founded on a deep appreciation for nature and art, hopes that it will inspire a better prospect in nature conservation.
Similarly, within the beauty and serenity of the installation, Laposse subtly draws attention to the ecological challenges faced by nature due to human actions. This piece of art could be interpreted as a call for shared duty in the protection of nature and conservation of the environment, as underneath the ephemeral premise of the artistic installation, he still punctuates the ecological challenges that nature faces at the hands of people.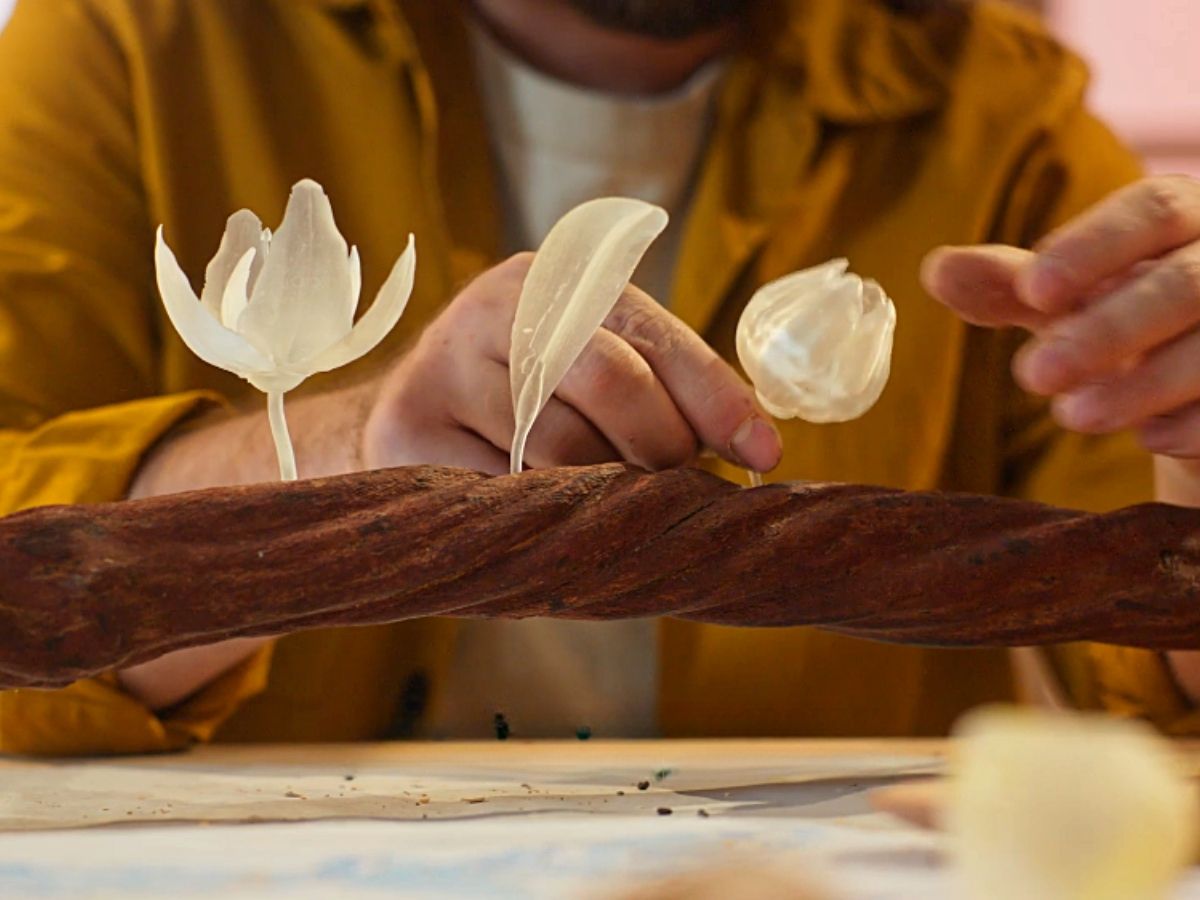 The burdens that the environment confronts due to human actions may, similarly, be seen more in the artist's overall practice in which, over the past decade, Laposse has actively worked with farmers in southeastern Mexico, and developed sustainable materials and production systems that have not only benefit local communities but also reduce carbon footprints.
Often, he also works with indigenous communities in his native Mexico to create local employment opportunities and raise awareness about the challenges they face in a globalized world. His projects are informative and educational, addressing topics such as the environmental crisis, loss of biodiversity, community dissolution, migration, and the negative impacts of global trade on local agriculture and food culture.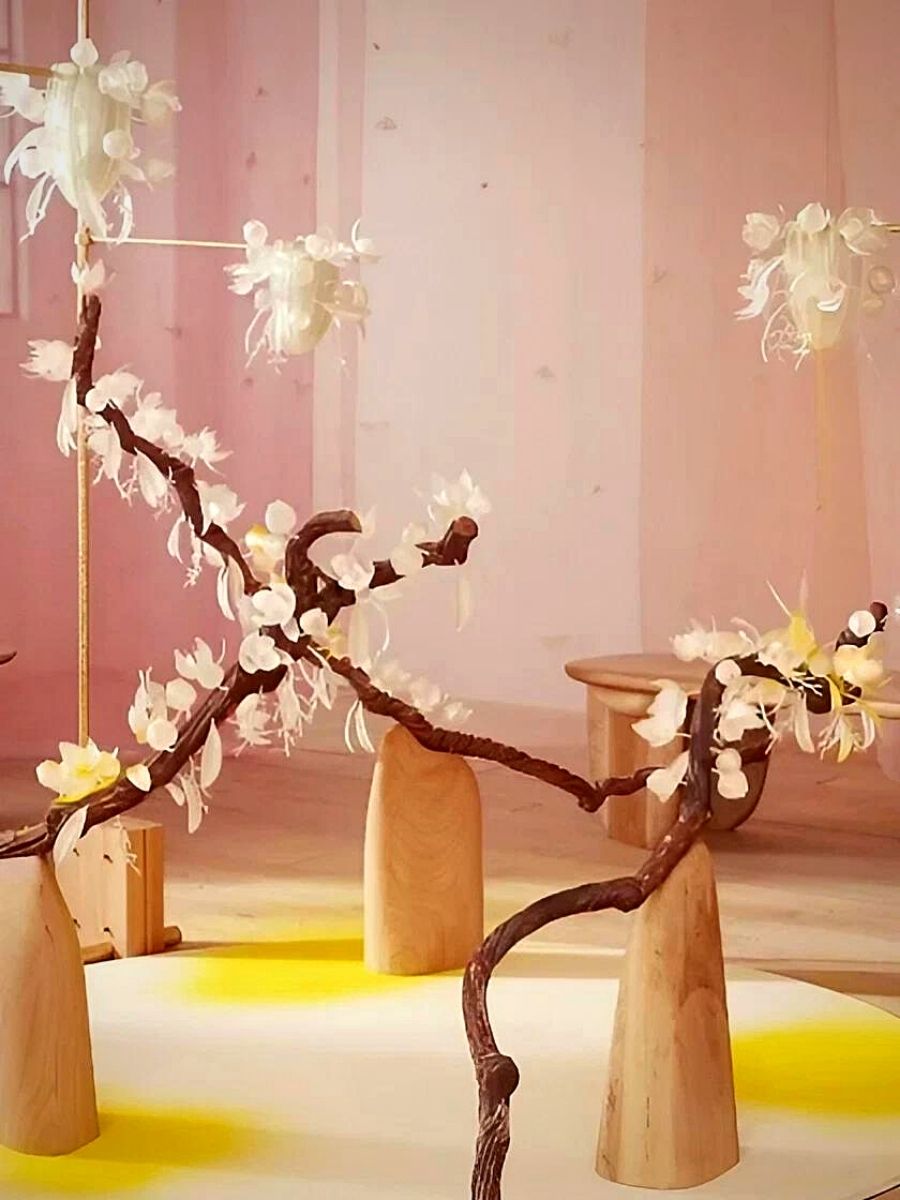 Nature Matters: Previous Partnerships Between Maison Perrier-Jouët and Fernando Laposse
Based in London, Laposse, essentially specializes in transforming humble natural materials into refined design pieces, working extensively with overlooked plant fibers such as sisal, loofah, and corn leaves.
Through his works, he has and still hopes to inspire a greater appreciation for nature and the environment and encourage actions that contribute to its preservation. This dedication to a nature conservation cause has been a consistent theme in his creations over the years.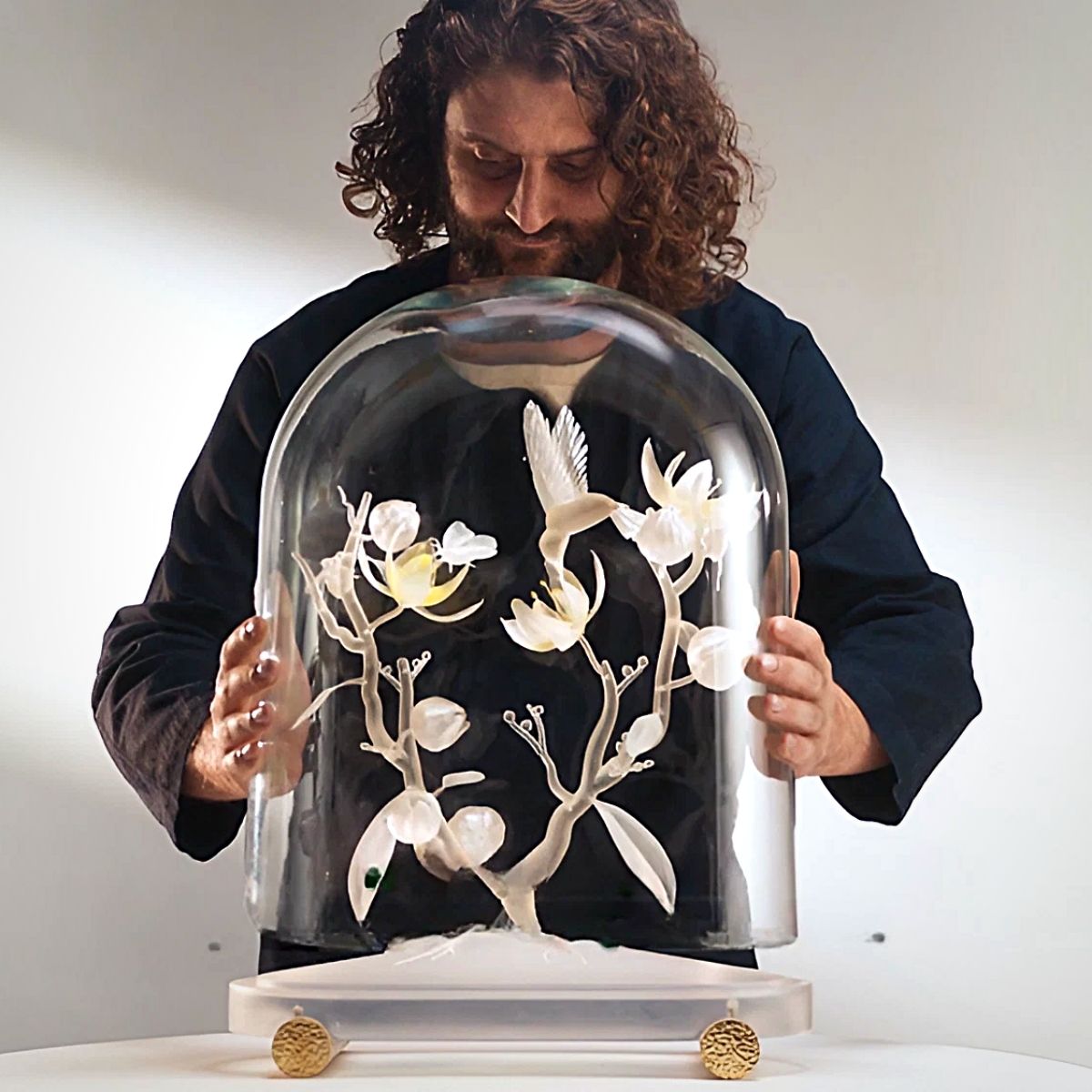 In addition to the immersive installation, Laposse who has previously exhibited at the Triennale di Milano, Cooper Hewitt, Victoria and Albert Museum, World Economic Forum, and Miami Basel, also designed two limited-edition bottles for Maison Perrier-Jouët: one for Perrier-Jouët Blanc de Blancs and the other for Perrier-Jouët Belle Epoque 2014. These bottles also serve as exquisite pitchers for the champagne, encapsulating the essence of nature and artistry in every sip.
Photos by Perrier-Jouet