If you live in France, or if you love the game of rugby you'll know it: The Rugby World Cup kicks off in Paris this year. Especially for Parisians, this event could not go unnoticed when a giant rugby ball with chrysanthemums took to the street. Behold the creation of floral artist Damien Da Rocha, and get ready for the event of the year in France.
The Rugby World Cup
The Rugby World Cup kicks off in France on September 8. Prior to this, a large rugby ball with more than 6,000 chrysanthemums paraded past the most beautiful places in Paris. The idea for this came from event florist Damien Da Rocha of Atelier D from Paris. He chose the chrysanthemum, a flower he is particularly fond of and which meets all the criteria to make this a success!
Damien Da Rocha has already brightened up Paris. In 2022 he was the florist who placed a red-pink flower heart in Paris for the #lovenotwar campaign. Damien Da Rocha:
"Floral art is a powerful means to convey emotions and messages and to move and bring people together. You also see connection and emotion in sports and that is very important. Rugby is, just like in all English-speaking countries, very big in France. And now that the World Cup is taking place in France, this sport is very much alive. In my opinion, flowers and sport go very well together".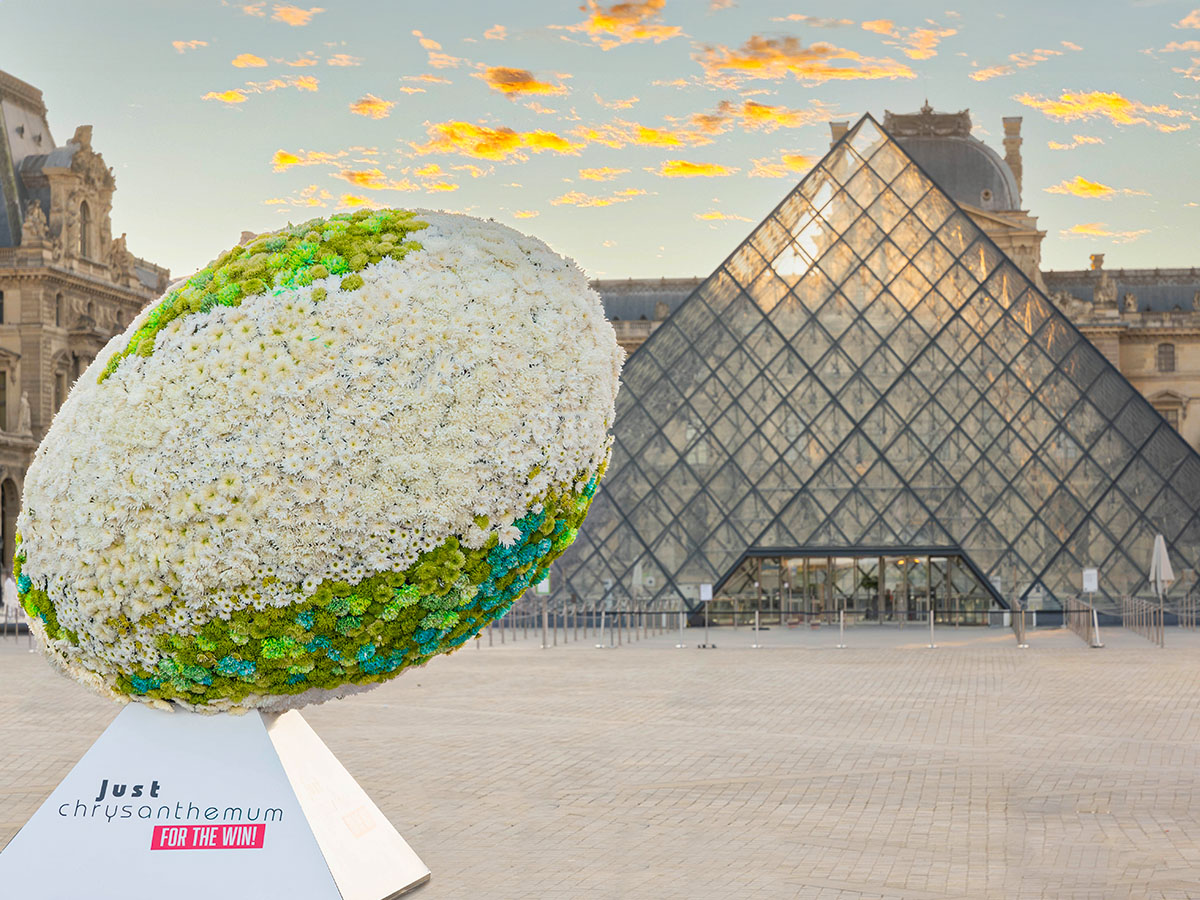 Chrysanthemum Rugby Ball Creation
The huge rugby ball is lit up with more than 6,000 white and green chrysanthemums. Da Rocha:
"I think it is a beautiful flower that lends itself perfectly to this kind of composition. In our day-to-day work in our studio, they're flowers we can really count on. Big volume, colorful, easy to work with, and robust, they stay fresh for days on end, and thanks to the wide choice of colors, shapes, and sizes, they always adapt to our daring schedules and creations. I've often won the hearts of my customers with chrysanthemums. In fact, it really isn't rocket science, when you take the time to demonstrate its immense variety of expressions and uses, as well as its practical and sustainable advantages."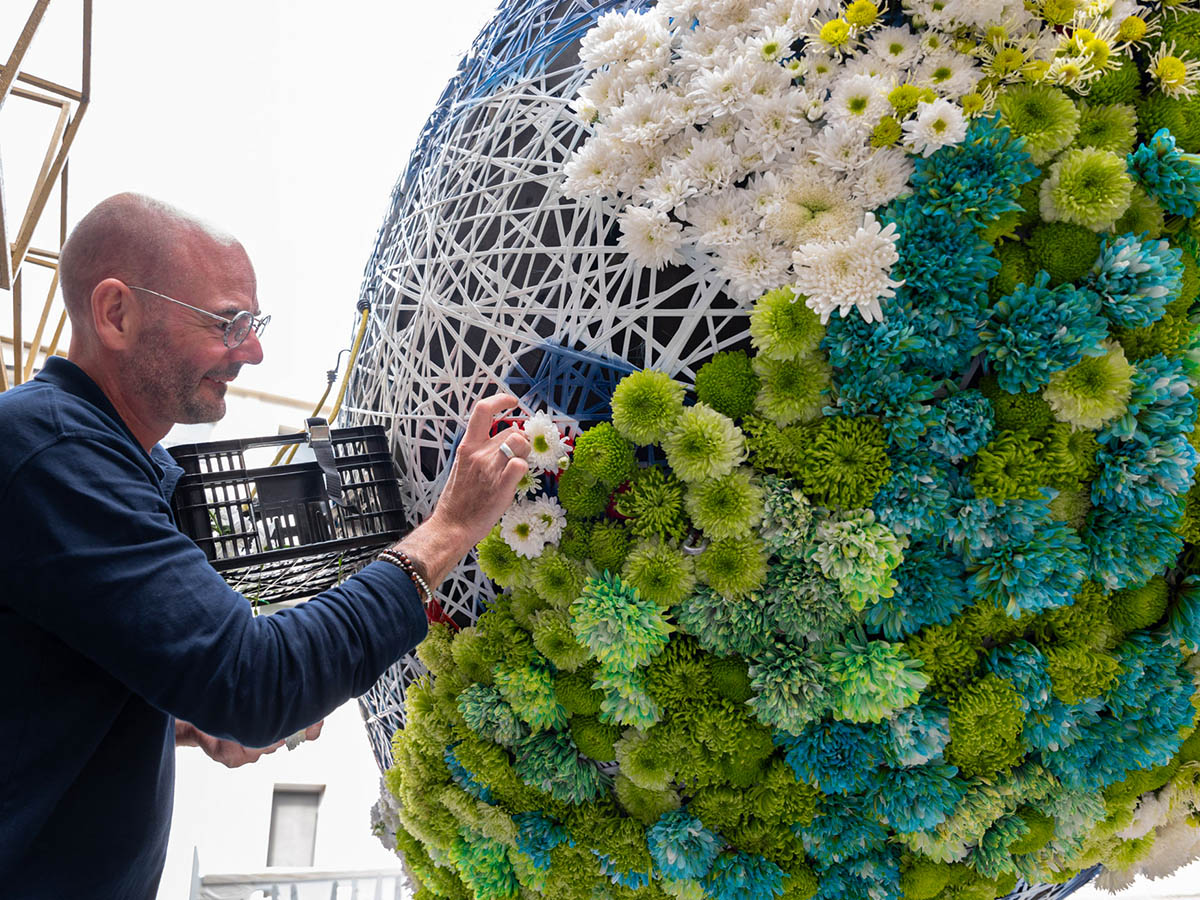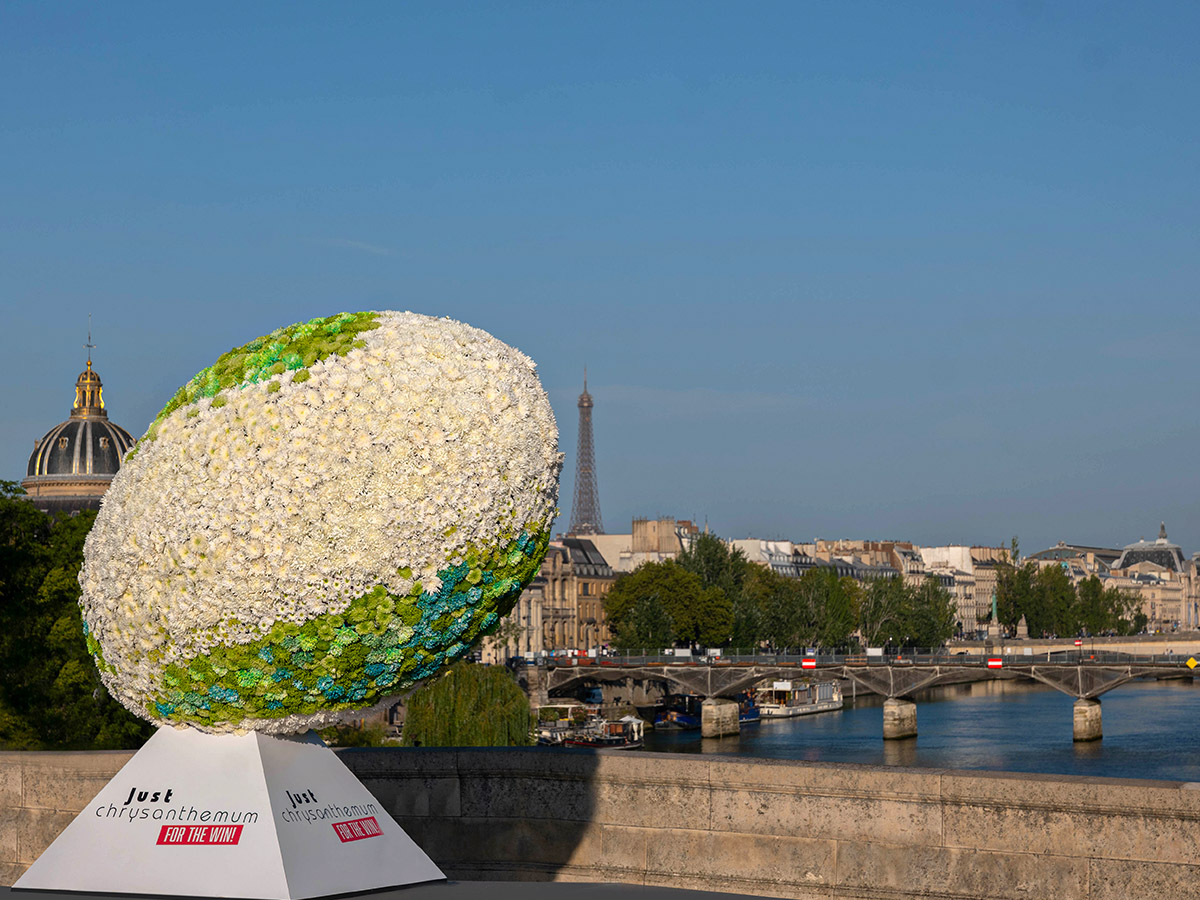 Being a Florist Is Top Sport
When asked whether he is sporty himself, Da Rocha replies with a laugh:
"Making this oval rugby ball with chrysanthemums is a technical feat and comparable to sport. As an event florist, you do top sport anyway. You work in a team, you are constantly on the road, you have to renew yourself, make customers happy and keep abreast of new trends, regulations, the latest products..."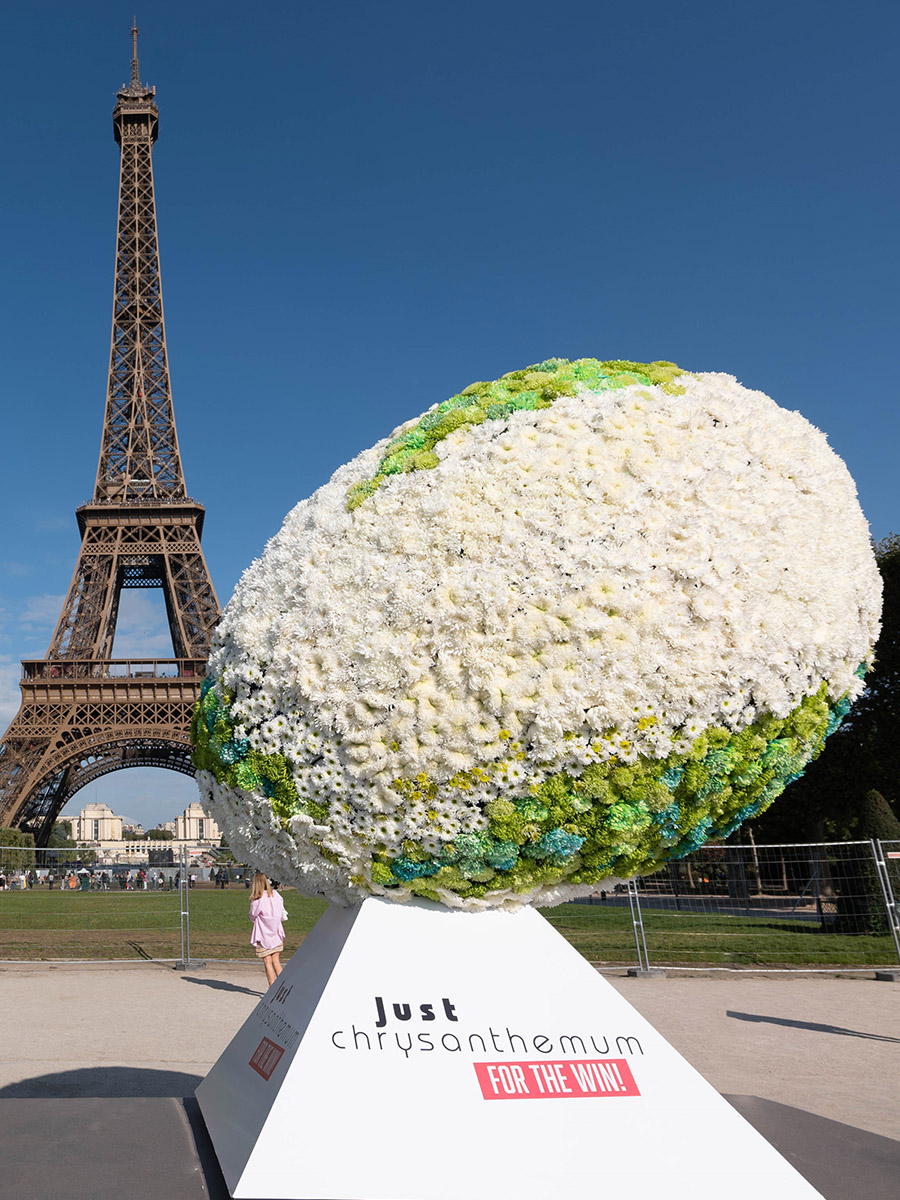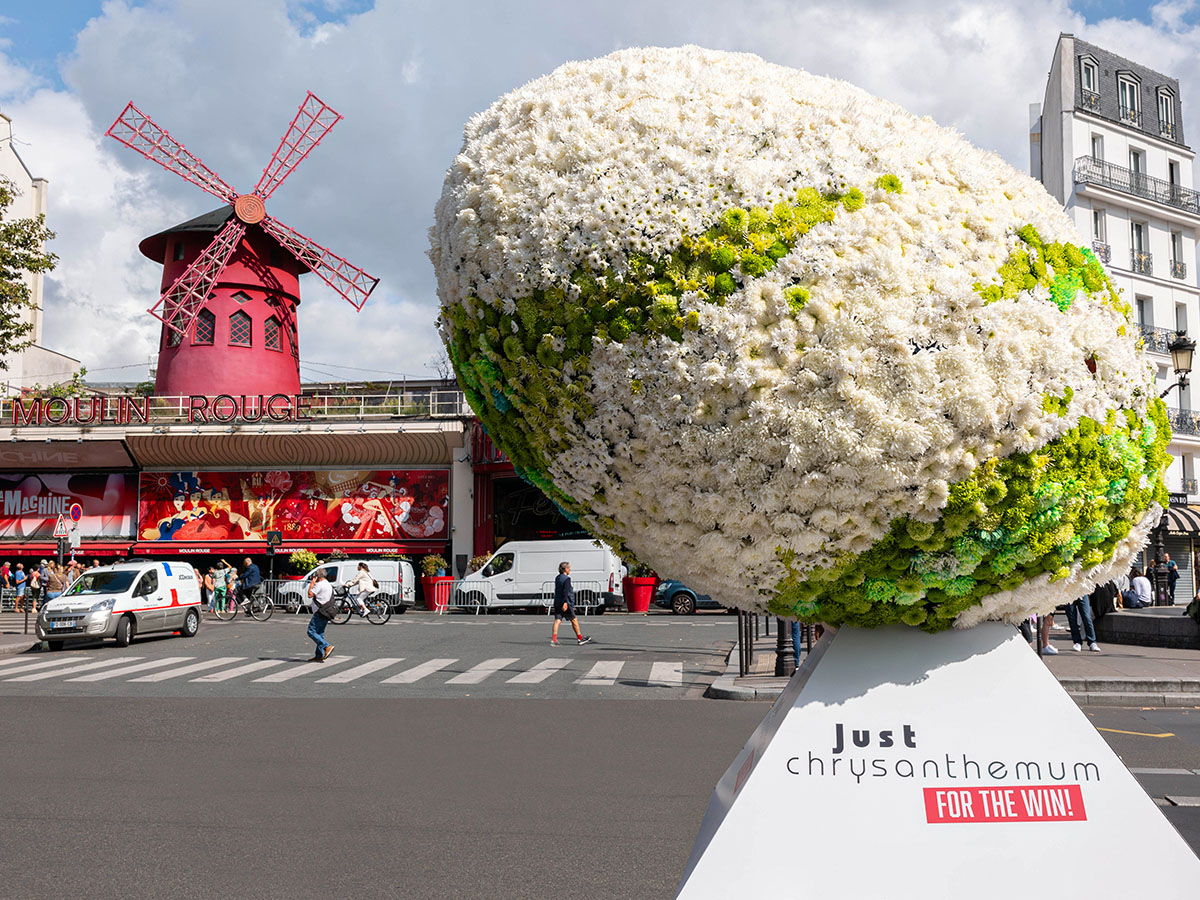 For the Win
The chrysanthemums were made available by the Chryson Foundation, the partnership of chrysanthemum growers and breeders who jointly run the 'Just Chrysanthemum For the Win' campaign. With this campaign, the growers emphasize that with a chrysanthemum you have a flower in your hands, with which you can score with customers, among other things due to color, volume, variation, shelf life, and applicability.
To follow the World Cup, join the official Rugby World Cup France 2023 website.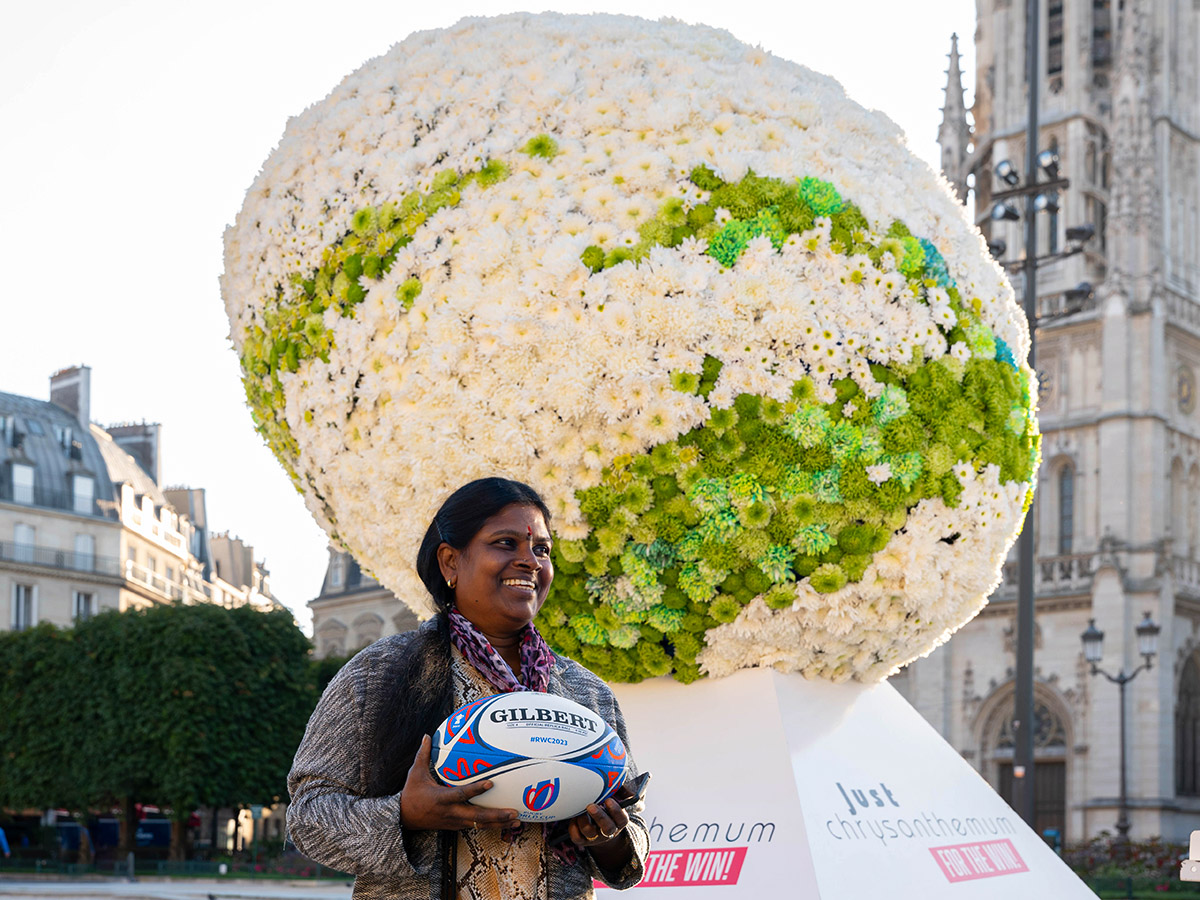 Photos by Alexandre Moulard, © Atelier D for Justchrys.com.