Gypsophila, often referred to as baby's breath, are anything but a new trend. In fact, they were a staple of floral arranging for decades, in the kind of forecourt floristry you saw at 1980's gas stations, where every assembly of red roses had fistfuls of wispy white nestled in it. As a reaction, they virtually disappeared for the past two decades, but now gypsophila is totally back.
The Return of Gypsophila in Floral Arrangements
Gypsophila was pretty much considered the floral equivalent of potpourri or taking a picture of your name written in the sand at the beach. Luckily, starting at fashion shows around 2018, the shift from bouquet filler to bold focal flower slowly happened and changed the hard-to-shake image of baby's breath. Ethereal clouds of soft white blossoms were spotted hanging from fishing wires in stunning floral installations or were fashioned into minimal headdresses.
Embodies Lightness and Team Spirit
Gypsophila is the flower that embodies lightness and team spirit. Although it can put on a beautiful show on its own, the flower shines even more when performing in a mixed bouquet. Baby's breath can be recognized by its many pink or white flowers - measuring about 3.5 to 6 mm - which appear as a cloudy dream of florals. They generally have an exceptional vase-life and are available all year round. Even with a past image that sometimes still proves a little hard to shake, Gypsophila steadily made its way into the 10 most popular cut flowers for years.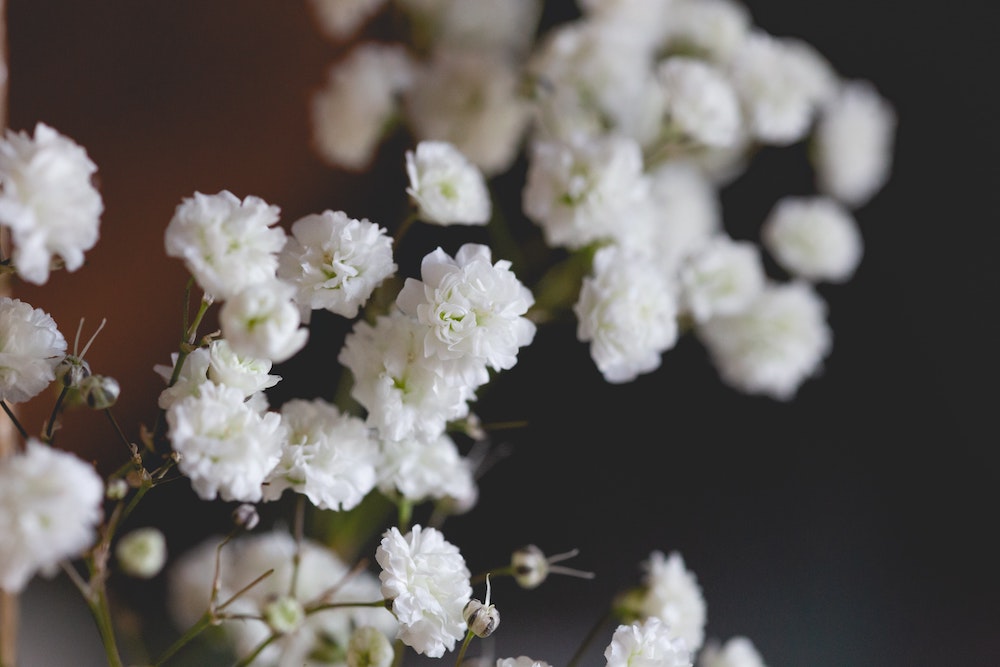 Origin and Meaning of Baby's Breath
The family Gypsophila contains eighty species and is family of the Dianthus. The plant initially grew in dry-dripping places along rivers and water puddles. In the wild, this plant still grows in parts of Europe and Asia. The name Gypsophila consists of two words, 'gypsos' which stands for chalk and 'philos' which stands for beloved, making it the perfect flower to include in gifting or bridal bouquets.
Color-Enhanced Gypsophila
The flower comes in a variety of species and cultivars to suit everything from patio pots and borders to tiny alpine gardens. Gypsophila is very pest-resistant, the same goes for diseases and drought. Baby's breath combines well with other flowers and makes long-lasting cut flowers that also dry beautifully. And for those who have a fondness of popping colors, color-enhanced flowers are a totally on-point trend these days and gypsophila fits perfectly into this.
Care Tips For Gypsophila
When working with baby's breath, make sure to remove the lower leaves from the flower stems. Put gypsophila in lukewarm water when you buy it and in a clean vase. They loved a little bit of cut flower food but never leave them in the sun, a drafty place, or next to a fruit basket.