Lisianthus is one of the most challenging flowers for florists and consumers. That's why both Chrysal and lisianthus grower Kwekerij Waalzicht have some tips for you to face these and fully enjoy these wonderfully soft and romantic flowers.
Why Lisianthus Is So Challenging
Lisianthus is the primadonna of flowers. She looks so frail. And she has her quirks. When you do not pay careful attention to these, she will let her head (and you) down. But if you treat her well, spoil her a little, she will dance for you.
No matter if you're a grower, a trader, a florist, or a consumer; you ought to know that the eustoma, this flower's botanical name, is very sensitive to dirty water. So, for your and the flowers' sake: keep the water clean! Only this will give maximum strength, shelf life, and vase life for a flower that should be a no-brainer flower for every bouquet.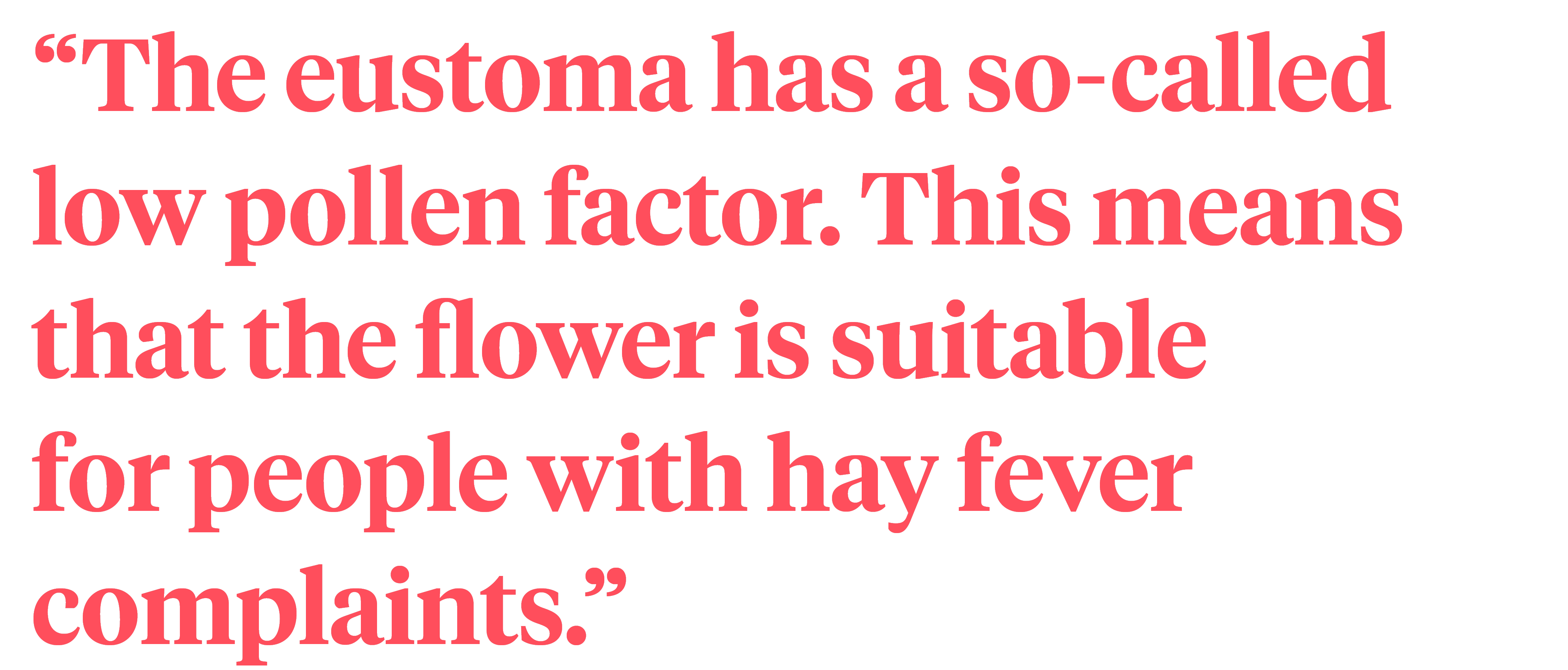 Use in Both Classic and Wild Bouquets
You'll see that the lisianthus lends herself to every mood or style, big and small. Not only because there are so many colors to choose from, but look at the various shapes in double, fringed, and mini-flowered lisianthus.
Lisianthus flowers are on a long stem, so you often encounter them in a picking bouquet. They match with every wild summer flower imaginable because most lisianthus colors have at least a hint of pastel tints in them.

Because many floral designers work with high and low flowers, the lisianthus is a pleasant addition to any classic bouquets as well. They are ideal both as a filler and as the center of the floral arrangement. And because of their twisting flowering, they match perfectly with especially roses in a wedding arrangement. Either way, they will not get unnoticed.
The Grower's Opinion
A perfect lisianthus starts at the grower. His pre-treatment determines the result further up in the chain; the florist and the consumer. Jan van Wijk from lisianthus specialists Kwekerij Waalzicht comments:

"We have chosen Chrysal for the treatment of our lisianthus. We add this agent for a better shelf life, which is therefore extended by a few days. The flowers open a little better and the flowering time in the vase also improves."
Hay-Fever Friendly Flower
The eustoma has a so-called low pollen factor. This means that the flower is suitable for people with hay fever complaints. Other suitable flowers are the rose and gerbera.
Tips for Florists
- Make sure your buckets and vases are clean, and add water with Professional 2, as the lisianthus is very sensitive to pollution.
- Lisianthus requires a lot of water, so keep an eye on those water levels.
- Being placed in a draught or near a heater is disastrous for the lisianthus so make sure they are placed away from those.
Tips for Consumers
- Cut 2-5 cm off the stem with a clean knife or secateurs
- Use a clean vase and put Chrysal Better Bloom in the water
- Remove the lower leaves, so they don't hang in the water
- Keep your lisianthus away from ripening fruit, draught, and direct sunlight
- Regularly top up the vase with water and flower food when the water level decreases to about 1/3rd
Enjoy your lisianthus!
Images in this article by @tallerdetallos, Aleksandra Sapozhnikova, Naira Babayan, and Sophie Dale.