Smithers-Oasis Germany loves to collaborate with Mariola Miklaszewska. The producer of floral foam thought it would be interesting to ask her what is going on for International Women's Day.
Who is Mariola Miklaszewska and What's her Opinion on Women's Day?
Mariola is a Florint Certified Judge. (Aalsmeer 2003, Gelsenkirchen 2017) She is an experienced teacher of floristry, and she owns the Akademia Florystyczna Marioli Miklaszewskiej. For years she is celebrating and working for International Women's Day.
She has a Master of Floristry Certification and has won numerous competitions. Mariola is Vice-champion of Poland 2003. She loves to organize florist events, exhibitions, competitions, and shows. And traveling and photography are her favorites.

Mariola About Women's Day
Mariola:
"Women's Day used to be a day of worship in our once socialist eastern bloc countries. Women were given flowers everywhere: at home, at work, in shops, on the streets... It looked as if men, husbands, employers, and everyone else wanted to compensate women for all the harm done, all the damage, the lack of attention throughout the year... Years ago, there was no tradition of celebrating St. Valentine's Day, so March 8th was the only opportunity to fill all the deficits. Flowers were an extraordinary luxury and on that one day, you just had to! Over the years, the tradition has slightly decreased, this extraordinary boom has gone."
The Extraordinary Boom Has Gone
Mariola:
"So the extraordinary boom has gone. I think this is influenced by many factors, e.g. increased prosperity, but also increasing practical attitude to life, and flowers are not practical at all! We have been observing for years that some influencers are trying to boycott flowers, sometimes very successfully, to offer more practical alternatives, and not only for Women's Day.

Today, flowers are still a luxury item, but more accessible to everyone, and therefore sales on Women's Day are still a huge event, although it is impossible to compare it to the times of decades ago."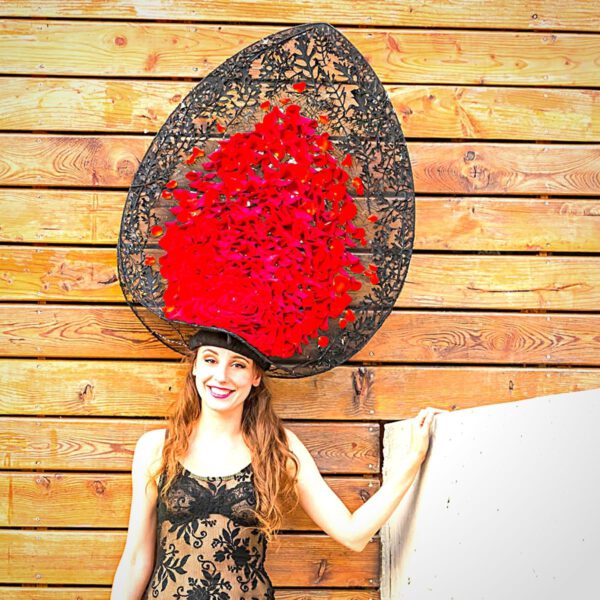 Contradiction Between Getting Flowers and Equal Rights
Mariola:
"There is a contradiction in saying that women like this holiday and like getting flowers. Because, on the one hand, we feel that there are still no equal rights for us – women, there is no justice in our country that we have been fighting for for years. And on the other hand, we like to get flowers, we like our femininity, we like to feel loved and appreciated. However, equality does not have to, well, can not even be associated with, in my opinion, separating us from us femininity, empathy, romanticism, the need to surround ourselves with goodness and beauty, in a broad sense. And it is the flowers that bring with them a great deal of emotion, they bring nobility, goodness, and beauty."
8 March Is Giving Flowers
Mariola:
"As years ago, on this day, a significant number of women are given single flowers, tulips, carnations, and roses. Many men are 'machos', wanting to impress their beloved with large bouquets of mixed flowers. And some, rather few, do so out of true respect. March 8 is giving flowers in general! But recently, flower boxes have become more important, where flowers are arranged in floral foam. They can be arranged in different ways, preferable short stems as they stay fresh the longest. Flower boxes have become extremely popular and this has a growing trend. This is a compromise that 'practical' buyers go for, because - in general - a composition in floral foam is less absorbing. It does not require changing water, is easy to handle, can be more compact, and is probably more practical."
It Is the Giving, Not the Having That Matters
Mariola:
"I just like getting flowers... And I am paradoxically basically indifferent to crops and varieties. I appreciate the gesture itself, the thought that accompanies it. It is not important to me how long they will be fresh, because as a teacher of floristry and an adamant propagator of the culture of flower-giving, I follow the principle that it is the giving, not the having that matters! For this and all other occasions, I personally like the simplest things. I like it when a single flower is in a vase, but also an ordinary, uncomplicated bouquet of homogeneous flowers, without unnecessary ornaments and accessories. I like the humble and even primitive flowers, the wild ones from the fields and the gardens, or the ones that resemble the garden."
Flowers I Really Love
Mariola:
"In spring I love muscari, in Summer poppies and scabiosa; dahlia and chrysanthemums in the fall, and gerberas in winter, because then my private 'garden' smells... It is completely different from what I do at work - here I appreciate and use all the flowers!"