Beautiful berries in yellow, orange, and red. That's what ilex is known for. A lot of work must be done before the berry branches can sparkle in the vase. Both growers and bees have worked their buts off before you can enjoy these richly filled berry branches. Also bees? Yes, because without bees, they'll be no berries!
Don't Wait for Christmas to Get Ilex
Did you have your first ilex of the year already? No? Well, don't wait for Christmas, because it's about time again for these eye-catchers of the fall. Ilex is not just merely used for those typical holiday wreaths, but it has many more possibilities. And thanks to the bees, we can all So it's time to get your juices flowing with some ilex information and inspiration!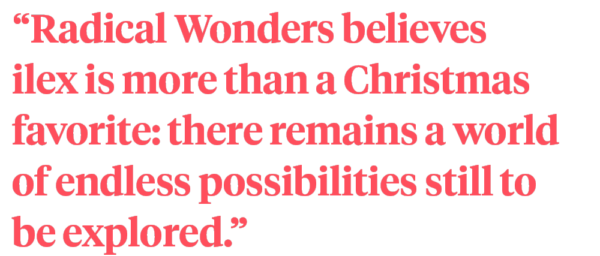 Every Berry Starts as a Flower
Growing ilex is a long-term job for both the grower and the bees. Ilex is cultivated outdoors where the cut shrubs grow in the field. The shrubs flower once every two years. The modest white flowers that appear in spring are more important than their size suggests. Each flower can grow into a colorful berry, but then it must be pollinated. And that's what the bees do. The growers often place beehives between the shrubs so there are enough pollinators flying around. Get to work! The end result is a strong and resilient branch to decorate your fall arrangements.
Colorful Berries
Once the flowers have been pollinated by the bees, they grow into beautiful berries during the summer. The berry branches can be harvested in late summer and autumn. That must be done before the birds pounce on them; they love the berries! Sometimes growers put up nets over the bushes to keep the birds away. After harvesting, the leaves are removed from the branches to make the berries stand out even more. And then it's finally time for the berries to sparkle in the vase.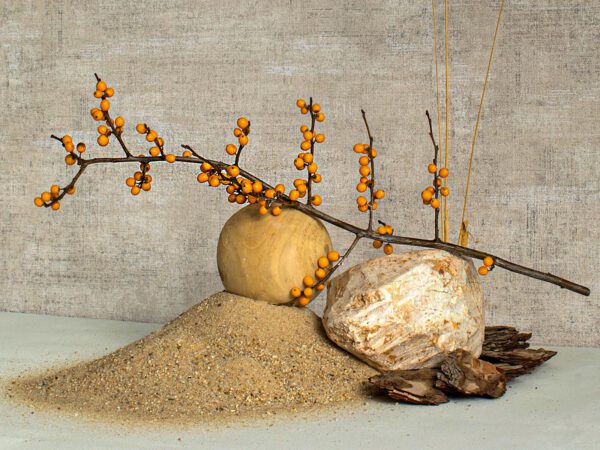 Pick Your Bee-Friendly Ilex From Radical Wonders
Radical Wonders
believes ilex is more than a Christmas favorite: there remains a world of endless possibilities still to be explored. There are about 10 colors available, from radical red to sunny orange and lemon yellow. All warm winter hues, easy to intermix and form an inviting, modern palette.
Ilex Red
Dazzling, fiery red. Meet Ilex Red, a spectacular Ilex bearing bright red berries. A fantastic variety of holly with bright orange-red berries, tightly placed on slightly branching dark stems. Ilex Red is world-famous for being used in December holiday arrangements. But this variety can be more than a Christmas favorite. It's perfect as a solo decoration or supporting a more intricate arrangement with its passionate reds. It's easy to imagine ilex Red as a radical work of impressionist art. Pure joy!

Ilex Winter Gold
A winterberry with a heart of g Fantastic decorative branches, heavy stem bear orange-colored berries with a coral blush. Ilex Verticillata Winter Gold is a slow-growing, multi-stemmed shrub with heavy berries. The dark green foliage turns to a warm golden bronze in the fall. In spring or early summer tiny green and white flowers sprout from its branches, that by the end of the year are replaced by beautiful peach-colored berries. A breath-taking sight against the cool backdrop of a chilly winter. The growers of Radical Wonders protect Winter Gold from hungry birds, who otherwise pick the branches bare. With the right precautions, the berries will remain until early spring next year. The branches, with their bright berries, are fantastic decorations, either in a floral arrangement or solo. Bold, cheerful, and surprisingly refreshing when paired with darker, more subdued colors. Fun fact: This Winter Gold is a Winner of the Gold Medal Award of The Pennsylvania Horticultural Society.

Ilex Orange Beauty
Orange Beauty is bright, bold, and beautiful. Bring a pop of color to your creations with this perfect Ilex. This ilex verticillata variety Orange Beauty has bright orange berries on dark, branching stems. The berries on this variety have shaded warm tones of orange and red, contrasting with the dark woody stems. Perfect as part of any centerpiece, in decorations and modern arrangements. Let the sunshine in!

Ilex Julia
A truly romantic and amazing variety, with beautiful berries in salmon and cream. Ilex Julia is a salmon and cream-colored cut flower. The branching stems bear plenty of colorful berries, with subtle shades ranging from a romantic pinkish salmon to a summery white.

Ilex Magical Cresgold
A beautiful variety in magical colors, ranging from a wild orange to glowing g A beautiful variety with colorful berries on a dark, branching stem. The unique color, ranging from dark orange to a warm golden glow, lends a dreamlike quality to this variety. florists love Magical Cresgold for its unique style. It impresses in the holiday season and far beyond, bringing a touch of radical magic to traditional and modern arrangements.

Ilex Citronella
A Winter Berry that's hot like summer, with the color of fresh lemons. Take a dive into a splash of color! Like all species of holly, Citronella is a deciduous shrub, losing her leaves in the fall. The fruit is a so-called winterberry, persisting on the branch long into the winter. Unlike most hollies, this cultivar bears fruit with a popping yellow color. It's a lemony twist on a brilliant product! Holly is traditionally prized for use in wreaths and garlands. The sturdy branches provide firmness and filling to bouquets and arrangements. Citronella's spectacular yellow color is great to mix and combine with other kinds of holly as well as other flowers. Contrast Citronella with bright colors, or let them liven up more subdued shades. It will not disappoint you. During winter, Citronella loses all foliage. What remains are the iconic berries. A traditional Celtic symbol of love and hope, Citronella brings a touch of summer to the heart of winter. Available during fall and winter, in a variety of stem lengths. They're extremely durable, under the right conditions they can be preserved for months. Store them cold, in clean water.